The music industry is a huge business to be involved with or be a part of, from selling compositions and jingles right through to composing and recording songs. There are many levels within each area of the industry and there are numerous genres as well. Music and creative work together hand in hand and neither one should be deprived of each other.


Web design industry is yet another industry that cannot get away from creativity. When relating the music industry and the web design industry a great variety of inspiration can be sourced especially as both industries evolve so quickly and have a vast audience to please.
Trends
Just as every website aims to be unique, so do individual recording artists, however somewhere along the lines there is always a basic "frame", or a trend, that can be outlined. For example, big imagery of the band or solo artist, sound clips, videos, news, photos, and something which seems to becoming more prominent going forward is the rise of social networking involvement.
Layout
It can also be said that the music industry has also pushed the boundaries of content layout on websites, moving away from the traditional column layouts to focus more on placement of images, videos and text. This being said it is becoming more common that this diverseness is making way for the web design world to become more creative.
Audience
Just as a web designer aims to attract an audience so do many bands and solo artists, hence it's not surprising to see individuals or bands make an official website. This allows fans to get in touch with the band/artist and also be kept up to date with news, albums, tours, etc. But in order to gain that interest via the web the website must be creative yet descriptive enough to enhance the interest yet also provide a feel that the site is a continuation of the band's/artist's personality.
30 Creatively Inspiring Music Industry Websites
Here are 30 music industry websites that have integrated creativity brilliantly together with music.
Gary Nock
The textured, layered, yet simple look of Gary Nock's site is inspiring and creative at the same time.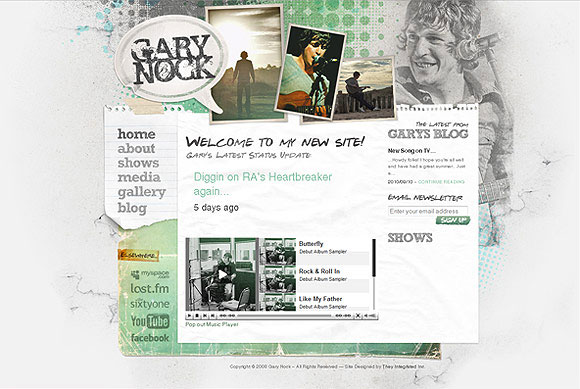 Fall Out Boy
Clean, bold, blocky yet a soft approach bringing out the Fall Out Boy big imagery but still providing prominence to various different areas of the site.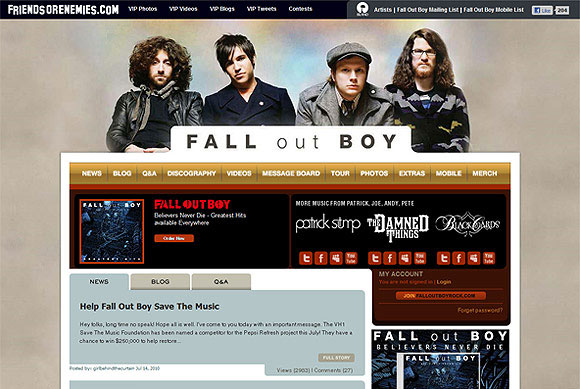 Jack Johnson
True to himself, Jack Johnson is a surfer as well as a musician; his personality is subtly shown in the worn wooden background texture. Which also gives it a warm feel, almost like his acoustic music.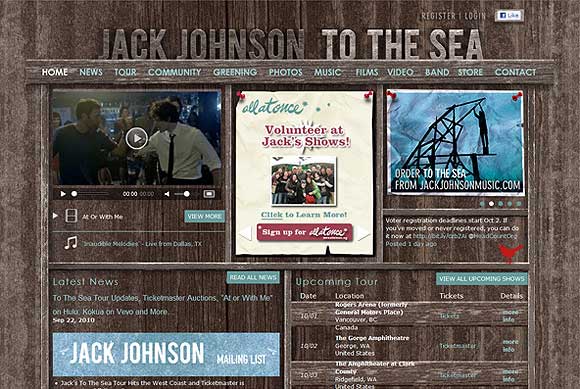 Kari Jobe
Clean, funky, trendy yet decorative. Kari Jobe's site has a simple eye catching design. Packed with information which is so well balanced it almost doesn't look as busy as it is.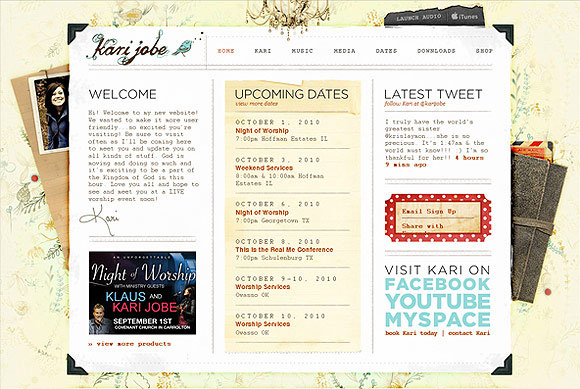 Norah Jones
Interesting to see a different layout on the homepage. The most prominence given to promoting the latest album. Once again quite busy but simple, well balanced too. Not too sure on the layout changes once moving away from the homepage though.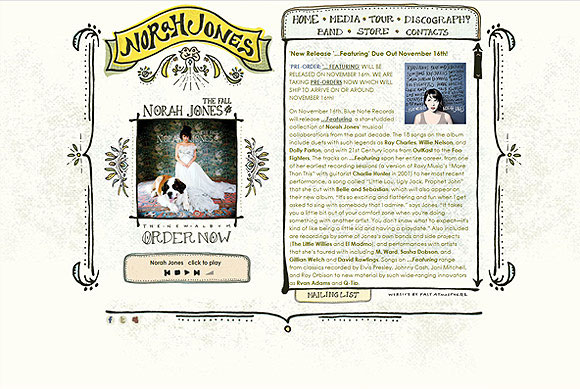 Francesca Battistelli
Another textured, big header, big imagery site. Francesca Battistelli's site makes it clear that you know what site you are on. The consistency is also delivered well. I like the "tabbed" navigation at the top, but does it need more highlighting?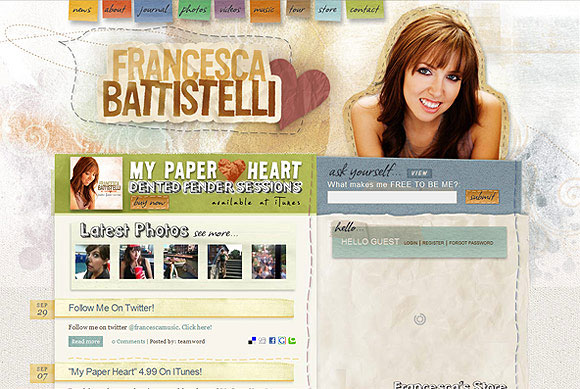 Jared Campbell
Jared Campbell is another great example of providing prominence to social networking media. Dedicating the right hand column to just that. But is it too much? The floral textures on the header make the design look retro yet keeps it edgy.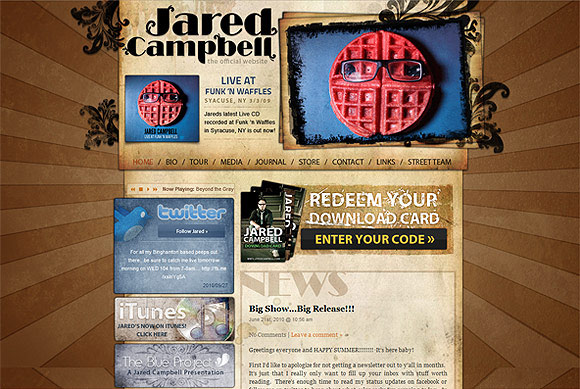 Alicia Keys
Classy, funky, and approachable. The Alicia Keys website is a true representation of her personality in my eyes. The header providing clear access to social network areas, yet promoting her music and her latest info, but keeping it simple enough to navigate between all the different areas.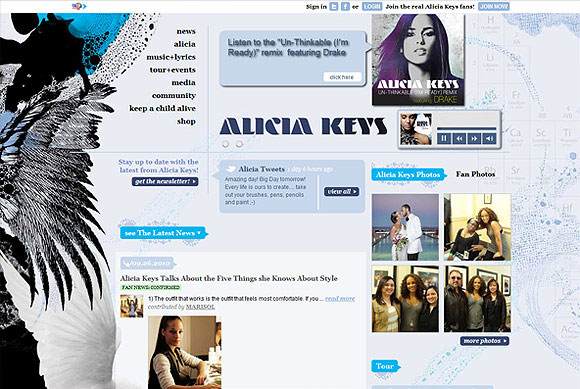 Splendour in the Grass
Although not an artist, but a Music festival, the website is bright colourful, attractive and eye-catching. Maybe that's the genre of music they promote as well? Definitely a big creative background image and a questionable layout too.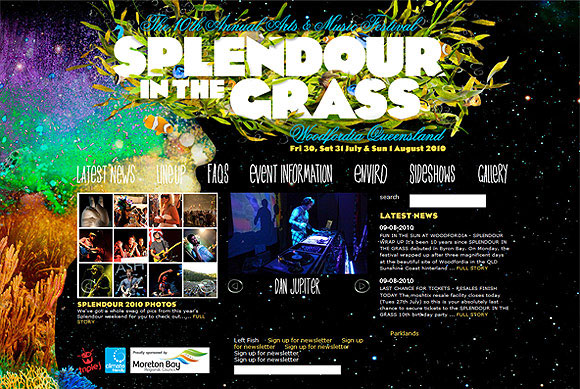 Anthony Hamilton
Big eye-catching imagery. Anthony Hamilton's grungy bordered, textured website stands out against the brighter coloured background. Signing up to the latest newsletter is subtly informative.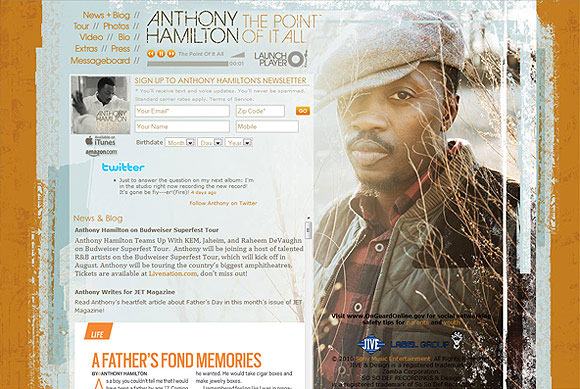 Zac Brown Band
The boxed approach is classic and provides a clean cut against the haberdashery background.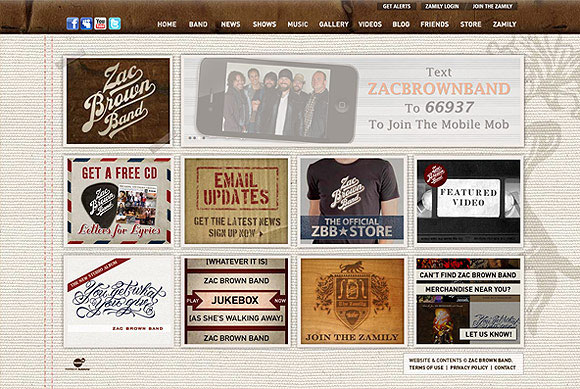 Jono Buchanan
Minimal imagery and quite a different approach compared to other artists. Simple yet impressive.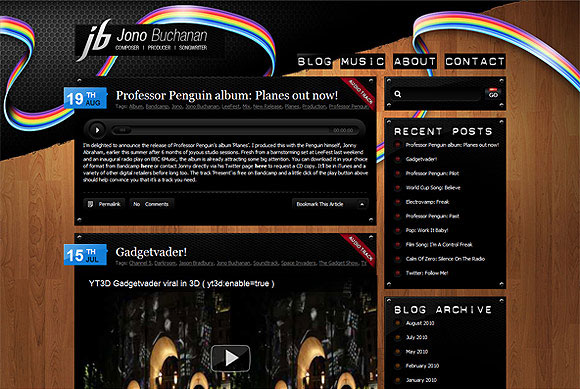 10 Years
Big background textured imagery, static navigation and nice presentation of the "fan comments". All over nice!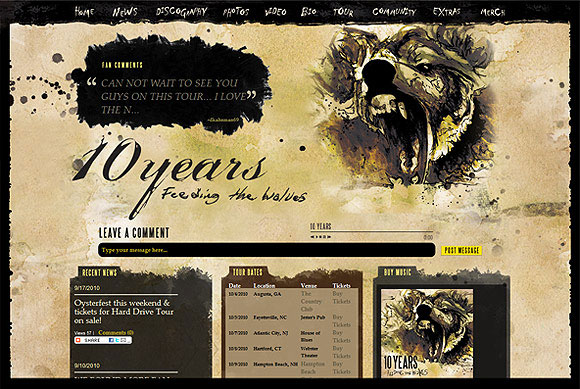 Rihanna
Social media and latest single are given prominence on Rihanna's site, after of course the promotion of her album.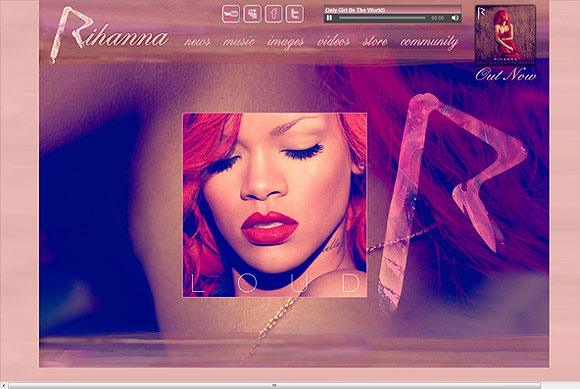 Ebony Cuts
Intriguing layout and design. Ebony Cuts bring out making the user interact with the site, and use the vertical scroll in an attention-grabbing way.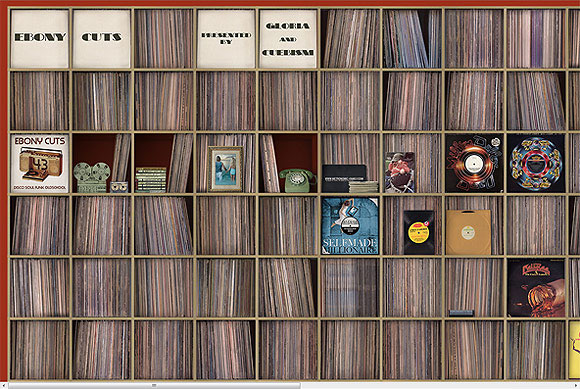 ACDC
The old school vintage and grungy creative style is definitely part of ACDC's personality that has come out in the web design.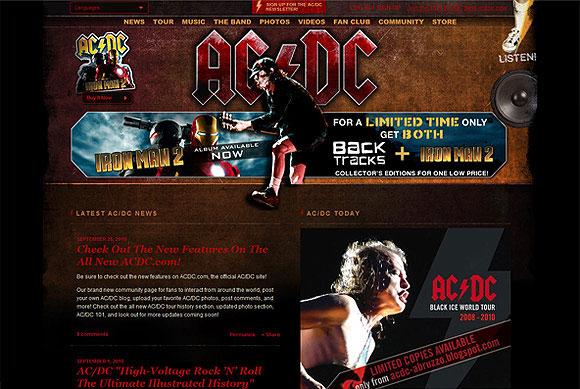 Jason Gray
Attention-grabbing design, especially the roll-over effect. Quite inspiring too.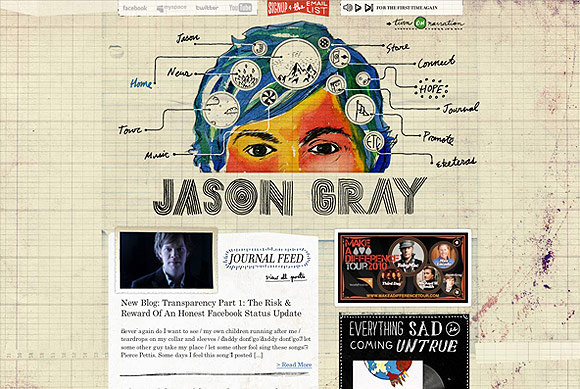 Placebo
Bold background imagery, and colour. Interesting layout too, although different to what one may imagine from an alternative rock group formed in Britain.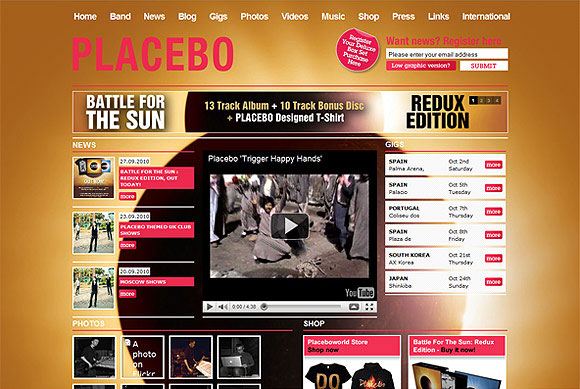 Maria and the Diamonds
The unconventional layout of the Marina & the diamonds website compliments the character of the band, especially with song titles like "I am not a Robot".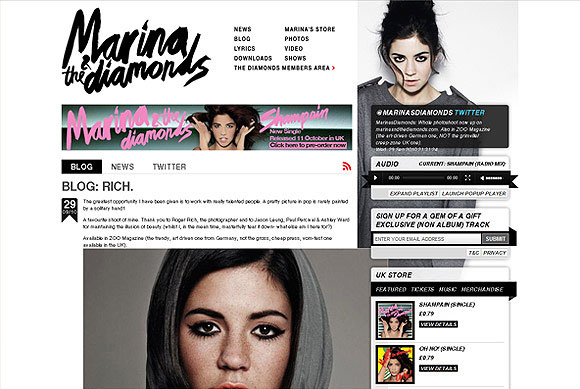 Matt Wertz
Acoustic, Pop and Rock. The sleek looking Matt Wertz website shines in its own very spacious way.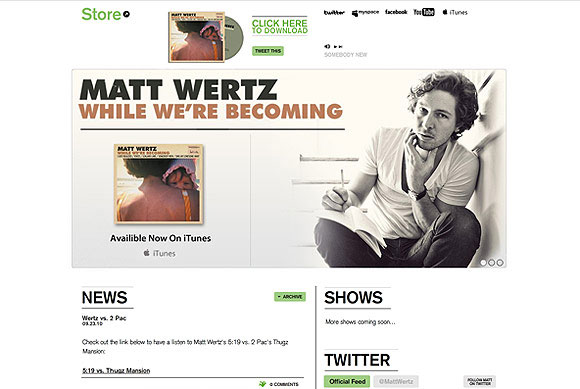 Terra Naomi
The indie pop genre that Terra Naomi fits into can be seen in the web design. It's simple, yet with the torn paper effect brings in the rough alternative rock effect.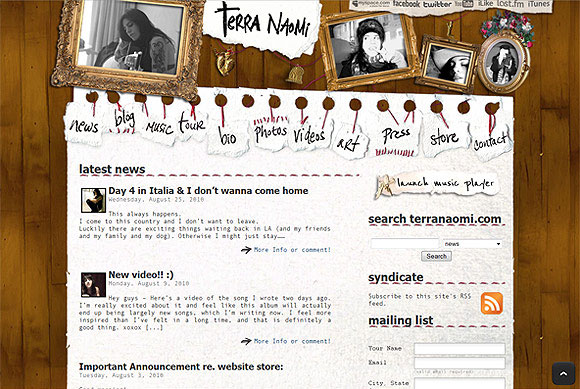 Papa Roach
The Papa Roach site is interestingly not as Rock as creatively possibly, yet still delivers the message.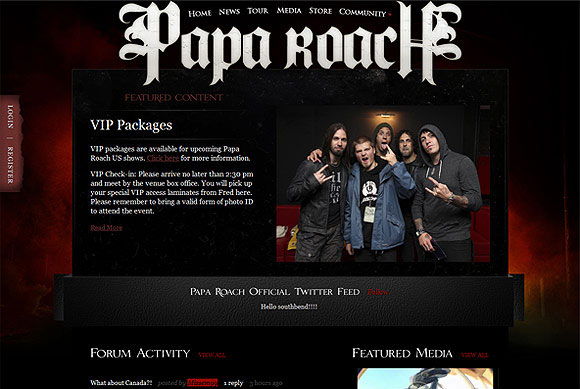 Tinie Tempah
The Tinie Tempah website shows a creative image, however it doesn't seem to take over the whole site. Interesting use of modern colours.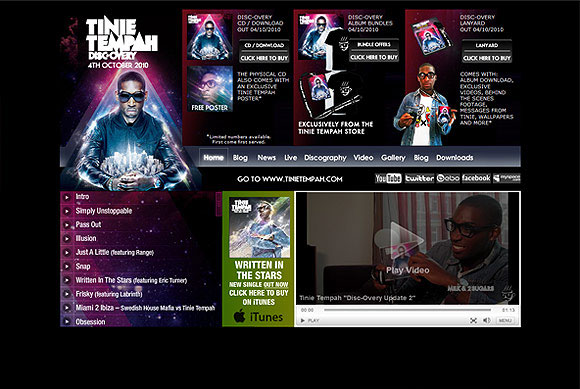 Usher
Sleek and sophisticated. Usher's website is packed with information but is cleverly coloured and organised.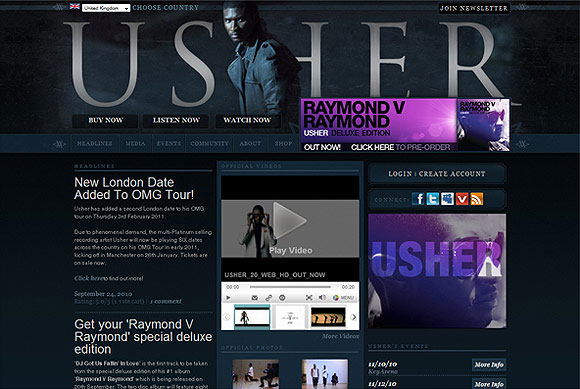 Orba Squara
The horizontal movement of the website is unique to this design. The organic look and feel compliments his musical talents and use of instruments too.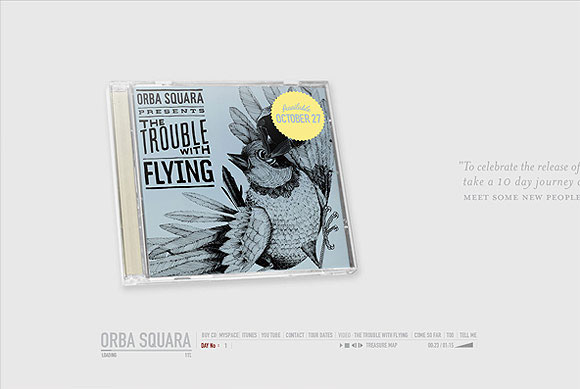 Joe Locke
The patterned background gives this jazz musician a homely feel. The warmth in his music can be seen in the web design, yet the crispness in choice of colour also shines through.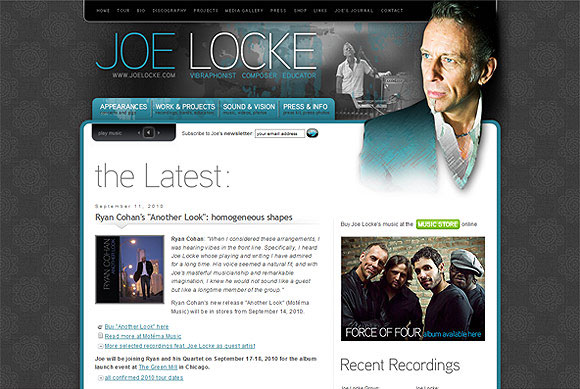 Jimi Hendrix
Often considered to be the greatest electric guitarist in the history of rock music, the Jimi Hendrix site is colourful and funky. A true reflection of his musical talents some would say.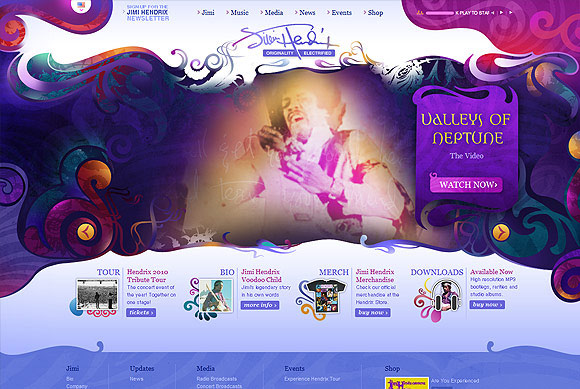 Nicole Scherzinger
Colourful but subtle, representing her solo career the website seems to aim to appeal to the younger audiences, definitely brings out "the heart of Nicole".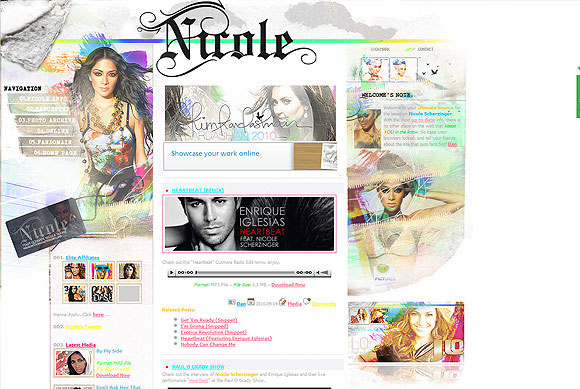 Kings Of Leon
Moving from Southern rock and Blues influences to a more alternative rock genre, the Kings of Leon website carries an image of a "chilled out" theme, representing their current sound.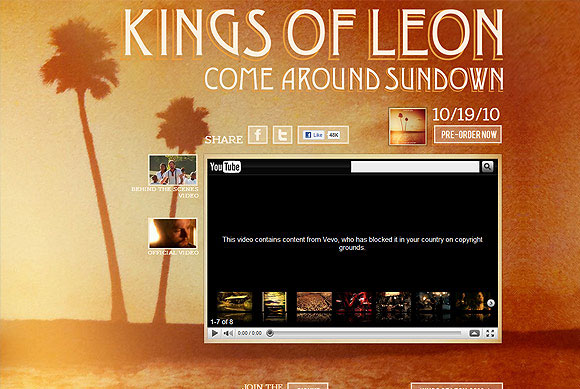 Katy Perry
The creative on Kate Perrys website mirrors the album artwork. Very consistent, but with a standard layout.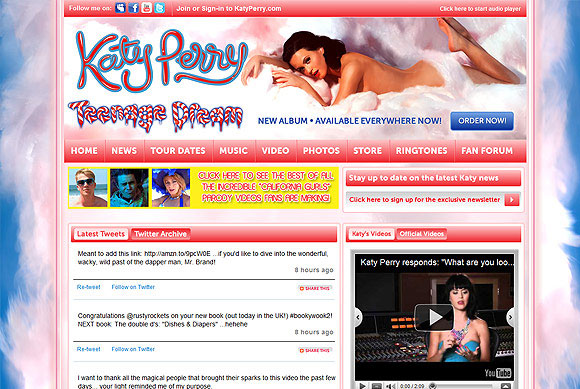 More Resources
Musically Inspired?
Are you feeling inspired by some of these sites? I'm sure there are plenty more out there that are a great source of inspiration. Why not let us know what you think and add a comment below.