It makes sense that if you're designing a website, you take inspiration from other websites. This explains the popularity of so many web design and CSS galleries. Sometimes though, getting inspiration from the same sources can get a bit … uninspiring.
It can be well worth looking beyond our own industry for new ideas. This article takes a look at sources of possible inspiration from drink labels. Drink manufacturers know that when scanning labels in the supermarket aisle or bottles lined up along a bar, the average customer doesn't know the difference between one bottle of wine and another. Very often the decision on which bottle to buy is based on the label.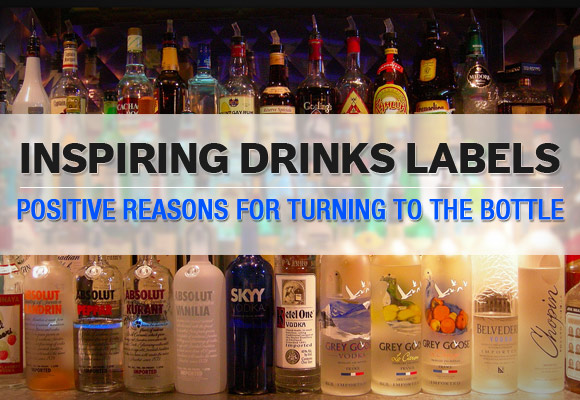 Image credit: Edwin Land

Drink companies know the importance of their labelling and the work put into branding of alcoholic drinks is probably greater than any other food or drink labels. This makes them a great source of inspiration for designers.
These are big generalisations, but over the years alcohol has played a significant part in historical events and shaping current thinking and opinions. These historical associations continue to be used in many drinks labels to identify their drink within a particular genre and encourage drinkers to buy into the lifestyle suggested by their branding. The history and public awareness of drinks labelling makes them a great resource for designers.
Note: Links have been provided wherever possible to the website for each drink, but if you're under the legal drinking age in your country you might not be allowed to access them.
Bourbon Whiskey
Bourbon originated in Kentucky during the 18th Century. Kentucky was a home for cowboys at the time, and bourbon whiskey brands like to maintain this association today. Bottle labels tend to be earthy browns and blacks with woodcut and western style fonts. Many labels will also try to achieve a worn and aged look to simulate that hard-lived outdoor feel. If colour is used it will often be red, derived from the confederate flag.
Rebel Yell, Bulleit Bourbon, Buck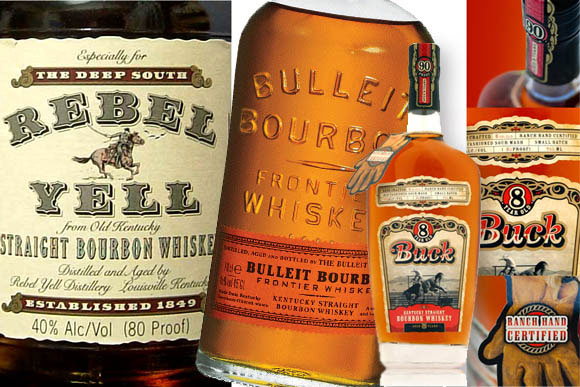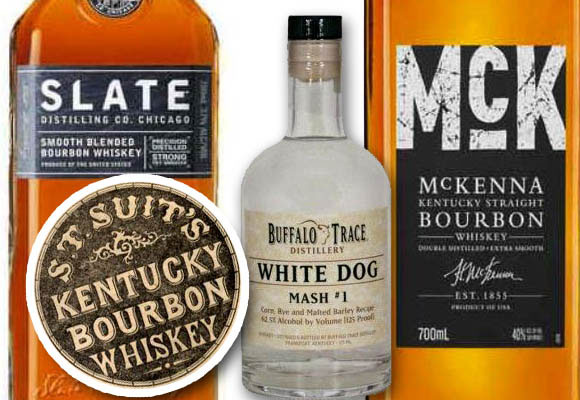 Rum
Rum was first made in the Caribbean from sugar cane and brought back to the west in the 16th Century by sailors. Rum became a staple drink for sailors and the maritime association is still reflected in its branding. The most traditional imagery is ships wheels and anchors, but brands have explored further with references to pirates and the sugar plantation slaves who first discovered the process for making the drink.
Black Tot, Blackheart, Kilo Kai, Mahiki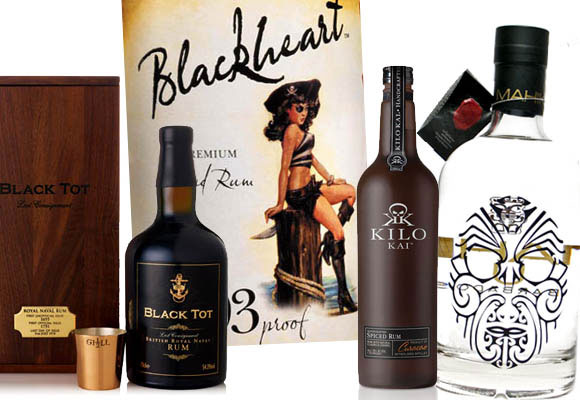 While rum is claimed to be a great love of sailors, their great fear, according to legend, is the Kraken. An enormous and violent monster based on the Giant Squid. Kraken rum uses this theme for an original branding concept for their drink – interestingly, they use a Victorian steam-punk style of artwork, presumably making reference to Jules Verne who mentions the monster in 20,000 Leagues Under the Sea.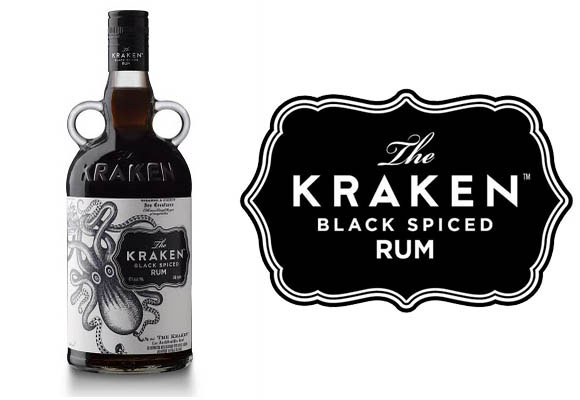 Vodka
A traditionally Russian drink, this lineage can still be seen in the labelling of many brands. These labels use the recognisable red and the star of communist Russia. Mostly they are resolutely masculine labels with bold serif letters, images of soldiers and party crests.
Smirnoff, Pyccknn CtahAapt (Russian Standard), Imperia, Ruskova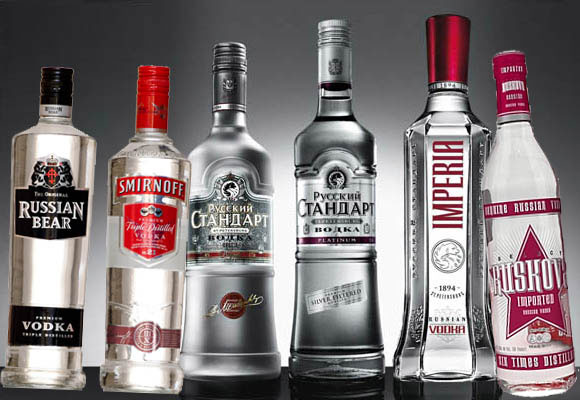 However, vodka is no longer a resolutely male drink. The Kin Group has bottled their vodka with far less imposing designs but, importantly, keeping the link with its history through the Russian doll (Matrioshka) design bottle.
Graphic designers ELO take a contemporary twist on the vodka bottle with their concept for Russ vodka – but the Russian heritage is still a key part of the design.
Red Army Vodka is seemingly not available any more, but the distinctive red tipped missile style bottle is a powerful contrast to the more traditional labelling on other vodkas, but still retaining an obvious Soviet connection.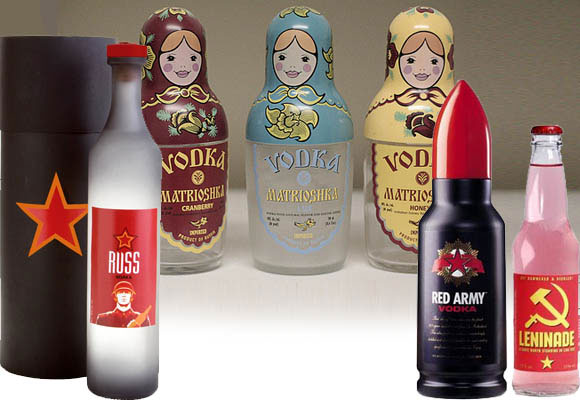 Absinthe
Absinthe was the drink of choice for writers and artists in 19th Century Paris. The art movement of the time in France was Art Nouveau and the drinks labels are often reflective of this style. The drink's strong green colour is also often reflected in the labels. The Art Nouveau style designs, combined with strong colour and pattern, often make the labels look fun and playful. Many labels however – particularly the modern brands – have an interesting twist, with references to the darker side of a drink that was believed to cause its drinkers to suffer mental illness.
Absinthe Parisienne poster by Gelis-Didot & Maltese, Absinthe Mata Hari, Absinthe Robette poster by Privat-Livemont 1896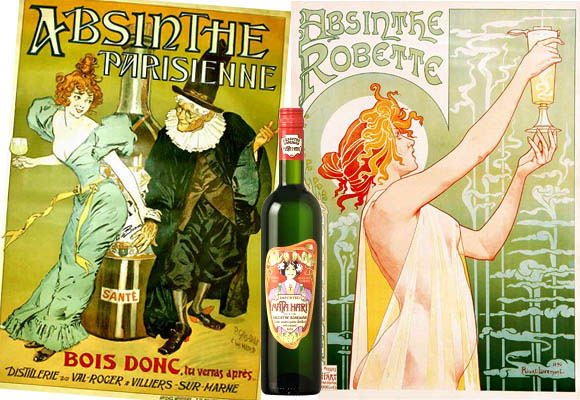 The drink has attracted the interest of Marilyn Manson and H.R. Gieger, who have both produced their own Absinthe drinks. Mansinthe and Absinthe Brevans.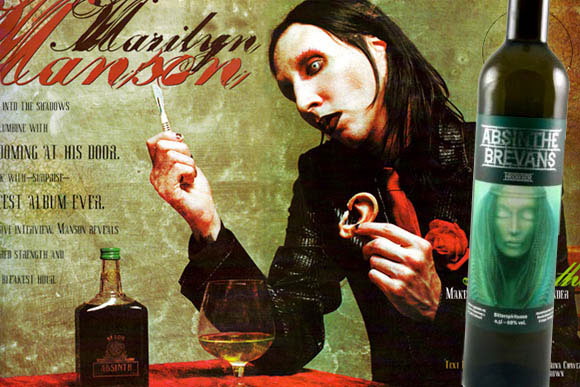 Beer
This is perhaps one of the most universal drinks. Possibly because it is so easy to make. Although generalised, the drinks already discussed have had direct associations with a particular place of origin. This isn't quite the case with beer, it has strong associations with many countries, but with variations in each of these countries reflecting its place in the culture.
English Beer
Exmoor Ales, Abbot Ale, Ivanhoe, Perfection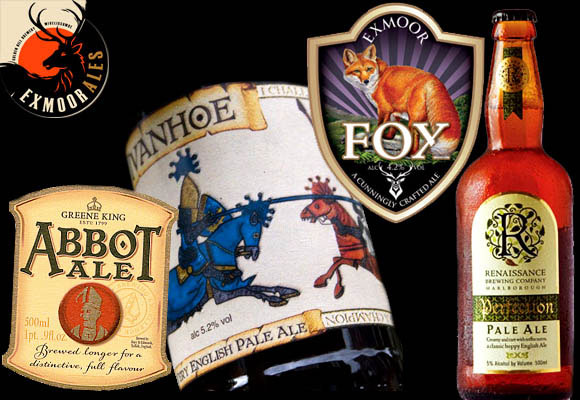 In the UK beer has been something of a country pub drink. The labels for many of these drinks are traditional and conservative. Beer (Ale) was brewed by monks in the middle ages and this history is also captured in modern labels with calligraphic lettering and examples of duelling knights of the era. Beer is also often made in wooden barrels and the oak cask is commonly seen in its branding. Gorilla Sushi's variation on Twitter's Fail Whale has clearly taken inspiration from traditional beer labelling.
Gorilla Sushi's variation on Twitter's Fail Whale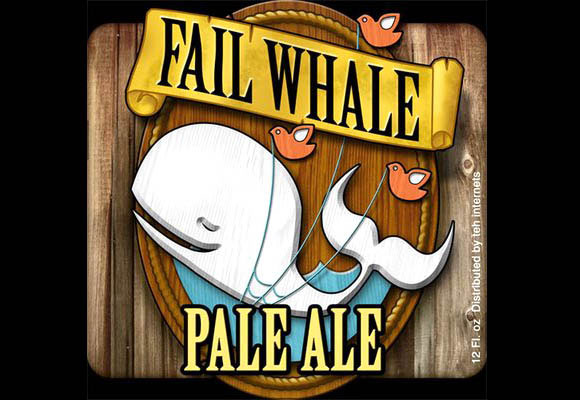 Mexican Beer
Think of Mexico and you perhaps think desert, cactus, bandits and if thinking back further – the Mayan's and Aztec's. Exactly these characteristics are used in the design of these Mexican beer bottles.
Cerveceria Hacienda designs: Andrew Rose, Sol, Desperado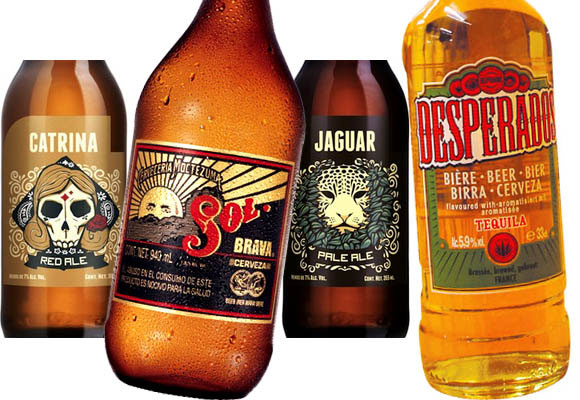 Tequila
Also from from Mexico, these Tequila bottles use a similar set of design themes seen in the Mexican beer labels.
Bambarria, Crema Sauza Almendrado circa 1920, Tortilla Gold & Silver (old bottle design shown)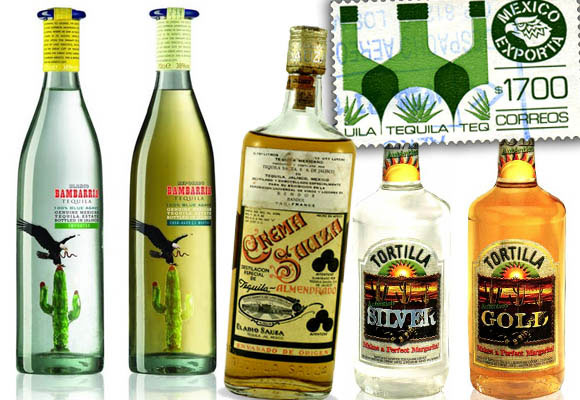 Wine
Seemingly one of the most socially acceptable drinks, wine is a sophisticated drink choice – often an accompaniment to a meal and almost a requirement to take as a gift when going out for dinner.
Contemporary wine labelling covers all spectrum's of design, sophisticated, amusing, clever, eye catching, informative and beyond.
Mint Design have taken the process of buying wine to go with a meal to its logical extension and created wine labels telling you exactly what meal it is suitable for.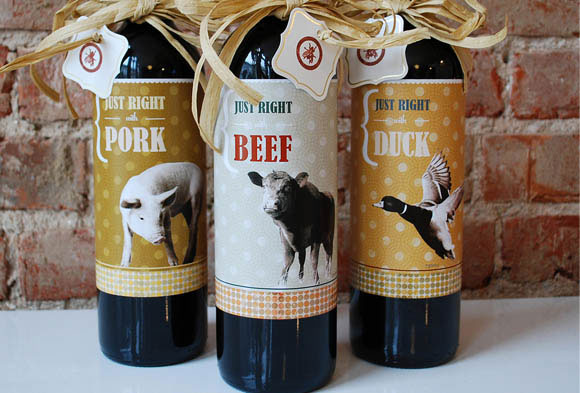 To the connoisseur, a wines character can be discovered by sniffing it – these bottles play on this, amusing for most buyers who are unable to tell anything about a wine from the smell alone.
Nice Nose wine: Robot Food, BYO bottle: The Creative Method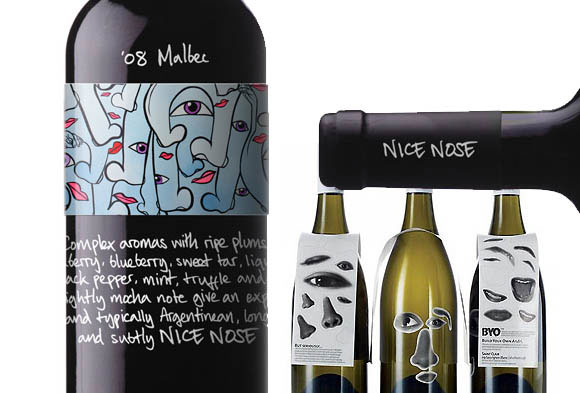 Maybe not so true anymore, but there's still something of a belief that red wine is for men and white for ladies. These labels play on that suggestion.
Mr. Noir & Miss Grigio, The Killer, Groom & Bride wine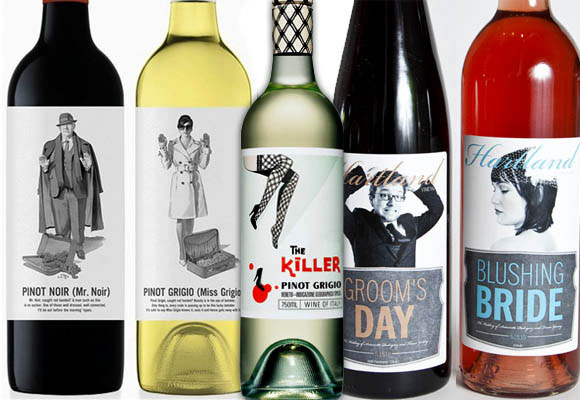 Jaqk is a wine company run by 1 true wine expert and 2 graphic designers. The whole premise of the company is a focus on design and branding of each wine as much as the relative merits of the wine as a drink. It demonstrates the fact our buying decisions are based on aesthetic choices just as much as product knowledge.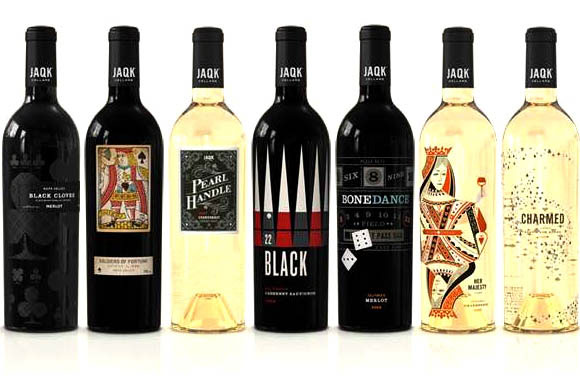 One for the Road
This article has been intended to show some inspiring designs you will find on the labels of drink bottles. A lot of generalisations have been made about the history and themes seen in the labelling of different drinks, however they are not entirely unjustified and show how much richer and more appealing you can make designs by placing them within a context and making references your audience can immediately relate to.
Please share any drinks labels you've been inspired by, or work that has been influenced from them in the comments.
More Resources