One of the hardest aspects of any kind of design or content creation is finding good quality free imagery, so Stockio – a new option for finding free photography and graphics is a very welcomed resource.
"Pro" paid for stock image sites can get expensive fast, so there's a huge demand for free stock photography and vectors. However what's been available up until now has been difficult to find and use for various reasons:
Free images are often low quality
Free images usually require attribution
The selection of free images is limited
Good quality, attribution free images from free sites get too popular and you start seeing the same images everywhere
Free sites often support themselves with advertising which can be annoying and distracting
Most sites only offer one type of resource, e.g. just free stock photos, or just free vectors. Searching through lots of different sites when you need more than one type of stock can be time consuming.
Stockio eliminates these problems by providing an ad-free extensive directory of high-quality, attribution-free images, vectors, videos and fonts that's easy to search and download from.
Let's take a closer look at what Stockio has to offer.
Free Stock Photography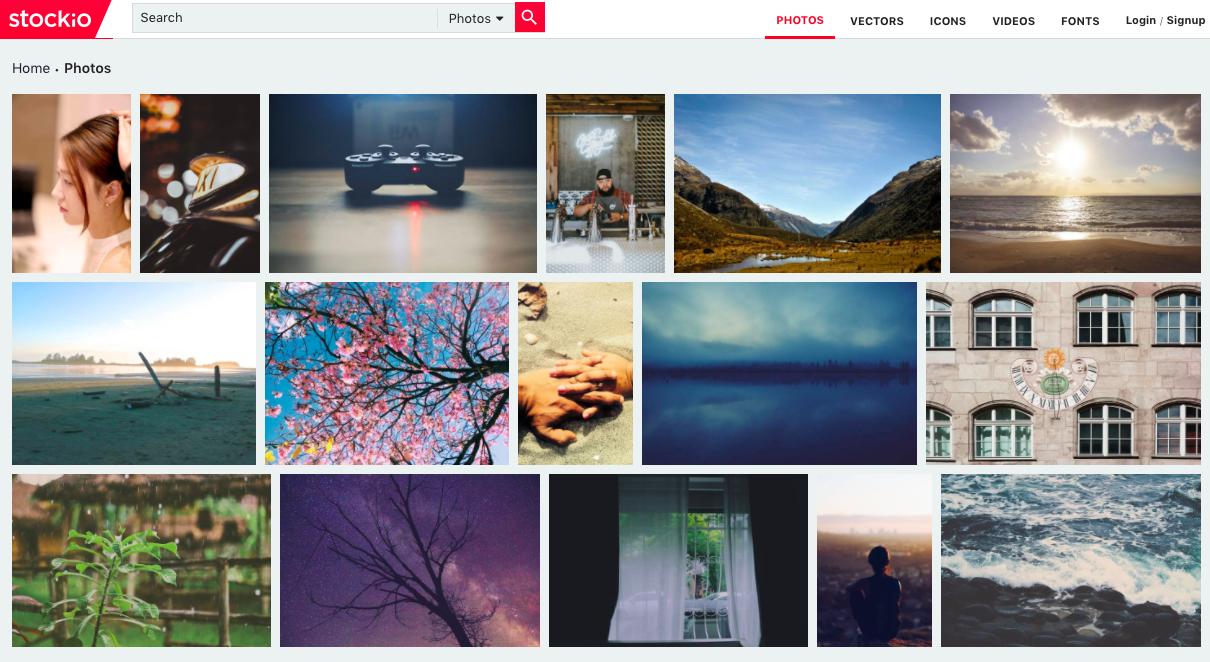 If you use stock photography websites frequently, you're probably sick of coming across the same images all the time. Not so with Stockio – they've managed to compile a resource of over 22,000 high quality stock photographs, most of which you probably won't have seen before.
One nice feature I noticed was that a lot of the photos don't show people's faces directly – instead there are more over-the-shoulder shots and close-ups of hands. As the same subjects feature in a lot of the more popular stock images elsewhere, you'll often see the same faces popping up all over the web. Avoiding faces entirely when you're choosing images is a great way to get around this issue
In each image download page you can see the camera it was taken on as well as the lens and camera settings. This makes Stockio really useful for amateur photographers as well as designers and bloggers looking for photographs. If you're trying to improve your photography skills you can select a few images that appeal to you and replicate their settings to learn more about photographing different subjects in different lighting.
Images can be downloaded in a range of sizes from 800 x 600 or equivalent to up to around 4000 pixels wide for most images (some have larger sizes available).
Stock photography from Stockio has many potential uses including:
To illustrate blog posts
Use in web design
Use in print design
Use for desktop wallpaper
Edit and post on social media (for example, with inspirational quotes)
Free Vectors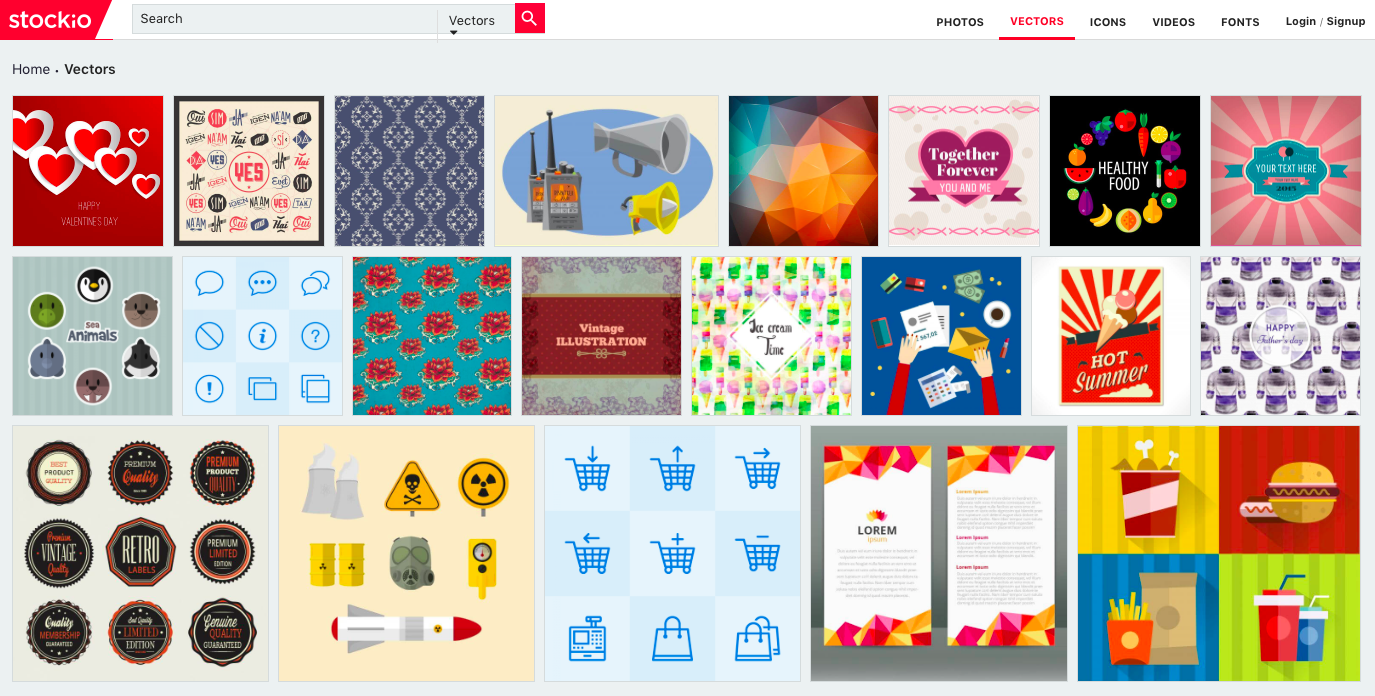 With over 3,500 available free vectors, there's sure to be something suitable to suit your project. Vectors are great for use in any kind of design as they're fully editable and can be scaled up or down without losing quality.
The range of vectors available includes repeating patterns, single graphics, and full print designs such as invitations and menus that you can just edit to customize however you wish.
Most vectors are available in EPS format, which you can open in Adobe Illustrator or most other image programs. You can also download as a high resolution JPG if you don't need to edit the graphic.
Stock vectors can be used:
To illustrate blog posts
Use graphics in web design
As a starting point for print design to create flyers, invitations, menus etc.
To create infographics
Free Icons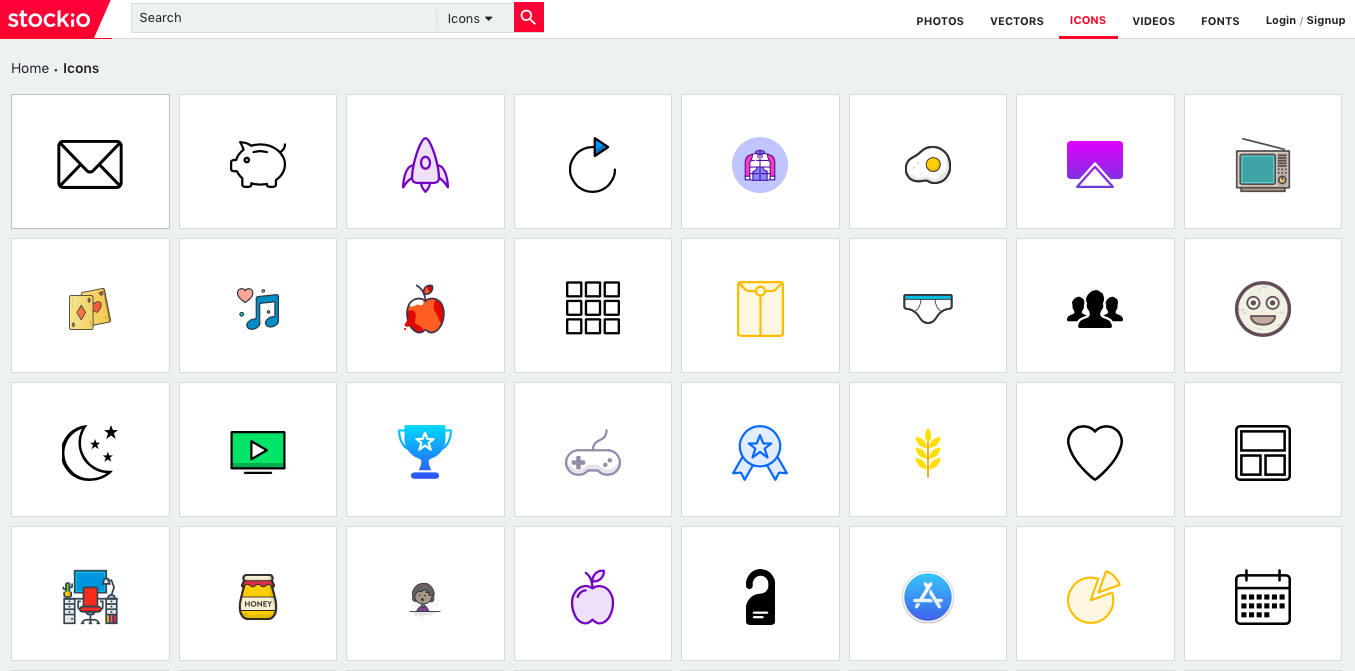 Icons are essential for use in web and app design to create buttons and you can also blow them up to a large size and use them as standalone graphics. What makes icons most useful is that you get a whole set of different graphics all around one theme, or designed in the same style. Stockio offers over 5,000 free icons so there's sure to be something to fit every style and need.
Icons can be used:
In web design
In print design
In app design
To create graphics
Free Videos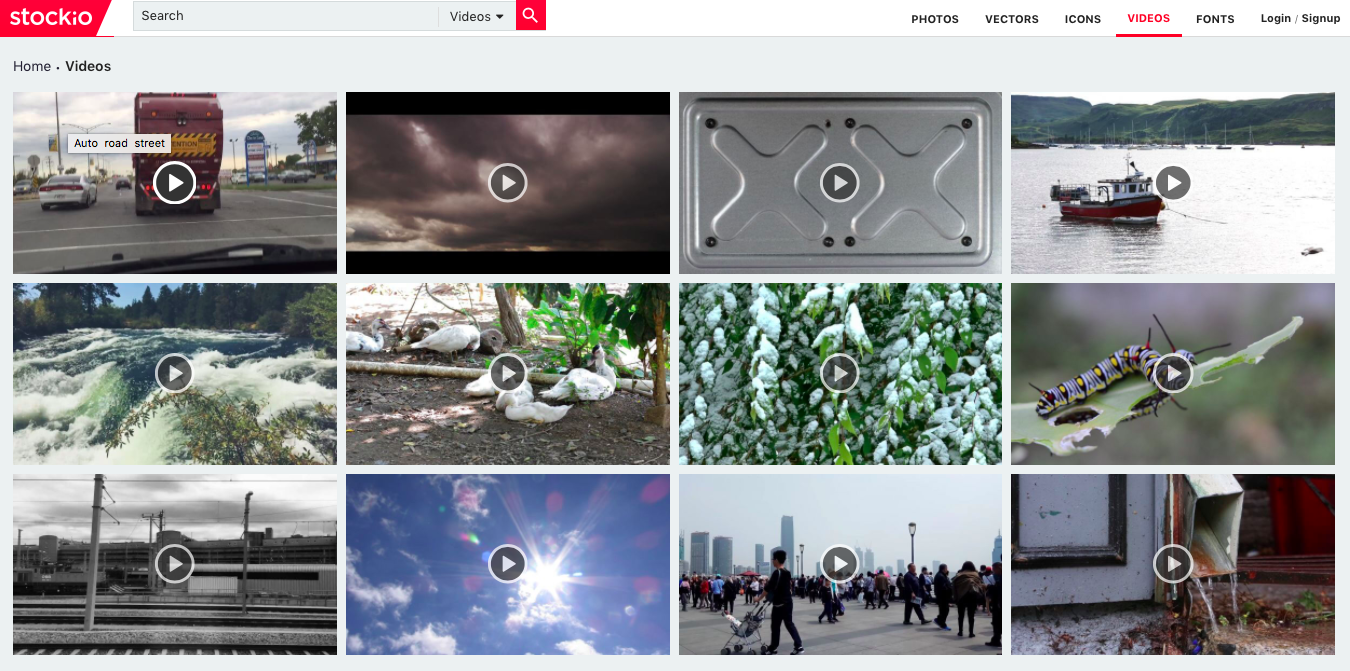 Not many sites offer free stock videos but video is becoming used a lot more around the web so a good resource of free stock videos is very valuable. There are over 1,000 free stock videos available on Stockio covering a range of subjects.
Stock video can be used in:
Website video backgrounds
Facebook video headers
With text and other clips to create your own videos
Free Fonts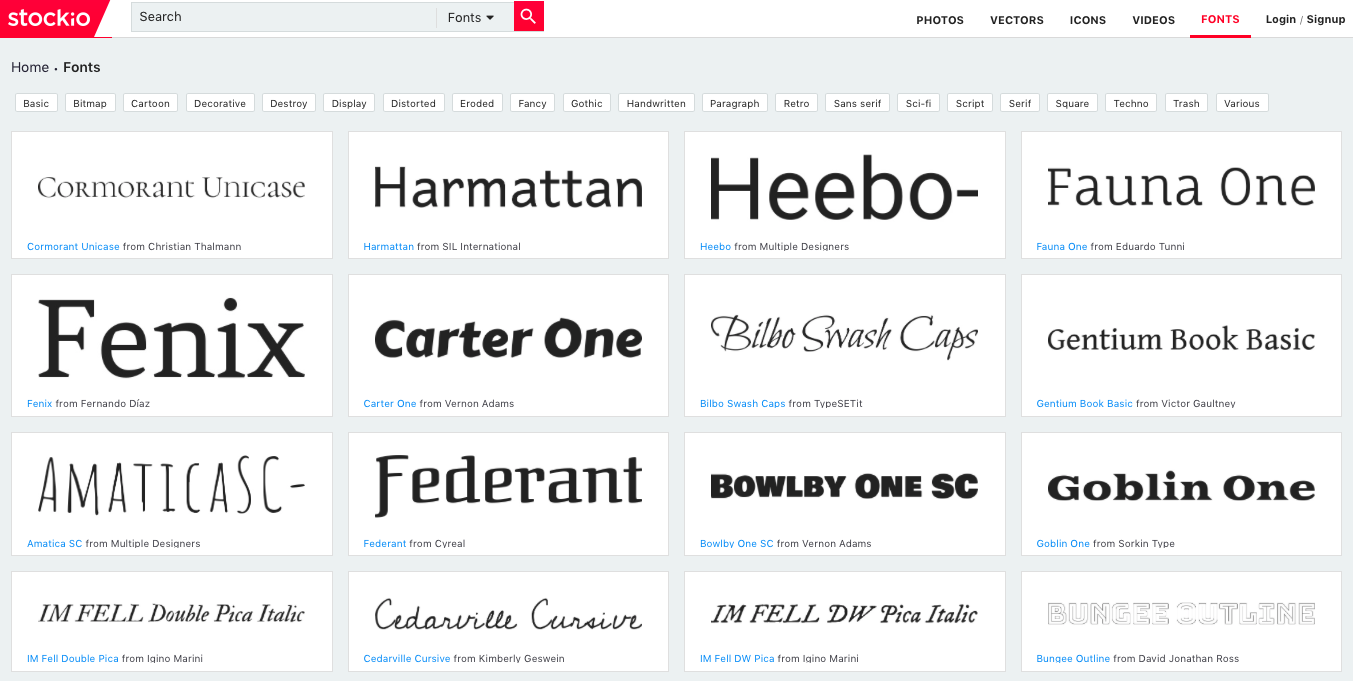 Using beautiful typography is one of the fundamentals of good design and it's important to choose the right font whether you're designing a website or a poster.
It can be frustrating looking for fonts on other sites only to find that the perfect font for your project isn't free. Instead, choose from Stockio's collection of over 11,000 fonts.
Free fonts can be used:
In web design
In print design
To create quote images for social media
Site Organization and Navigation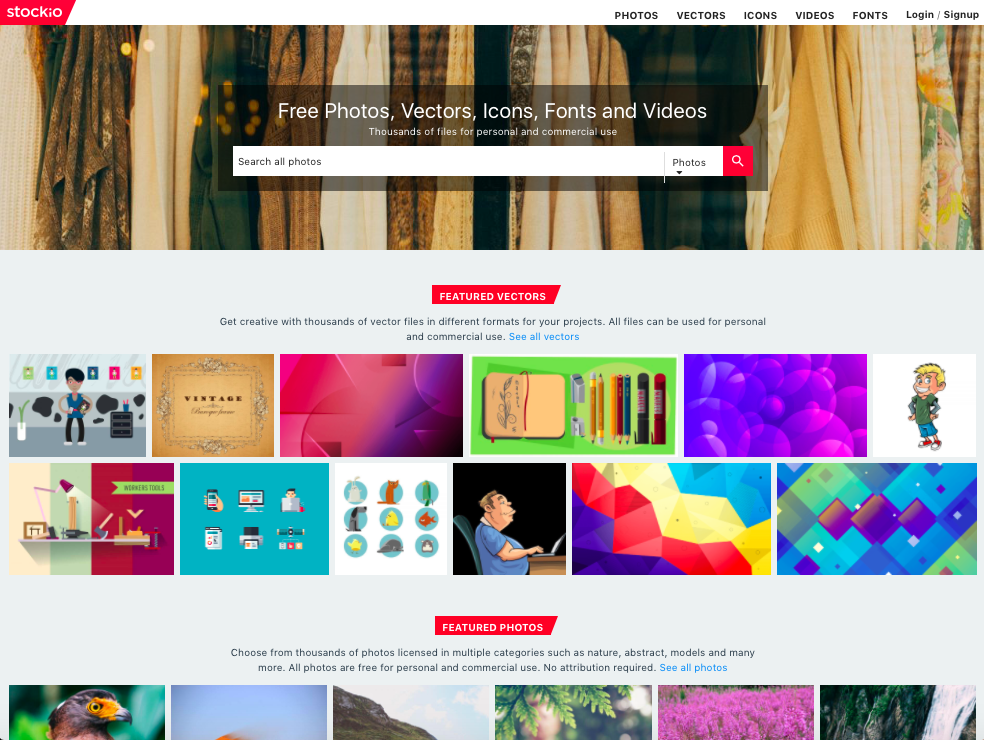 The first thing you'll notice about Stockio is that it has a clean and modern design and most importantly, very little advertising – on the homepage there's just one small banner towards the bottom of the page and other pages contain no more than three unobtrusive banners that don't detract from the user experience.
This provides a refreshing change from free stock photography sites with very busy layouts and distracting ads all over the place.
Browsing Stock Assets
Stock assets on Stockio are organized into five categories:
Photos
Vectors
Icons
Videos
Fonts
These categories can be accessed directly from the main menu. Clicking on a category will take you directly to a grid of images to look through and a button to click through to the next page. It's not obvious how images are sorted but is likely to be newest additions first.
You can also browse directly from the homepage, which showcases a selection of featured files in each category.
It's not necessary to have an account or log in to download any assets but it's worth doing so because you can save your favorite files for later use.
Searching for Stock Images
As soon as you land on Stockio you'll see a large search box taking up most of the homepage, so it's clear this is the main method of finding images. You can select whether you want to search photos, videos, vectors, fonts, or icons from a dropdown box.
To give you more of an idea of the quality of images offered by Stockio, we'll try a couple of sample searches:
Search term: "computer" in photos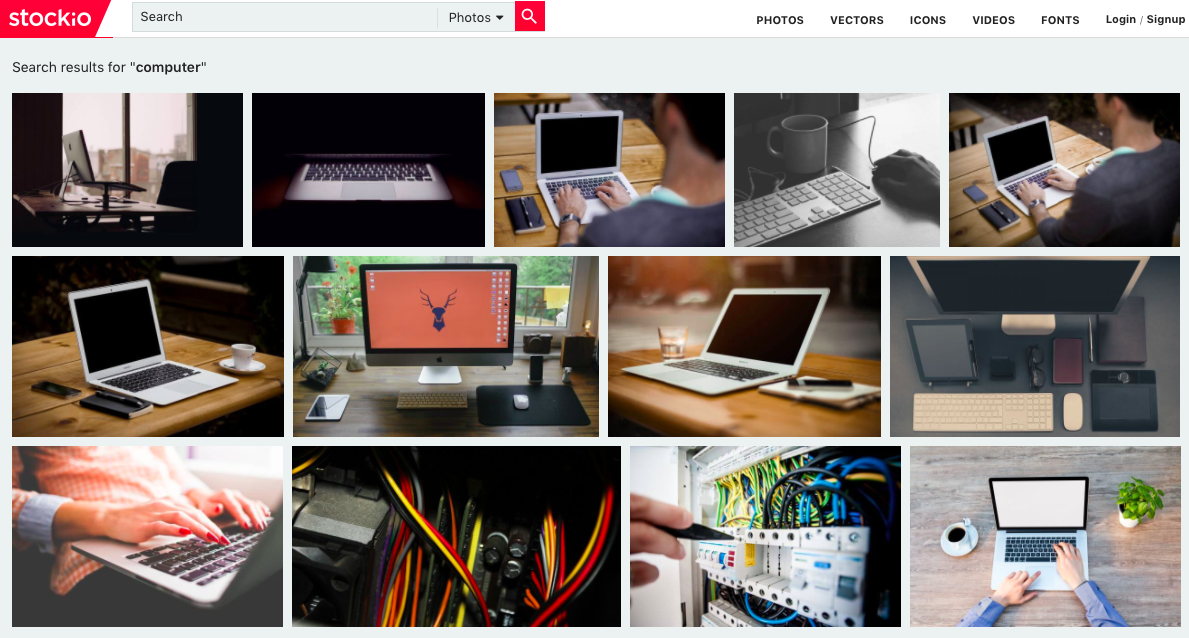 Immediately you can see that these are all recent images as they feature up-to-date equipment, mostly Apple products, which of course are more aesthetically pleasing in photographs. There's also a nice mixture of desk shots, flat lays, close ups, and people using computers.
After clicking through to a single image, you'll also get a whole gallery of visually similar images, which can be very helpful to avoid using the same images all the time.
Search term: "meditation" in photos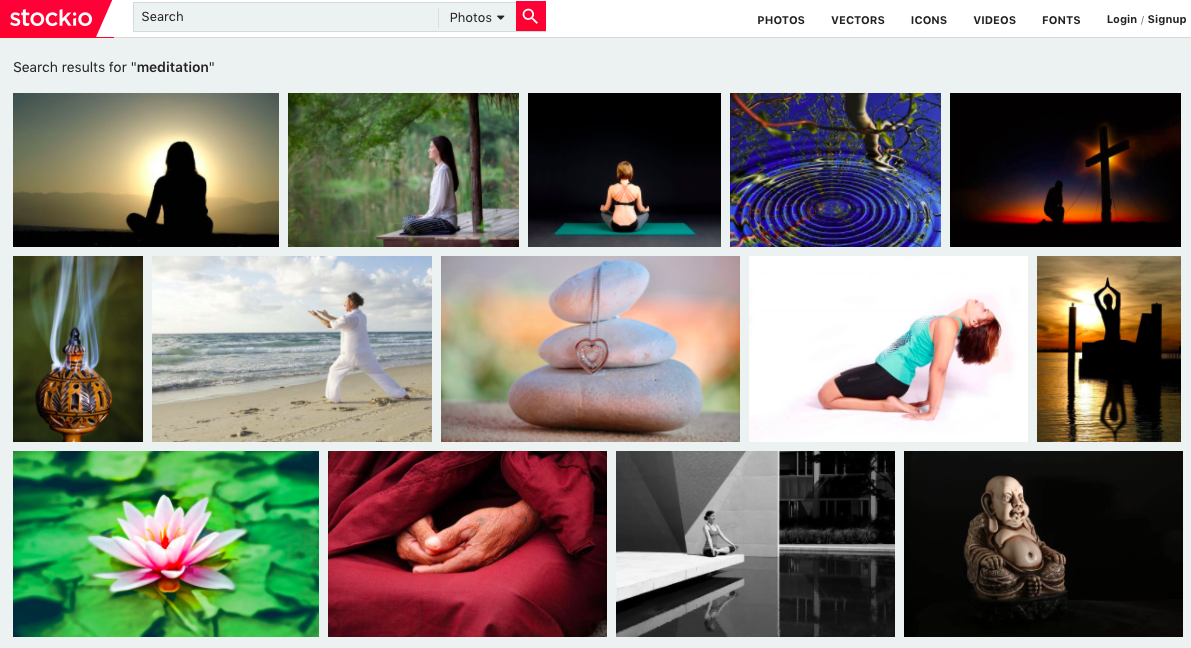 This is a smaller niche that would normally be more difficult to find appropriate images for on most of the other stock sites. Stockio returns a full page of options ranging from people meditating and doing yoga in a range of different settings, Buddhist monks at prayer, and more symbolic images such as a stacked pile of pebbles and a lotus flower.
Search term: "cat" in vectors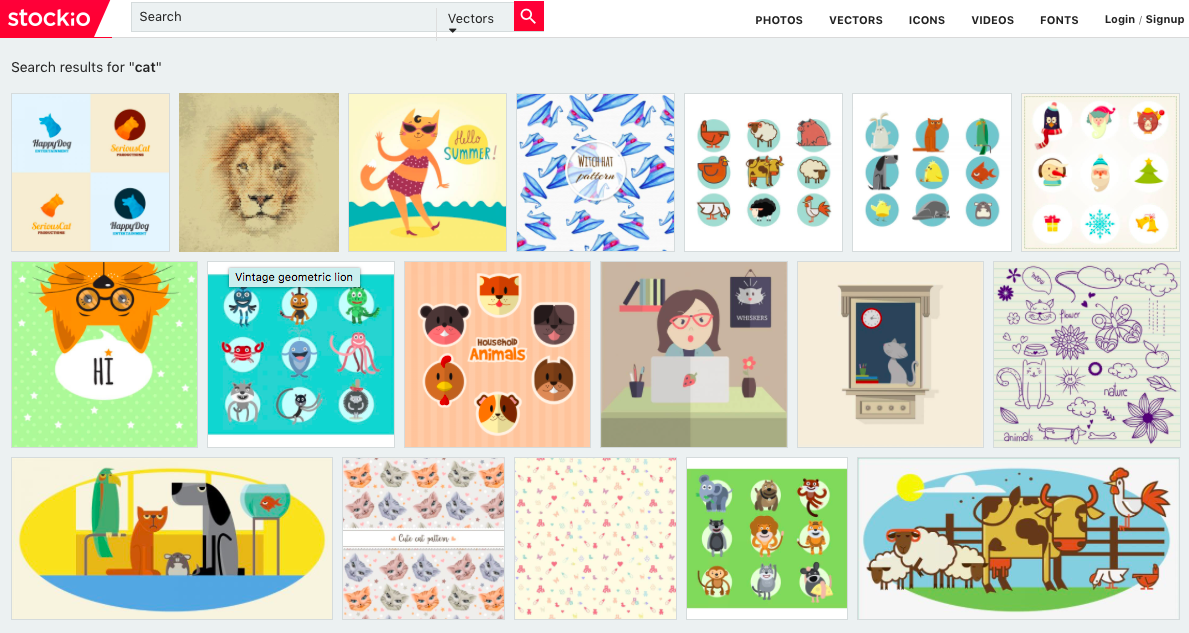 There's a wide range of different illustration styles on offer here, so you're sure to find something suitable for your project. The graphics include individual illustrations, repeating patterns, and sets of graphics.
Search term: "people" in icons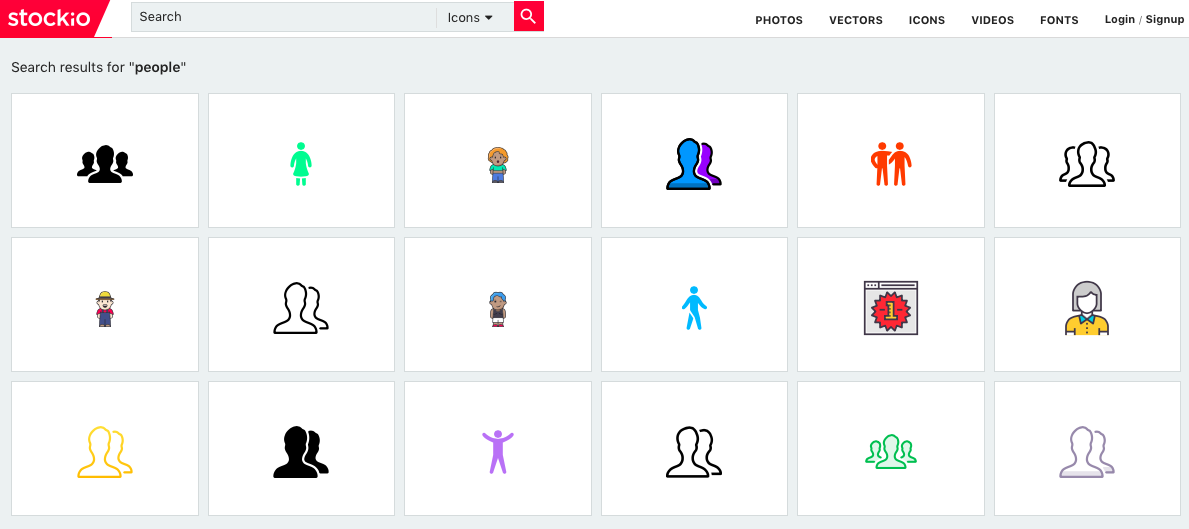 A large selection of icons is returned in different styles and colors. If you click on an individual icon you can also see the rest of the icons in the set.
Search term: "city" in videos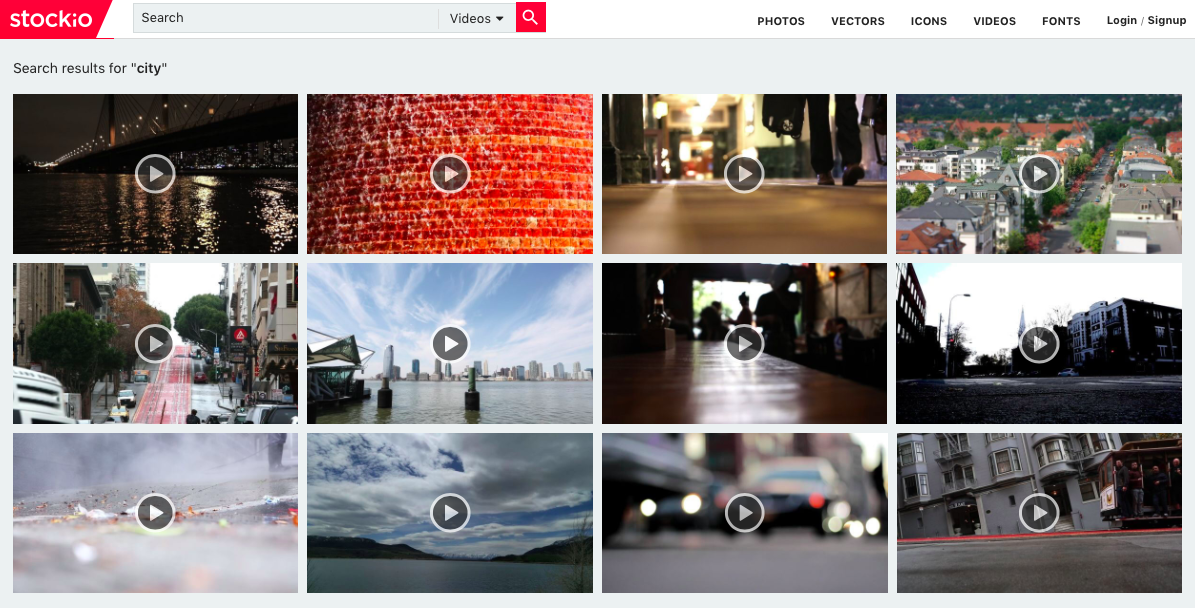 As you'd expect, the selection of videos on offer is not as extensive as the photos and vectors available, but there's still an impressive selection of over 1,000 high quality videos. This search returned over 100 videos covering many different subjects and videography styles from subtle bokeh of moving city lights to people chatting in a busy café.
Search term: "handwritten" in fonts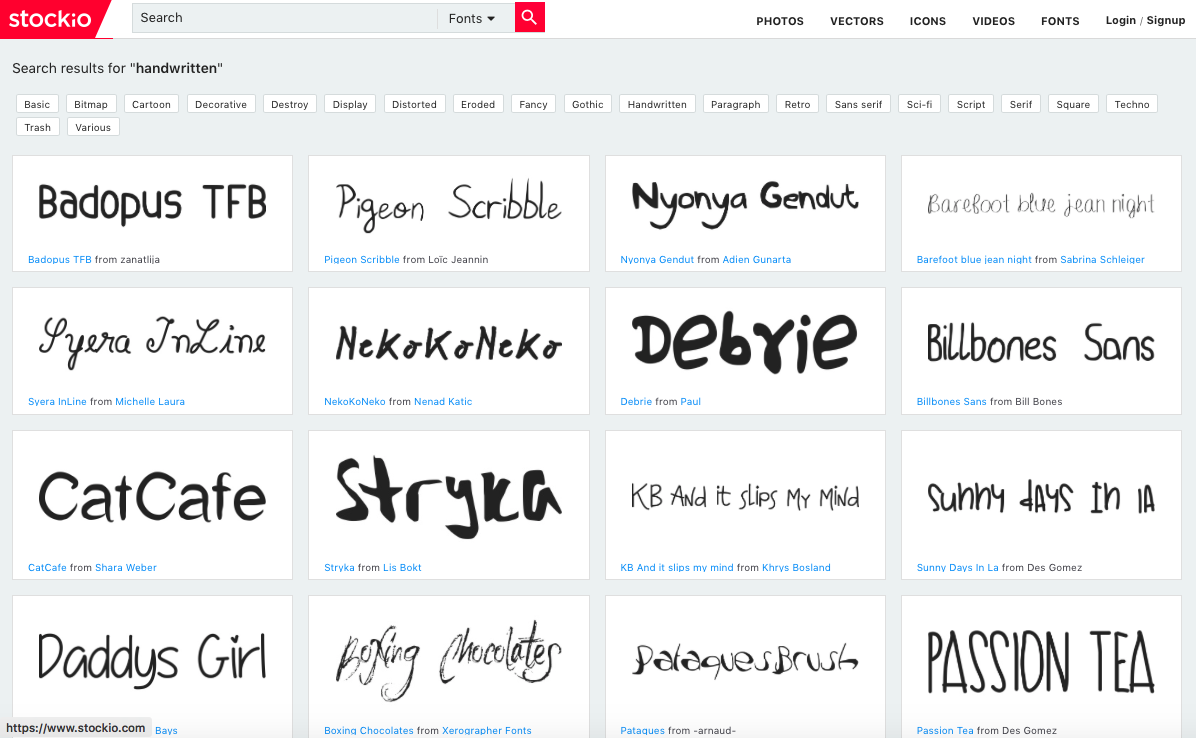 Unless you have a specific font in mind, you normally have to browse through pages of fonts to find a suitable one, so being able to search for fonts with descriptive words such as "handwritten" or "grunge" is a very useful feature. This search returned 45 pages of fonts from childlike print to elegant calligraphy.
Search Stock Images by Color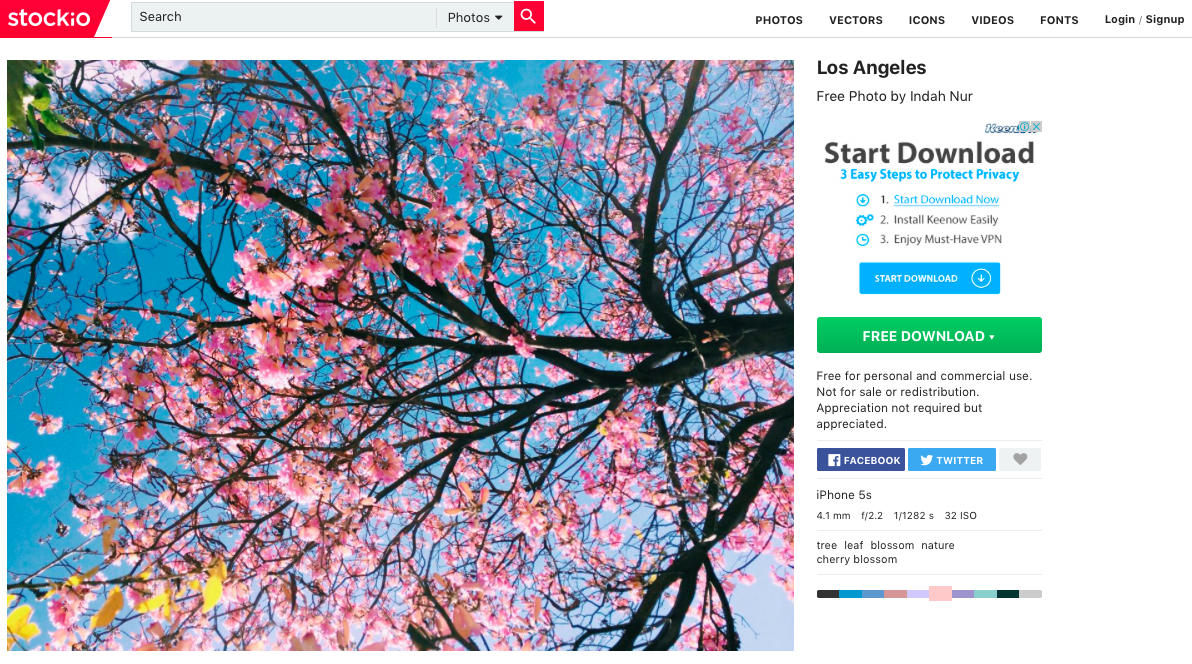 One of the most unique features of Stockio is the ability to search for images by color.
When you go into the download page for any photograph, vector, or icon, you'll see a color palette taken from the colors in the image below the download button.
If you click on one of these colors you'll be taken to a page of images that also contain these colors.
This feature is very useful for any kind of design work when you're trying to find complementary images to go with the color scheme you're working with.
Stockio – Your Complete Free Stock Resource
Stockio is a very useful resource whether you're a web designer, graphic designer, blogger, or social media manager.
All the images, videos and fonts on the site are excellent quality and the fact they can be used attribution free is sure to make this one of the most popular stock sites around for a long time to come.