[ This is a sponsored post on behalf of Monday ]
Monday.com is a project management tool for teams and freelancers that allows you to manage your projects, team, and keep your clients in the loop, all from within a single dashboard. In this post, we take a closer look at this platform to see how it's different from all the other project management tools.
The problem with most project management tools available today is that almost all of them are only good at doing one specific task. Slack is good for team communication. Trello is a great tool for managing projects. Asana is best for managing clients and keeping them up-to-date.
As a result, both freelancers and team managers end up using multiple tools to manage all these tasks. Having to go back and forth between different tools to get things done can be a painful and a time-consuming process.
What if there's a tool where you can do all of these things and more from using a single dashboard? Well, that's exactly what Monday.com (previously Dapulse) is all about.
A Single Board to Track and Manage Projects
Monday.com uses a clever system called Pulses for managing projects. A Pulse can be anything you can think of. It can be a task, a client, or a project. You simply create a Pulse, assign it to a person on your team, put a status on whether it's scheduled or done, add a timeline on when you need it delivered, and more.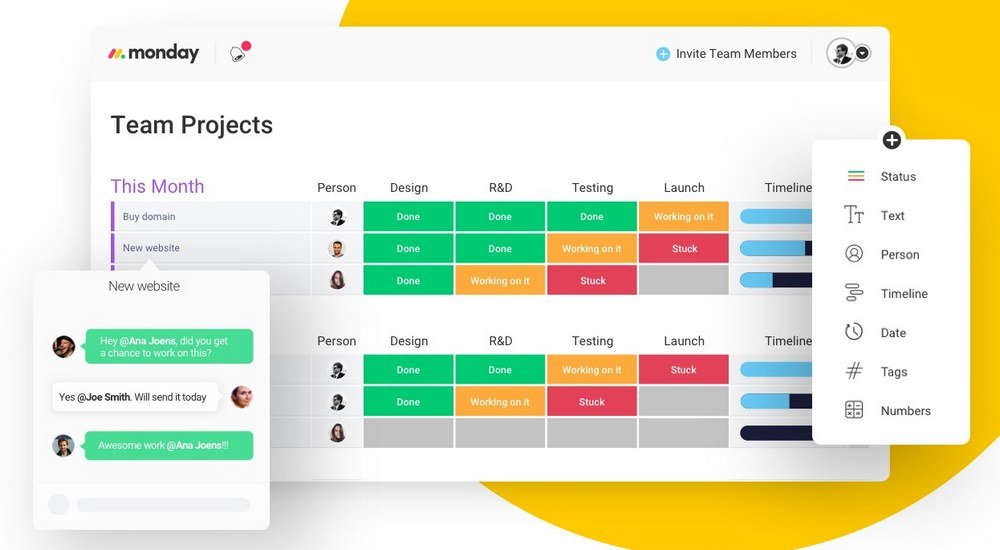 These Pulses goes in Boards. A Board is a place where you manage all these Pulses along with your team, clients, and projects. No need to switch between tabs or load different pages. Monday.com lets you take care of everything from a single Board.
Keep Your Clients Up To Date
One of the most painful things most teams and freelancers have to deal with is having to keep your clients updated on project progress. This usually involves a lot of emails between the client, many explanations, screenshots, and arguments.
Monday.com helps get rid of all of that by allowing you to share your Boards with your clients. You can simply invite your client as a guest to take a glimpse at your Monday.com Board so that they can see the ongoing tasks and the progress made on the project. It's as easy as that.
Team Communication Made Easy
When working on a large project involving a team, there will usually be dozens of long email threads filled with discussions between your team members and project updates. Most of the time you'll easily get lost in these email threads and even forget about important deadlines.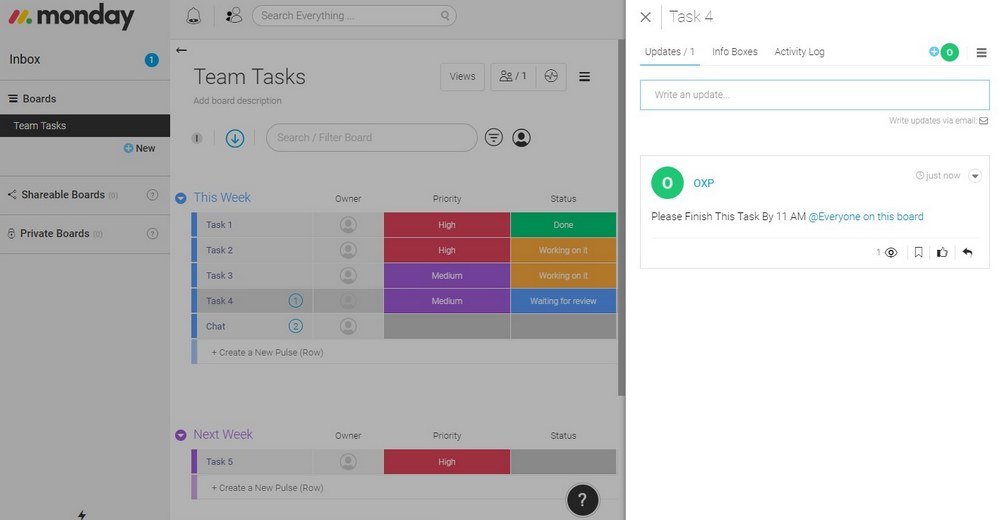 There's no need for emails when you're using Monday.com. Communicating with your team is quite easy on Monday.com. Simply clicking on a task on your Board will open up a sidebar window where you can post updates related to projects and chat with the team using @mentions. As the team manager, you'll be able to see who viewed your updates as well.
Integration With Third-Party Apps
Monday.com integrates with many other third-party apps as well. This includes Google Calendar, Google Drive, Dropbox, Trello, Zapier, and more.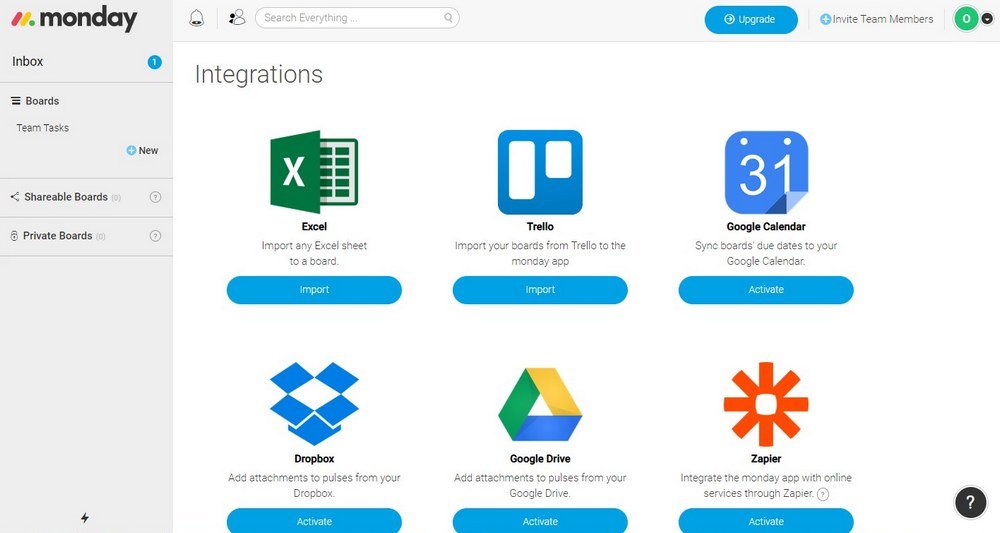 With the help of these apps, you can supercharge your Monday.com boards and take project management to the next level. For example, with Google Calendar integration, you can sync project due dates with the calendar to avoid missing important deadlines and use Zapier to connect your Monday.com Boards with Slack, GitHub, and even MailChimp.
Plan Team's Work Hours
Time tracking is another important part of managing a team. Knowing how many hours team members have worked on a specific task and how long they have to finish a task are some of the important aspects that you'll always need to cover. This is especially important when you're managing a remote team of people from different time zones.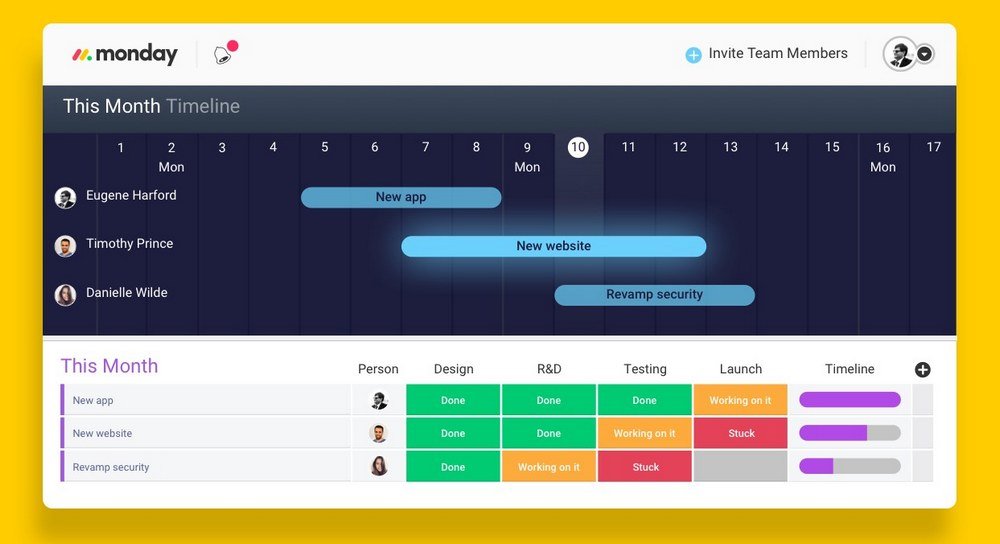 Monday.com comes with a nifty Timeline feature that allows you to plan your team's work hours ahead of time very easily. You can simply add a Timeline column to your Board and start planning the work hours for each team member on the board. You can manage time by hours, day, weeks, and even months.
Pricing Plans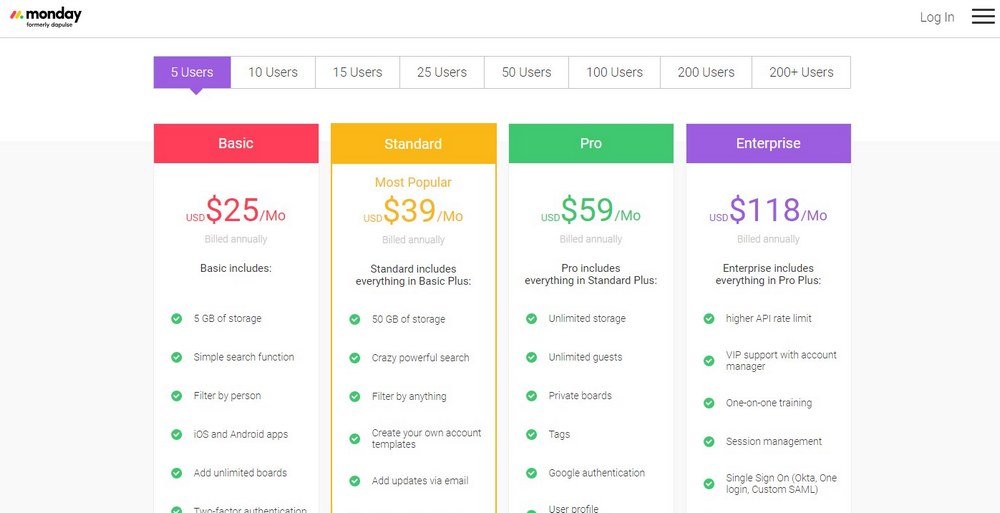 Monday.com comes with a 14-day free trial for test driving the platform. After the initial trial, you can subscribe to a paid plan. Monday.com uses tiered subscription plans. Pricing plans start at $25 per month for 5 users and 5GB of storage space for attachments.
In Conclusion
The ability to take control of your projects, track team progress, communicate with the team, and track work hours, all from one place make this an incredibly useful tool for both freelancers and team managers.
Creative users have been using Monday.com for other kinds of purposes as well, like tracking leads, task management, project design, and more. Since Monday.com comes with a free trial, you can easily give it a test drive without taking any risks. Give a try and see how it works.