If you're a web designer or a web developer looking for a reliable reseller hosting platform to host your client websites, then you may come across the name ResellerClub in your search.
ResellerClub is one of the most popular platforms for reseller hosting as it offers a set of great features and resources for reseller accounts at affordable prices.
If you're planning on starting a web design business or looking for a better platform to switch your reseller accounts, it's worth checking out ResellerClub.
In this review, we take a closer look at this platform and see if it's really as good as it claims.
What's Special About ResellerClub?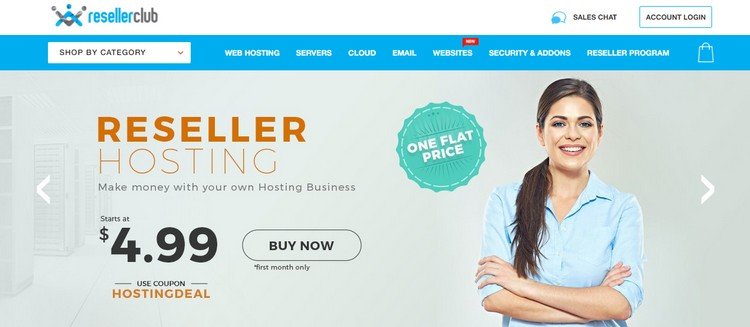 ResellerClub launched back in 1998 as a platform that offers affordable and reliable reseller hosting to professionals. Today, the platform is owned by Endurance International Group, the same company behind HostGator, Bluehost, iPage, Constant Contact, and many other popular businesses.
ResellerClub currently serves over 200,000 customers around the world. And now, the platform also offers shared, VPS, and dedicated hosting as well.
The company includes both Windows and Linux reseller hosting starting at $12.99 per month for hosting unlimited websites. And shared hosting plans starting at just $3.49 per month.
These affordable pricing plans are what makes ResellerClub stand out from the rest.
Why Are Their Prices So Cheap?
How can they offer these low prices? Is this a scam?
Not at all. Since the company is located in India, they've been able to save a lot of expenses that go into staff and management. As a result, they are able to offer extremely affordable shared hosting and reseller hosting plans with multiple server locations.
This is the main reason behind the company's success. However, ResellerClub offers a surprising set of features and services at those cheap prices as well.
Different Types Of Hosting Plans
For web designers looking for a stable platform to create and host multiple client websites, ResellerClub has a set of great Linux and Windows hosting plans.
Reseller Hosting Plans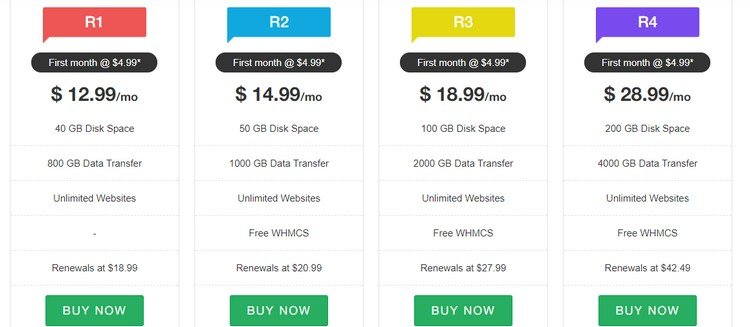 The reseller hosting plans of ResellerClub comes with free WHMCS and lets you host unlimited websites.
Different client websites take up different amounts of resources. So being able to host unlimited websites allows you to dedicate different amounts of resources to create as many websites as you want.
This is a great money-saving benefit for web designers and agencies.
Shared Hosting Plans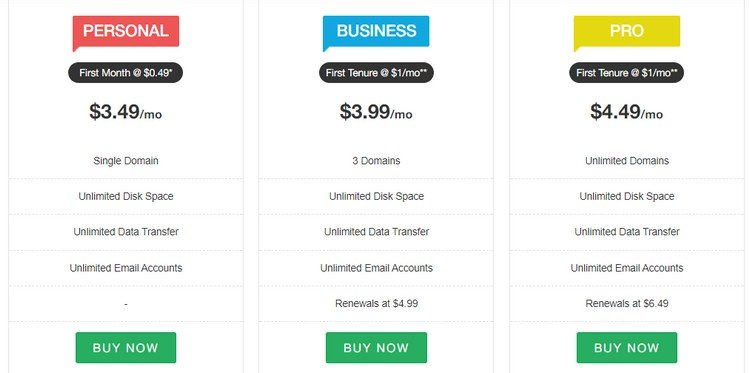 The ResellerClub shared hosting plans are the most affordable you'll ever see on the web.
The Linux Shared hosting plans start at $0.49 for the first month and then it's only $3.49 per month. This basic plan lets you host a single website with unlimited hosting space and bandwidth.
The Pro plan lets you host unlimited websites with unlimited space and bandwidth at only $1 per month for the first tenure and then renewals at just $6.49 per month.
On other platforms, like Bluehost, it costs $7.99 for renewals just for the basic plan.
Main Features Of ResellerClub Hosting
What kind of features do you get for these low prices? Let's find out.
Here are just a few of the benefits of using ResellerClub hosting.
#1 Powerful Servers With Scalable Infrastructure
The ResellerClub datacenters gets powered by Dual E5530 2.40GHz Xeon Servers with hyperthread processing and 250GB RAID1 OS drives and 24GB of RAM.
The servers are also fully equipped with a scalable infrastructure to manage disk and RAM usage to maintain server performance during traffic spikes as well.
#2 Select From Different Server Locations
ResellerClub also lets you choose servers from different locations, including the US, UK, India, and Europe. The prices for plans differ based on the server location you choose, but the quality will remain the same.
#3 Domain Reseller Program
The domain reseller program is one of the main features that ResellerClub is well known for. Using this platform, you can buy and sell domains at affordable prices. The more domains you buy from the site, better prices the platform will offer.
You can use this program to save a lot of money when buying domains for your clients.
#4 Host Unlimited Websites
All reseller hosting plans let you host unlimited websites and comes with free WHMCS. You'll be able to easily create accounts for clients and manage billing using the simple to use web hosting manager.
#5 24/7 Customer Support
ResellerClub customer support is also available around the clock to provide solutions to your problems. You can reach the support team via email, phone, and live chat.
#6 Money Back Guarantee
All web hosting plans of ResellerClub comes with a 30-day money back guarantee. If you're not satisfied with their service, you can ask for your money back anytime you like.
What Others Say About ResellerClub
We explored several popular web hosting forums to see what others have experienced using ResellerClub.
While most of the forum threads were praising the platform for its affordable prices and the easy to use domain reseller program, there were a few threads that complained about slow customer support.
We wanted to see if this were true.
Customer Support Is Fast Enough
To test this, we reached out to ResellerClub customer support via live chat to see how fast they'll respond.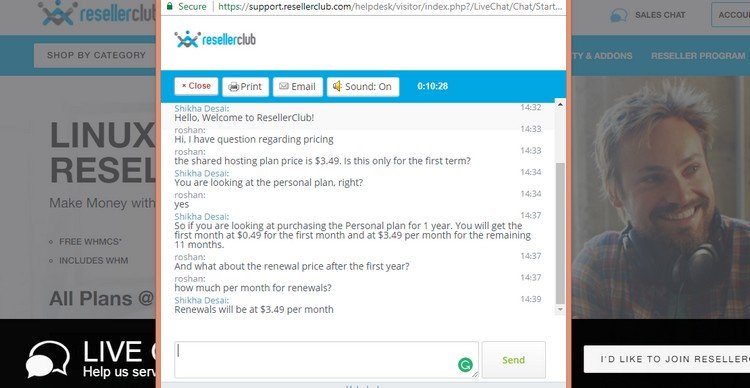 We received a reply from the customer support team within 3 minutes and 30 seconds. Which was surprisingly fast compared to the complaints we saw at Web Hosting Talk forums.
It seems some customers had bad experiences due to their lack of experience with using WHMCS and technical knowledge regarding web hosting in general. Also, when you need fast support, it's always best to use live chat instead of support tickets.
Managing a reseller account makes you responsible for your client websites. And you should be able to manage everything by yourself because the hosting company won't be responsible for your client accounts.
If you know your way around web hosting and managing WHMCS, you won't run into any problems using ResellerClub hosting plans.
Linux Reseller Pricing Plans
ResellerClub Linux reseller hosting is available in 4 different pricing plans.
R1 Plan: Costs $4.99 for the first month and $12.99 for the other 11 months when buying hosting for 1 year. Then renews at $18.99 per month. The plan includes 40GB of space and 800GB of bandwidth.
R2 Plan: Costs $4.99 for the first month and $14.99 for the other 11 months when buying hosting for 1 year. Then renews at $20.99 per month. The plan includes 50GB of space, 1000GB of bandwidth, and free WHMCS.
R3 Plan: Costs $4.99 for the first month and $18.99 for the other 11 months when buying hosting for 1 year. Then renews at $27.99 per month. The plan includes 100GB of space, 2000GB of bandwidth, and free WHMCS.
R4 Plan: Costs $4.99 for the first month and $28.99 for the other 11 months when buying hosting for 1 year. Then renews at $42.49 per month. The plan includes 200GB of space, 4000GB of bandwidth, and free WHMCS.
Pros and Cons of Using ResellerClub
Every web hosting platform has pros and cons. To sum things up, here are the main benefits and downsides to using ResellerClub hosting.
Benefits Of Using ResellerClub
Extremely affordable prices
Host unlimited websites
Domain reseller program
Powerful servers
Cheap shared hosting with unlimited space
24/7 customer support
Money back guarantee
Free WHMCS
Free DNS Management
Softaculous one-click app installs
Downsides Of Using ResellerClub
Slightly slow customer support
No automatic backups (costs $50 to backup a Reseller Hosting account with 10 cPanel Accounts)
Is ResellerClub The Right Platform For You?
In conclusion, ResellerClub provides plenty of benefits for its reseller plans at affordable prices. The biggest issue some of its users had was regarding its customer support service, which seems to work fine for us.
Compared to other reseller hosting platforms, ResellerClub customer support was much more responsive. And the hosting plans were more feature-packed, especially including its domain reseller program.
Another downside to using ResellerClub is not having automatic backups. For this issue, the platform offers easy integration with Codeguard, a cloud-based backup service, which offers backups for your reseller account for pricing at $0.89 per month for 1GB backup space.
While ResellerClub is ideal for web designers and small web design agencies for managing plenty of client websites, it may not be the best solution for bigger design agencies that handle high-end websites that generate lots of traffic.
Feel free to give it a test run. After all, you can ask for your money back at any time.