What if there's a tool that would allow you to create contact forms, email opt-in forms, surveys, booking forms, and registrations forms, all from a single WordPress plugin?
CaptainForm is a plugin that can do all that and more.
Form builders aren't very popular among bloggers and businesses. It's a common belief that form builders are difficult to use. As a result, WordPress users end up using multiple plugins for creating contact forms, email opt-in forms, and registration forms instead of using a single plugin to manage everything.
Is a form builder really that difficult to use? Is it worth giving up your other plugins for a form builder? What are the benefits of using a form builder?
We'll answer all those questions and more while also giving you a closer look at CaptainForm, a new revolutionary form builder that allows you to create important forms using a single tool and save a lot of money.
What Is CaptainForm?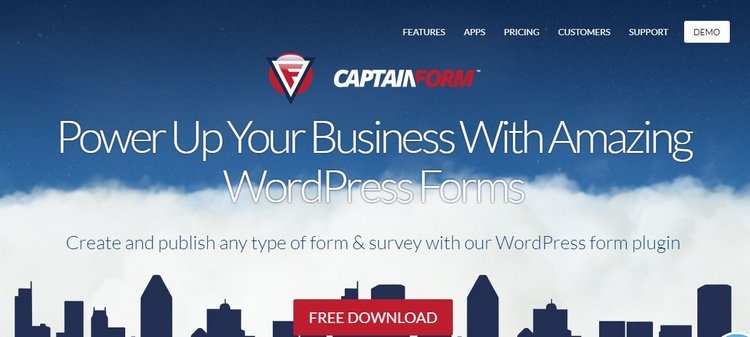 CaptainForm is a form builder plugin for creating different types of forms on WordPress websites. But, what is a form builder, exactly?
A form builder is a plugin that you can use to create different types of forms on your website, such as contact forms, signup forms, email opt-in forms, etc. A form builder comes with a form editor for easily designing your own forms however you see fit.
CaptainForm is new, yet an exceptional, form builder that comes with a set of advanced features packed into one plugin. Which makes it quite different from the other popular page builders like NinjaForms. But, also convenient enough to be used by all types of users, from complete beginners to experts.
Why Should You Use It?
If you're like most bloggers, you probably use a bunch of plugins to create different types of forms. You may already have a plugin for email opt-in forms, another plugin for embedding a contact form into your contact page, another for adding registrations forms to your landing pages, and the list goes on.
With CaptainForm installed on your website, you can get rid of all those other plugins because you'll be able to create all types of forms using CaptainForm, including email opt-in forms and pop-up messages.
This will not only save you the money spent on different plugins and services, but it will also help speed up your website by removing unnecessary plugins.
Main Features Of CaptainForm
There are so many reasons to fall in love with CaptainForm, here are just a few.
A Smooth Drag-and-Drop Editor
You won't need any design experience to create forms with CaptainForm. Its beginner-friendly drag-and-drop editor makes it easy to create professional forms within minutes.
Create Different Types Of Forms & Surveys
Whether its contact forms, signup forms, booking forms, or even surveys, you name it CaptainForm can handle them all.
Autopopup Newsletter
No need to use another plugin for your email pop-up messages, CaptainForm has a built-in system that lets you create pop-up messages.
Over 30 Free Form Templates
If you're not a fan of creating forms from scratch, you can use CaptainForm's 30+ free templates and customize them to fit your preference.
26 Native App Integrations
You can also extend the functionality of CaptainForm with third-party integrations, such as MailChimp, Google Drive, PayPal, and more. All these integrations are built into the CaptainForm plugin. You don't have to buy them separately.
Smarter Security
CaptainForm supports SSL encryption and CAPTCHA for protecting your forms.
Money Back Guarantee
Not happy with CaptainForm premium? You can request a refund. CaptainForm comes with a 30-day money back guarantee.
Hands-On Review
Let's take a closer look at the plugin.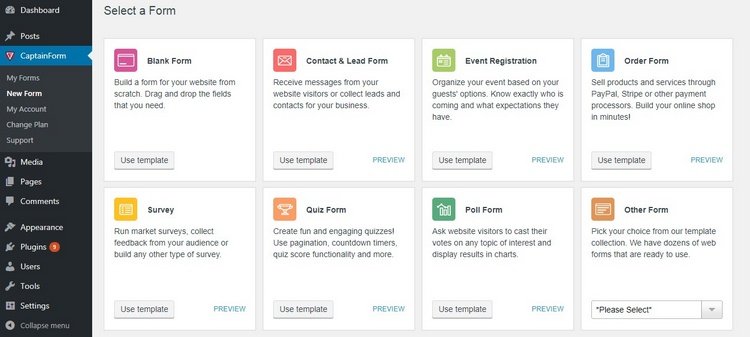 Once you've installed and activated the plugin, you'll be able to start creating a new form from the CaptainForm tab in the WordPress dashboard. You can create a form from scratch or use a template.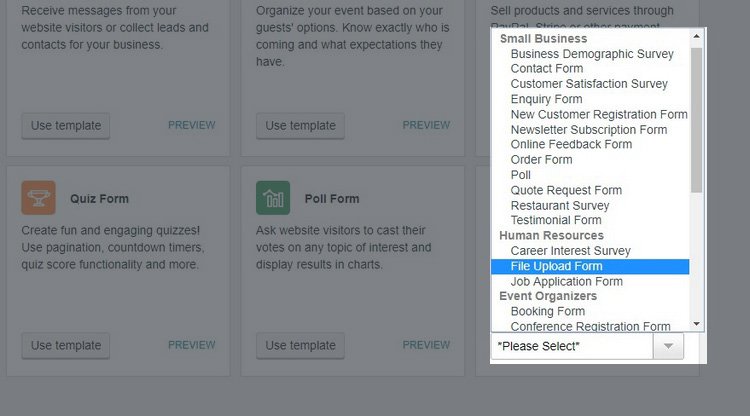 Contact forms, lead forms, event registration forms, survey forms, quiz forms, and order forms are only just a few of the types of forms you can create.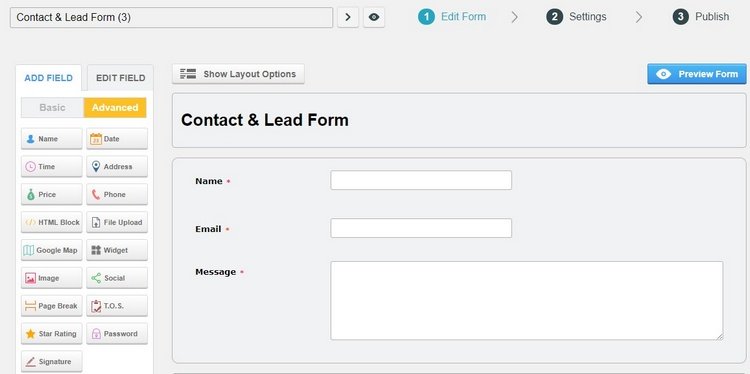 Then, you can start designing your form using the CaptainForm's drag-and-drop editor. You can add new fields into your form by simply dragging them into your form design. There are many different basic and advanced fields to choose from to customize the form, such as by adding an address field, price, date, Google Map, and more.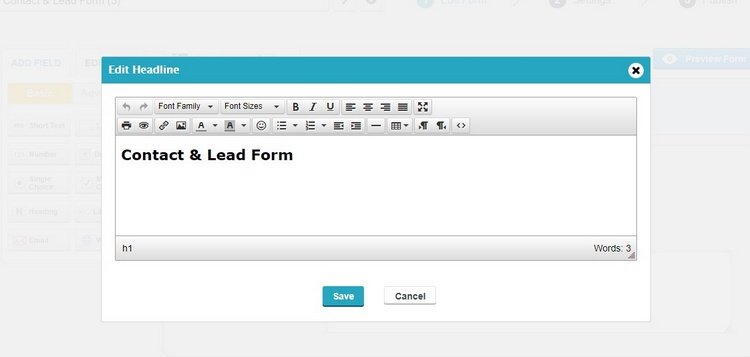 And you can edit and customize fields by clicking on any element on the design.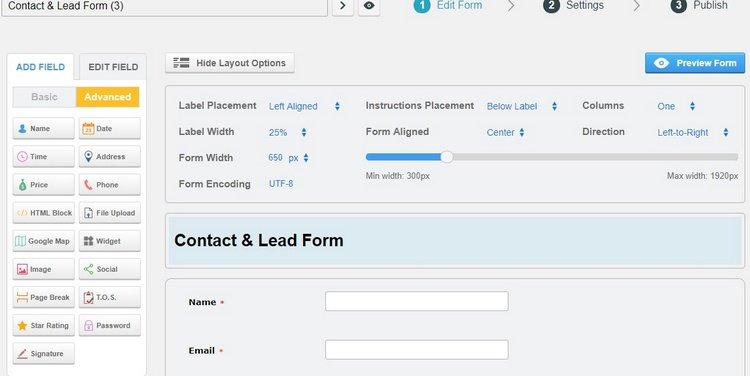 You can also customize the layout of the form to make it appear on the page just the way you want.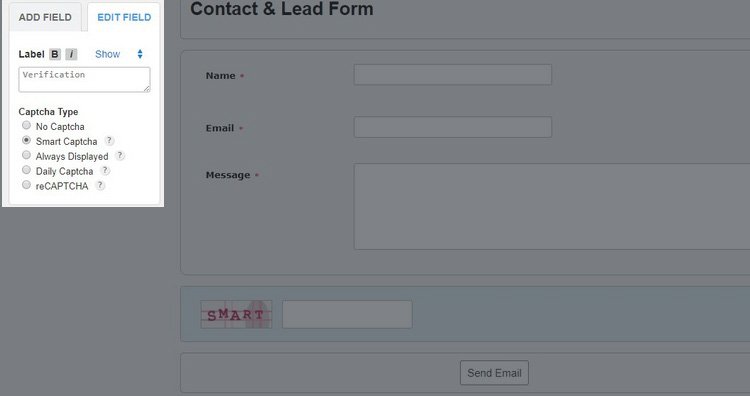 For protecting your forms from spammers, you can set a custom CAPTCHA of your choice as well.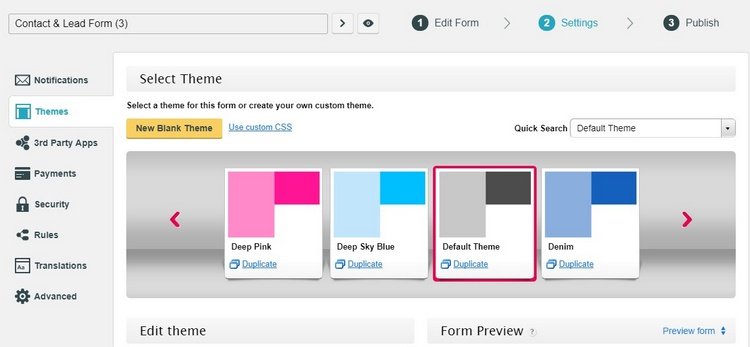 After finishing your design, you can move on to the Settings tab where all the magic happens.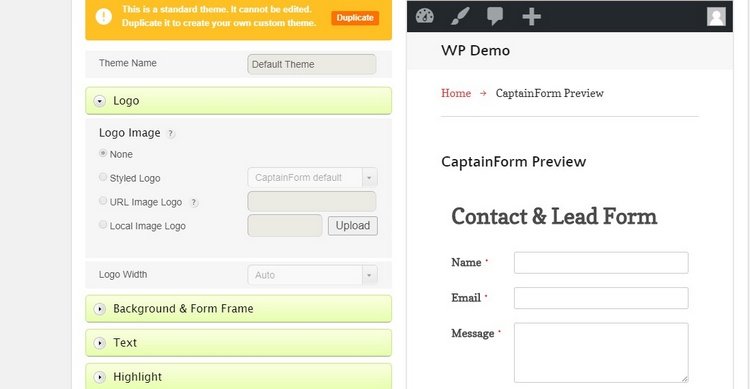 From this page, you can choose a theme for your form and customize it with your logo, brand colors, buttons, and more.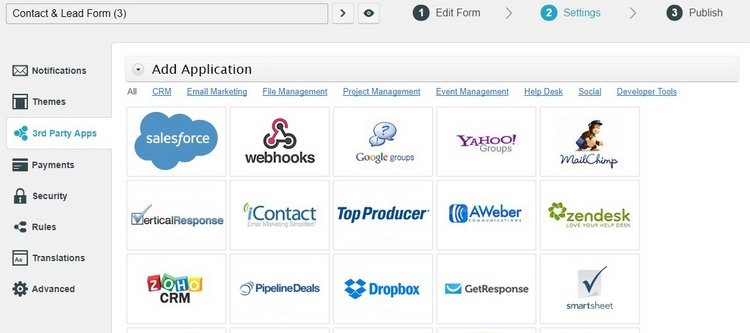 Add more functionality by integrating third-party apps with your form.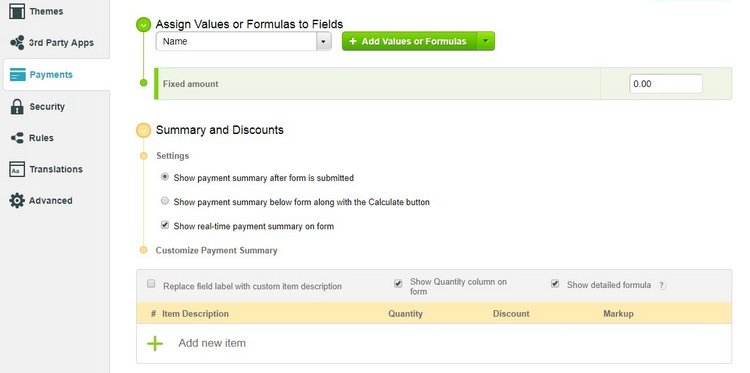 Setup payments for your registration forms.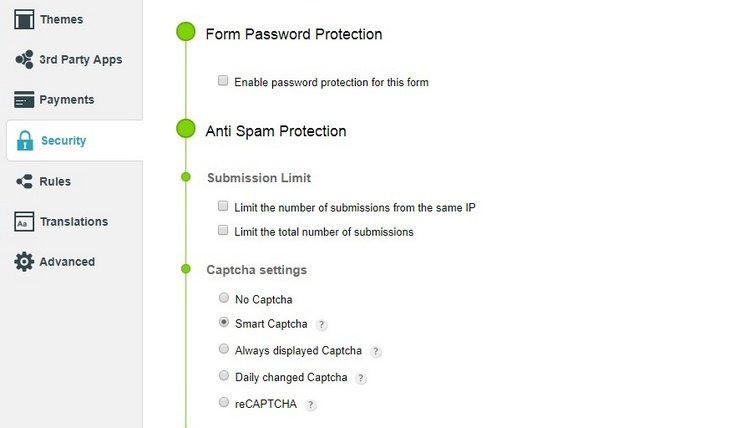 Take security to the next level with password protection, anti-spam protection, and country filters.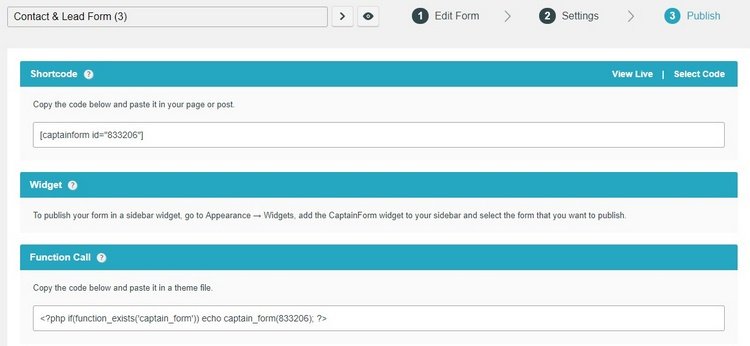 And, when you're all done, you can publish your form.
There are several ways you can publish a form. You can either copy and paste the Shortcode for the form in a page or anywhere in your theme files or add it as a sidebar widget using the CaptainForm widget.
The published form will look like this.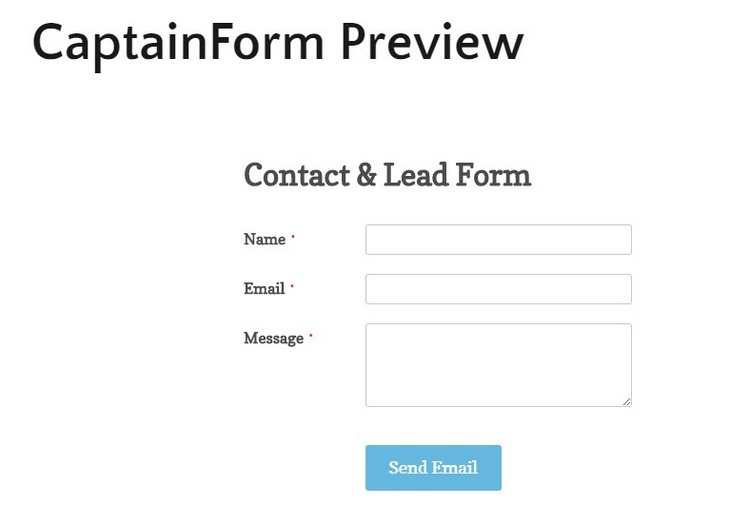 Creating Pop-Up Forms
You can create an email opt-in pop-up form using CaptainForm. The process is the same as creating any other form.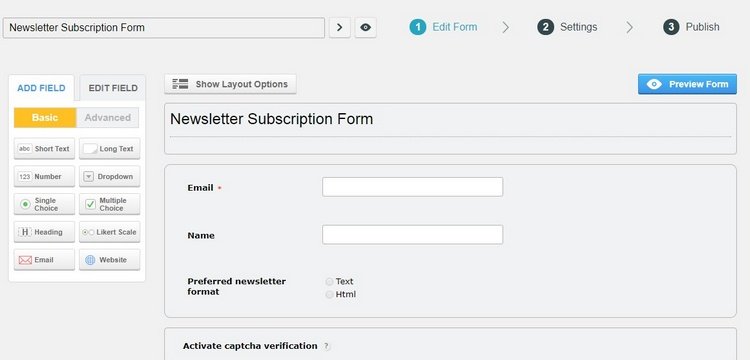 Simply choose a template and customize the design.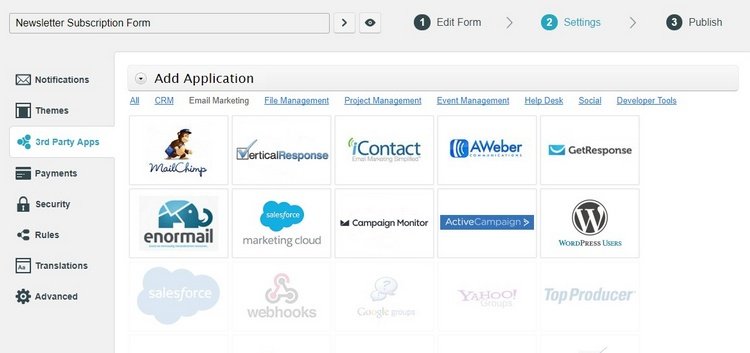 Integrate your email marketing service.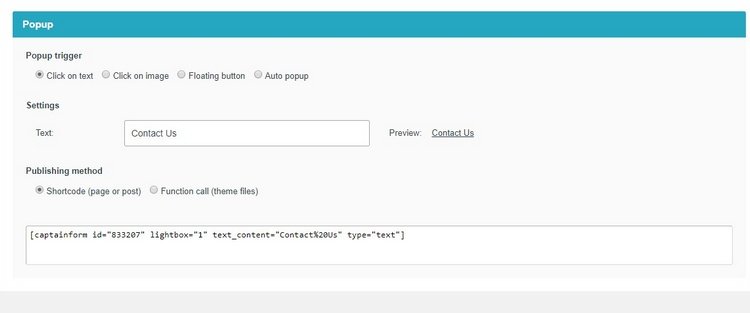 And choose your publishing method.
You can publish your pop-up forms as an "auto pop-up" to make the form appear a few seconds after a page has been loaded. As a floating button or make it appear once the user clicks on a link.
Then you can copy paste the code into your theme files to make it appear across the entire website or you can use the shortcode to make the form appear only on a specific page or a post.
There's so much you can do and so many types of forms you can create with CaptainForm. It's also one of the easiest form builders to use.
The form editor and customization is much easier to understand than most other form builders and it's completely beginner-friendly. Even customizing the forms with the most advanced options seemed unchallenging.
Overall, CaptainForm is a form builder that both beginners and advanced users can use effortlessly to create different types of forms and surveys.
Pros & Cons
There are two sides to every product. What can you expect from CaptainForm?
Benefits Of Using CaptainForm
The drag-and-drop editor makes creating forms easier with CaptainForm.
The pre-designed templates allow you to quickly get started on designing many types of forms.
Creating even the most advanced forms and surveys are easier with CaptainForm, thanks to its wide selection of custom fields and layout options.
The free version of the plugin is great for beginners for test driving CaptainForm.
Downsides To Using CaptainForm
One of the biggest downsides to using CaptainForm is its pricing plan. Even though it's affordable, you have to sign up with the $95 per year plan to get the most out of the plugin.
You also can't buy or use add-ons separately for CaptainForm. To get access to add-ons like MailChimp and AWeber, you'll have to join the $95 per year plan.
How Much Does It Cost?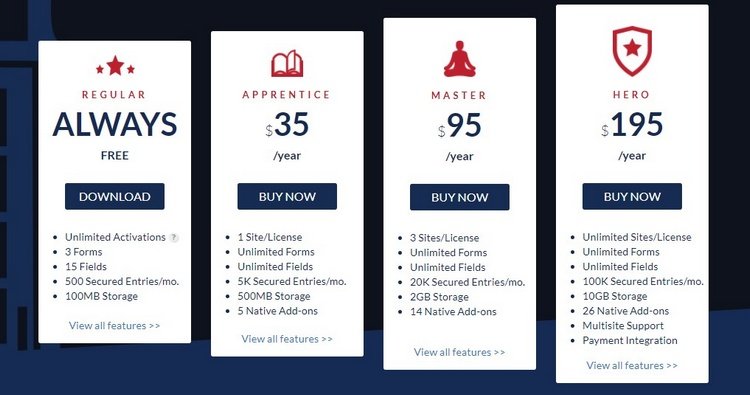 CaptainForm has a free version with limited features as well as a premium version with extended functionality. Here are its main pricing plans:
Regular: Free for unlimited activations, create 3 forms with up to 15 fields, 500 secured entries per month, and 100mb of storage.
Apprentice: $35 per year for 1 site license, create unlimited forms with unlimited fields, 5K secured entries per month, 500mb of storage, and 5 add-ons.
Master: $95 per year for using the plugin on 3 sites, create unlimited forms with unlimited fields, 20K secured entries per month, 2GB of storage, and 14 add-ons.
Hero: $195 per year for using the plugin on unlimited sites, create unlimited forms with unlimited fields, 100K secured entries per month, 10GB of storage, 26 add-ons, and payment integration.
Who Should Use CaptainForm?
CaptainForm is just as good as any other premium form builder plugin and offers a smooth user experience for both beginners and advanced users. However, it doesn't have the convenience of buying add-ons separately.
In comparison, other plugins like NinjaForms allows its users to buy add-ons separately while CaptainForm requires switching to a higher pricing plan to access its native add-ons. In a way, it's cost effective to get access to all the add-ons at once for a single price, but it may not be a suitable option for individual bloggers.
This makes CaptainForm best for small to medium businesses and professional bloggers. It will allow you to save money on add-ons and have a full-feature form builder to create as many opt-in forms, registration forms, and surveys on your website without having to buy add-ons one at a time.