Popular WordPress website builder, Oxygen has a brand new version of the plugin in the works. In this review, we take a closer look at Oxygen 2.0 to see what's new in this version of the plugin.
One of the main reasons many web designers avoid using WordPress as a CMS for their website designs is because finding a decent and properly functioning theme is a painful process.
Thanks to website builders like Oxygen, web designers now have a reason to use WordPress as a CMS to build better and easily manageable websites for clients and for themselves.
Since we've already tested the first version of the Oxygen app, we couldn't wait to get our hands on the new Oxygen 2.0. Let's dive in and see what kind of new features the developers have integrated into this new version and see if it's really worth the price.
What is Oxygen?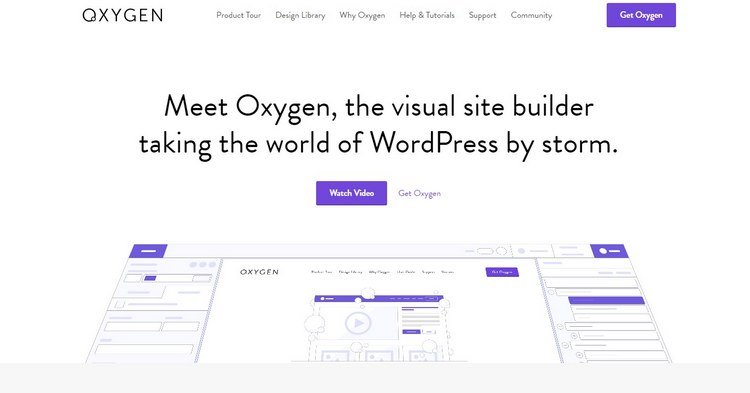 If you've read our first review of Oxygen, you may be aware that Oxygen is not a page builder plugin. In fact, Oxygen is a complete solution made to turn your entire WordPress installation into a website-builder with a drag-and-drop editor.
The latest version, Oxygen 2.0, takes WordPress website building to a whole new level. This new version comes packed with a ton of new features that are specifically designed for web designers who want to save time spent on writing code.
The WYSIWYG builder of Oxygen makes anyone a professional website designer. But, the new Oxygen 2.0 also comes with several advanced features to allow the more experienced designers to edit and customize things as they wish.
What's New in Oxygen 2?
Oxygen 2 is filled with new tweaks and features that makes it one of a kind. But, there are a few new features that grabbed our attention. Like the brand new Flexbox Layout Engine.
Flexbox Layout Engine is the new technology used in Oxygen 2 for building the layouts of your designs. This technology makes Oxygen 2 stand out from the rest of the WordPress website builders and page builders. Here's why.
Usually, when you have to adjust the layout of a design using a page builder, you have to adjust it via CSS or customize it for each element via settings. Oxygen 2 Flexbox engine gets rid of all of that extra work.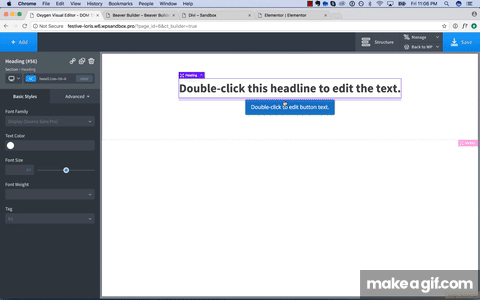 For example, if you want to increase the spacing of the main title and the subhead of a design, all you have to do is click and drag the element as far as you want and it will automatically adjust the spacing of the two elements.
Oxygen 2 also comes with a useful feature called Classes, which allows you to design repetitive sections of your pages and websites more easily.
For example, if you're using custom styles for a button, you can save the styles in a class and apply those styles to multiple elements without having to customize each and every button you create.
How Oxygen 2 Works
Oxygen 2 works pretty much the same as the previous version. After installing the plugin, you simply create and publish a new page. And then you can customize the page using Oxygen WYSIWYG editor.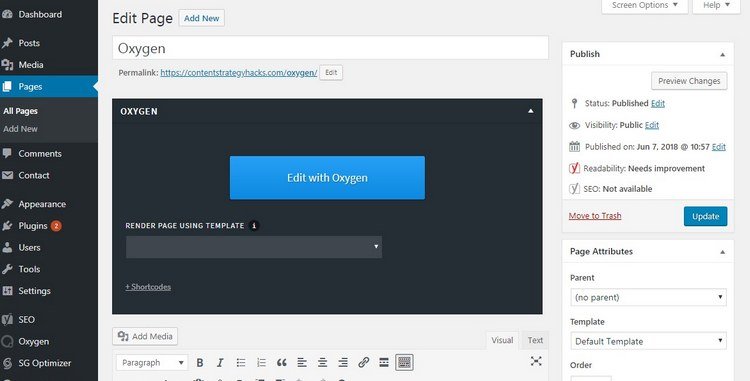 You can start editing the design by adding different elements to the design. You also design the page from scratch or add sections from pre-built templates in Design Sets and customize them to your preference.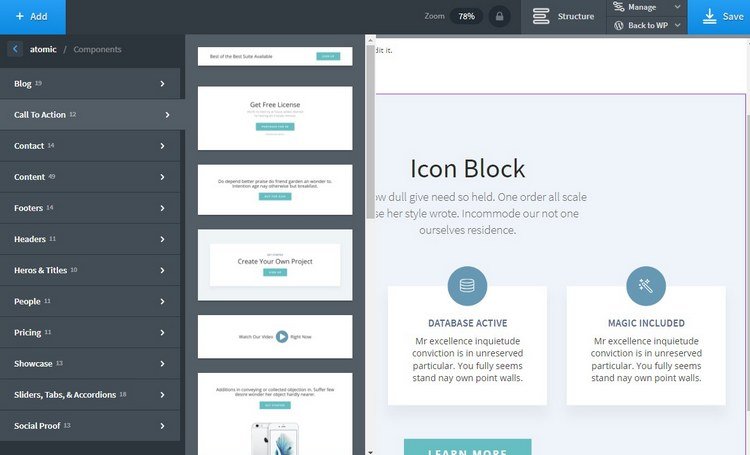 If you prefer a more hands-on approach, you can drag and drop a <div> container and Code Blocks to add your own code. Or customize each element by navigating through the Structure tab.
Revamped WYSIWYG Editor
At first sight, you'll notice how different the new Oxygen 2 editor looks compared to the previous version. The new editor is much more beginner-friendly and better organized.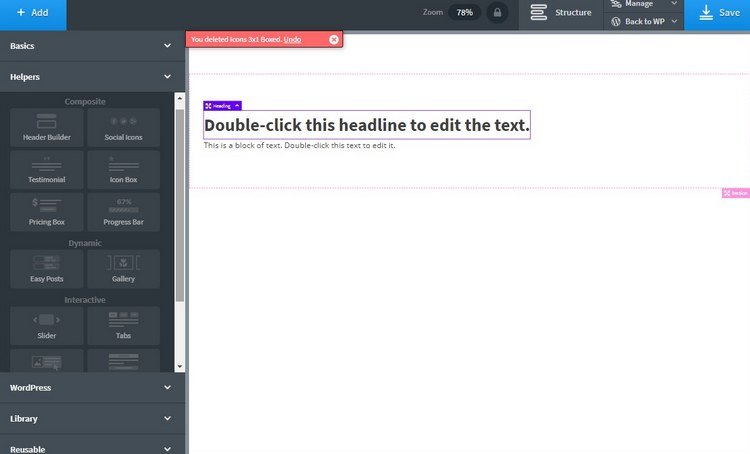 All the elements, template libraries, WordPress widgets, and helpers sections are now categorized in the editor for easily finding what you want without getting lost.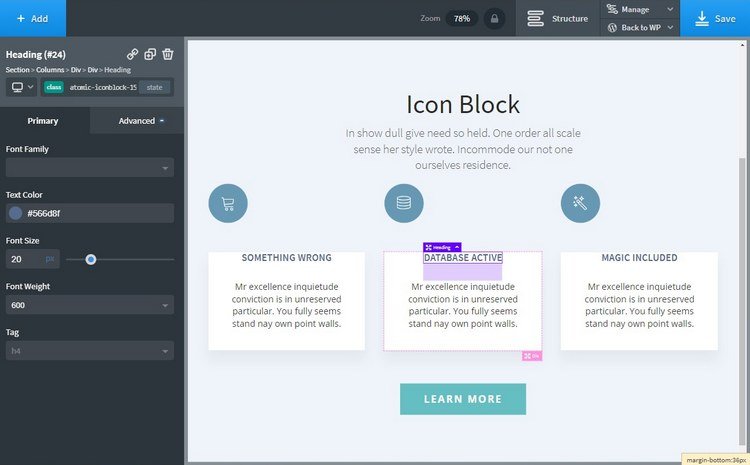 Thanks to the new Flexbox Layout Engine, you can now simply drag and drop elements anywhere on the page to arrange the sections however you like. No need to adjust padding or margins, Oxygen takes care of everything.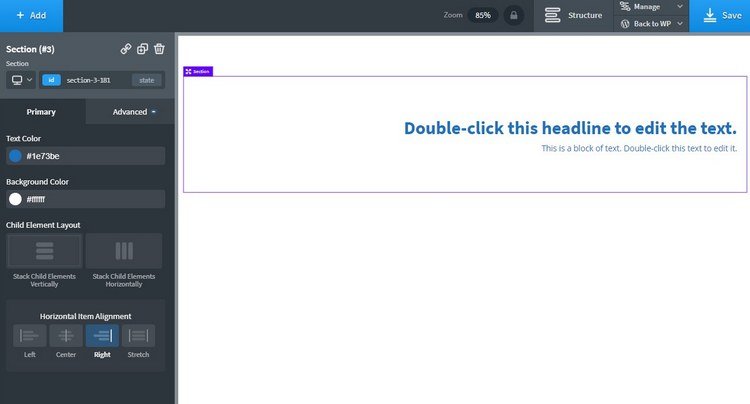 You can also adjust the alignment of the elements with just a single click.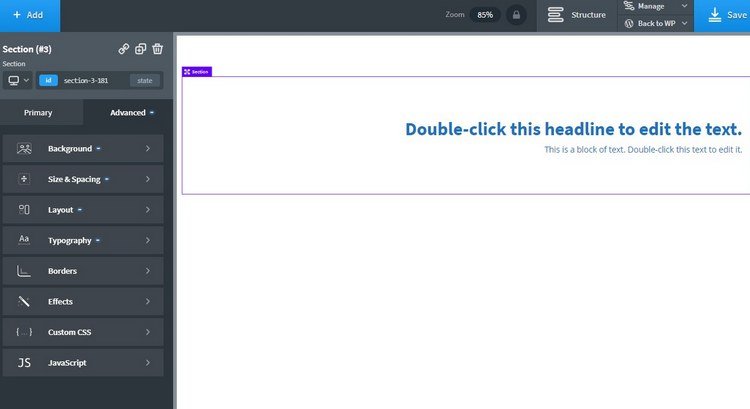 Add custom CSS, change backgrounds, choose different fonts, add effects, and much more.
Easily Build Websites with Consistent Designs
Designing pages and websites with consistent designs is much easier with Oxygen 2. With the new Classes feature, you can save your custom styling for later.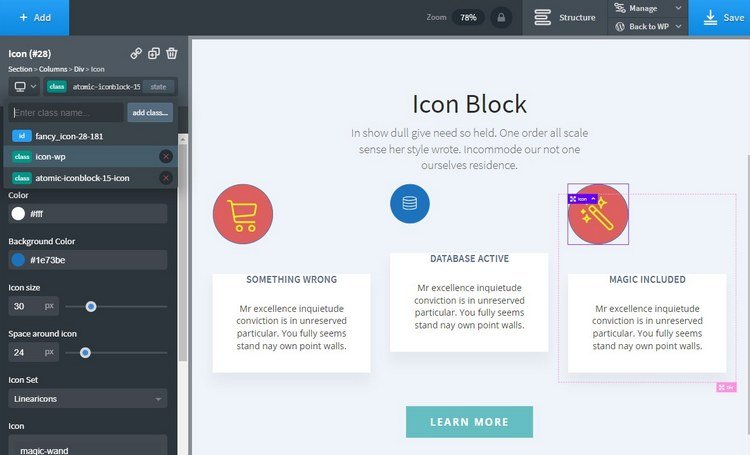 Whether you want to use the same custom buttons styles, icon styles, text styling, or entire sections with similar designs, you can simply create your own CSS classes to instantly add premade styles to elements.
Deeper Levels of Editing for Advanced Users
While Oxygen is a beginner-friendly website builder that everyone can use, it's mostly a tool suitable for web designers and developers for simplifying their workflows.
Oxygen comes with lots of advanced features and customization options made for web designers for taking the design process to the next level.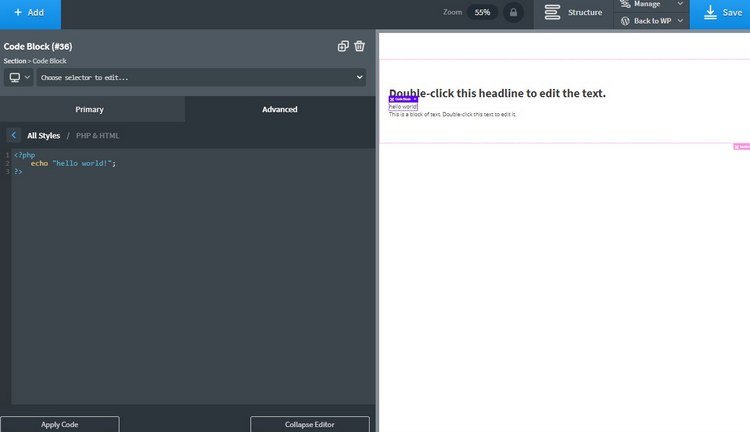 Advanced users can simply drop a Code Block into the design and write custom code. Oxygen comes with an elegant code editor that will show your code in action as you type it in real-time.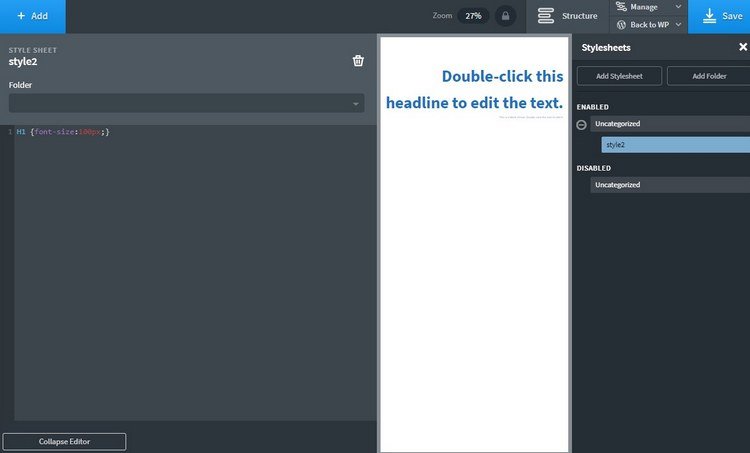 You can also add your own stylesheets as well.
Theme Building with Oxygen 2
Since Oxygen is a website builder, you can use it to build entire WordPress themes without having to use frameworks.
Using Oxygen 2, you can build custom header sections, menus, and footers for designing your own themes. And you can use the Templates section to create custom designs and layouts for your archives, single post layouts for blog posts, homepages, and more.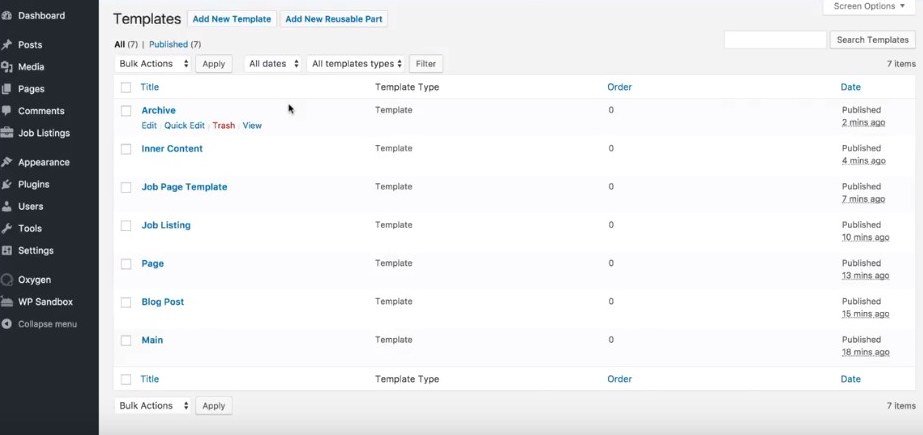 With these functions, web designers can use Oxygen to even design unique websites for their clients without having to buy premium themes or code websites from scratch.
Tons of New Video Tutorials
With the new layout engine and revamped editor, the old Oxygen tutorials are no longer relevant. So the developers at Soflyy are working on a set of brand new video tutorials and guides for Oxygen 2.
The tutorials section already has plenty of videos and a reference manual for quickly learning how everything works with the Oxygen 2.
The team also promises to release more prebuilt Design Sets templates as well.
Unlimited Sites & Updates for a Single Price
Oxygen 2 pricing remains the same. For a one-time price of $99, you get amazing value. Here are some of the stuff you get for that price:
Use the plugin on unlimited websites
Lifetime updates
Ability to use on client websites
Customer support
30-Day money back guarantee
Note: The pricing is expected to change sometime in the near future.
In Conclusion
Overall, the new Oxygen 2 plugin works much smoother and easier than the previous version. We loved the new user interface design and the Flexbox engine functions. We can already imagine many different ways web designers and developers can use this plugin to their advantage.
You can build completely original client websites with it. You can use pre-built templates and customize them to save hours of coding time. You can design landing pages, sales pages, membership sites, and much more.
Keep in mind that we used the beta version of the Oxygen 2.0 for this review. Some of the looks and features may change in the future updates of the plugin.
The existing customers of the Oxygen version 1 can now download the new Oxygen 2 plugin by accessing your account page. Give it a test drive and see how it can help make your web design work much easier.