Live chat is one of the most effective strategies that many eCommerce websites are using to increase conversions, attract new customers, and generate more sales.
After all, who wouldn't appreciate the convenience of having their questions answered immediately without having to wait on hold on phone.
Studies show that 63% of customers are more likely to return to a website with live chat support than a website that doesn't have live chat.
Even though the benefits are great, most small businesses avoid using live chat because they can't afford it. Mostly because of the web development costs that goes into integrating and managing a chat system.
Well, that's not a problem anymore. If your website runs on WordPress, you can now integrate a live chat system using a simple plugin and without spending any money on web developers.
The plugin we're talking about here is Zoho SalesIQ. In this post, we take a closer look at this brilliant plugin to show you how to use it to setup a live chat system on your own website.
What Is Zoho SalesIQ?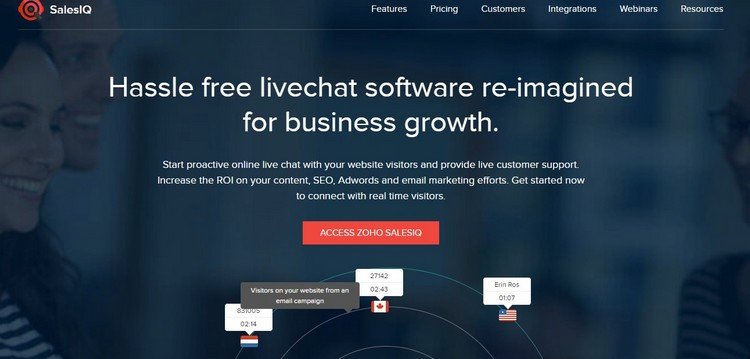 Zoho is a reputable company that's been building business management software solutions since 1996. The company offers a number of software and services, including CRM software, accounting, email, and more.
The latest to join its collection of software is SalesIQ: A live chat software that allows you to easily integrate a live chat system into your WordPress website with minimum effort. No coding required.
Once installed, SalesIQ will embed a live chat box into your website so that whenever one of your website visitors has a question, they can get those questions instantly answered without having to send you an email or contact via phone.
Benefits Of Using A Live Chat System
In addition to offering your customers a convenient way to get in touch with you, having a live chat support system also helps you boost sales.
Convincing a customer of the benefits of choosing your service works much better when you can offer them a personalized experience through live support.
More importantly, live chat support allows you to add a human touch to your business website. Which will help the customers increase their trust in your business.
Why Choose Zoho SalesIQ?
Now, most of you must be thinking "do I have to stay online 24/7 to offer live chat support?"
Well, that's what makes SalesIQ so brilliant. You don't have to stay online on your computer all day long to provide live chat support. SalesIQ comes with a pair of mobile apps for Android and iOS, which you can use to instantly reply to your live chat conversations no matter where you are.
SalesIQ also allows you to monitor your website visitors in real-time and initiate chat sessions with users to help them make the right choice and answer their questions.
Another reason to choose SalesIQ is its free plan. Which allows even for small bloggers to setup a chat system on their websites without having to spend any money on expensive customer support services.
Best Features Of Zoho SalesIQ
Here are some of the best features of SalesIQ live chat software.
Beginner-Friendly User Interface
Even after installing the plugin, you can easily manage your chat sessions and analyze user data using the SalesIQ dashboard without requiring any experience.
Automatically Engage With Visitors
SalesIQ has a special system that identifies the users who spend the most time on your website to automatically initiate chat sessions with them.
Track Visitors In Real-Time
With SalesIQ, you can easily track your visitors in real-time to learn their behavior and how they browse your website.
Visitor Insights And Lead Scoring
Collect data about your visitors and recognize which website visitors are more likely for you to turn into customers.
Automatically Translate Chat Sessions
If you're targeting international customers, SalesIQ has an automatic translation option to help you translate your conversations with people from around the world.
Third-Party Integrations
SalesIQ supports a number of third-party app integrations, including AWeber, MailChimp, Hubspot, Shopify, Google Analytics, and more for collecting data from your live chat sessions.
Mobile Apps
SalesIQ comes with iPhone, iPad and Android apps that let you manage your live chat sessions from anywhere you like.
How To Install SalesIQ
Installing and setting up SalesIQ only takes a few steps. Here's how it's done.
Step 1: Install SalesIQ Plugin
Before installing the plugin, start by creating a free Zoho SalesIQ account.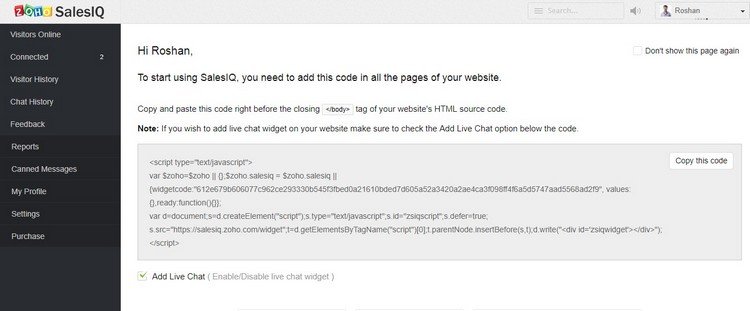 After the registration, you will be redirected to the SalesIQ dashboard where it will give you a special code to connect your website with SalesIQ. Copy this code.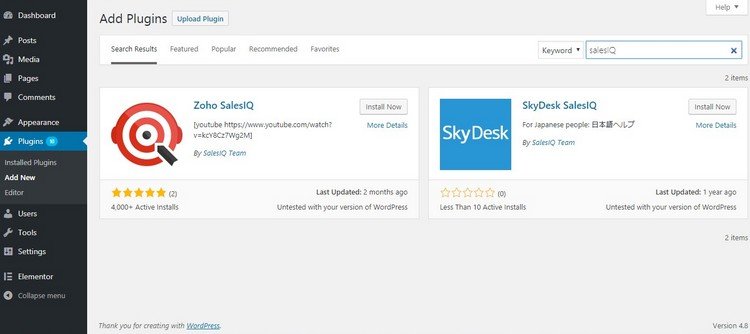 Now, go to your WordPress dashboard and install the SalesIQ plugin on your WordPress website.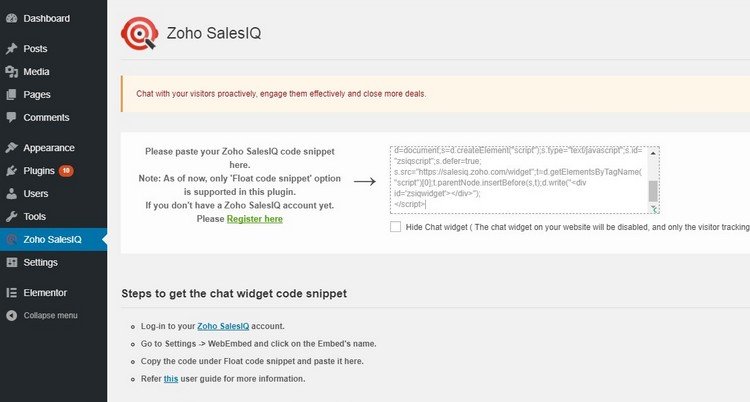 Activate the plugin and go to the SalesIQ tab.
Paste your SalesIQ code in the given box and Save Changes.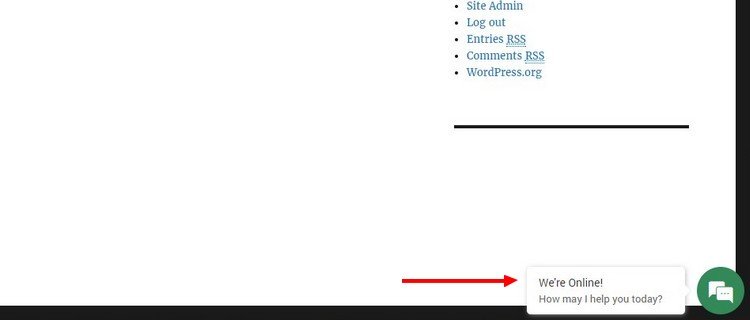 Once you're done, you will start seeing a chat bubble on your website. Your website visitors will now be able to contact you through this chat system.
Step 2: Configure Settings
First, you'll need to configure the settings to personalize your chat system and make sure it works properly.

Most of your SalesIQ work will be done from the SalesIQ dashboard. Let's go over there to configure the settings. From the SalesIQ settings page, you can configure your SalesIQ chat system however you like.
You can add new users if you want others on your team to be able to send responses to live chat sessions and also add a friendly face to your profile so people know they're talking with a human.

Create different departments, like pre-sales, technical support, etc.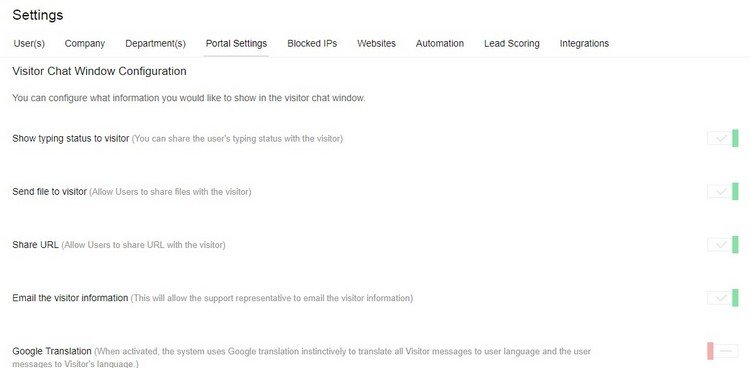 From the Portal Settings tab, you can choose how your visitors are treated through chat. Like whether you'd like to allow users to share links, enable Google translate, set an idle time for inactive users, and more.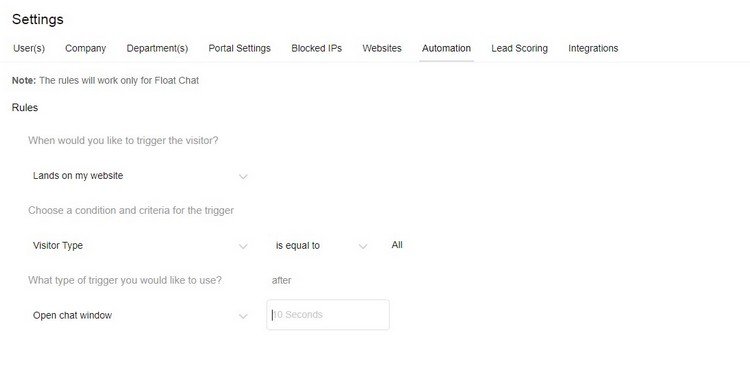 The Automation tab allows you to create chat monitors and set intelligent triggers such as automatically opening the chat window after a short delay upon a user lands on your website.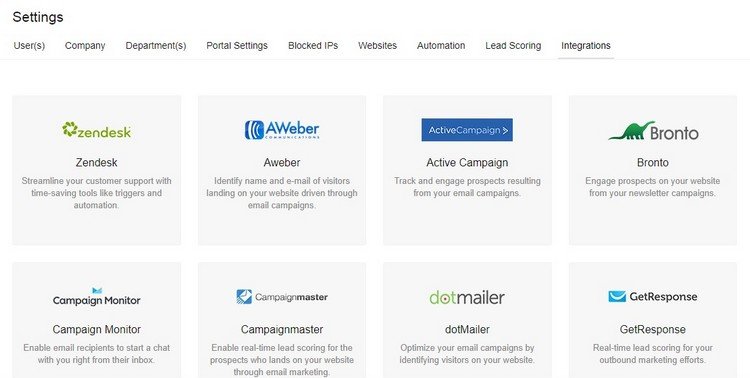 You can also connect third-party apps with your SalesIQ chat system to add more features, like connecting MailChimp to collect emails from your visitors.
Step 3: How Live Chat Works
Once you're done configuring settings, you can go live with your live chat system.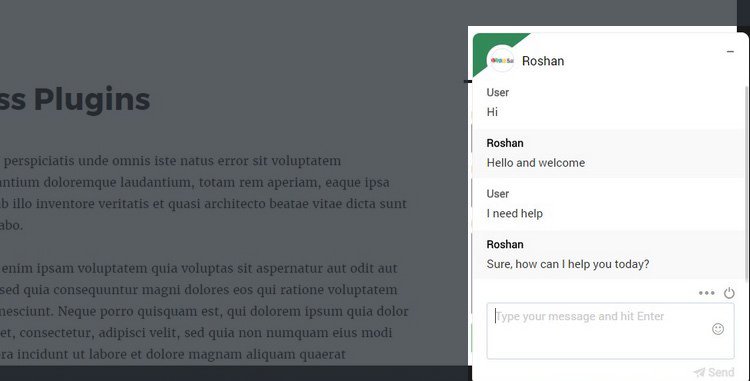 Whenever a user initiates a chat and send you a message, you will receive a notification in your SalesIQ dashboard. Or through the mobile apps, if you're using SalesIQ Android or iOS app.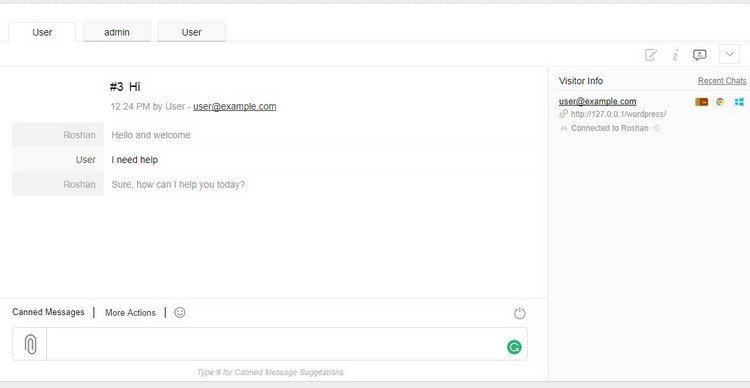 Once a user ends a chat, they will be able to rate and leave feedback for your support.
Making conversation is quite smooth and easy with SalesIQ as it offers a modern and sleek system for both the users and the admins to keep conversations going.
Step 4: Stats, Reports, And History
You'll be able to go back to your previous chat sessions and learn what kind of questions users are more curious about. You can go to the Chat History tab on the SalesIQ dashboard to see all your previous chat sessions.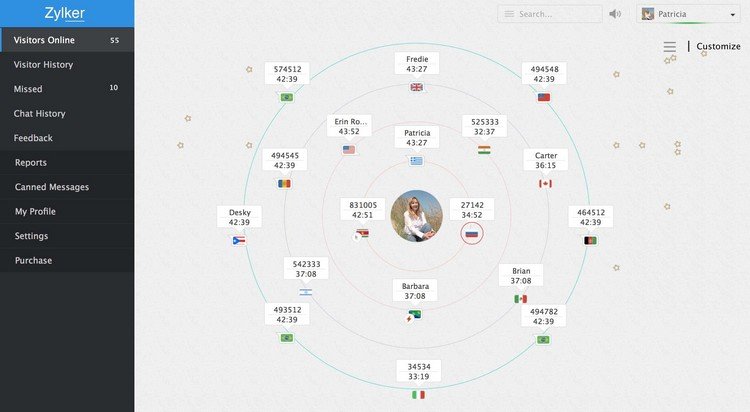 Visitors Online tab will show you a graph of all the visitors that are online on your website right now.
If you like, you can even click on a user and initiate a chat by yourself to offer support and connect with the users.
Note that some of the features mentioned in the guide are not available in the Free version of SalesIQ. You'll have to switch to a Pro plan to experience those features.
Free Vs Pro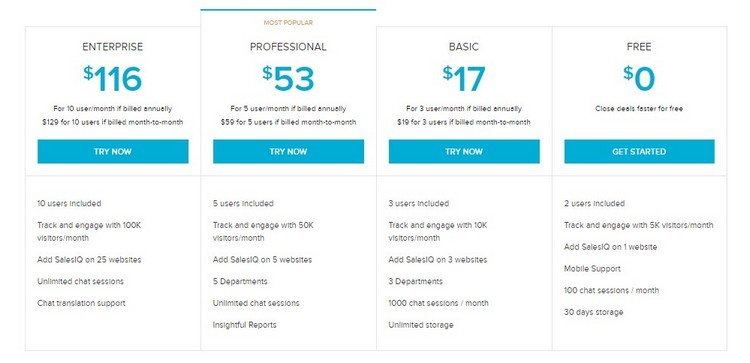 The free version of SalesIQ limits your chat support to 100 chat sessions per month with 30-days of storage. Switch to a Paid plan for automation and more features.
Basic: At $17 per month, this plan gives you 3 user accounts, the ability to track 10K visitors, 1000 chat sessions, and unlimited chat storage.
Professional: At $53 per month, this plan offers 5 user accounts, ability to track 50K visitors, unlimited chat sessions, and unlimited chat storage.
Enterprise: For $116 per month, this plan comes with 10 user accounts, ability to track 100K visitors, unlimited chat sessions, and chat translation support.
Zoho also has a highly rewarding referrals system for its users. If you can get your friends to signup for a SalesIQ account, the company will pay $20 for both you and your friend. It's a great way to fund your premium SalesIQ plan as well.
Summary
SalesIQ is simple and easy enough for even a beginner to setup a live chat system on their website and manage live chat support without any help from developers. It's brilliant services like these that will help you stand out from your competition.
The free version of SalesIQ is more than enough for a small business or a personal website. But, if you're running an eCommerce store or a business that requires more communication with the customers, like a web hosting site, you should consider subscribing to a Pro plan.
The way you treat your customers will also determine how successful your business is going to be. So, don't hold back when it comes to investing in your own business.