Shopify is a popular name you hear around the web when it comes to eCommerce platforms. Since its' launch in 2006, Shopify made quite a name for itself by being an all-in-one platform for setting up a shop and selling products online.
With over 1 million active users powering over 400,000 business and generating $34 Billion worth of sales, Shopify has grown into the go-to platform for small business owners for bringing their products and businesses online.
If you're thinking about starting your own online store or effortlessly selling your products online, then you might want to read this post very closely. Because in this comprehensive review, we take a closer look at Shopify and go hands-on to see what this platform has to offer for both beginners and advanced users to build an online store.
What Is Shopify?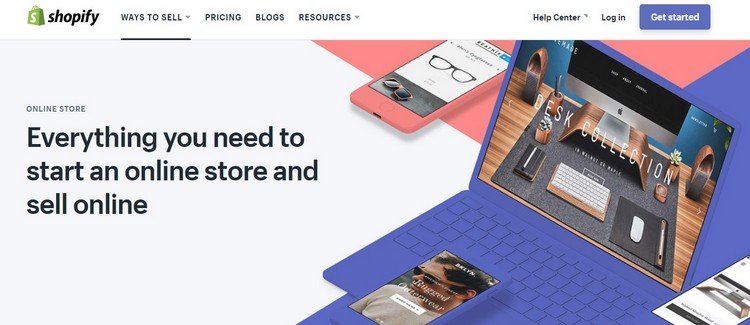 Simply put, Shopify is an eCommerce platform for individuals and small businesses for selling their physical products, handcrafted products as well as digital content online. You can think of Shopify as an alternative to Amazon and eBay that puts you more in control of your shop and sales.
People use Shopify in many different ways. Some use it to setup a standalone shop to sell their products while others use it to sell products through Facebook and even embed and sell products through their existing websites.
What Kind Of Products Can You Sell On Shopify?
Shopify is a platform you can use to sell all kinds of products from handcrafted items to clothing, furniture, food, drinks, and almost anything you can think of.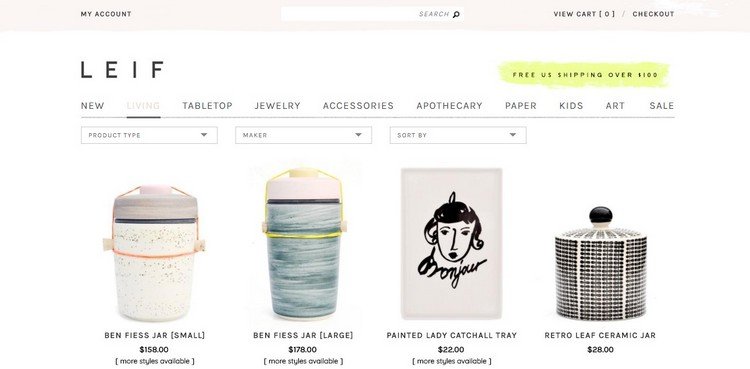 (Example: Leif – A website built with Shopify)
For a long time, Shopify focused entirely on helping small business owners setup a shop online to sell their physical products through the internet. However, recently, the platform changed lanes to also help digital creators to sell their products online.
Now, you can also sell your digital content through the platform, including eBooks, music, online courses, apps, or even subscription-based digital services.
Do You Need A Website To Use Shopify?
When you register for a Shopify account, you'll get your own website where you can build your online store. Shopify will manage the web hosting for you and you can even connect a custom domain to your Shopify website as well.
Shopify also comes with dozens of great themes to customize the design of your store and an easy-to-use content management system for managing your products with less effort. And no, you don't need any web design or coding skills to setup a shop using Shopify.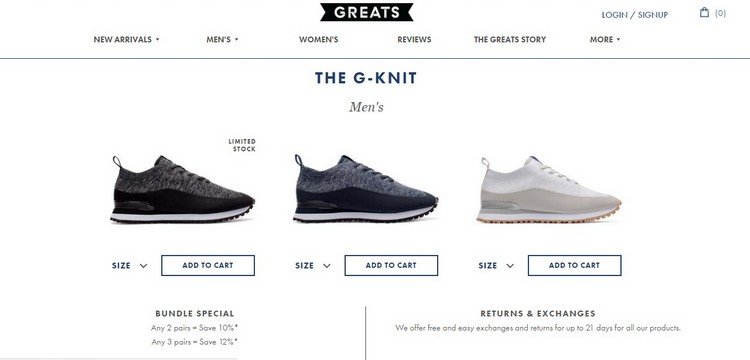 (Example: Greats – A luxury shoe store built with Shopify)
However, if you already own a website you can integrate your Shopify products on your website by embedding Buy buttons on your website to redirect your customers to your Shopify store to easily process payments.
Main Features
Shopify comes with a ton of great features that makes it one of a kind.
Free Web Hosting With Unlimited Bandwidth
When you sign up for Shopify, you get to create a website and a blog to setup shop and promote your business. Shopify gives you free web hosting for the website with unlimited bandwidth, a free SSL certificate, and free daily backups as well.
Over 100 Professionally Designed Themes
You'll be able to choose from over 100 unique themes to use a design for your Shopify store. You can also purchase Shopify themes from third-party marketplaces as well.
Beginner-Friendly Content Management System
Shopify has its own integrated content management system (CMS) to make things easier for you to manage your shop, easily add new products, update product pages, and do much more.
Complete Shopping Cart With Automatic Taxes
Shopify comes with an advanced shopping cart that features a number of useful tools that makes the seller's life much easier. These features include automatic carrier shipping rates from FedEx and UPS, automatic tax calculations, abandoned cart recovery, and much more.
Easier Dropshipping And Refunds
If you plan on starting a high-quality dropshipping site, Shopify may be the right solution for you as it can be easily integrated with apps such as Ordoro, Inventory Source, and eCommHub.
Support For 70 Third-Party Payment Gateways
Shopify also supports 70 different payment systems to allow your customers to buy your products through different ways, including PayPal, 2Checkout, Stripe, and even Bitcoin.
Product Reports And Analytics
If you're fan of metrics, Shopify supports advanced analytics for your sales and products along with complete product reports for you to learn more about how your shop performs.
How To Create A Shop On Shopify (Hands-On)
Once you sign up for a Shopify account, you instantly get access to the main dashboard where you'll see step-by-step instructions on how to get started.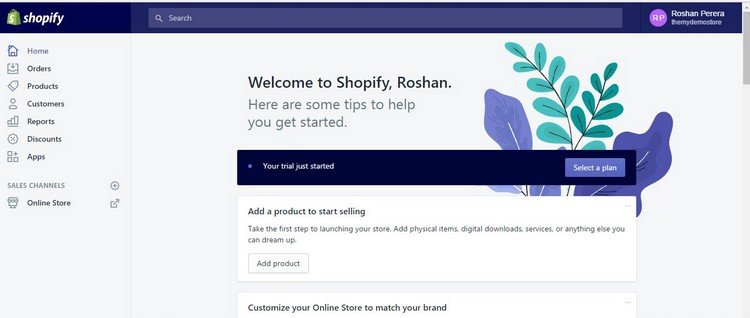 Once your shop is up and running, this dashboard will show charts and graphs of your store's statistics and sales.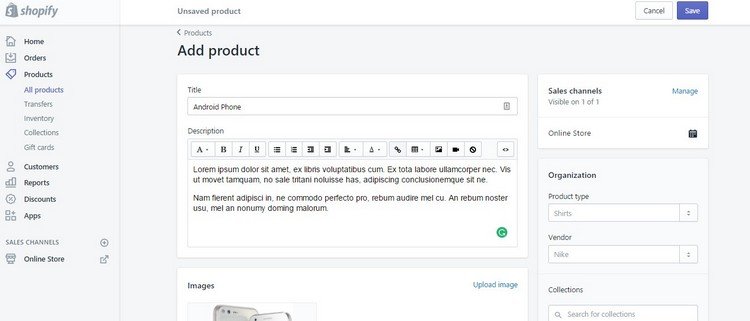 You can start setting up your store by creating a new product to sell in your shop.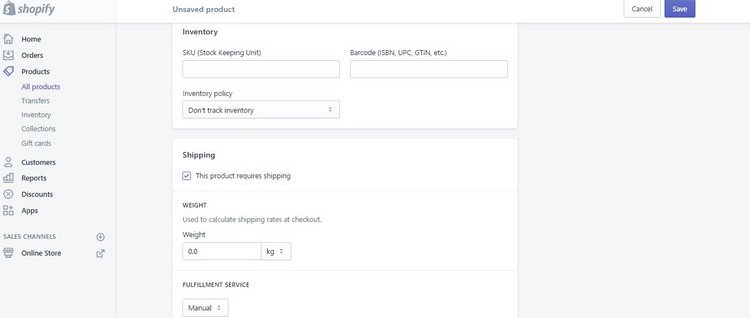 From the create new product page, you can add a description, images of your product, and also customize inventory and shipping as well.
Then you can customize the theme of your shop to add a logo, change colors, add links, customize the header, choose fonts, and more.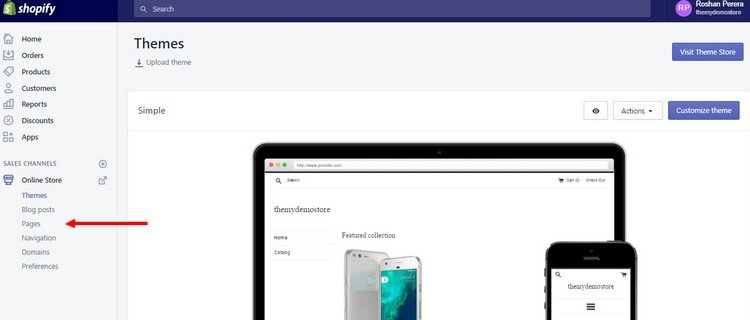 You can also add new pages to your website from the Online Store settings page.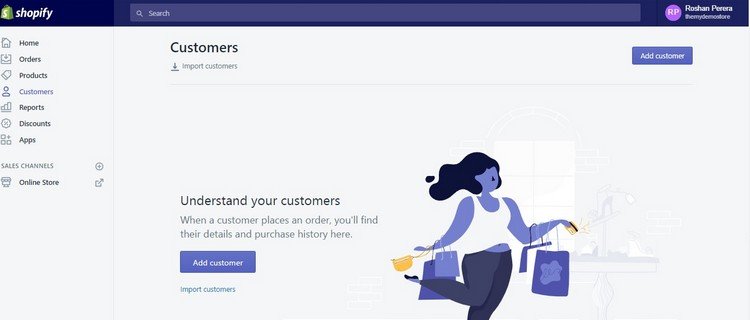 From the Customers page, you'll be able to see the purchase history of your clients and learn more about each and every customer who buys products from you.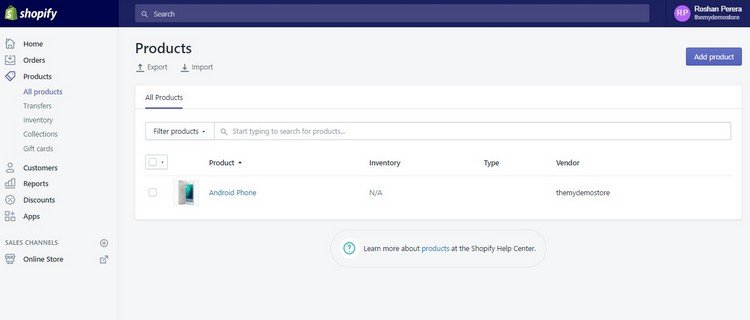 Under the products page, you'll be able to manage your inventory, add new products, and manage transfers from your suppliers as well.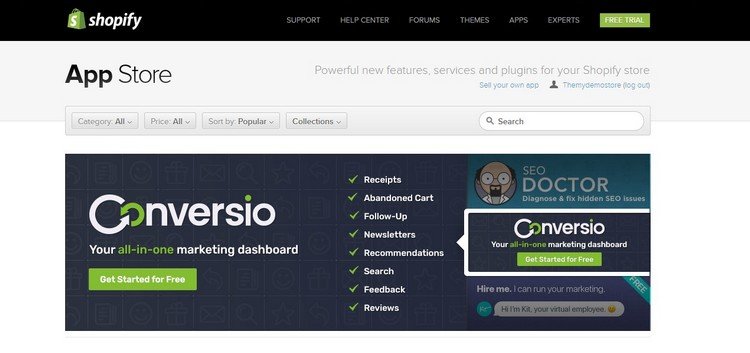 Shopify also comes with an App Store, which features many third-party apps for adding more functions and features to your shop, like live chat, referral programs, and email opt-in systems.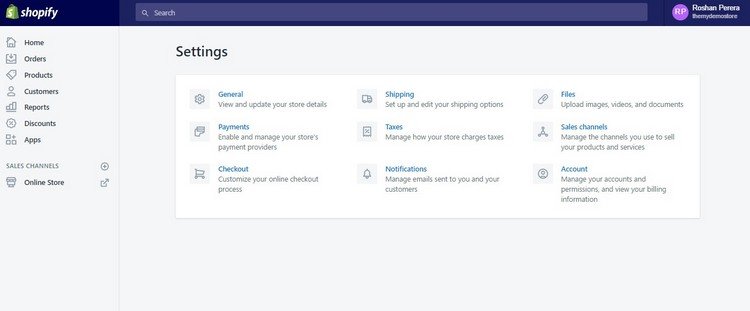 Navigating to the settings page will allow you to setup your payment methods, shipping, and checkout systems.
Overall, setting up a shop with Shopify is fairly easy and it would only take less than 10 minutes to get started. The user interface is effectively designed to make the whole process much smoother and beginner-friendly.
Even a complete beginner would be able to get started with Shopify without any outside help. But, of course, Shopify offers 24/7 customer support for people in need of help.
Payment And Payout Methods
Shopify has its own payments system powered by Stripe called Shopify Payments. You can use this to accept payments from your customers without having to pay a transaction fee.
If you prefer to use a third-party service, like PayPal, Stripe, or 2Checkout. Then Shopify will charge an additional fee for processing the payment. For the Basic plan, the fee is 2.0%. It's 1.0% for the Shopify plan and 0.5% for the Advanced plan.
If you're using Shopify Payments, your earnings will be deposited to your bank account within 3 days if you're in the US or in 7 days for other countries. The process will be different for third-party payment systems.
Shopify Pricing And Fees
Shopify pricing plans start at $9 per month for its Lite plan. With this plan, you won't be able to setup a store website. But, you'll be able to sell your products through social media or embed buy buttons on your existing websites.
In order to create a shop with a blog, shipping, and other features, you'll have to subscribe to a better plan.
Basic Shopify: For $29 a month, this plan allows you to setup a shop with a blog and have unlimited products with 2 accounts for your staff. The platform fee for online payment processing is 2.9% + 30¢.
Shopify: For $79 a month, this plan also comes with all the features of the Basic Plan and 5 staff accounts with support for gift cards and better shipping discounts. The platform fee for online payment processing is 2.6% + 30¢.
Advanced Shopify: Priced at $299 a month, this plan features all of the features of the Shopify plan and gives access to 15 staff accounts with support for gift cards and best shipping discounts. The platform fee for online payment processing is 2.4% + 30¢.
Pros And Cons
Shopify is a platform that targets complete beginners who are not familiar with creating websites or setting up shops. The platform offers a simpler all-in-one solution to those who are unfamiliar with how online stores work.
So, the platform may be more suitable for beginners than advanced users.
Benefits Of Using Shopify
Since Shopify provides all the features you need, including web hosting, domain names, analytics, payment processing, and more all in one place, it makes it a great platform for a small business to test drive the online market by quickly starting a shop without having to invest in expensive web development work.
Shopify also features a simpler user interface that allows users to easily setup an online store without any experience in website design. Managing shipping and taxes also becomes easier with the platform's integrated solutions.
Downsides To Using Shopify
Probably the biggest downside to using Shopify is it's expensive pricing plans. For an individual who's just starting out, a $29 per month price on top of platform fees and payment transaction fees can be a bit too expensive.
Also, you won't be able to customize your website however you like when using Shopify. The customization options will be limited unless you know how to work with HTML and CSS.
Is Shopify The Right Platform For You?
Now to the big question: Will Shopify work for you?
While Shopify offers a set of great features packed into one platform, making it more attractive to beginners, it's slightly too expensive for an advanced user.
If you know how to setup a WordPress website with WooCommerce, then you might as well build a self-hosted online store without having to rely on Shopify or having to pay any expensive monthly costs and platform fees.
But, for a complete beginner, Shopify offers a smooth and a streamlined experience to make things much easier for them to start selling online. If you're looking for a simpler experience, then Shopify will be worth every penny.
Starting an online store is a lot of work. Shopify certainly does make this process easier by providing all the tools you need in one place. You can sign up for a 14-day free trial to see it yourself and then you can decide whether or not Shopify is the right platform for you.