Most of the SEO guides, including the ones written by genuine A-List bloggers (with all due respects), use an "example" keyword to explain how to optimize your blog post content. They end up writing loads of content on Search Engine Optimization without answering the very obvious question – how to find the right keyword? Actually, it is all about targeting the correct keyword in order to earn organic traffic. Webmasters don't want you to target the lucrative keyword as it might deprive them of their only tool behind their success – golden keywords.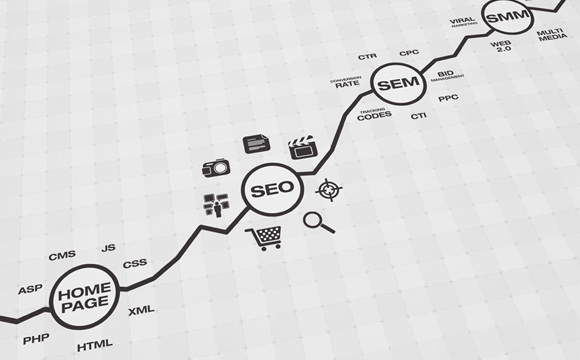 While in first grade, I was introduced to a very important quote – Honesty is the best policy. Being a strong believer of the same, here goes the rare guide to keyword research for the not-so-smart webmasters (like me).
Note:
You will be introduced with the process to search for the best keywords but it will be your patience that will help you master SEO.
I will use Google for all my research. If you think organic traffic from any other search engine is more important than traffic from Google (which is a surprise in itself) then please do let me know.
There are multiple other ways (including paid services) to search for best keywords but the below discussed method is more or less perfect and with time it won't lose its importance.
Where Do We Start?
Google is very much open with its system (except its algorithms) and continuously helps webmasters to understand the importance of genuine content. The Google AdWords Keyword Tool was launched by Google with the sole purpose of making the life of its AdWords customers easy but webmasters had lots of fun with it. Now, it's your turn! Just open the AdWords Keyword tool and start reading below.
The First Keyword!
See, you got to know your niche before you think about a keyword for the same. Let me give you give you some examples:
Niche: Housing Tips
Obvious Keywords: Shoe Rack, Clean Kitchen, Comfortable Bed
Niche: Entertainment
Obvious Keywords: Britney Spears, Charlie Sheen arrested, Angelina Jolie movies
Niche: Blogging Tips
Obvious Keywords: Make Money Online, Increase AdSense Income, Increase Organic Traffic
Now, let me take up the example of the first niche and use the keyword – Shoe Rack.
Now, Searching for The Real Keyword!
Once we have our initial keyword then it's time that we expand on this so as to understand what else people are searching for on Google. You can argue that why we don't target Shoe Rack instead of looking for other keywords? Good question, really!
To understand the answer I want you to search for Shoe Rack on Google and analyse the first page results. Try and gauge the authenticity of each website on the first page by checking their Alexa and Page Rank. I agree that they might not be the only criteria but these do help to some extent. You will find that most of the results are authentic websites with strong rankings. This simply means that the keyword Shoe Rack is facing a high amount of competition.
Now, you can show some guts and fight with these big guns on page one (which is worth a try) or target another related keyword with less competition. I, usually, opt for the latter option.
Once you are convinced that you got to look for another related keyword instead of targeting Shoe Rack then I want you to switch back to the Keyword Tool and search for the same in that tool. Let me explain the results (that will look something like the image below):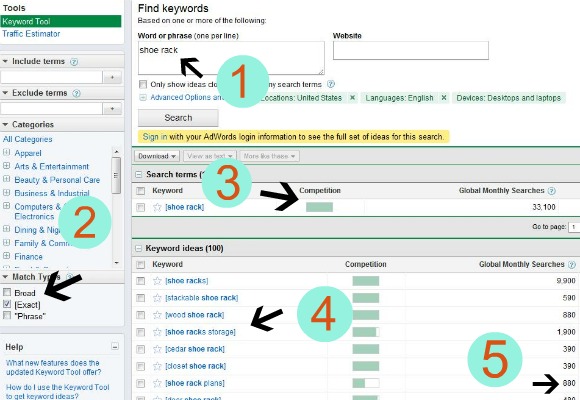 1. Your keyword (shoe rack in our case).
2. It is suggested that you always check the checkbox next to [Exact] and uncheck Broad. Exact gives you the results of the exact keyword that you use while Broad gives you the results for that keyword when it is used in combination with other keywords. The results for both will of course vary and it is Exact that will help your purpose.
3. The green bar shows the amount of competition that you will face for the corresponding keyword. Completely green means you must IGNORE that keyword! Seriously, consider ignoring it.
4. The list of keywords that are somehow related to your searched keyword. These are the keywords that are being used continuously in Google Searches and can be of help to you. Google calls them Keyword Ideas and we will do the same in this article.
5. This is the amount of times the particular keyword is searched internationally on Google.
Understanding Advanced Options and Filters
Before we plunge further, let me quickly explain the Advanced Options and Filters section of Google's Keyword Tool. It is something (inside the red box in the image below) that you cannot ignore no matter what happens!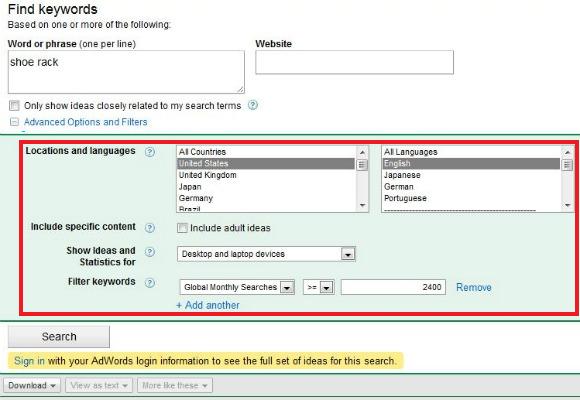 Locations and languages – You can opt for your target country and language to see the location specific results for your keyword. The Local Monthly Searches column shows the results as per the options chosen in this section.
Include specific content – It says it all. If you want the adult keywords in Keywords Ideas section then check this checkbox otherwise stay safe and ignore.
Show Ideas and Statistics for – This will let you gather results as per the devices (desktop, mobiles etc.) being used by your target searchers.
Filter Keywords – This is where you can filter off useless results. I usually use this section to define a filter on Global Monthly Searches column. Keywords that are being searched for more than 2400 times a month are of importance to me. I really don't feel like working hard for a keyword that is searched only 1000 times in 30 days!
Back to "Searching for the real Keyword"
By now the basic features of Google's Godly Keyword tool should be clear to you. Let us get back to our starting keyword – shoe rack. I will search for the same once again in the keyword tool but with these two filters:
Global Monthly Searches >= 2400
Competition Low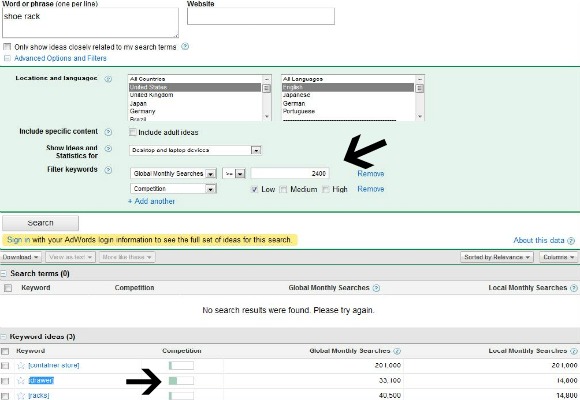 See the second keyword, drawer, in the Keyword ideas column? The competition isn't huge and the Global Monthly Searches are over 33,000 but a quick look at the top 10 results for drawer in Google SERP will give you a hint that all pages have some PR and it won't be easy to beat them. Henceforth, we will move on and ignore drawer as our target keyword.
Now, search for the keyword drawer in Google Keyword Adword Tool with the same filters as above. The results will give you money drawer which is low in competition and has 2400 as Global Monthly Searches. Do your analysis for money drawer and you will find that many pages in the top 10 results in SERP have zero PR and hardly any backlinks. These are the pages that you can fight against. These are the spots where your page will show up if you smartly SEO the specific page.
This was it! You started with shoe rack and you ended up with money drawer. Just imagine the amount of rich keywords that you can find using the above method. You just have to be patient and repeat the process over and over and over…
Important
With time this article might start aging and it is highly likely that you might not find similar stats for the particular keywords that are mentioned above. You might not even find them in your results! This happens due to the volatile nature of the Internet.
Therefore, I want you to understand the process will stay but the aforementioned examples might not! Just stick to the process and you will continue to stumble upon exclusive keywords. Let me summarize the process in image below: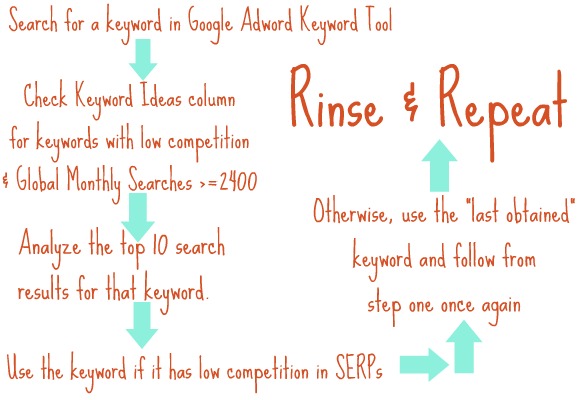 Conclusion
There isn't anything worth concluding as keyword research is an endless topic that will stay fresh while search engines exist. All that I can tell you is that the above process might not be the sure shot way to find best keywords but it surely is an add-on. Do let me know what you do to find the best possible keywords.