Think about all the social networks that people look at every day. Think about all the connections and all the possible updates/posts/tweets/statuses/pins that people see. You need your update to break through these and get noticed. In this article we are highlighting the use of images in social media marketing.
The popularity of Pinterest and Instagram just goes to show how visual social media is these days. Facebook, LinkedIn and Google Plus automatically include a thumbnail when you directly post a link or when you hit the +1 or thumbs-up on a web page. Here we'll give you some insights about how you can choose images to extend your reach.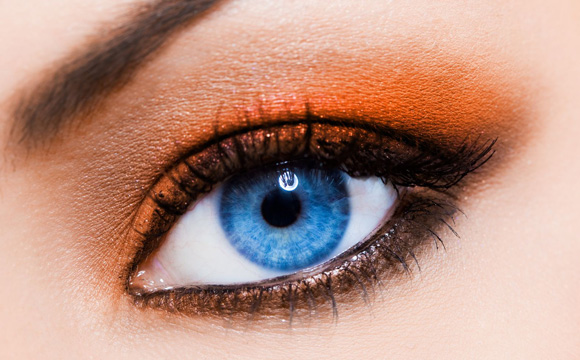 The Use of Images in Social Media Marketing
The Science Bit
Studies show that people only notice a tiny fraction of information presented on a daily basis. There are two important points to remember to do with this. One is that our brains are more likely to pay attention to stimuli that provokes an emotional reaction. Secondly, we are then more likely to continue paying attention if the thing we've noticed fits with our existing opinions and interests. Changing our mind on an issue involves significant cognitive effort – so we have an unconscious tendency to avoid and forget information that challenges our cognitions.
If you think about your typical person flicking through their Facebook stream, it's likely that the image you use to publicise your link will be the bit that needs to grab their attention through an emotional reaction. The tagline, title and associated content of the link should maintain this attention and engage them further.
Case Study – Example Facebook Post
There are lots of ways of getting this first bit of attention. Have a look at the two Facebook updates: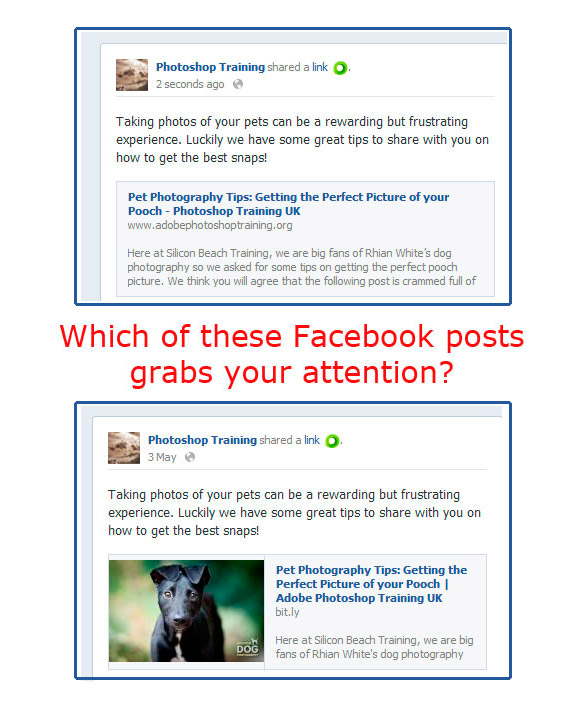 Clearly, more people will notice the one with the dog than without an image at all. But it wasn't just about adding any old image – we had the choice of many amazing dog images from the post. We thought long and hard, and chose that one that was the quirkiest and most attention-grabbing.
Know Your Social Networks
Know your social networks and how you can use images in different ways on each. Remember that social media has two benefits – raising your brand and for site traffic/SEO purposes. A rule of thumb is to focus on managing your brand and pleasing your customers, and the latter will happen as a consequence (here's a shameless plug for our Social Media marketing course that will help you get your head around all this!).
While you are still putting your article, blog or piece of content together; think about how you will publicise it. Make sure you have a good lead of how you will use the strengths of each social network.
(Sidenote: Facebook can be a bit of a trickster when it comes to picking up images from a link you post on your timeline. If it misses an image from the page, try the Bit.Ly link instead. Make sure you test it both by 'liking' it from the post and checking how it appears on your timeline, and by copying and pasting the link into Facebook – your readers could do either and you want their share to be appealing to others!)
When it comes to Pinterest, if people pin your image straight from your web page, the image may be accompanied by whatever you assign as a title to the image.
Make sure this is clear, concise and engaging – otherwise it may get overwritten!
Know Your Customers
You will have different types of customers following you through different channels, so you should pepper your content with different images in order to have more to choose from when it's time to publicise!
As well as enjoying different types of visual and written content, different customer types will have different levels of inclination to share. You'll need to think about who each type of article will appeal to, give them a call to action, and make sure a good image comes up as default if they share directly from your website.
Using Original Images
The images you use to accompany a link to your site via social media make a huge amount of difference to whether you get traffic from that link. To get people's attention, you need to stand out – and to stand out, you need to be original.
In an ideal world, you'd use Photoshop, InDesign and/or Illustrator to make images that are original and as engaging as can be. If you do have to use a stock image, use the 'search Google with this image' add-in from Chrome to make sure it hasn't been used hundreds of times before.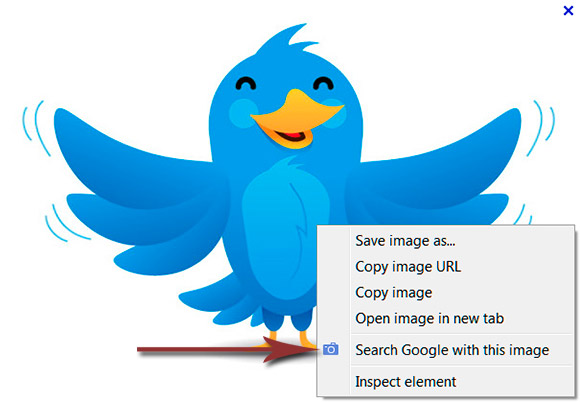 This is also a good way of getting an idea of whether the image truly belongs to the site where you found it.
The different attributes of images that grab people's attention in the busy, fast-moving social media stream are cute, bright, nostalgic, funny, quirky or just plain beautiful. A phenomenon known as the Cocktail Party Effect comes into play here – things we have an established emotional connection with will jump out from the background. Once you've identified your customer profiles and which social networks they'll be using, you can pinpoint exactly what kind of image will trigger this.
The industry talks all the time about how social media marketing is about adding value; in effect, you want your image to add value with just a glance – and to do this you need to stir up some emotion.
Case Study – Ladders Online
A short while following the Google+ Page of Ladders Online, you'll see that their regular posts never fail to grab your attention from the busy news stream. They take funny, quirky, silly and cute images and shoehorn in a cheeky association with their products. It makes their brand stand out and be noticed…and even though I don't want a ladder right now, I know who I will think of first when I do.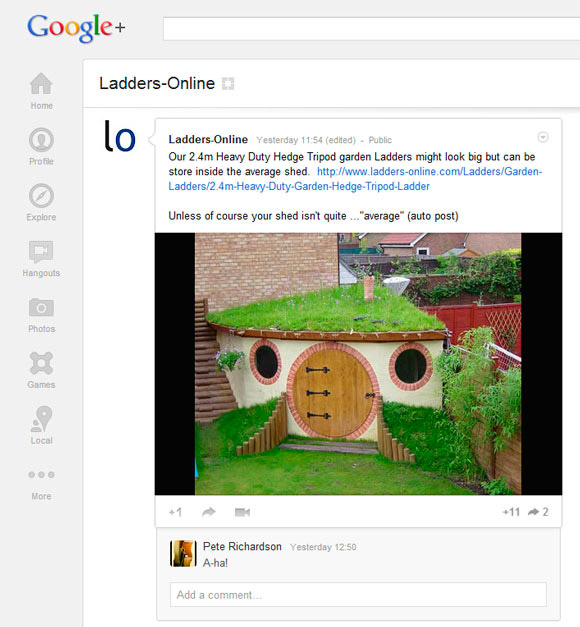 Conclusion
As more and more businesses utilise Social Media channels for marketing, it becomes increasingly important to stand out from the crowd. Many companies overlook the importance of visual hooks and instead choose to shout often and loudly about how good their products are. Using great photography and design to accompany your web content and publicise it through social media is an extremely powerful way of getting your brand noticed.