Google has made a name for itself as an innovative organization. It's more than just the simple search engine we knew and adored all those years ago. It's investing in the youth of tomorrow with a selection of education programs in local communities around the world. Just last year, it appeared on the Forbes' list of the World's Most Innovative Companies.
Read on to discover the advantages and disadvantages of each major Google Education offering.

Top 10 Google Education Advantages and Disadvantages
1. Computing and Programming Experience
The Computing and Programming Experience (CAPE) program consists of middle and high school students from around America descending on New York and Santa Monica to learn about how computers work in the real world. The advantages are the top students will be surrounded by peers of their level. It gives them real experience for the world of work.
The only snags are it involves a great deal of travel and it's only open to the top students in each school.
2. LEAD for Computer Science
The LEAD institute offers programs in computer science. They take place during the summer and at some of the leading universities in America, including Dartford and Stanford. There are programs for both graduates and school students.
It's open to students from all over the world, including countries like Canada and South Africa. It's also planning on expanding its computer science programs to other nations.
It offers a scholarship program, but these are notoriously difficult to receive. Without a scholarship the program costs thousands of dollars.
3. App Inventor
The App Inventor was launched by Google but is actually maintained by the Massachusetts Institute of Technology (MIT). Anyone with a basic knowledge of software development can create their own apps for mobile devices.
It's a low-cost option for learning about the art of development, and you can study when and where you like. It's disadvantageous to people who don't yet know about software development, though.
It's an open source project, so expect regular updates from the community and MIT.
4. YouTube Space Lab
YouTube Space Lab allows students to take themselves into other galaxies and learn about the universal phenomenon occurring right now. As well as YouTube videos offering tutorials and guidance, they hold regular special events. In the past, they've had live streams from the International Space Station.
It lets you learn when and where you like, as it's accessible from mobile devices. Giveaways include Zero-G flights and the chance to send an experiment into space.
They're also working on a pilot scheme to bring a YouTube Space Lab into classrooms throughout the world.
5. Computer Science Summer Institute
CSSI is about growing the next generation of computer scientists. The program takes high school students entering college to Google institutes where they learn about how computer science applies in the real world. Students get all expenses paid anywhere within the US and Canada.
The biggest disadvantage is its lack of places for people outside of this age group, so other students can lose out because of this arbitrary rule.
6. Scholarships, Internships and Ambassador Program
Google offers a selection of scholarships and internships as part of its ambassador program. Get in touch with Google and organize events at your college or university. It involves traveling to Google and learning about next generation technology. It's open to a variety of students and presents the opportunity to work with one of the biggest corporations in the world.
Students may find it difficult to qualify for these programs as the competition is fierce. And the ambassador program is available through nomination only.
7. Online Marketing Challenge
The Google Online Marketing Challenge is open to college students registering under a participating professor. Google provides a budget of $250 and students compete to market themselves through Google AdWords and Google+. It's easy to get into and doesn't take up a great deal of time.
Prizes include a trip to Google headquarters and laptops. Be aware, you will need to find a team of at least three people and a willing professor.
8. Google Teacher Academy
The Google Teacher Academy is an academy open to primary and high school teachers wanting to learn more about technology and the ways Google can help in the classroom. 50 participants worldwide are selected based on merit. It costs nothing and Google covers every expense during the course.
Remember to make your application as strong as possible. With only 50 places and thousands of candidates, you really need to stand out. They also pay attention to best essays.
9. Google Faculty Institute
The Google Faculty Institute takes place at the close of the academic year and involves 39 teachers, selected on merit, attending a conference in California. Participants learn about implementing technology and the role of computing in the modern classroom. Attendees must go through a rigorous application process and be nominated by someone else to qualify for this prestigious three-day event.
10. Online Resources
YouTube's education portal is the home of Google's online video resources. It contains videos from the Khan Academy and MIT, as well as others. Watch as they guide you through detailed tutorials. You can do it whenever you like and at your own pace. Sadly, there's no way to ask questions or to review what you've just learned.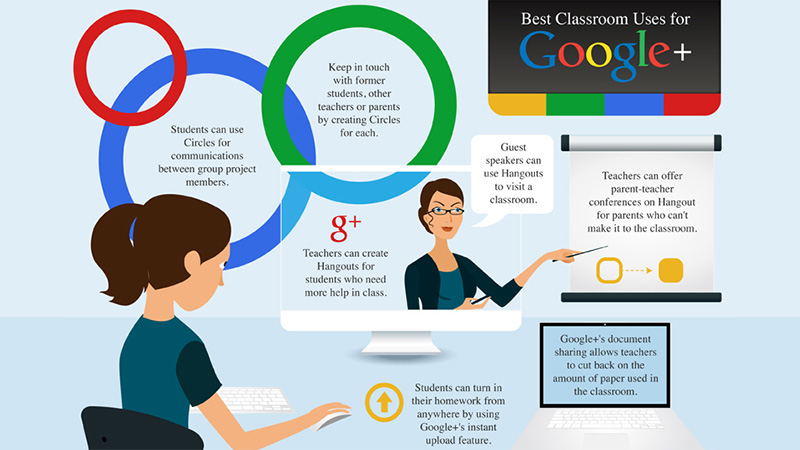 Conclusion
Overall, the Google corporation has made a firm commitment to education and helping teachers and instructors from all over the world improve. The programs have their disadvantages, but the advantages and the ways they're consistently enhancing learning makes them a must-have for any talented young person.