Whether you are a freelance blogger, photographer or web designer, choosing the right content management system (CMS) for your freelancing business can be tricky.
As a freelancer, you need a content management system that is quick and simple when it comes to usability, yet powerful in terms of personalization. After all, standing out from the crowd is paramount for any freelancer.
The problem is, there are numerous content management systems on the market, each offering their own strengths and weaknesses. So, how can you correctly decide on which content management system is right for you and your website?
To help make this decision easier, we have compiled five of the best content management systems for freelancers, along with their pros and cons.

Why Use A CMS?
Content management systems makes it easier for you to manage all your content, such as main page of your website, blog posts, images, and videos, all from the same place.
More importantly,  you don't need any web design experience or coding knowledge to setup a website using a CMS. Usually, installing a CMS is a one-click process and you can then install themes and customize the design of your website quite easily without having to write any code.
A CMS can be both time-saving and easy-to-use when it comes to setting up website, two of the features that makes them much more useful to freelancers who lack technical experience.
There are plenty of choices when it comes to CMS software. In this article, we narrow it down to the top 5 CMS to help you find the best platform to build your own websites.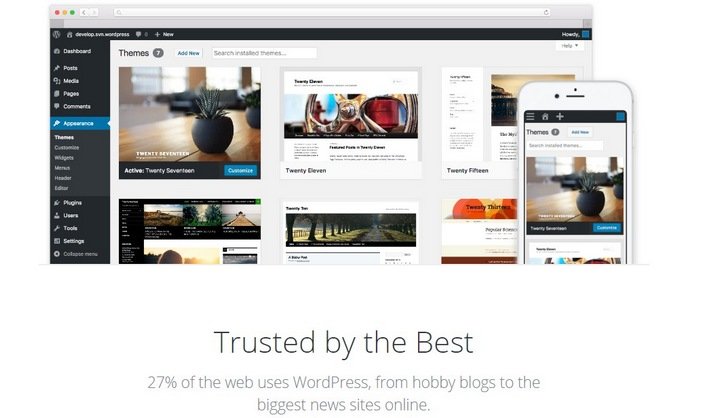 Price: Free
Themes: Over 2400 free themes.
Plugins: Over 49,000 free plugins.
Best For: Beginners and Advanced users.
If you're going by numbers, WordPress is the most popular content management system in the world – for freelancers and otherwise. In fact, 27% of websites on the web currently get powered by WordPress.
Initially released in 2003, WordPress has a long and successful history, helping many people get their websites and blogs looking and feeling great.
Main Features
WordPress' extensive fan base is a good indicator to its quality as a CMS. Over 51% of the top million websites in the world run on WordPress, and its hold on the internet is always on the increase.
Additionally, WordPress oozes flexibility. There are countless amounts of plugins, themes and apps which can add new functionality to the platform. These plugins and extras are incredibly easy to install and use, and so personalizing your freelancing website is simple.
Downsides To Using WordPress
WordPress is a pretty solid CMS, but of course, downfalls do exist. Thanks to its immense popularity, WordPress is the most at-risk content management system to spam, viruses and other security attacks.
Another flaw is the blog-centric architecture of WordPress. Simple blogging websites are easy to build, but a lack of native content blocks means that you cannot define multiple content areas in a quick and easy way. Plus, the WYSIWYG editor is on the mediocre side.
Who Should Use WordPress?
WordPress is not just a great CMS for building a portfolio website to showcase your work, but it's also a great platform for building many types of websites, including eCommerce sites, business blogs, landing pages, and more.
If you're looking to design websites for clients without having to write any code or learn programming, WordPress is a great platform you should definitely look in to.
Price: Free / $4.50 a month
Themes: Over 100 themes.
Plugins: Over 100 free and premium apps.
Best For: Beginners.
If you're looking for a supremely simple way to build your freelancing website, Wix CMS might be of interest to you.
Wix was built in order to help the thousands of website administrators, who are not actually IT professionals. Essentially speaking, Wix is ideal for people who don't find "user-friendly" content management systems friendly enough.
Main Features
Intuitive in-line editing is definitely Wix' strong point. Content such as videos, photos, forms and of course text are all easy to insert, manage and modify. There is no need for additional layouts or pages, and no technical skills are required. It's all simply drag & drop.
Wix also features a large collection of templates for customizing the design of websites and a marketplace full of free and premium apps for adding more functions to your website.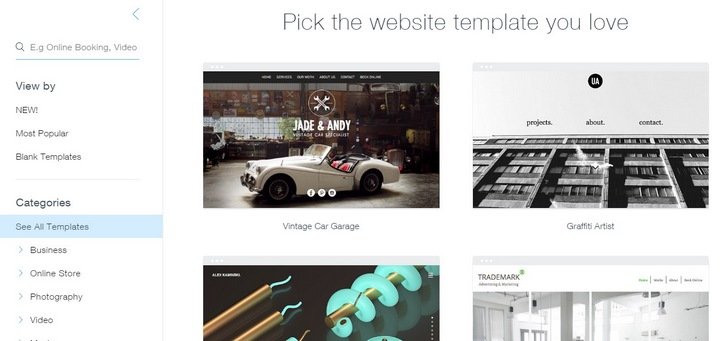 Downsides To Using Wix
The biggest disadvantage of opting for Wix, is the lack of extensions on offer. There are only a handful of plugins and themes currently available.
The free plan will only offer 500mb of storage space for your website. If you want to extend space and integrate a custom domain name, you'll have to opt-in for the $4.50 a month plan.
Who Should Use Wix?
Wix is best for complete beginners who can't spend too much time learning to use a CMS. Unlike WordPress, there's not learning curve involved with Wix. You can get started using it right away and easily build a website without prior experience.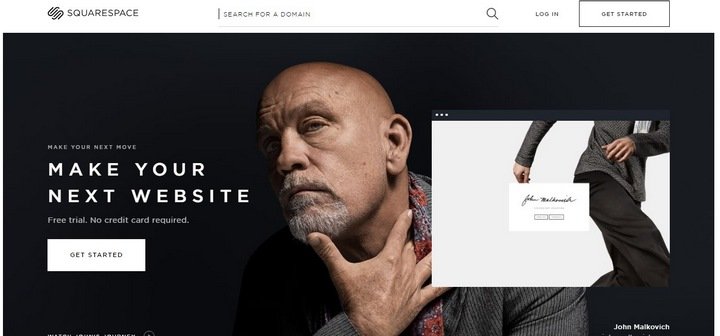 Price: $12 per month
Themes: Over 100 themes.
Plugins: Not available.
Best For: Beginners.
Launched in early 2004, SquareSpace is no stranger to the world of content management and blogging.
Unlike WordPress and ImpressPages, SquareSpace isn't open-source, so user-generated content is not readily available. On the plus side, this means that all things built for SquareSpace come right from the original developers, which means it comes at the highest quality.
Main Features
Perhaps the most attractive SquareSpace quality, is its beauty. The native themes and templates are incredibly easy to install and modify, despite already being sleek and modern straight out of the box.
What's more is, SquareSpace takes care of all hosting and software updates automatically, leaving you to focus on building your freelancing website.
Downsides To Using SquareSpace
Although SquareSpace is inherently good looking thanks to its native themes and templates, it is a real shame that you cannot add your own PHP code. As a freelancer, you'll want to customize your website as deeply as possible, but SquareSpace doesn't give you that option in its entirety.
SquareSpace is also not open-source, so there are no user developed extensions. And the premium price tag can be a bit costly for a freelancer.
Who Should Use Squarespace?
There are different types of businesses that use Squarespace to run their website, including online stores and celebrities. The Squarespace website editor is easier to use and quite beginner-friendly. If you can afford the price tag, Squarespace can be a solid CMS to build your website with minimum web design experience.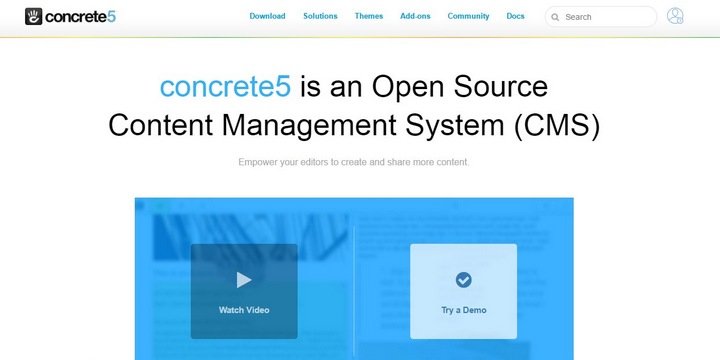 Price: Free
Themes: Over 70 themes.
Plugins: Over 100 plugins.
Best For: Advanced users.
If you're a design-based freelancer, then Concrete5 might just pique your interest.
On top of being able to edit images via an in-built image editor, Concrete5 also lets you go to any page on your website and modify to your hearts content via an editing toolbar that gives you all the controls you need. Creating your own templates without too much coding is also a breeze.
Main Features
Concrete5 offers a slick drag and drop system if you are a coding novice, yet if you're a technically advanced freelancer, you can also get down and dirty with coding templates and modifying elements.
The built-in image editor is a nice touch, especially if you are a freelance designer or photographer of some kind.
Downsides To Using Concrete5
Although there are many plugins and extensions available for Concrete5, a lot of them require you to pay a fee in order to make use of them.
Overall, Concrete5 is excellent at being relatively good at everything, but outstanding at nothing. It does nothing to truly set itself apart from the crowd, yet at the same time, it's hard to poke holes in its fairly well-rounded, reliable platform.
Who Should Use Concrete5?
Compared to other platforms, Concrete5 has slightly outdated theme designs and a user interface. Concrete5 also makes customizing themes and websites a bit difficult, so it's more suitable for advanced users.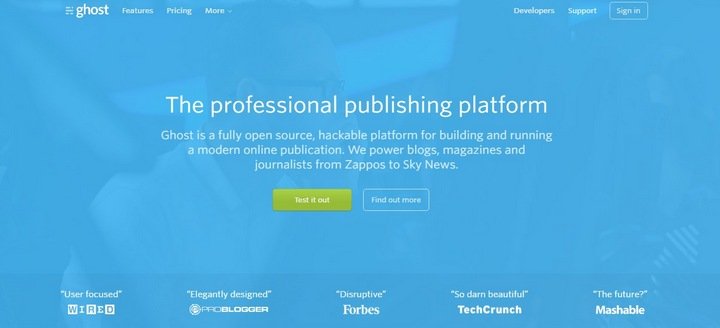 Price: Free / $19 per month
Themes: Over 70 themes.
Plugins: Not available.
Best For: Beginners.
The new CMS on the block is Ghost. Released in October 2013 after a highly successful online crowd-sourcing project, Ghost has taken the world of CMS by storm.
Ghost's primary focus is on blogging. If you're a freelance blogger who cares not for intricate coding sessions and exceedingly deep levels of customization, then Ghost might be right up your alley.
Main Features
As WordPress spreads it wings into other markets, Ghost now seems to have begun to take the stage as the CMS which solely focuses on being a blogging platform – and that fact alone will excite freelance bloggers.
Blogging purists will love Ghost's brilliantly designed dashboard, which beautifully puts you in touch with everything you need to know about your blog, from visitors to social shares. The excellent writing interface also lets you see markdown on the left, and a live preview on the right.
Downsides To Using Ghost
The main problem with Ghost, is its age. It's October 2013 birth date means that the platform is still in its early stages of life, and so there are naturally some bugs that still need attention, and features which still need to be developed.
Additionally, due to being so new, there isn't a huge amount of third-party content to really make your blog unique and it only has a limited number of templates to choose from.
Who Should Use Ghost?
Ghost is an open-source software, but not all web hosting providers support Ghost. So, it's a bit difficult to self-host a Ghost blog. Your best choice is to use a subscription plan offered by Ghost.org to host your blog.
Ghost is a blogging platform and it's not capable of much customization or setting up websites. Which makes the platform best for minimalist bloggers, but not for advanced users who seek options to personalize their websites.
Conclusion
So there you have it. Five of the very best content management systems for freelancers.
Each of the CMS platforms listed has something a little different to offer, yet you can rest assured that each of them are capable of building quality websites worthy of any freelancer.
Which content management system do think is best for freelancers? Know any other great platforms we haven't heard of? Let us know in the comments.