Creating a successful non-profit website, or fundraising for a worthy cause, isn't an easy task. Choosing an effective donation plugin is by far one of the most important decisions you can make. But with so many WordPress donation plugins out there, it can be hard to know which one is right for you.
In this article, we take a look at 17 of the best WordPress donation plugins currently available in 2019. We consider what each plugin has to offer, their different features, and ease of use. By the end of reading, you should have a good understanding of which WordPress donation plugins might best suits your website's needs.
1. Give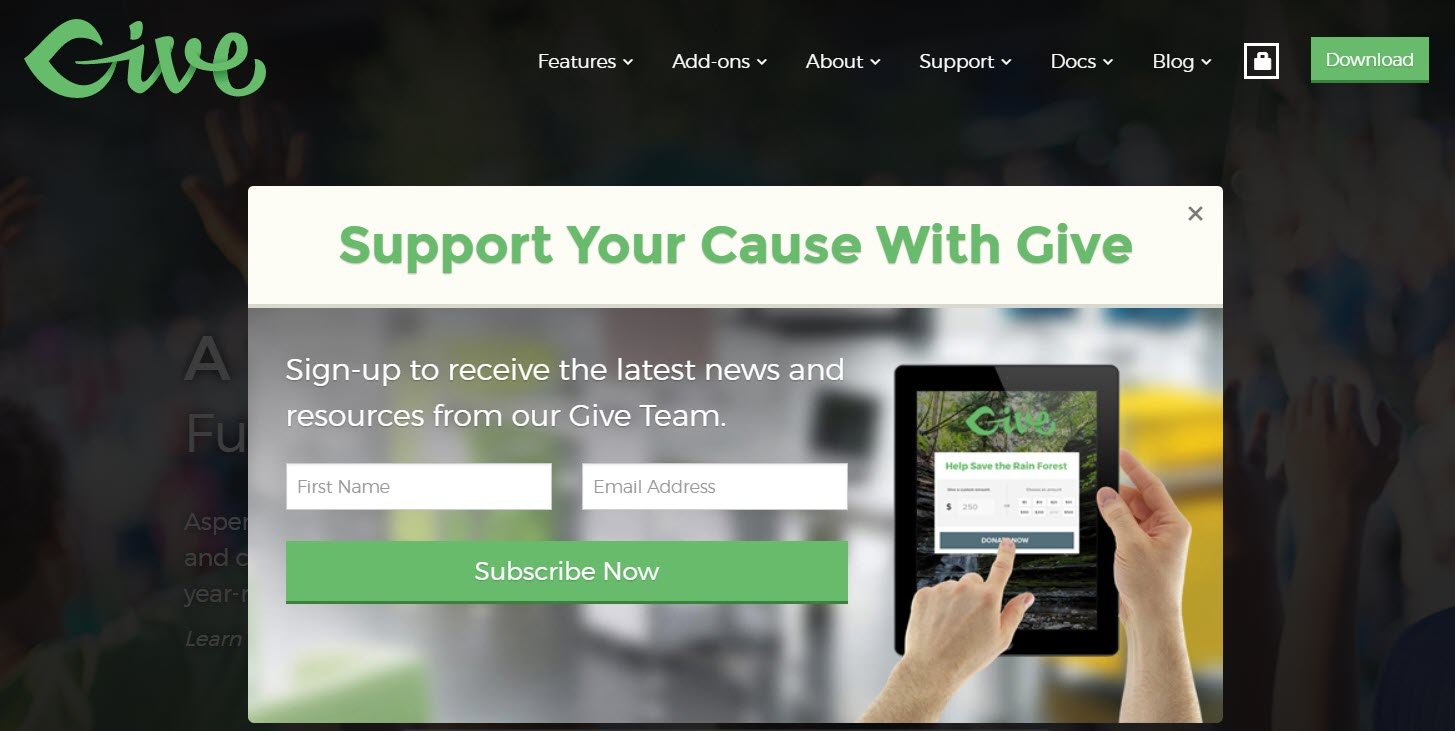 Give is a popular freemium WordPress plugin. Install Give for free and then purchase optional add-ons to extend your site's functionality as needed. This plugin allows you to add powerful donation acceptance forms to any page of your site, in any sidebar, or as a stand alone page. Customizations to the style of donations forms can be easily made, enabling them to match the look and feel of your site. And donations are made on-site, so you don't lose your donors to another site with no guarantee of their return.
Premium add-ons include enabling recurring payments, claiming UK gift aid, and accessing a variety of payment gateways like Stripe, Authorize.net and more. As you can see, Give is a superior WordPress plugin that caters for all non-profit donation needs.
2. Paypal Donations

If you are looking for a quick and easy way to add a donation button to your website, then Paypal Donations is a great solution for you. This free WordPress plugin enables you to add a donation button to any page, post or sidebar on your website using a simple pre-generated shortcode or widget.
To get started, choose from a selection of attractive buttons, or create your own to best match your site's branding. Then setup your Paypal ID to begin to take donations. There is also the option of modifying a number of settings, including currency, custom payment page style and the return page. Paypal Donations is useful tool, and its ease of use can't be faulted.
3. Charitable

Another impressive freemium WordPress plugin, Charitable allows you to create unlimited fundraising campaigns. This solution charges no transaction fees on donations received. Instead, it makes its money through the sale of its premium extensions.
Seamlessly integrating with WordPress, the core Charitable plugin is free to install and use. It allows you to add customizable donation forms to your website, take donations via Paypal and offline, and send automated campaign and donation related emails. Premium extensions offer a number of additional payment gateways, including Stripe and PayFast. You can also purchase extensions to enable crowdfunding, peer-to-peer funding, anonymous donations, and much more.
4. Seamless Donations

Easily earning a place in the 'Top WordPress Donation Plugins' list is Seamless Donations. This free WordPress solution has an extremely fast set up process, so your non-profit website will be ready to start accepting donations within five minutes of installing the plugin.
Integrating with Paypal to take donations, Seamless Donations provides support for over 20 currencies. Your audience can select whether to make a one-off or recurring donation. And custom thank you emails can be sent once a donation has been made. Premium add-ons are also available to extend functionality and help you get the most out of your fundraising efforts.
5. WooCommerce Name Your Price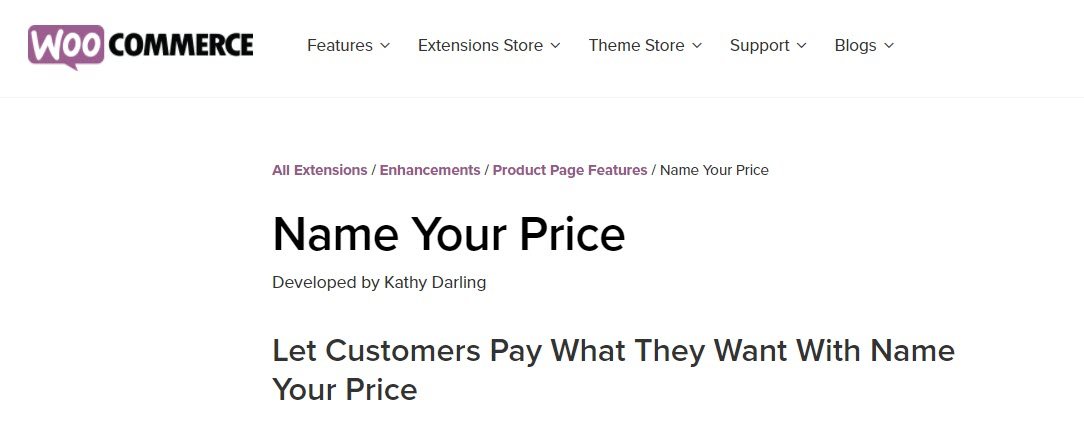 If your non-profit website includes an online WooCommerce shop then the premium WooCommerce extension Name Your Price is a must. This plugin allows customers to choose how much they want to pay, or 'donate', for each product they purchase. You can pick a minimal amount that your charity is willing to accept, suggest an amount, or leave it entirely for your customers to decide.
If you sell subscriptions on your non-profit site, then Name Your Price can integrate with the WooCommerce Subscriptions extension. These plugins combined can enable your customers to choose when and how much to donate for each subscription. Both these options are great for encouraging your customers to add a little extra each time they make a purchase from your charity.
6. Potent Donations for WooCommerce

Potent Donations for WooCommerce works in a similar way to the previously mentioned 'WooCommerce Name Your Price'. The difference between the two is the price, as Potent Donations is free to install and use.
Simply install this plugin on your WooCommerce store and ask your audience for donations for your various products on sale. By allowing your audience to set the price for an item, the money donated will often end up being a higher amount than the price you may have set.
7. Smart Donations

Smart Donations promotes itself as an 'all-in-one donation plugin'. And there is no doubt that this free WordPress plugin does tick a lot of boxes. Use Smart Donations to create donation forms for different causes, analyze your results, and send thank you emails. You can also set goals, show your audience how well your fundraising is going, and how close you are to hitting your target. This will help encourage people to donate.
Smart Donations integrates with Stripe and PayPal and is free to install and use. A premium version of this plugin is also available. This adds a number of extra features, including providing the option recurring donations and adding custom forms.
8. Direct Stripe

Direct Stripe is a free plugin that will allow you to take Stripe payments, subscriptions, and importantly donations, on your WordPress website. Stripe itself is an impressive payment gateway, and for charities new to taking donations on their website starting off with just one payment provider like Stripe may be a good option.
Direct Stripe enables you to add high conversion Stripe payment buttons and forms to your website. Donations can then be taken without your visitors leaving your site. Buttons and forms can be easily customized and added to your website using shortcode. And automated emails can also be setup and sent each time a donation is made.
9. Donorbox

Donorbox is a freemium WordPress plugin, that will only start charging a fee after you receive over $1000 month in donations. This effective donor plugin will enable you to seamlessly embed an optimized recurring donor form in your WordPress website.
To get started, you will need to install the plugin and then signup at Donorbox.org. The solution integrates with PayPal and Stripe as well as Salesforce, Mailchimp and more.  The Donorbox form builder enables you to customize your form, the fields shown, and the receipt text. The donation form can then be added to any post or page on your website through a simple shortcode.
10. Donation Content Locker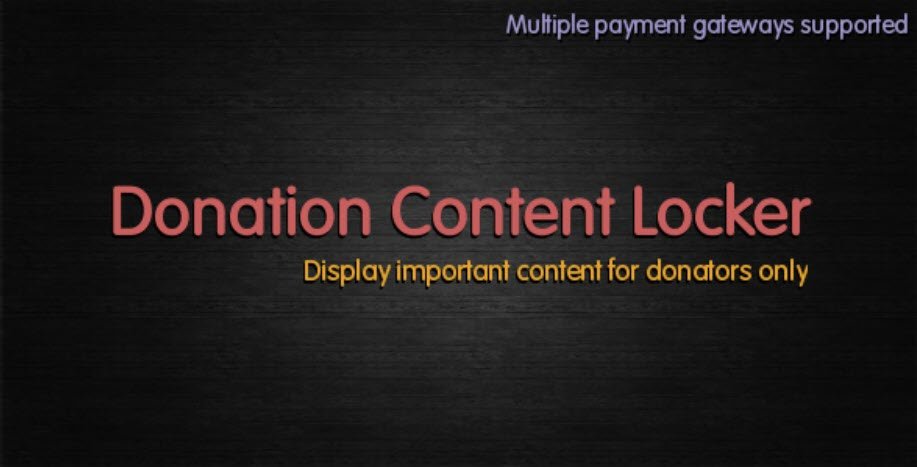 A clever little premium plugin, Donation Content Locker can be purchased from CodeCanyon for just $15. This solution will let you block content from your audience and display it only to those who donate. Wrap protected content with pre-generated shortcodes and then ask visitors for a minimum donation (set by you as admin) to access it. Once a donation is made, the individual with receive an activation link to make all locked content visible.
Donation Content Locker integrates with five payment gateways, including PayPal and Authorize.Net. A visual editor enables you to modify the content of your donation box. And donors are remembered, so they can revisit content after they have made their payment. This plugin is an easy and interesting way to monetize your website and ultimately increase donations.
11. Digital Paybox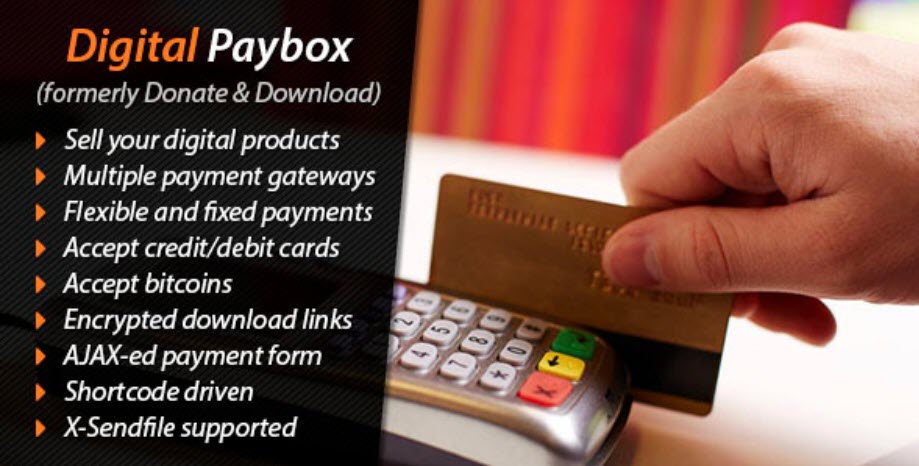 Digital Paybox, another premium plugin from CodeCanyon, will allow you to distribute digital products once you have received a donation. Your audience can decide how much to donate (although you can set a minimum amount). Then once the payment is completed the plugin will automatically send a link to the purchased files via email.
Digital Paybox integrates with numerous payment systems, including Stripe and PayPal. The cryptocurrency Bitcoin is also accepted via BitPay. Once setup, this plugin quickly automates all processes, making it easy to accept donations in exchange for digital products.
12. Bitcoin Donation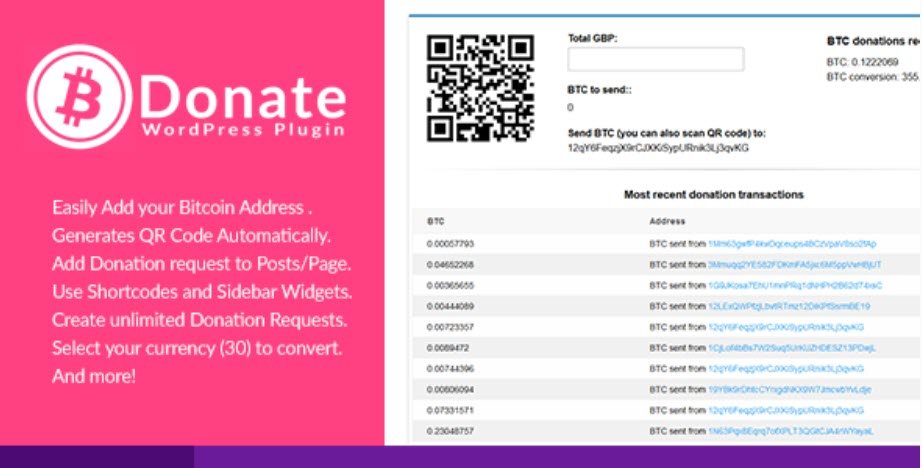 Another option, if you are looking to accept donations in Bitcoin, is Bitcoin Donation. This relatively new premium plugin has been created specifically for those charities looking to raise money via Bitcoin.
Bitcoin Donation will let you easily add donation requests and forms anywhere on your WordPress website using simple shortcodes, or widgets. Create unlimited donation requests and customize the donation form text. Then just add your Bitcoin address to start accepting donations.
13. Donations

The free WordPress plugin Donations lets you add truly beautiful donation forms and pages to your non-profit website. Integrated with PayPal, this solution allows you to make numerous forms to cater for the needs of each cause you are fundraising for.
Create a single cause landing page, optimized to increase the number of donations you receive. Or add a donation form on any page or post on your website. Donations made are then saved in the admin panel of your WordPress dashboard, making it easy to view and manage donations received.
14. Paypal Donation

PayPal Donation is another popular free WordPress plugin that allows people to donate through PayPal. Simply place a donate button anywhere on your website. Donors can then contribute to your fundraising campaign via their Paypal account or by using a credit card.
To get started, sign up with PayPal, install the plugin, and choose from seven different buttons, all customizable using the Button Manager. Buttons can then be inserted via a shortcode or a donation widget, enabling donations to be immediately received. There is also a premium version of this plugin, Paypal Donation Pro, which allows recurring donations.
15. Doneren met Mollie

Doneren met Mollie is a straightforward donations plugin that provides a number of donation options. Suitable for both one off payments and recurring donations, this free solution enables your donors to contribute to all or just one of the different causes that you may be fundraising for on your site.
Doneren met Mollie will let you modify the donations form and add data fields as you see fit. Once donations have been made, they can easily be managed within the WordPress admin dashboard. This plugin is available in Dutch, German and French, as well as English.
16. Custom Post Donations

Custom Post Donations is another free WordPress donations plugin that does what it says on the tin. This solution integrates with PayPal and will help you create unique and stylish Paypal donation forms to display on your website.
As well as asking for one off donations, this solution also works with eCommerce stores, enabling you to ask for donations on top of a product's price. There is also a premium version of this plugin, WordPress PayPal Plugin, that offers numerous extras including campaign donation, and Spanish and German translations.
17. Donation Thermometer

Donation Thermometer is a free WordPress plugin that will add classic style thermometers to your site to encourage people to donate. The large visuals, showing how much your charity wants to raise, how much has been donated to date, and how much more money is needed, is an impressive and attention grabbing way to appeal to your audience.
The thermometer images are totally customizable. Change the color and text, and choose to display the monetary amount or percentage raised, the target amount, and/or the currency  symbol of your choice. Thermometers can be added anywhere on your website using a shortcode. And widgets can also be added to any sidebar displaying the target and the current amount raised.
Final Thoughts on WordPress Donation Plugins
So now you have a good understanding of the different WordPress donation plugins available in 2018, and what features they each include. However, choosing and installing the right donation plugin for your project is just the beginning. Once your plugin is up and running it is time for the hard work to begin.
Raising awareness for your charity, and encouraging people to donate can be challenging. Always keep in mind your end goals, and the reason behind the fundraising. This will help keep your passion for the cause alive. And will ensure you persevere until you reach your target amount. Best of Luck!
Are there any WordPress donation plugins that we haven't included and you think are worth a mention? If so please share in the comments below…