In the 90s, many areas of design – including fashion, home interiors, garden, and furniture, have seen evidence of a paring down to simple workable solutions. Nowhere is this trend more apparent than in graphic design. Even while technology has provided exciting and expensive new means to create compelling, complex images, type, and layouts (not to mention the development of new inks, varnishes, and papers), designers have been thinking in a reductive way.
How much can be removed from a design and still have it remain strong and full of impact?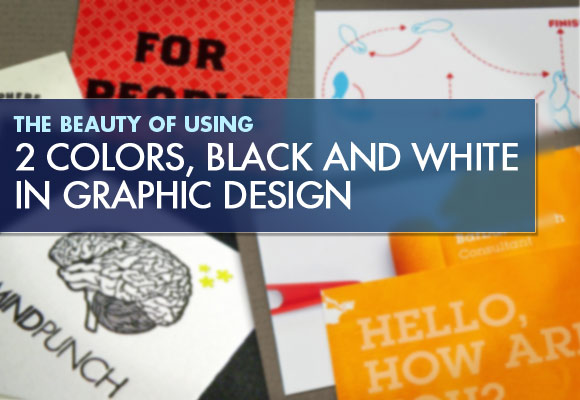 Budget printing is sometimes an issue especially for young aspiring designers, who need to design and print marketing materials. Having too many colors involved in your design, makes printing expensive, thus such costly printing processes – is often the first thing to go. Stripping away color has become sort of a crucible for design with this less-is-more approach, demanding stronger elements from the designer. Type, images, illustrations, and headlines all gain more importance and must be conceptually cohesive.
While reducing color in design is often less expensive to produce (despite the fact that reproducing a black and white photo on a shopping bag may require four or six color printing), it is as miraculously adaptable as the proverbial little black dress. It can run the gamut of style, from restrained elegance to comic strip boldness. With well thought-out design, even pieces created on a copying machine can look innovative, rather than cheap and dirty.
Compiled here are examples of the freshest, least-conventional approaches to limited color design – from simple black and white business cards, to exquisitely, expensively looking greeting invites that emphatically imply good taste.
Simple and Useful Techniques to make 2 Color Design Work
Use Complementary and Contrasting Colors
Using opposing colors helps your design to create maximum contrast and maximum stability. Contrasting colors help graphics or typography to stand out to the viewer.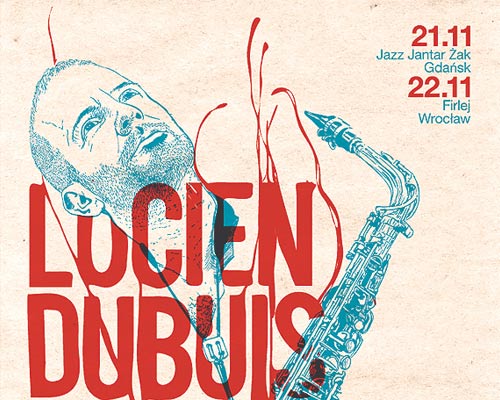 Use Black and White
Black and white printing is the most cost effective. You may want to opt for high contrast, reversed type or strategic white space to get the point across. Black also helps to further strengthen the look of your design.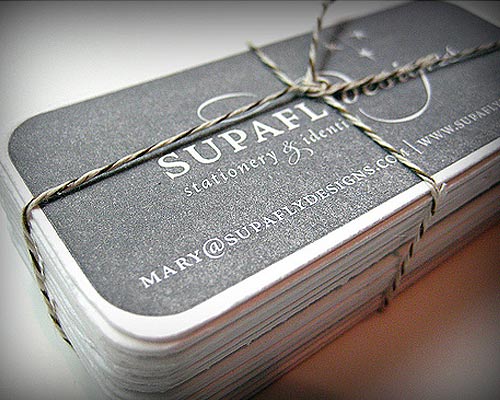 Use Patterns and Textures
By applying patterns and textures, they will help you produce incredible and unique design pieces. Patterns and textures give your work more interesting visuals, especially when you are limited to using 2 colors. They suggest movement and lead the eye all through the content of the work.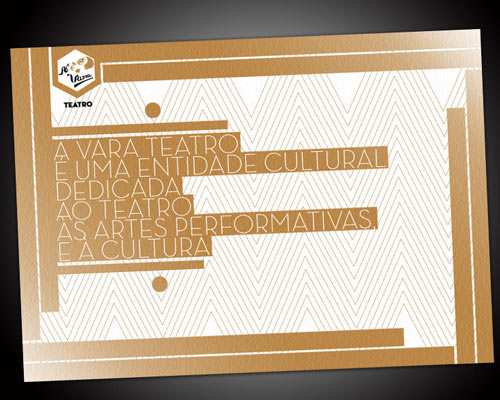 Choice of Paper and Print
One good technique of making your print work (especially name cards) look really classy is letterpress. Letterpress is one of the oldest printing techniques where a raised plate or type is inked and pressed into paper — resulting in a sharp image that leaves a lasting impression. Choosing the right combination and of paper and the style of print will definitely give an edge and elegance to your design.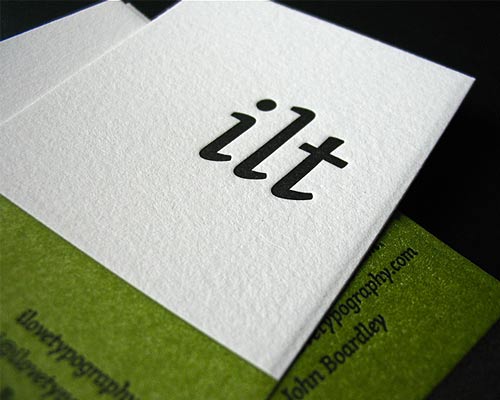 Examples of working with 2 color, black and white color design
Automotive Repair Service Flyer
The clean, sleek typographic treatment of this flyer is reminiscent of the golden age of motor vehicles, and is perfect for a high-end garage or repair service for promoting the business.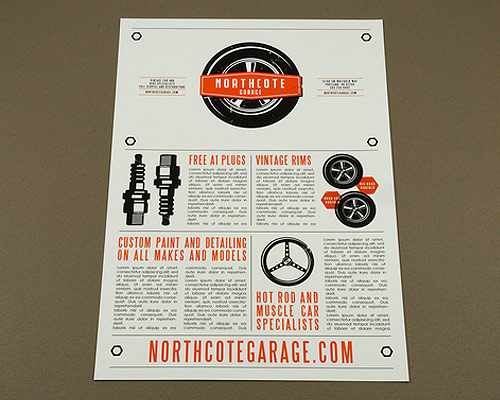 Milk Skin Care
A custom skin care company providing make-it-yourself cosmetics can use this business card. The color palette paired with the type treatment gives this business card a unique feel, which is appropriate for a custom skin care company.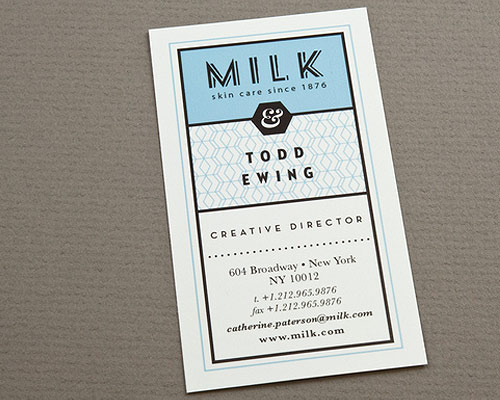 Old Fashion Diner Business Card
The minimalist yet retro looking business card would work for a diner. The red, white and blue color palette gives the business card a very classic feel, which is appropriate for a diner or burger joint.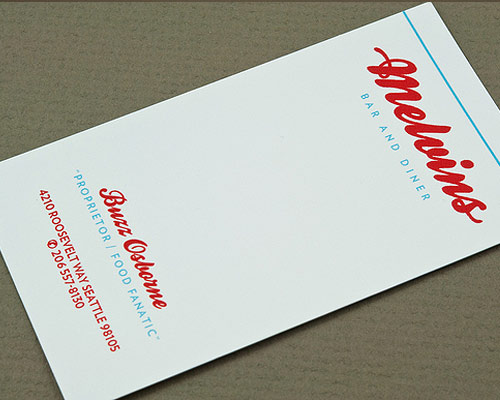 Landscape Designer Newsletter
The faux topographical map texture of this landscaping newsletter cleverly alludes to knowledge of the land and its features. The bright green, white and black color scheme of this set is fresh, and the dotted line theme throughout implies a do-it-yourself sensibility.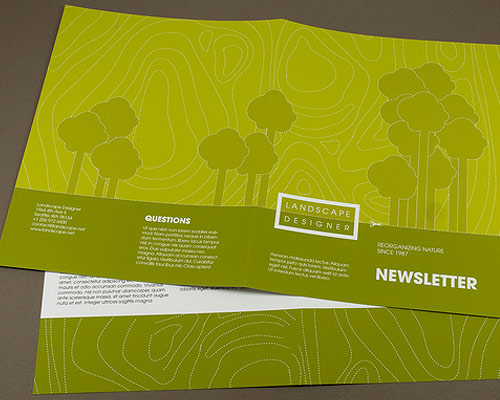 Paddy's Porridge
This brown bag accentuates the go-green look. It has creatively adopted the Nutritional Analysis layout and together with large old text in red, makes a great match for the whole look and feel for this packaging.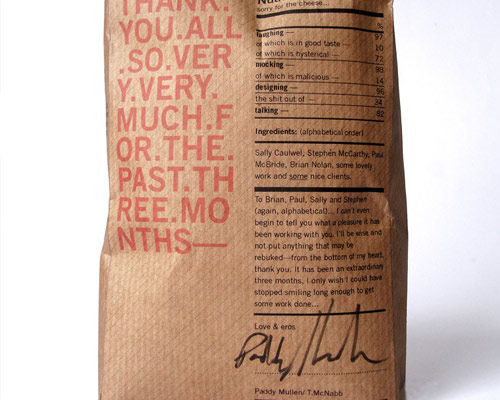 Music Poster
This poster is for a music ensemble. The use of a textured red against the white background stands out very well. Black thick lines behind the white text helps the typography to stand out even further. Having these text laid in a slanted position, gives the poster a grunge and relaxed feel to it.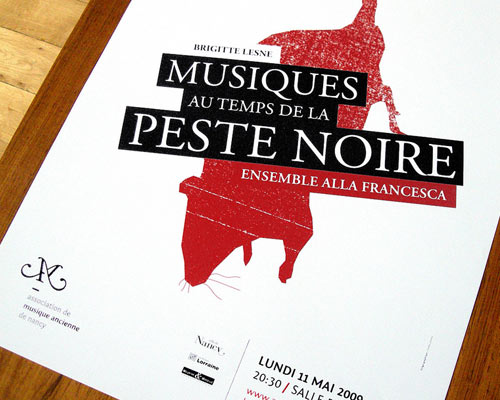 Roller Skate Greeting Card
Sky blue color works so well on this chocolate colored paper. The use of traditional means of coloring gives great texture to the artwork. Pairing together with a matching ribbon makes this an attractive gift.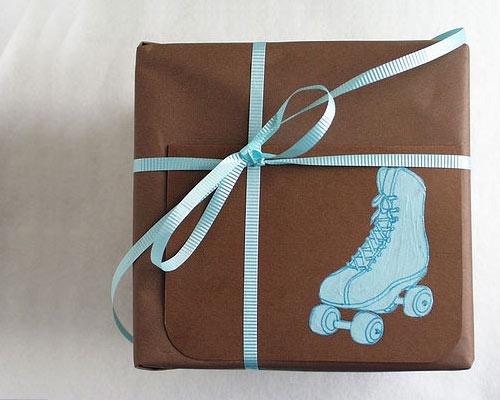 Modesto Business Card
Dark navy blue and a striking red line give this cafe business card a modern look. The designer did a great marriage of serif and san serif fonts on this card.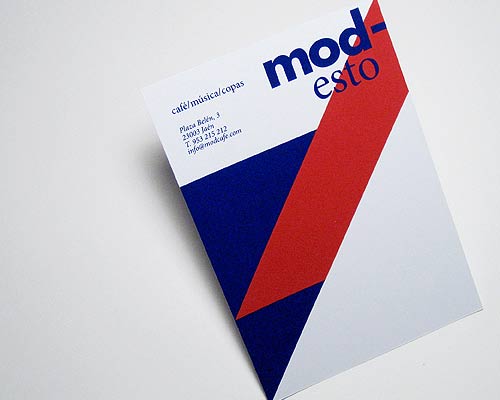 Leaflet Programme Series
Patterns are a great way to give more visual impact. This leaflet uses a cross pattern as a background. This is a simple and effective way to create the grunge look with limited colors.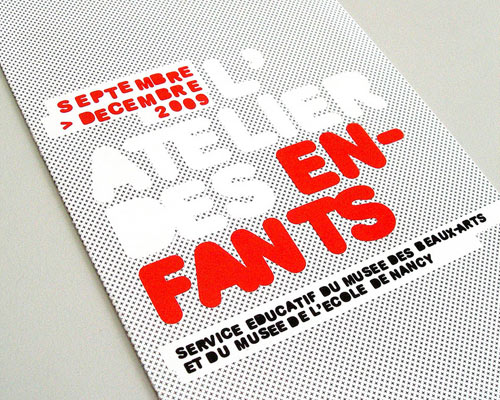 New Iris Business Card
Pink against the black background gives a sexy feel to this card. The background of a lounge chair is a great visual as it is very appropriate for the nature of its business.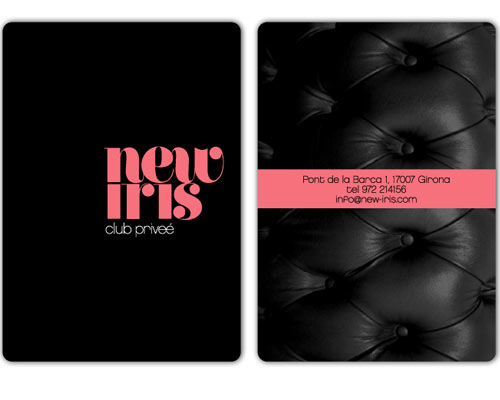 Mind Punch
This design makes smart use of artwork and ink coverage for letterpress. The paper pillows up just a little at the brain illustration which gives it a great feel.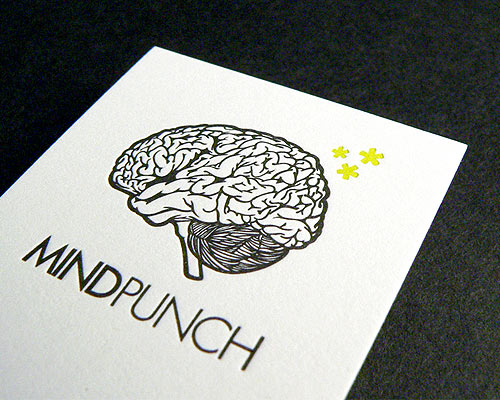 Benefit Walk-Run Postcard
This postcard would be perfect for an organization hosting an upcoming walk/run fundraising event to raise awareness about the event. The playful aesthetic uses the language of dance steps to convey a feeling of movement and energy.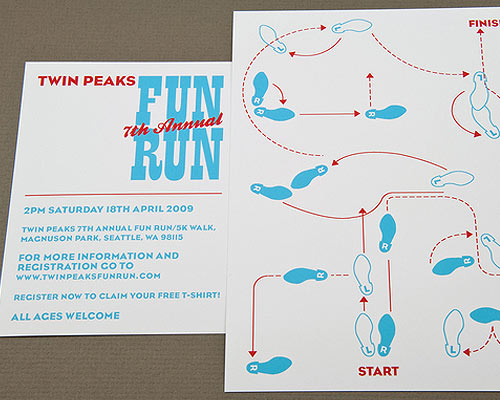 Happy Hands
This business card could be used by a stylist interested in providing a one-on-one personal experience for each customer. With a retro aesthetic and palette, the business card captures the essence of a unique, friendly salon while clearly showing its locations.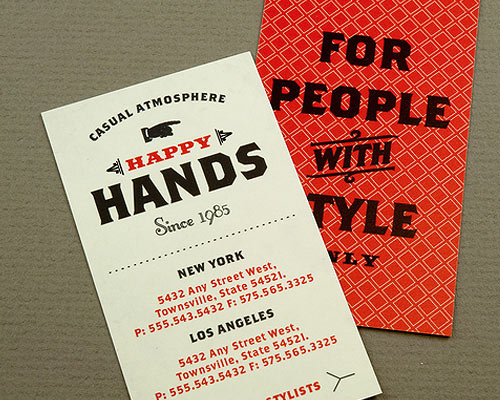 From One To Another
Gunmetal and neon pink are printed on both sides of this leaflet. This leaflet shows exciting colors and great use of old typeface in a modern look. A great example to learn from!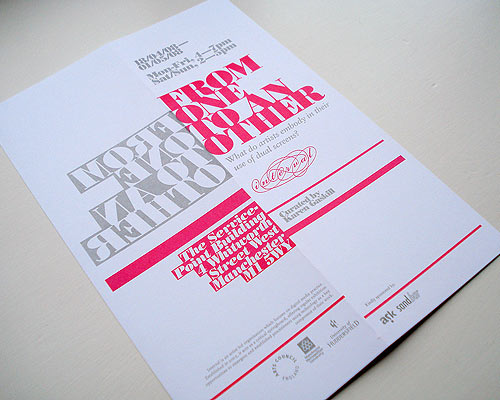 Home Maintenance Business Card
This creative business card is perfect for a handyman or home maintenance service. The familiar image of painting a wall with a roller is used as a background for the card. This adds an element of originality.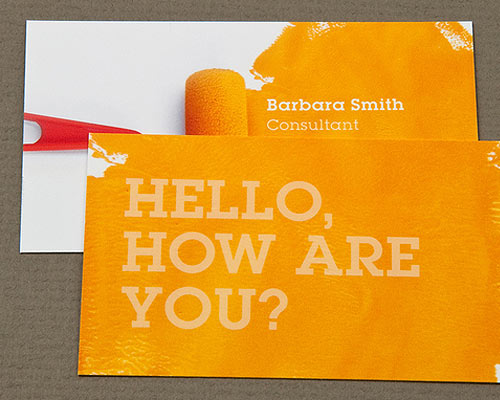 Fuse Business Cards
A very clean and simple design for Fuse business cards. The card is made of Colorplan Ebony 540gsm with white satin foil. Minimal text and simple bold fonts give this card a bold character.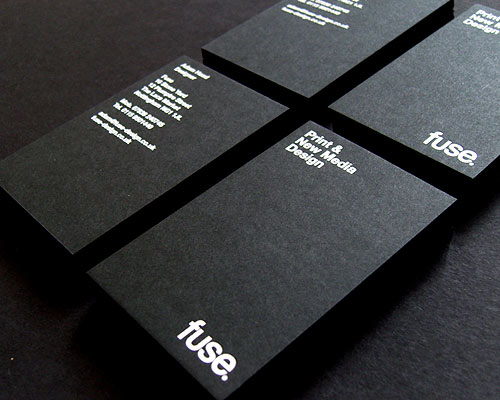 Blue Side: Water Conservation Project
These are a series of water conservation postcards. Each of them shows how we can conserve water in our everyday life. The orange and white color graphics and text is fresh, and the dotted lined theme on the cards gives a do-it-yourself concept and feel.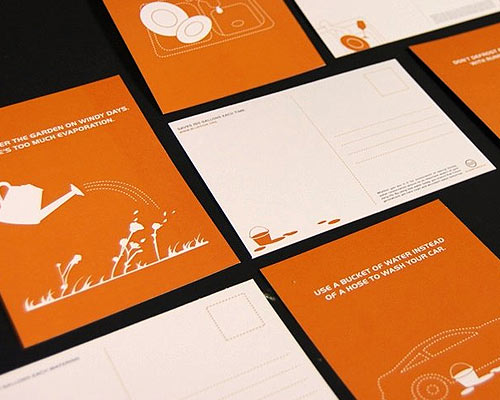 Wrapping Up
Working with 2 color, and black and white color design demonstrates how less is really more. The above selection of business cards, packaging, leaflets, posters and more, shows the advantage of 2 color, and black and white design, and how it works for limited budgets. They also convey restrained, tasteful design and highlight the very basics of graphic design – type and artwork.
Have you got more techniques or great 2 color design work to share with our readers? We greatly appreciate if you could leave a comment at the comment box.