The moment a visitor lands on your website, you're on. You can either use your design expertise to reel them into the site in the first few seconds, or you can drive them away by making them wait while your page is loading. According to Strange Loop, a website optimization company, every one second of delay in load time reduces conversions by 7%.
Matthew Ogborne was stunned to see that a small Facebook 'like' button on his page was adding 1.340 seconds to his page load time. Of course, he removed the button soon after. Let's discuss some of the design mistakes and tips to increase your site's conversion.

How to Improve Your Conversion Rate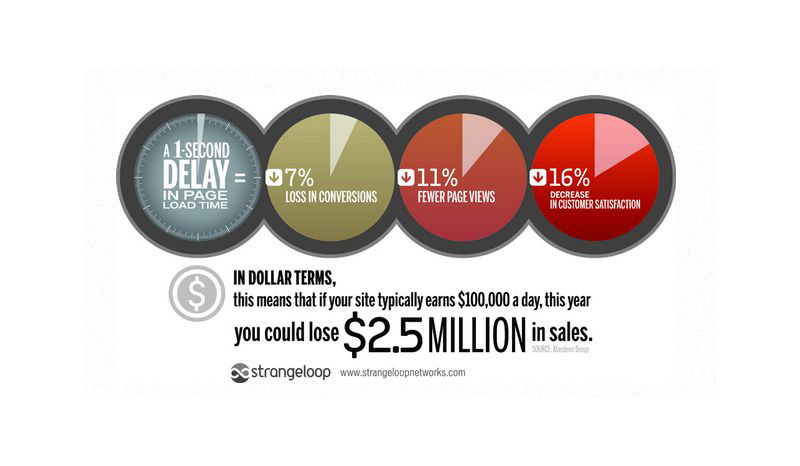 Now, let's talk about the design…
Once you have taken care of your page load time, your design is the next most important factor that decides if a visitor will browse through your website or hit the cross button on your website tab.
5-second test is a great way to get started here. So, within the first 5 seconds of coming to your website, a visitor should be able to figure out what your website is about. How can you do this? Here's how…
Maintain the Right Visual Hierarchy and User Flow
This is very crucial at the initial stage to draw visitors' attention to the main elements on the page.
The first thing you need to figure out to accomplish a good visual hierarchy is to understand the primary goal of your website. This will give direction to your design and keep your page focused on completing the website goal.
Once you know what the primary goal of the website is (like, product sales or free trial sign-ups), you need to proceed with the design.
Guide the thought process of your visitors. Decide the most important elements that will influence the visitor's decision and push them towards the conversion goal. Now design the page so that visitors do not end up ignoring these elements even if they are scanning the page.
Knowing a few basic things can be extremely helpful here. Like, the size of your headline should be greater than other content on the page. Your headline is one of the best ways to tell people about your website, the moment they arrive.
Make sure your call-to-action uses a contrasting color. It must "pop out" from the rest of the page. It's usually best that you use a color that hasn't been used anywhere on the page. To know more about how you can use colors and contrast for better conversion, you should read this post.
Smaller calls-to-action might also get easily ignored on a web page. Here's a good size for a CTA button, according to Hubspot:

Never have text-link call to actions, they don't stand out and are easily missed by people, which will cost conversions to your client.
Your CTA text should be specific and clearly explain what your site visitors can expect on the next page/step. Avoid using generalized text, like "Submit," "Sign-up," and others. Instead, use specific text or something that conveys value.
You can see how Dropbox uses specific call-to-action text: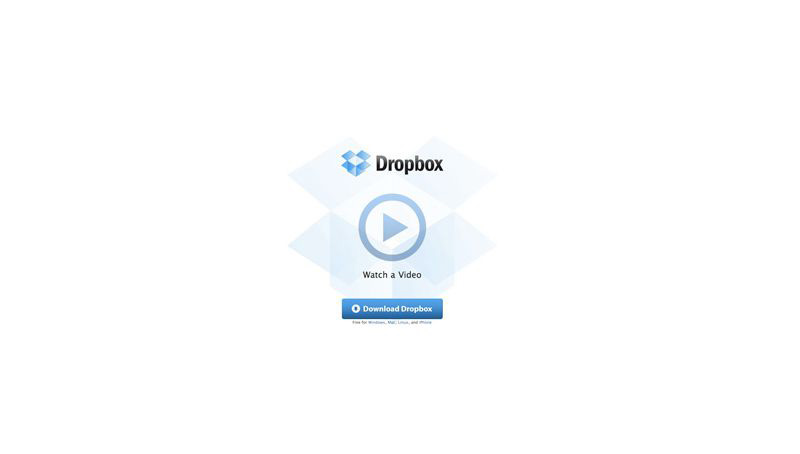 Don't forget to notice how the primary call-to-action of "Download Dropbox" stands out in blue, while the "watch a video" call-to-action is underplayed with a lighter shade of blue that makes it merge a little with its white background.
Good quality, huge and relevant images on the page can also help in better conversions. You can see how better image selection improved conversions by 40.18% for Exact Target.
You may also want your visitors to notice any social proofs or raving testimonials of your product or service before showing them the call-to-action button. Michael Aagaard, the conversion expert in his latest post found that the placement of testimonials can have an impact on the buying decision of prospects. He tested this on his landing page. You can see its comparison image below: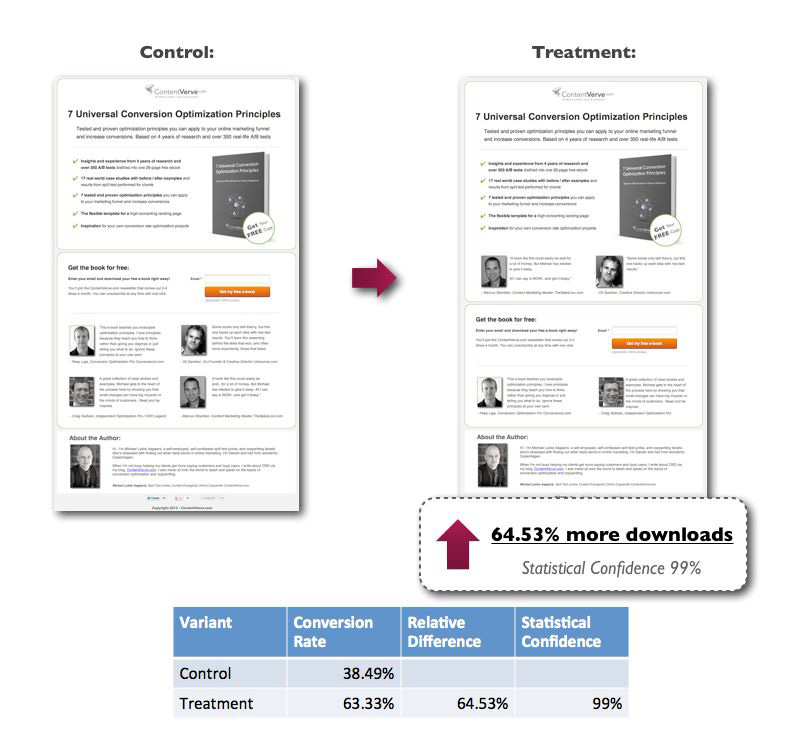 We saw a similar result with one of our customers at Visual Website Optimizer. A testimonial on the page was swapped with the call-to-action button, which increased sales by 35.7%. You can read the complete case study here.
The point is, you must keep the user flow in mind while deciding the placement of the elements on the page. If you place your call-to-action above the fold to make it more noticeable but your offer is complicated and needs a little explanation before users are ready to take action, it will hurt your conversions.
Now that you know how you can guide visitors' thoughts with your design and compel them to take your desired action, there are chances that you might be making some mistakes on the way.
4 Common Conversion Killers You Should Watch Out For
If a high-converting website or landing page is what you aim for, here are some common conversion killers that you must avoid in your design:
1. No Image Carousels, Please!
They are so "cool." My clients demand it. It helps in bringing attention to all the important offers on the website. Whatever your excuse might be, these moving UI elements are almost shunned by conversion experts, like Peep Laja and Tim Aish.
They are distracting, ignored by people, make users lose control over their web experience; confuse them by providing too many choices (which reduces conversions).
Actionable high-converting tips: If you do not have a way out, here's what you can do to minimize the risk of losing conversions:
Go with a manual image slider
Reduce your image slides to only 2 or 3 (Studies have proven that too many choices confuse people and reduce conversions)
Increase time per slide
Reduce its load time
Make its navigation more obvious (small dots or numbered boxes are usually not spotted easily)
Add a pause & play button, if possible, to empower visitors to browse things at their own pace
Qualaroo does a pretty good job of adding a pause & play button to their carousel: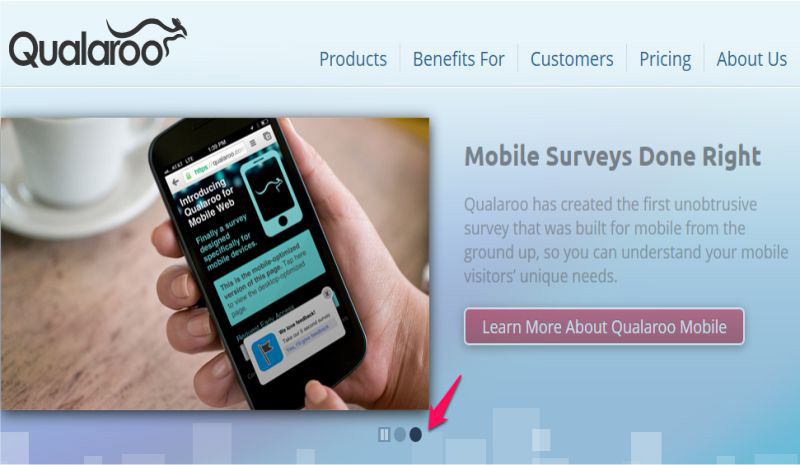 To know about replacement alternatives for image carousels, you can read my article.
2. Trying to Say Too Many Things at Once
Is there anything on the page that can drive visitors away from your website conversion goal? Unnecessary links? Irrelevant offers? Multiple call-to-actions – newsletter sign-up, buy now, download ebook? Too many options can only leave site visitors overwhelmed or confused and reduce conversions.
Actionable high-converting tips: Ideally, you should stick to only one call-to-action per page. Chuck out everything else. The Weather Channel tried this and increased their conversions by 225%.
Focused web pages convert the best. If any element on the page doesn't contribute to your primary conversion goal, it is better to remove it or replace it with a more relevant alternative.
BetFair replaced a mobile app download from their landing page. They suspected that it was not contributing to conversions in any way and replaced it with the number of their Facebook followers to add social proof. This increased their conversions by 7%.
Sometimes even navigation on the page can be a distraction. A few websites have seen improved conversions by removing their navigation bar. This is especially recommended for checkout pages to reduce abandoned carts.
If your conversion goal is an eBook Download, don't add the Entrepreneurs Conference live feed on that page. While this might seem important, understand that it isn't relevant for this page.
You can always ask people to complete your less important goals, like downloading your mobile application, request for taking up surveys, or liking your social media pages on your 'Thank you pages.'
3. Using Stock Photos
Stock photos are phony, they create banner blindness and are often ignored by visitors. You might think that they make your site look pretty, but they only kill your site's credibility and conversions.
Actionable high-converting Tips: Use real, human photos like Highrise did. They used the pictures of their customers on their landing pages and increased their paid sign-ups by 102.5%.
You can even use an image of the company's CEO or any other known personality in the firm to lend credibility to your online business. You can see how the famous blogger, Ana Hoffman uses her picture on her blog to add credibility:

4. You Didn't Give Them Any Reason to Trust Your Website
"I love your site, yoursitename.com. It's so awesome. I even told my friends about it." ~ Rachel, USA
Is that really all you have to show them that you are a great site? No awards, trust badges, nothing? Well, if this is really true then how can you expect them to buy from you? Would you buy from such a site yourself? Think about it!
Actionable, high-converting tips: Don't display weak testimonials like the one shown above. Anyone can write those for their own site. Add full names and your customers' picture at least. How would people know that it's real? And if possible, please add the company name too.
The testimonial that you choose to display should go beyond simply saying why your product/service is as awesome as you claim it to be. Bonus points if your testimonial addresses anxiety concerns of your target audience. It is best that you add the real image of the customer as well.
See the testimonial below from Weight Loss Triumph.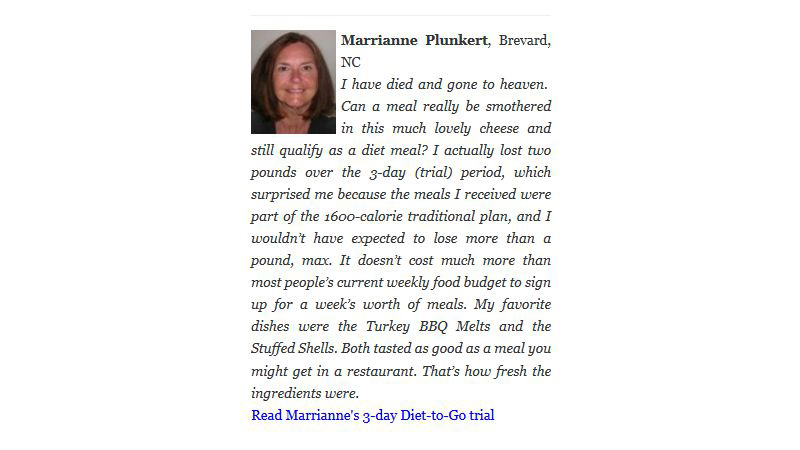 People are often apprehensive about switching to weight loss diets because they feel they might not be able to stick to boring diet food for long. And this testimonial perfectly addresses those concerns and also talks about the effectiveness of the diet, which would influence people's decision even more and improve conversions.
Instead of choosing any random testimonial, display a testimonial that adds value to your offer.
Trust seals, like Norton, McAfee and others can also help in improving conversions. They are a bit expensive though. But if your traffic levels are good, it can make a huge difference. You can read this case study to know how adding a Norton security seals increased conversions of a website by 11%.
You can even consider adding a customer list to add to your social proofs.
Conclusion
Irrespective of what you try, know that you cannot be 100% sure about any change on a website unless you test it. Even if you have best explanation in the world for what you are doing, A/B test results can many times turn out to be expected.
What worked for other websites, may not work for you. Every site has a different visitor base, AB test your changes with your live visitors and let them decide what works for them (and for your website conversion too).