The main point of this post is to improve the general understanding of first time SEO's. Far too many webmasters jump into Link Building and Keyword Research without realising that all of their work will probably be in vain. This is because they have failed to utilise simple Web Design to improve the accessibility of their website – in other words they have forgotten to fully prepare for their most important visitor of all, Google!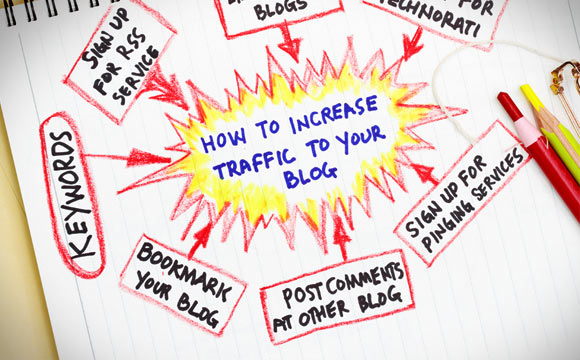 It is silly misunderstandings like this that cause thousands of web masters to claim that SEO simply doesn't work for them. This is obviously rubbish and they wouldn't be feeling this way if they had a better understanding of how Google works and what it really wants from them and their website. So in addition to the practical Web Design advice outlined below I will also be providing some general information on what Google wants and why.
Making Web Design the Foundation of your SEO Strategy is Imperative
The principles behind SEO are actually very simple. It's all about inviting the search engine spiders into your website and allowing them to index your content in the most favourable way possible. So there are really two factors at play. Firstly there is the need to improve the accessibility of your material. Your website needs to be cared for like a classy hotel.
Everything needs to be polished and cleaned in anticipation of Google's visit. This is the most important thing to get right in SEO because it is from what everything else is built around. The way your website is indexed will define your SEO success. You simply have to make sure your first impression with Google is a good one. To do this you'll need to restructure, reword and reorder your website in a way that will be most impressive to the search engines. This can be achieved by taking note of the following pointers:
Spider Bots are Hungry for Text
Google learns about your website (and thus when to rank it) from the text that you have on show. Any banners or pictures that have text within them cannot be interpreted by the search engines. They may be providing valuable information about your website and Google won't be able to index it. Where possible remove or re-edit such images to allow you to make the text physically present on the page.
Make Navigation Labels Relevant
Following on from the point above, Google learns everything about you from the text that you have on show. If your navigation reads simply as Home| Products | Services | Contact then Google will note your website down as providing some kind of product or service. This might be acceptable if there weren't a million other companies also providing products and services online! You should be using your navigation labels to tell Google specifically what your website is about and what it deserves to rank for.
Target


Your home nav item doesn't need to be rewritten; it needs to be removed. I know it sounds like something you may not want to do but if you have a site logo and wrap an href tag around the logo people will know that the site logo is clickable and that it will take them to the home page. Keep navigational "home" links to a minimum and put them in subnav items or at the footer – just someplace other than the main nav on your site!
You can verify the effectiveness of this advice by using a common web tool like Google's Webmaster Tools to look for yourself and see exactly what Google thinks your site is about. The program will show you which keywords are most prominent on your website and thus what Google is likely to rank you for.
Speed Up Your Website
Your website's speed is very important. More so now than ever before. The search engines want to keep their searchers happy and providing them with links to slow websites doesn't achieve that goal.
Want to speed up your site? Here are some tips:
Make sure your images are well compressed and optimized.
Try to keep all your javascript calls in one file.
Minimise your style sheet and javascript files to remove unnecessary breaks and spaces.
Use cached/static pages where possible for pages that take a while to load and aren't changed often.
Make sure all your website assets are on the same server.
Make sure that your website is not hosted on a poor quality hosting service. Invest in better quality dedicated servers if necessary.
No one wants to have to wait a minute for a page to load. Google, Yahoo and Bing have all empathised with the pain of their searchers and are being more proactive to help suppress sites that load slowly by giving quicker sites a higher priority in the SERP's.
Create and Submit a Site Map
A site map is simply a layout of your webpages in the form of a spider diagram – there are loads of free tools that you can use to make one. Once you are finished you need to submit the sitemap to Google, Yahoo and Bing using their submission services. In addition, make sure there's an HTML version of your sitemap on your site with a link to it that people can navigate to.
Proflower's Sitemap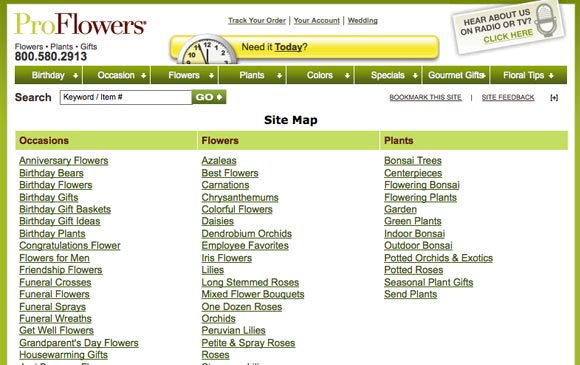 Sitemaps allow the search engines a greater insight into how your website is structured and to what keywords you have given the highest priority.
Ensure Placing Important Links at the Footer of the Website
You may think that footer links are passé but they are not. They are great for visitors to navigate around the site and are also greatly appreciated by the search engines.
Woolsworth's Footer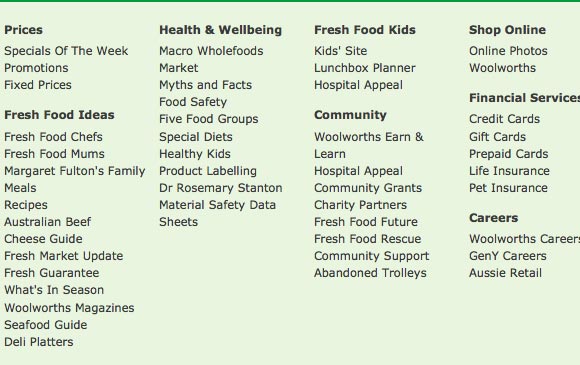 Hurrah! Your Website is Now More Search Engine Friendly. It's Time to Start Proper SEO!
Although the above is correct, and your website is now much better prepared to host any crawlers that might come its way, I think that there a few things a first time SEO needs to know about before they start their strategy.
The pointers below are aimed at increasing your understanding of the nature of SEO as well as increasing your empathy for Google. If you understand why Google rewards and condemns websites for doing certain things you'll be able to avoid frustration and make better decisions when you come across any difficulties in your SEO campaign.
The Nature of SEO – Improving Your Basic Understanding to Avoid Frustration
SEO Success Cannot be Found Overnight
When skinny guys try and build muscle they expect to see big gains in a matter of a few weeks. They train hard for a month and expect to wake up with bulging arms and a huge chest. But in their raw desire for their dream body they have seriously misjudged the amount of progress they can make.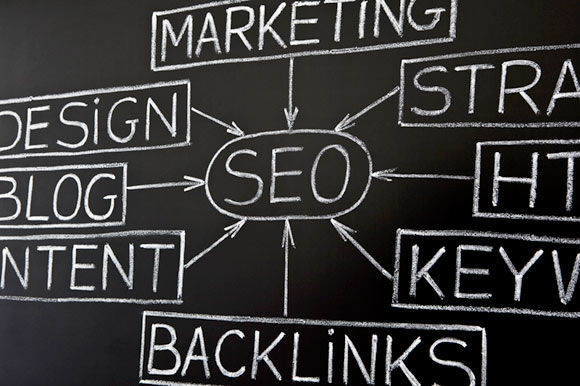 Unfortunately for the wannabe bodybuilder it is only possible to gain 1lb of muscle in a week. Ouch! First time SEO's tend to have the same problems with their expectations. They (or their hired hand) perform a week of SEO on their website and they start refreshing the SERP's looking for themselves at the top. It is important for you to take note that search engine optimisation is a marathon and not a sprint!
SEO is a Not a One Size Fits All Category
Due to the fact that SEO is dependent on a whole ton of different ranking factors it would be foolish to believe that what works for somebody else will work for you. Different SEO methods will work better or worse for your website depending on the industry you work in and the type of website you are running. There is no magic SEO formula that you can follow step by step – you need to learn what works for you and through gradual tweaking produce your own SEO formula. In the same way you shouldn't assume that all SEO companies are equal when it comes to making your site a success.
You Will Never Know Everything About SEO
Google is constantly evolving and updating to improve the search experience for its users. This causes the methods and techniques in SEO to do the same leaving the inadaptable in trouble. Just because you have found a system that is working right now it doesn't necessarily mean it will have the same effects next month. You should instead see SEO from a Darwinian perspective – only those best suited to their environment survive.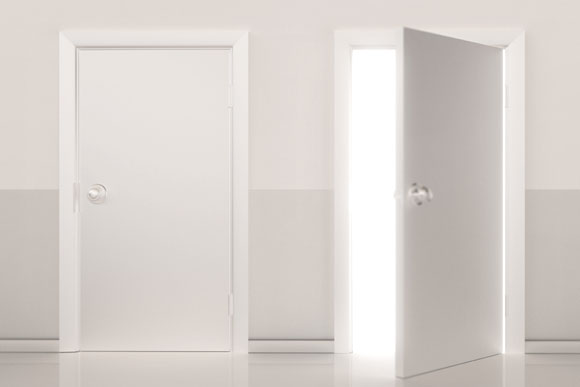 It is your duty then, as an SEO and webmaster, to adapt and react to the changes in your natural habitat; the online world. Keep afloat of any updates released by Google and be sure to check your traffic count for any unexpected bumps.
Results Will Not Always Be Consistent
If you want to follow through a successful SEO strategy you are going to need patience and lots of it. Don't be disappointed if you jump up the SERP's one week but then fall back down again the next. SEO is too complex for you to assume that doing X will results in Y movements up the SERP's. There are so many variables outside of your control – search trends, your competition and any Google updates to name just a few. Yes, you should see a general trend of improvement in traffic but don't panic too much if you are having less success than you were last week!
Increasing Your Empathy for Google
In Today's World Social Media is SEO
Considering the uncontrollable popularity in social networking systems such as Facebook and Twitter it is no surprise that Google has decided to incorporate more socially based signals into its algorithms. You should be aware of this and adapt to it by creating some kind of social presence for your online brand.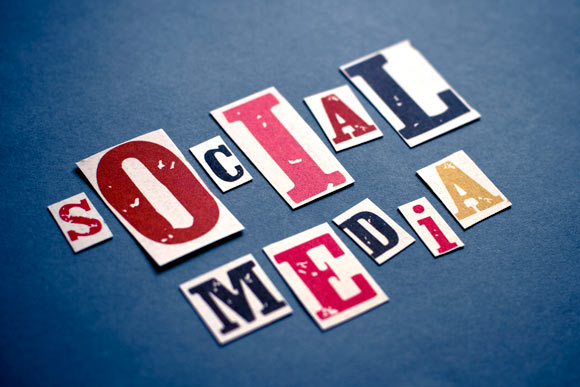 Google favours companies who interact with their consumers and who show real care towards them. The social networking sites will allow you to respond to your customers in a public domain which is exactly what Google is trying to promote.
Content may be King but it is the Quality of it that defines the Power of the Throne
Since the Panda Update the way SEO's approach content has drastically changed. Although all copywriters and SEO's strived to produce good quality content before the update there has definitely been a conscious shift in priority from keyword density to content quality. Online marketers have learnt that it is no longer acceptable to simply rewrite other people's posts or present information that they know only to be half true.
If you are performing SEO on your own website the foundation of all your efforts should revolve around the basis of top quality content. If the words you use are not original, validated, engaging or helpful then there is simply no point in continuing with any other SEO techniques.
Enjoying the Journey
You are now officially ready to launch your website up the SERP's with some good old traditional SEO! Be careful in selecting which strategies you are going to use – you should only ever make use of white hat methods. There are certainly many black hat methods that will offer your website some SEO success but it will not take long for Google to sniff these attempts out and penalise your website accordingly.
Long lasting success comes from the implementation of organic, clean white hat methods. At its core these methods involve the creation of engaging and original content, the building of genuine inbound links and a sincere social presence.