Adobe has many different applications and software specifically catered for designers, videographers, photographers and developers such as InDesign, Illustrator, After Effects, Photoshop etc. While Adobe Creative Suite has served well for many people, there are always other alternatives available in the market too, whether it's free or premium. Today, we would like to show some alternatives for another Adobe product – Dreamweaver.
Dreamweaver is a well-known application for website development, available for PC or MAC, and is usable as either a WYSIWYG or direct code editor. It can display a split view for both modes on-screen. It handles site management, active content from Flash to Javascript, XML, CSS2, and more. Pages can also be previewed using the built-in browser or the user's choice. Auto-completion of code during entry, and color-coded highlights allow easy visual debugging of code.
Dreamweaver is not available for Linux, UNIX, or smartphone/tablet operating systems. Many alternative applications exist, since Dreamweaver, considered an expensive editor, is generally at a price of between $300 and $500 USD.
However there are other good alternatives for DreamWeaver, such as Website Builders & WooCommerce.
Best Alternatives To Adobe Dreamweaver
Here are 10 best alternatives to Adobe Dreamweaver:
1. Quanta Plus
A free, open source, Linux-based program, which closely resembles the Dreamweaver environment, with similar features for supporting JavaScript, CSS2, XForms, RSS, etc. Features syntax highlighting support for PHP, HTML, JavaScript, Perl, XML and others. However, there is no direct support for SVG or HTML5.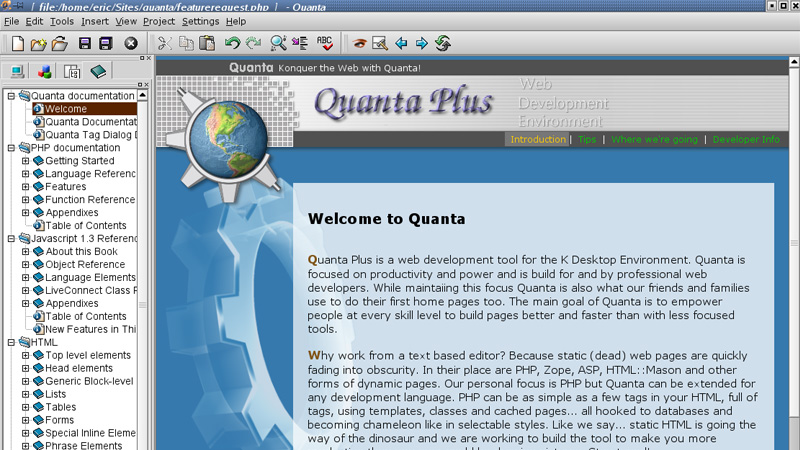 There are drop down menus and auto completion for parsing linked documents from CSS to PHP. As a tag editor, Quanta can remove hard-coded HTML and will plug-in the same as XML and other tag languages. It requires a plugin for SVN (Apache).
2. Aptana
Aptana is open source, built on Java, free, and supported on Windows, Mac, Linux and BSD. Like Dreamweaver, it has similar support for common web coding languages, including Ruby on Rails, and applications for Apple iPhone can also be developed. There is no WYSIWYG editor, no spell check, and no support for RSS, Atom, or Xpath.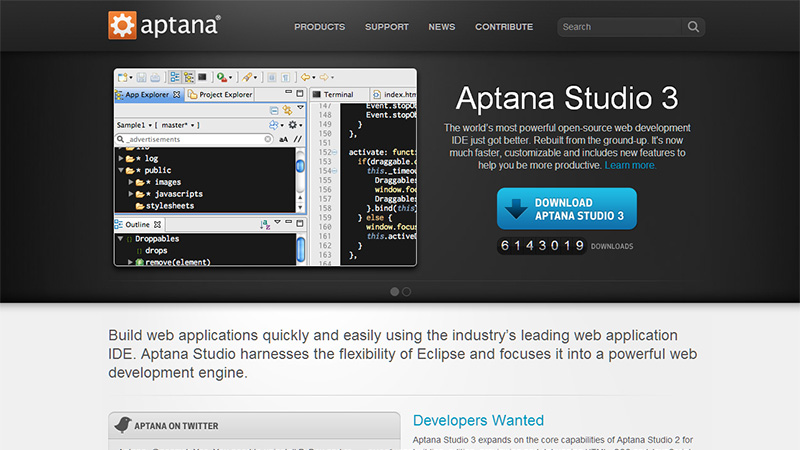 It's not as capable in JavaScript debugging or PHP development, since the autocomplete does not recognize objects. There is no Internet Explorer preview for Mac or Linux users.
3. CoffeeCup HTML Editor
Priced at $69 and only supported on Windows with no support for Java, MathML, XForms or Xpath. For Mac users, they can get the OS X Web Editor. Like Dreamweaver, it has code completion to auto suggest tags. Features support for HTML5, PHP, XHTML, and CSS3 with 3 editor options, code, visual and a preview editor.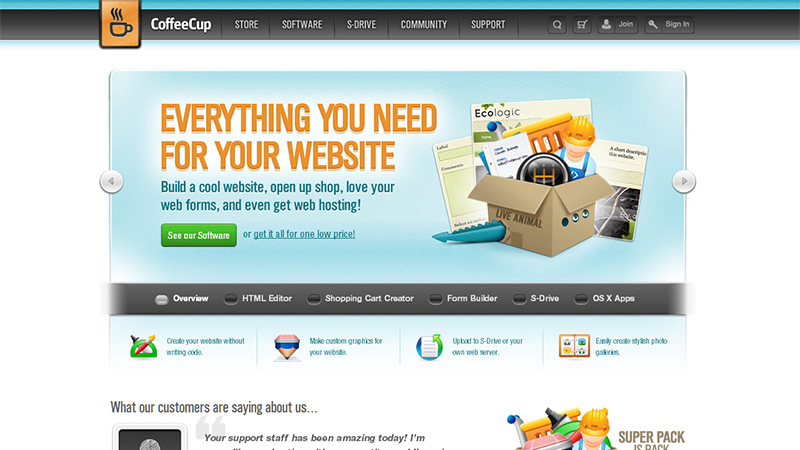 The first editor to support JavaScript, split-screen editing or to have a built-in FTP. Has a website color scheme chooser for picking a color and have other appropriate colors to match.
4. OpenBEXI
This is an open source, free, WYSIWYG editor compatible with Windows, Mac, and Linux with a browser-based interface. Designed to drag and drop widgets including images, text, graphs, and more. Includes FTP upload and allows server-side scripting. However, it is difficult to get objects to work when added to a page and you need to use a server.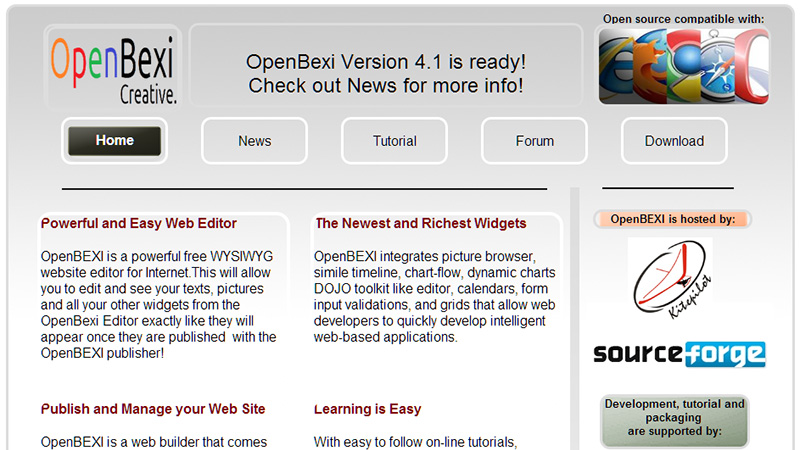 It allows for creating a Mac style menu, you can create line, pie and bar charts plus it supports RSS. However, it does not support MathML, Xpath, or shared editing.
5. Bluefish
Bluefish is free, open source, compatible with Windows, Mac, Linux, BSD, and Unix systems. There is no WYSIWYG editor feature and you cannot do shared editing. Multiple browsers are useful to check work. However it is similar to Dreamweaver's support for developing HTML, XHTML, CSS, etc, and in addition it supports Google Go, Vala, ColdFusion, Ruby and Shell. It has auto-recovery of changes after a crash as well as a FTP upload, server-side scripting, spell checker and page preview feature.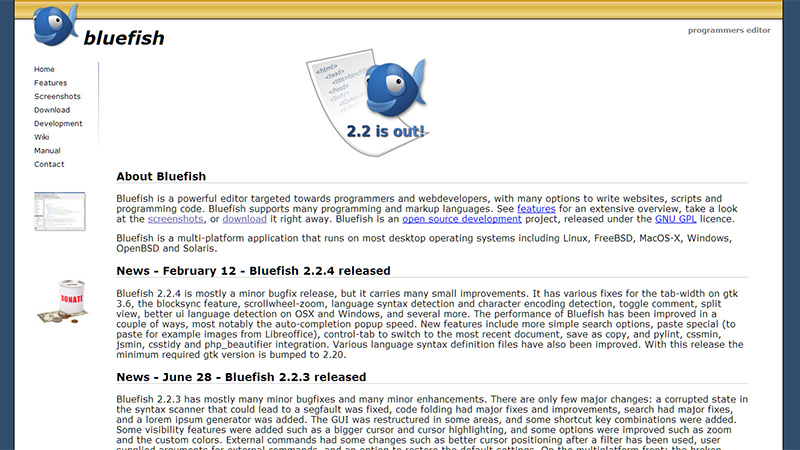 6. Microsoft Expression Web
Tech support is available only for those who bought the program, as it is now a free application. It runs on Windows only, has the same editor features of Dreamweaver and a similar interface, with WYSIWYG and hard code panes. It has support for W3C for designing for people with disabilities.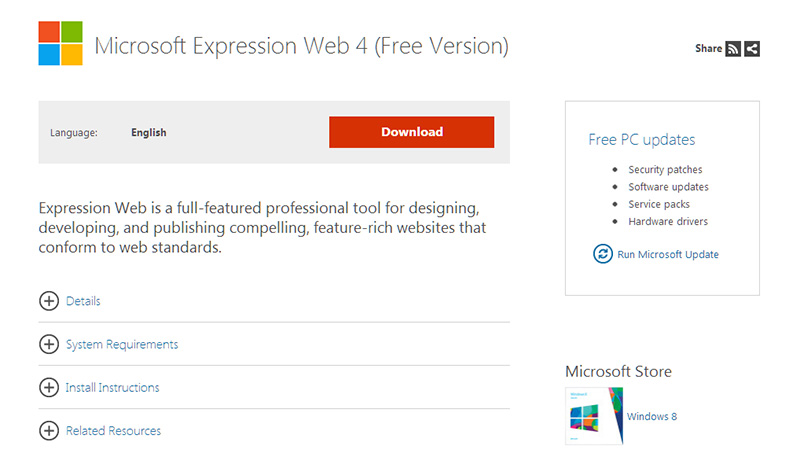 It does not support XForms or SVG. Not as helpful to those new to CSS or AJAX, as there are no drag-and-drop features, drawing tools, wizards, or drop-down menus.
7. Amaya
Free, open source, compatible with Windows, Mac and Linux. Features a WYSIWYG editor, spell checking, page preview, SVG, and MathML. However, does not support Frames, Java, JavaScript, XSLT, XForms, RSS, or Atom, with only partial support for CSS2. Requires a high-resolution monitor, to view all features.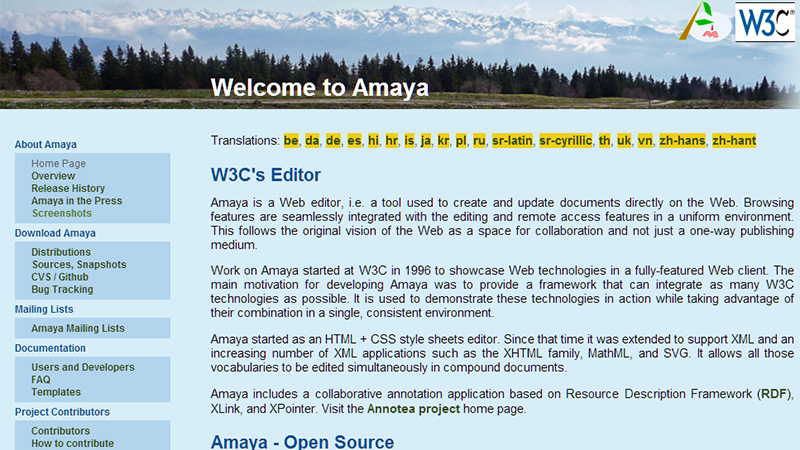 There is no FTP support, and it is not an intuitive interface, because many standard keys such as HOME and END do not move the cursor to the start and end of lines, as other editors do.
8. Microsoft Visual Web Developer
This software is free, supported only by Windows, and has a WYSIWYG editor as well as a code view. It supports the same editor features as Dreamweaver but offers no support for SVG or for XForms. It does not offer color coding for syntax and has no spell checker, unless you have the paid version.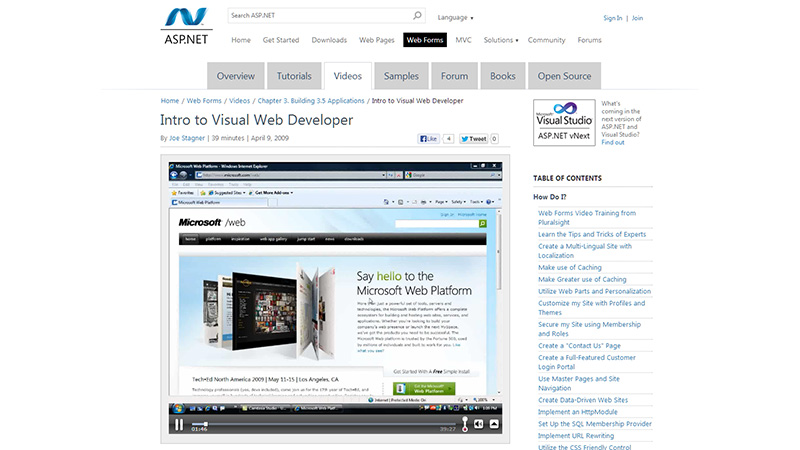 However, it does have a drag-and-drop feature, includes a local testing server for creating dynamic webpages, and it can open Internet Explorer as a tab within it.
9. KompoZer
KompoZer is free, open-source, compatible with Windows, Mac, Linux, and BSD. Features a WYSIWYG editor that is similar to Dreamweaver, can also edit by hand, but does not support server-side scripting, shared editing, frames, XSLT, MathML, XForms, RSS, Atom, XPath, or SVG.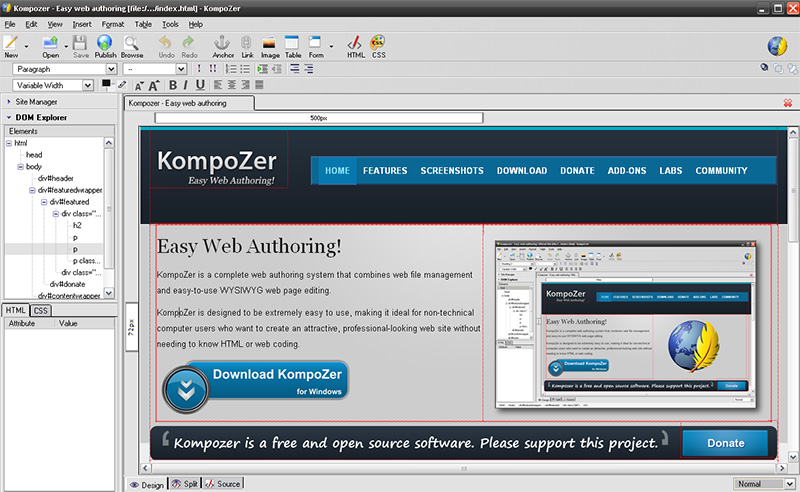 Support for tabbed editing of multiple pages opened in one window, built-in FTP, including a color picker for grabbing hex values. However, adding Flash objects is not as easy as with Dreamweaver and it does not work with Dreamweaver templates.
10. BlueGriffon
This is a free, open source, WYSIWYG editor compatible with Windows, Mac, and Linux. FTP is available only with an add-on. It supports page preview, spell checking, templates, web fonts, and includes an SVG editor for drawing vector graphics within the application.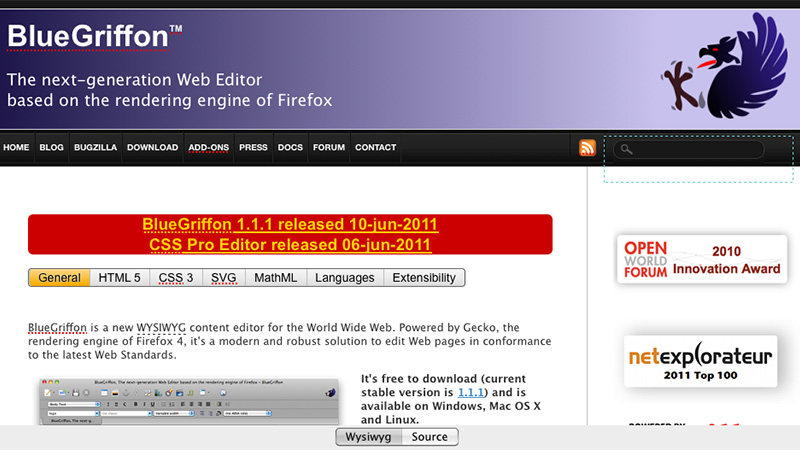 Requires the purchase of some features separately, such as a project manager, CSS style-sheet editor, and full-screen viewer; this is to support future development, but there are many features that are free. It has a similar interface to a word processor and is much like that of Kompozer's.
Conclusion
When choosing an editor, price, features, and the available support are important factors to consider. A free editor may serve your needs, but may also be unsupported or require paid add-ons for full functionality.
Do you use Adobe Dreamweaver or another similar application? Do you think these products are a good alternative to Dreamweaver? Please feel free to share your views and thoughts.