We all need inspiration from time to time, and if you have hit a brick wall when trying to conjure up ideas for your next project, it is good to have an arsenal of places you can find a total bombardment of inspiring designs to jump-start your creative juices again. Website design galleries are just the thing if you need such a boost, and it is always nice if the gallery itself is well presented.
Today we are showcasing 15 of the best website galleries where you will find inspiration for any type of design you need. Some are ideal for aimlessly browsing, while others have very concise search criteria that will pinpoint your exact requirements.
Website Design Galleries
Awwwards
Awwwards is one of the best galleries on the internet to find inspirational design. They have a panel of judges and if you join up to their site you can also vote for your favorites.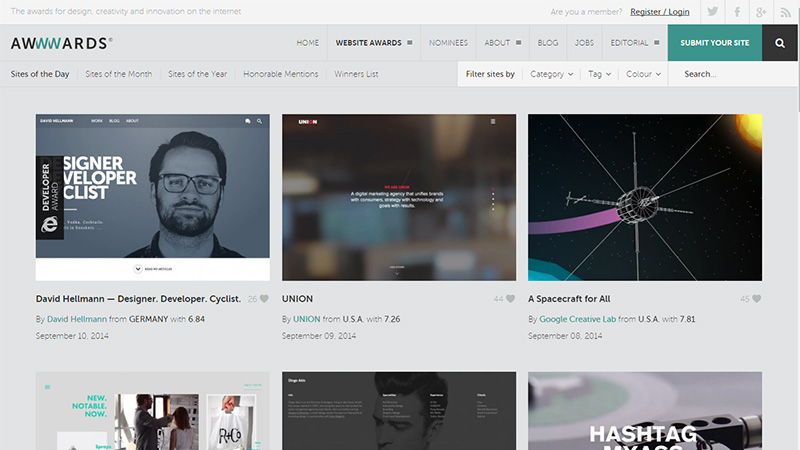 FWA
FWA stands for 'Favorite Website Awards', and this site has categories such as Site of the Day, Mobile of the Day and 'Hot' (which is not necessarily site design, it could be people, photographs, etc.) They also have 'The Cutting Edge Project of the Week' in collaboration with Adobe.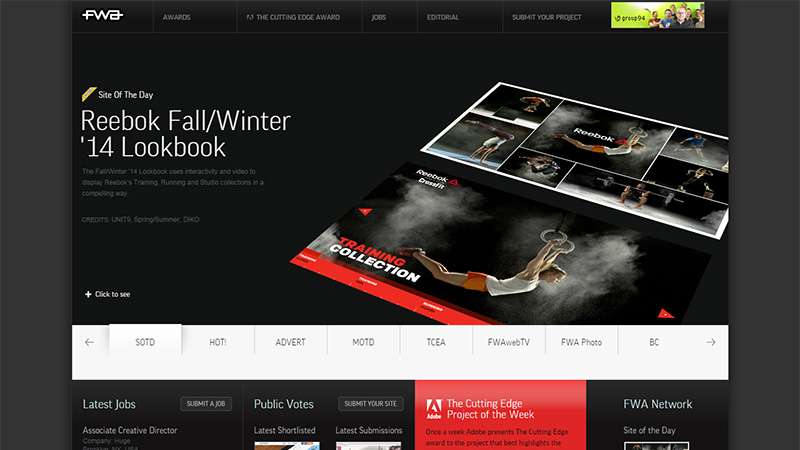 SiteInspire
This gallery is a collection of some of the best sites around the internet. There is no fee for being featured here, but submitting your site will not necessarily get it featured! The site itself is clean and minimal, and that is really what the owner is looking for in featured sites. Here is a snippet from the About page:
'We look for cleanliness and simplicity without excessive gimmicks or decoration. Sites that use Flash unnecessarily won't be featured (though appropriate Flash sites are not excluded). Sites that force the browser's size will not be accepted. Sites with broken images or obvious visual errors won't be featured (because we can't take a nice screenshot). Also, sites that feature "award ribbons" are not featured (because award ribbons are a quick way to make a site ugly).'
Considering the conditions that have to be met to be featured in this gallery, you can be sure you will find some delightful and inspirational designs here.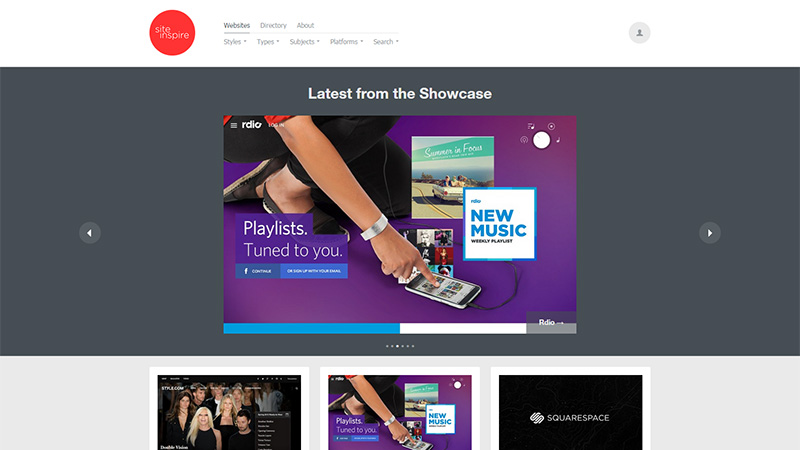 One Page Love
If you are looking for inspiration for single page website design, look no further than this site. Dedicated to showcasing any type of website that consists of just one page, it is beautifully laid out in a nice and clean grid style with a mainly black and gray color scheme.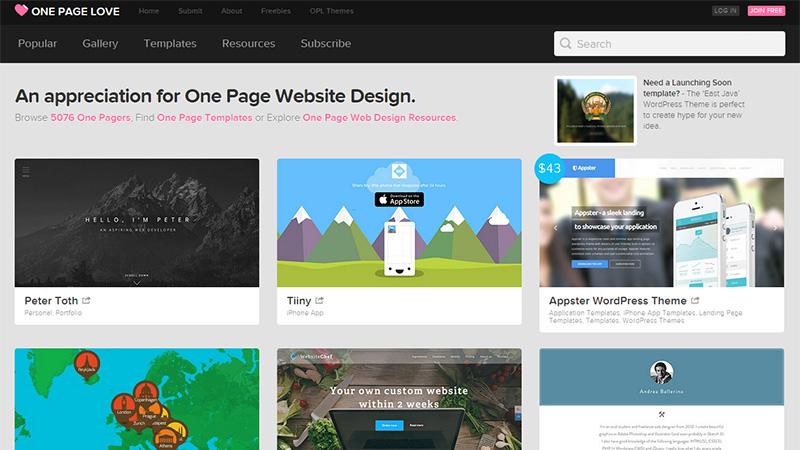 Web Design Inspiration
The really good thing about this gallery is the amazing lists within each category. There are 29 industries, 9 types, 20 styles and 11 colors – so just about whatever you are looking for you will be able to easily find examples in this gallery.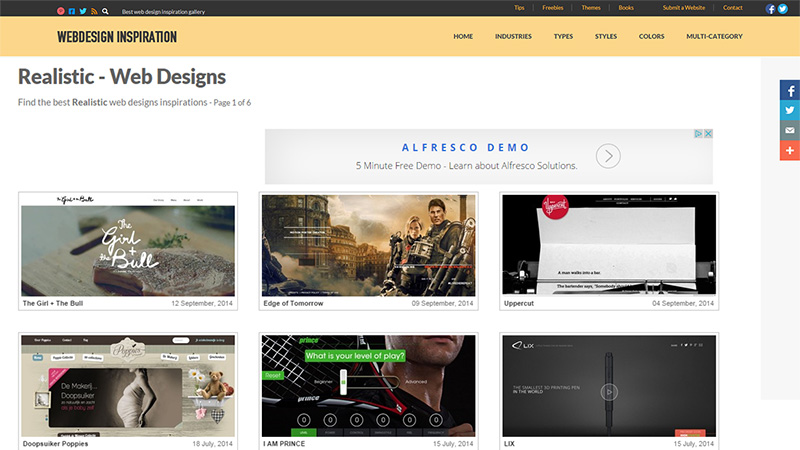 CSS Winner
This award-giving gallery has a very clean appearance, and most of the screenshots work well on the black background. If you click on the 'galleries' category you will find the current amount of featured sites (7811 at the time of writing), and that they are contained within 39 categories. You can also search by color – there are 9 to choose from, or see the archives by month since January 2011.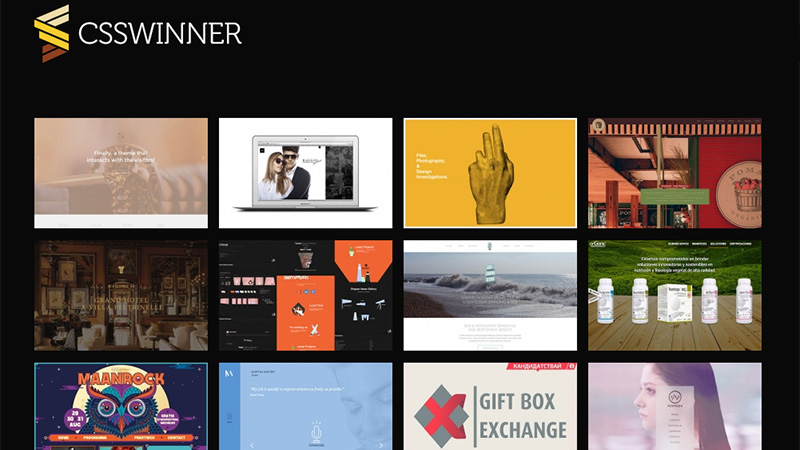 CSS Mania
This site has been around for a long time, and claims to be the most visited gallery on the internet. If you want to search for a particular color, here is the place to do so – they list 155 colors by their Hex codes. You can search monthly archives back to March 2004, or by a huge list of topics and sub-topics.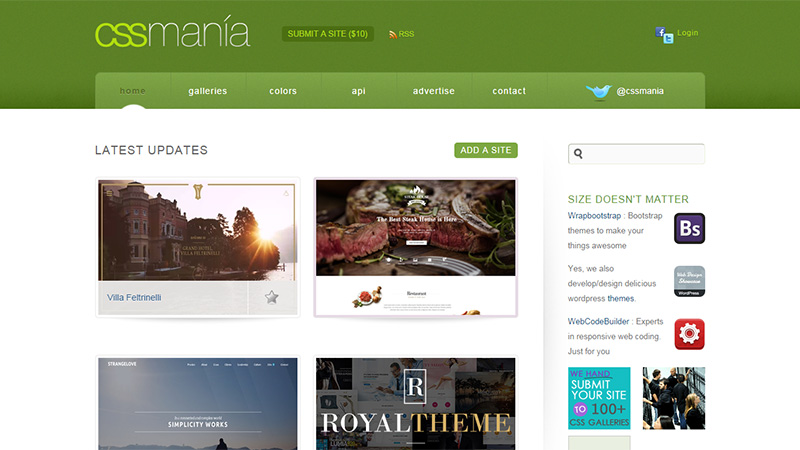 CSS Design Awards
This site is an international web awards platform that honors holistic web design. They give daily, monthly and yearly awards for sites, and also award designers each year. For the website of the year and designer of the year, they give an actual trophy to the winners. Because of their exacting standards, you will find some amazing inspiration in this gallery.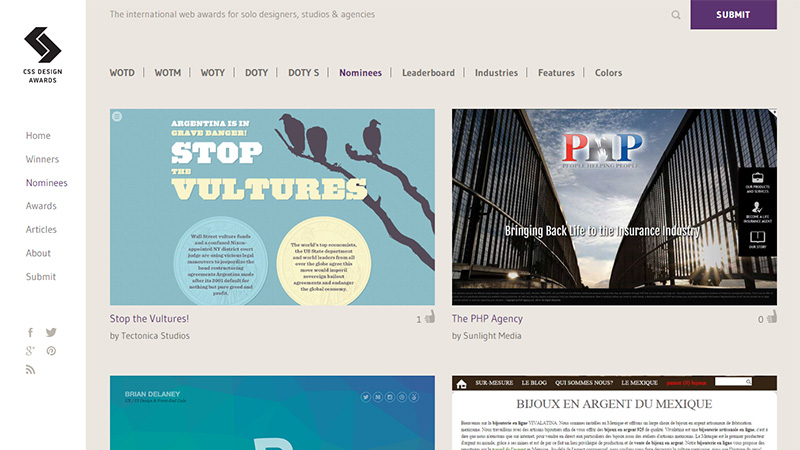 HTML Inspiration
This gallery relies on the public to rate their featured sites, and you can browse the most Loved in the the last 30 days. This is a great place to visit if you just want to browse aimlessly through some inspirational designs, their images are of a nice size to give you a good view of the featured sites. They do have categories: Top 10/Loved 30 days/The Best/Nominees and a list of filters that are mainly industries.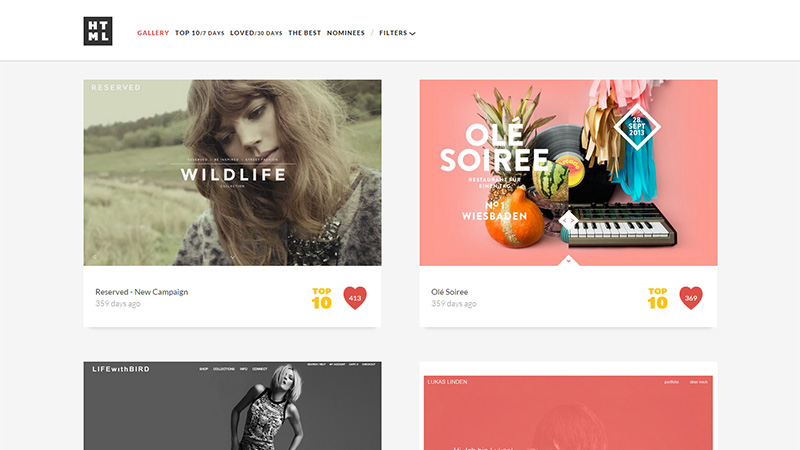 Admire The Web
This gallery is very nicely presented with a mainly white and green color scheme, and the diagonal lines pattern that can be spotted throughout the site. They have a list of 23 categories and a huge tag cloud that takes almost a whole page – so finding what you are looking for here should be a piece of cake!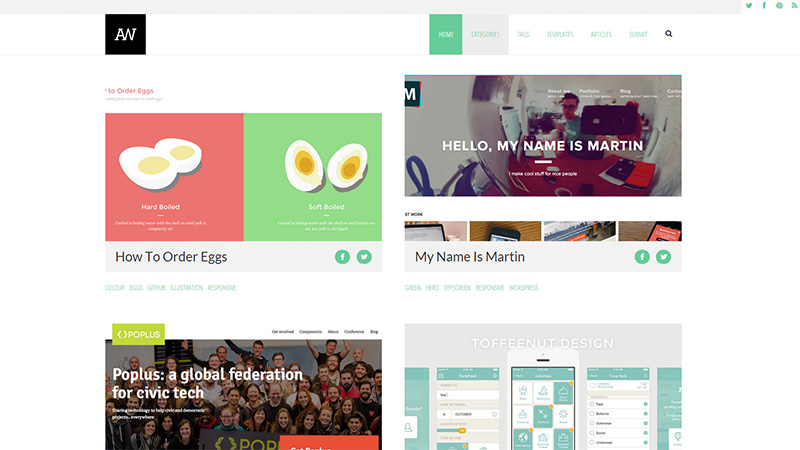 Styleboost
This gallery differs from the others in that they add a small write up for each featured site. You can filter by a choice of 11 colors, or another whole page tag cloud.
Best Website Gallery
This gallery is certainly not space-conscious… their screenshots are 1000px x 540px – a great viewing experience if you are looking for inspiration! You can browse the gallery, that is the landing page, or you can view the top 10, and if you click on search you have the choice of 15 colors and numerous categories.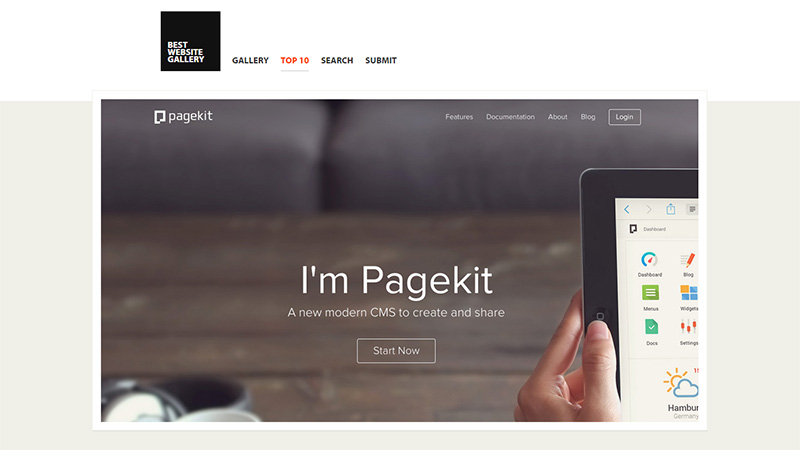 Siiimple
This gallery is dedicated to minimal website design, and it practices what it preaches – the site is very minimal which leads to a lot of white-on-white since the featured sites also have a lot of white. You can search by category, and on this site you will also find a Themes Gallery and a Logo Gallery.
Design Fridge
This site has 3 main categories: Articles, Inspiration and Resources. The Inspiration category is the web design gallery. You can browse from a choice of 15 styles, 13 colors, 6 layouts, 7 textures, 9 formats or 16 themes.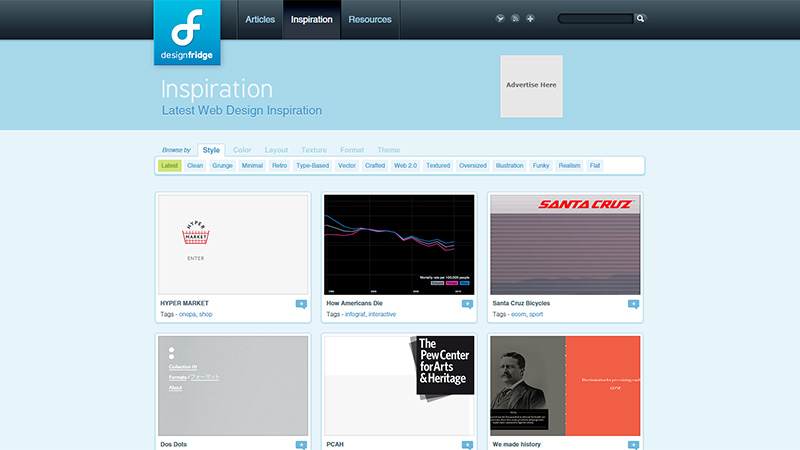 CSS Heaven
This gallery is a kind of 'by designers, for designers' compilation of websites. Most of the featured sites are design agencies or freelancers. A good place to go to see what your peers are up to!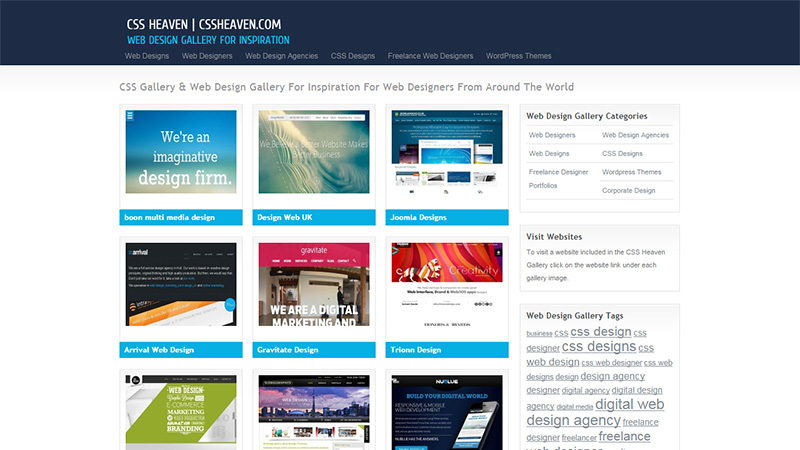 Conclusion
These featured galleries are, in our opinion, the best inspirational sites out there – do you agree? Do you use such sites for inspiration, if so, which is your favorite? If your preferred inspirational gallery is not featured here, please share the link with us, and please share your opinions on the featured galleries.