Designing professional and eye-catching flyers is no easy task, and it's really important to choose the right flyer fonts in order to grab the reader's attention and get your message across.
Thankfully, there are tons of great fonts out there that are perfect for flyers, you just have to know where to find them.
In this article, we'll be taking a look at 22 of the best flyer fonts available. We'll also be taking a look at what a flyer font is, and how to choose the perfect one for your designs. 
Ready? Let's get started!
What is a Flyer Font?
Flyer fonts are any fonts that would look good on a poster, flyer, or other advertising materials. Usually, they are bold, blocky, and eye-catching.
Flyer fonts come in many different shapes and sizes, and you can choose anything from a bold and elegant brush font to a bubble font.
Flyer fonts should be highly readable and match the tone of the flyer. For example, if you're designing a flyer that can be used in a doctor's surgery, a professional and uniform font is probably a better choice than a graffiti-style flyer font.
How to Choose a Flyer Font
With so many different flyer fonts available, it can be hard to select the right one for your designs. Here are some tips to help you choose flyer fonts for your projects.
Consider your brand. When choosing a flyer font, it's extremely important to consider your brand and what type of message you're trying to deliver. Think about your target audience to help you decide which font would be most suitable. For example, if you run a childcare business, a friendly and childlike font may be best. Whereas, if you run a more professional venture like a lawyer's office, you may want to choose a more professional and traditional font.
Be bold. The aim of a flyer is to grab the reader's attention, so choosing a large bold font is always a good idea, especially for the flyer's titles. The bigger and more readable the font is, the better.
Choose a complimentary sans-serif font for paragraphs. You should try to vary the fonts in the titles and paragraphs in order to add emphasis to titles and make your flyers easier to read. Therefore, it's a good idea to choose a sans-serif font that compliments your title font for the paragraphs. Many fonts are part of font families which makes it easy to select complementary fonts that vary in weight and size.
Focus on readability. Flyers are used to convey information, so they need to be easy to read. When choosing a font, steer clear of stylistic fonts that are difficult to read and opt for simpler, more legible fonts.
Our list is filled with 22 awesome flyer fonts for every occasion, so you're sure to find one that's perfect for your designs.
22 Best Flyer Fonts For 2022
Now that you know a little more about how to choose the right flyer font, let's jump into the list. All the items in this list are available with an Envato Elements subscription (prices start from $14.50/month)
The Reffort Sans font family is a classic sans serif family with a stylish edge. It's perfect for creating professional flyers and is made up of 14 different fonts in 7 different weights.
Why it's our top pick
Reffort font family is our top pick because it would work well as part of a range of designs. It's classic, without being boring and it has a range of fonts that can be used for both flyer titles and smaller bodies of text.
Northland is a bold and fun font that would look great as the title on a flyer. It's visually interesting, easy-to-read, and would work perfectly on an even flyer or other promotional materials.
Brader is a stylish flyer font with a retro feel. It's clear, bold, and easy to read and will give your designs a unique and stylish finish. It would look perfect on flyers for fashion businesses, magazine covers, and more.
Bullate is a truly unique font that would be perfect for event flyers aimed at children. The 'bold blobby' font is easy to read, and extremely eye-catching. It's perfect for creating standout titles that jump off the page.
Corona is a display font that would look great on flyers in a bar or restaurant. Its unique curves and accents are sure to gain the attention of passersby. However, whilst stylish and visually interesting, the font is still extremely easy to read.
If you're looking for a childish and playful font to add a touch of fun to your flyers, Noobys Display is the font you need. This bold and bubbly font would look great in child-centric designs, as well as designs for small businesses and retail stores.
Dried bold is the perfect flyer font for creating eye-catching titles. The cute and curvy title font would look great on an event poster or a school flyer.
If you're looking for a flyer font that has more of a handwritten feel, Boldey typeface is a great choice. Although it's handwritten and feminine, it's still bold and easy to read making it perfect for flyer titles.
Arkibal is a versatile font family that can be used for professional flyers. This font family includes 18 different weights, which means it can be used for both titles and smaller text on your flyers.
Frank is a bold and classic typeface that could be used on just about any type of flyer. The font download includes 5 weights and 4 different styles that can be mixed and matched to create professional and highly readable promotional content.
Berlin Rounded is perfect as part of professional flyer designs. This rounded font would be perfect for creating informational flyers for businesses like doctors' offices, law firms, and more. This font download includes 4 different weights that can be used for both titles and text.
Flix is a curvy and unique font that is perfect for promotional content like flyers. It has a modern, professional feel and would look great on flyers for new tech products, small businesses, and more.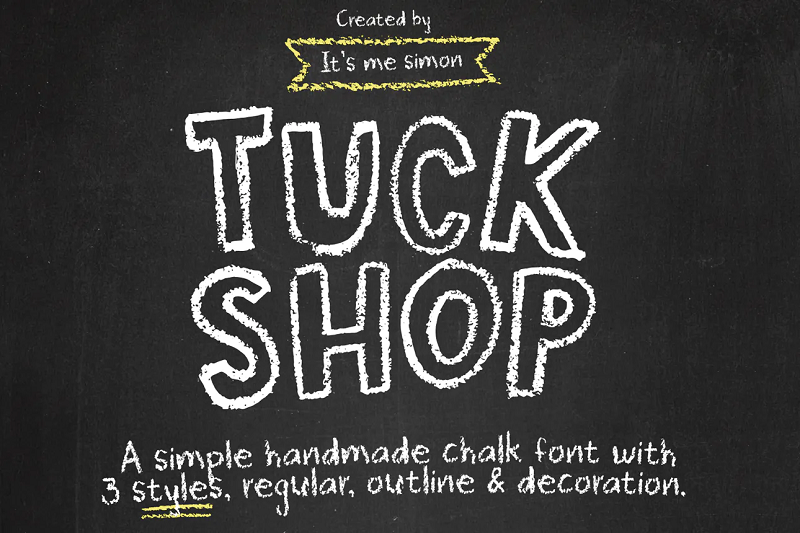 Tuck Shop is a unique chalkboard style font that was hand-drawn using real slate and chalk. The bold and fun font would work perfectly on posters for eateries and cafes.
If you're looking for a slightly more feminine title font for flyers, Lovie is a great choice. The font is clear, bold, and readable, but it is slightly curved and italicized giving it a more stylish and girly feel.
Bold Vibes is a striking font that is sure to grab the reader's attention. This bold font is perfect for flyer titles and is reminiscent of cool beach bars. It's sure to give your designs a fun and laid-back vibe.
Facile Pro is a bold all-caps font with an art-deco feel. It's easy to read and will give your designs a stylish, vintage feel. It would be perfect as part of flyers for cafes, or fashion brands.
Devant Horgen is an impactful font inspired by movie posters and signage. This classic, bold font would be perfect for flyer titles, and it's sure to help your message really jump off the page.
Spot is a modern and unique all-caps font. It's perfect for flyers of all types but would work particularly well as part of new product promotional flyers and packaging. It's a classic font with a curvy edge that will add some visual interest to your designs.
Feruka is a strong and impactful font perfect for conveying important messages on flyers. Whether you're making a flyer for a sale, or a warning flyer to keep your customers safe, this font is perfect.
Gopher Mono font family is a sans serif family with a clean monospaced look. This font family is perfect for creating professional and informational flyers. With 16 different font types to choose from, you can easily find the right style for all of the text elements on your flyers.
Festive is a clean and bold handwritten font. It's great for event flyers, as its unique design is sure to add some festive flair to your designs. Whether you're making a flyer for the grand opening of a business, or a Christmas-themed ad, this flyer font is just what you need.
Handwritten calligraphic style fonts can often be a little hard to read, but Betty Mignon is clear, bold, and perfect for flyers. This handwritten font can add a feminine handcrafted feel to your flyers, without compromising the readability. That's why it's the perfect calligraphy-style handwritten font for flyers.