The world of perfume is quite big, there are lots of well known and respected brands on the market. But do they really care about their brand on the web? It's not a secret that successful business nowadays is connected with the Internet. How should perfume website be designed to be successful and competitive?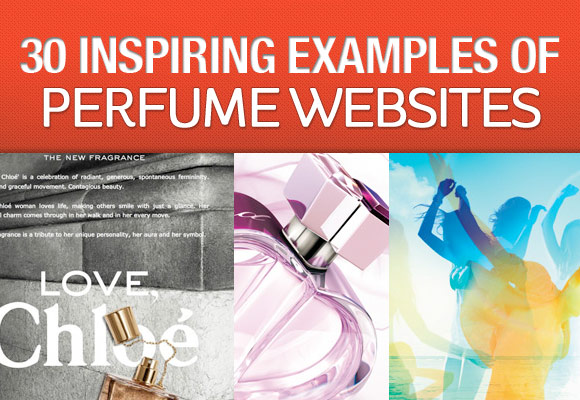 There is no doubt that website design should reflect the brand or product features. Also it should pay attention to user friendly navigation and other essential information needed for clients.
Perfume Websites
In this showcase you will see 30 examples of perfume websites with short descriptions discussing how they stand out from the crowd and what techniques they use. I hope you'll find some inspiring examples and these will help you with your future projects.
Bulgari
Bulgari Fragrances website uses a big photo as a main design element. The model holds Bulgari perfume and in this way they're highlighting their product – perfume. Also you can see useful drop-down menus on the left side that help users to find a desirable product.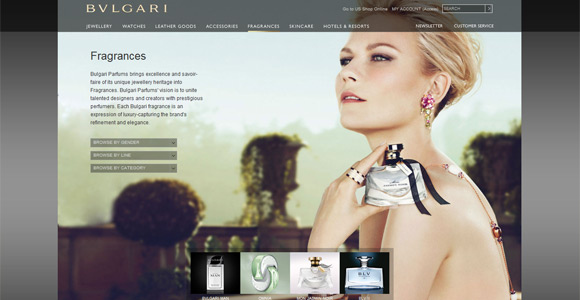 Calvin Klein Fragrances
Less is more. Calvin Klein Fragrances website is a great example of minimalism in web design. Pure white background, clean fonts, modern drop-down menu with product previews create an elegant and comfortable feel about the brand.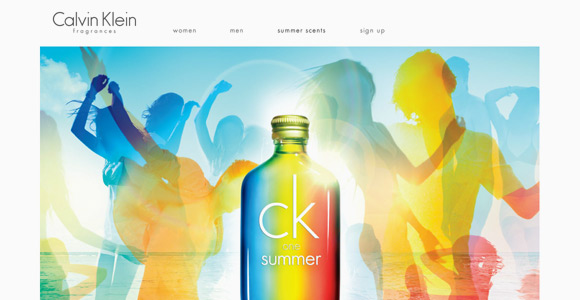 Chanel
Chanel uses black as the main color of the website. The website is totally dark with a highlighted man portrait and their perfume. Black is associated with power, elegance, formality and mystery that's why Chanel uses this color.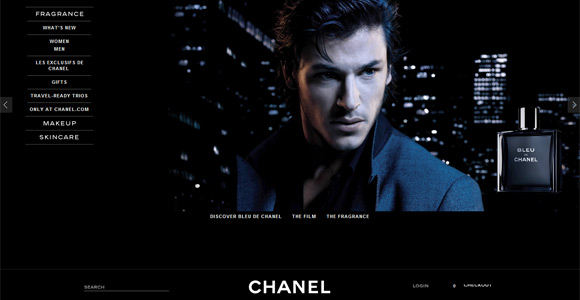 Hugo Boss
The Hugo Boss website stands out from other perfume website with unusual navigation. Silver passing to grey color background highlights white quadrangles where all the main website pages are located. Beautiful flash effects create fascination.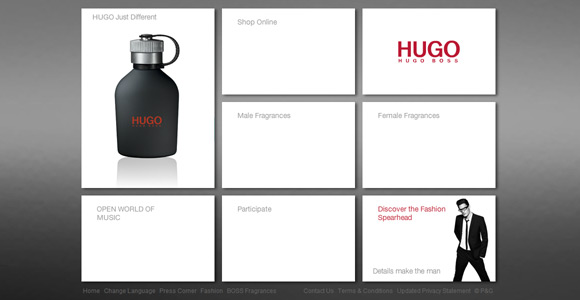 Elizabeth Arden
Elizabeth Arden fragrance shop uses a red pattern on the website to direct all the attention to products placed on a white background. Simple but smart technique.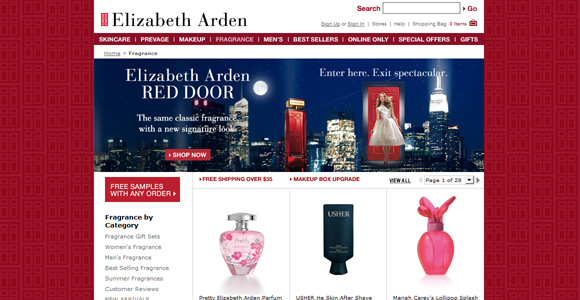 Lacoste
Lots of flash effects can really impress the average visitor. Bright colors, colorful previews of the products create contrast and highlight the products.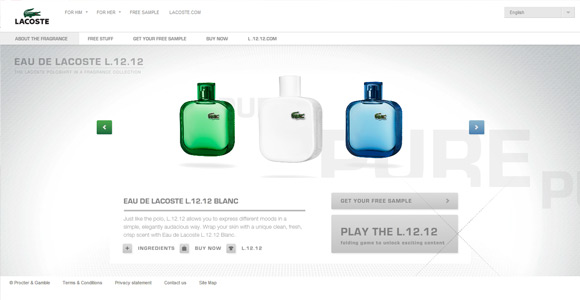 Burberry
Glamour models and product photos mixed into a collage background and modern navigation menus on the sides of the website say everything. A bit confusing but still impressive.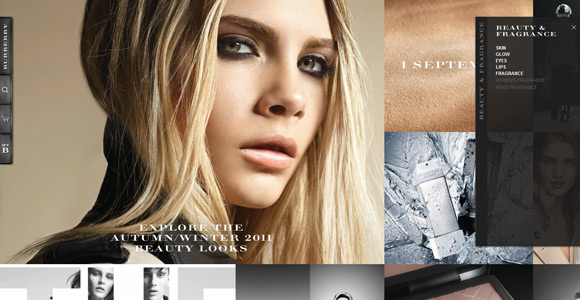 Ferrari
Ferrari is probably known for red supercars. This website shows that red is a big part of their brand. Highest quality products on white stand out from the red background.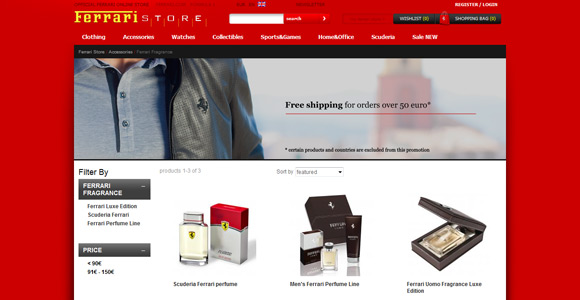 Chloe
A black and white photo used as a background and brown perfume on the right side create a retro feel. Also using color for the products points user's attention to the perfume.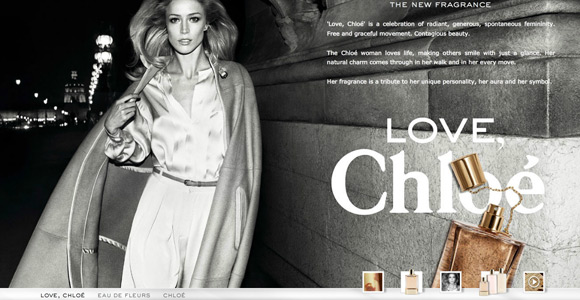 Diesel
Diesel brand is often labeled as provocative and sexy. This website just proves that.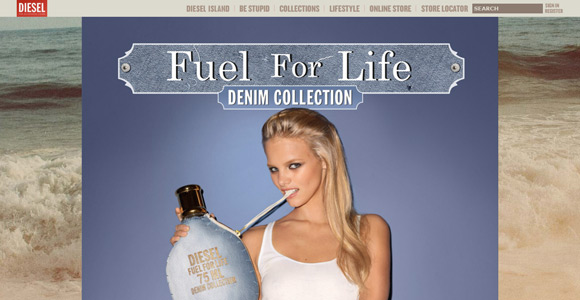 Giorgio Armani Beauty
Dark colors dominate in this website and create an elegant feel. Provocative photos grab attention and present the product features.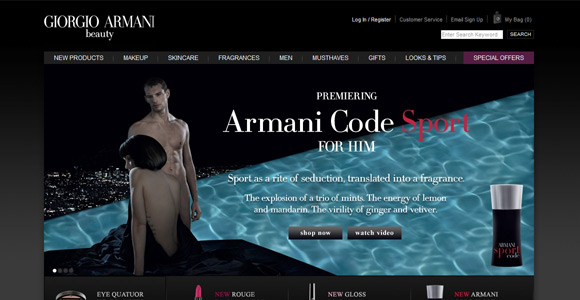 Antonio Banderas Fragrances
The main accent of the website is Antonio Banderas. The site relies on his personality to represent the product. Elegant, subtle and attractive.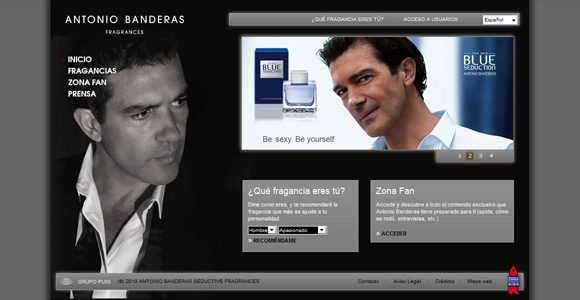 Celine Dion Fragrances
Another celebrity based website design. Subtle colors and elegant Celine Dion create an impressive and touching feeling.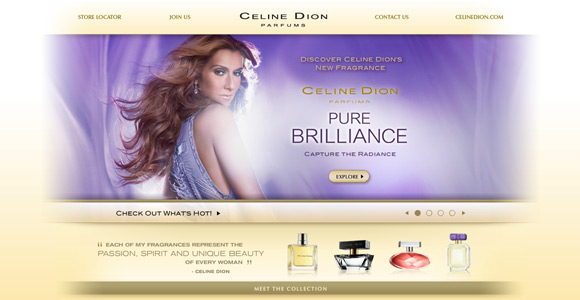 Dolce & Gabbana
Dolce & Gabbana use an unusual website structure which helps to create an outstanding look and product oriented web design.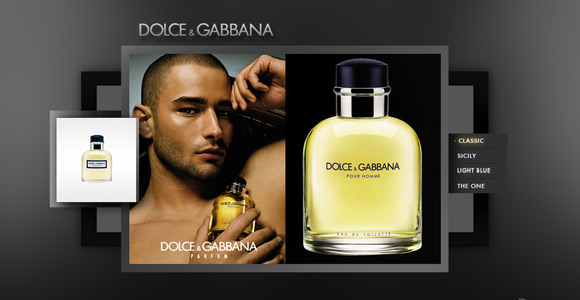 Chopard Fragrances
A very big image of the perfume is used on Chopard Fragrances website. In this way the company tries to show everything about the product.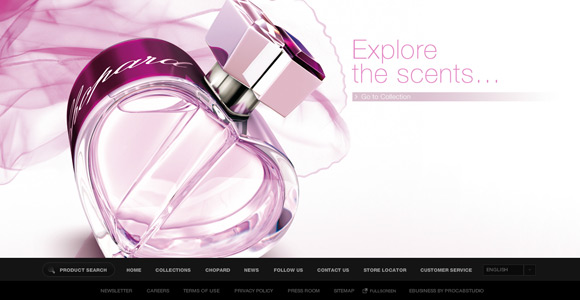 Dana Classic Fragrances
The simple colors used on Dana Classic Fragrances help to focus on their product.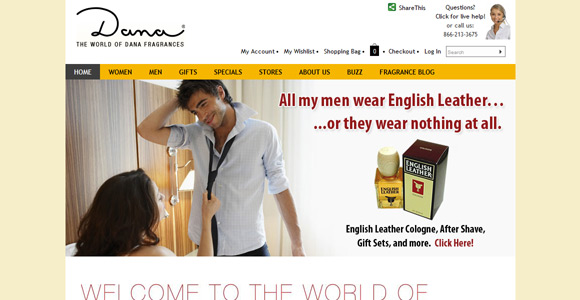 Cartier
Another great example of red color usage in perfume website design. A room-like 3D effect on the background and floating perfumes look interesting and attractive.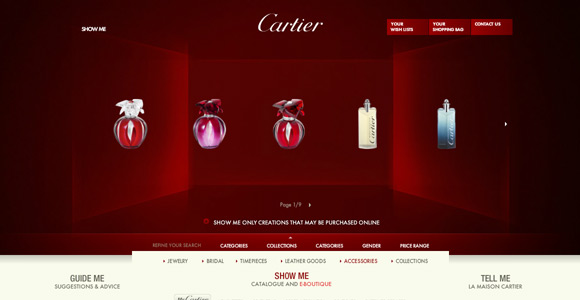 Carolina Herrera
The contrast used on this website helps to highlight the product which is presented in a close-up view.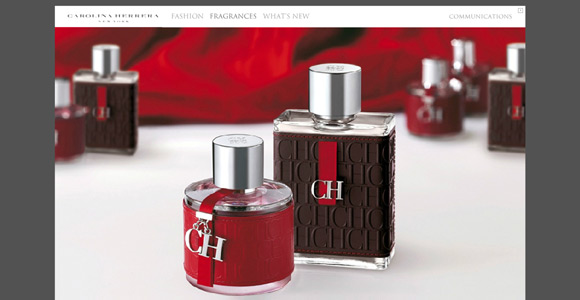 Clinique
The Clinique website looks like a traditional e-commerce website with lots of navigation menus and sometimes too much confusing information. Very minimalistic and simple layout.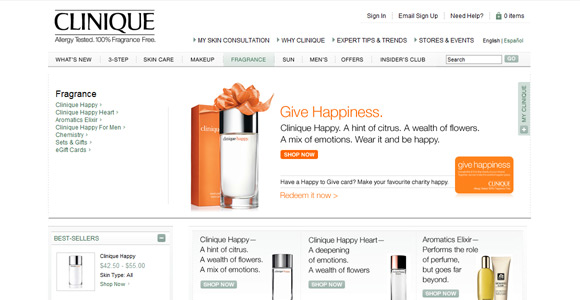 Christina Aguilera Fragrance
One more nominal perfume website example. Beautiful pink color variations, "girlish" stuff and Christina Aguilera on the left side tell you everything about the sweet product.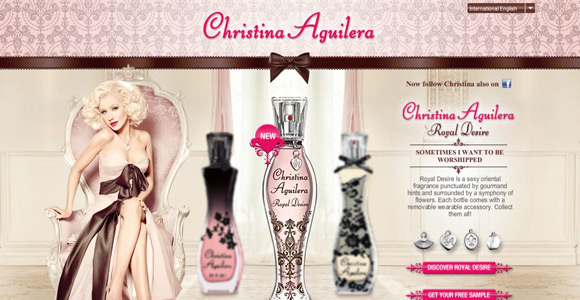 Biotherm Men
Another e-commerce-like perfume website with big product presentation.
Britney Spears Beauty
The black website background helps to accentuate the colorful product and personality presentation. Simple top navigation is clear and easy to use.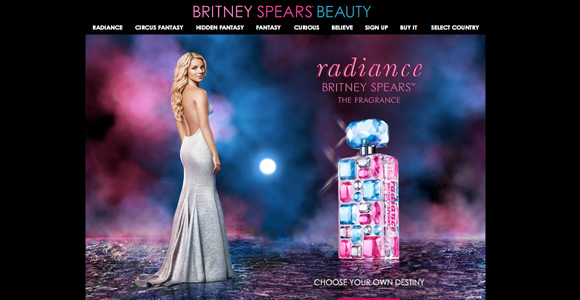 Beckham Fragrances
The provocative and personality-based perfume website of David Beckham. Dark colors create an elegant and powerful look and feel.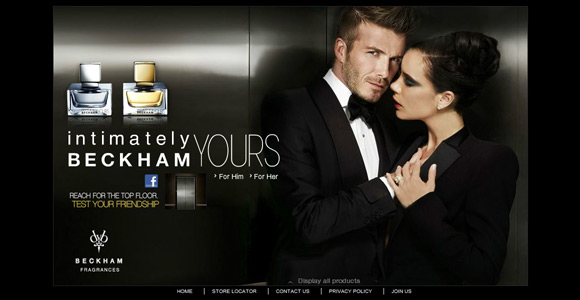 Dior
Black minimalism example. Dior uses simple and clear top navigation and expressive product presentations in a slideshow.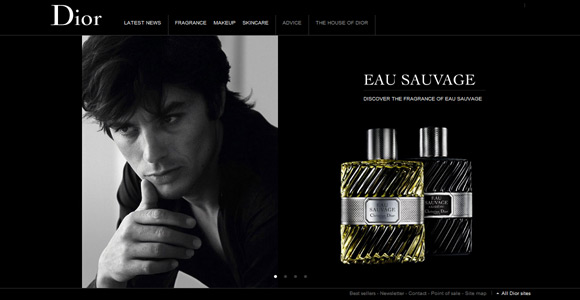 Fcuk
The main picture says everything. Provocative and sexy, this is how fcuk grabs the attention of their clients.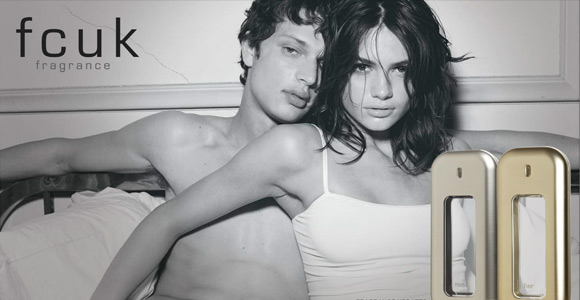 Estée Lauder
The Estée Lauder store looks like other common e-commerce websites. The only thing related to perfume is a big photo of a model and the product.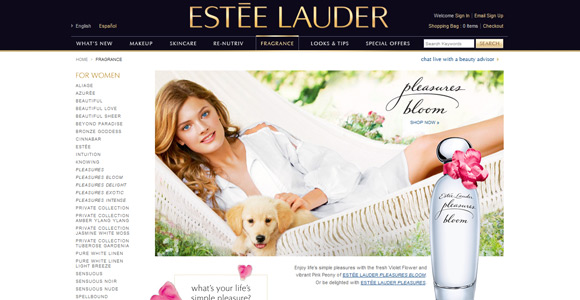 Jennifer Lopez Beauty
Glossy website name and navigation reveals that the product is related to a prominent personality and luxury.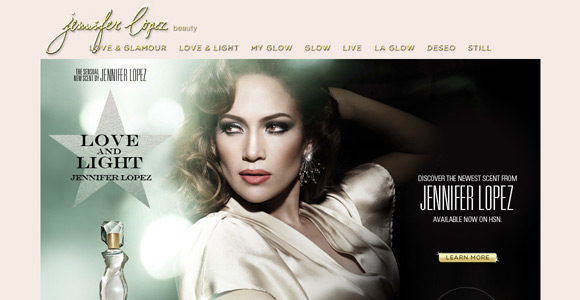 Kate Moss Parfums
Kate Moss Parfums website is product oriented and uses different colors to present different products. Kate Moss is next to the product and gives a personal touch to the perfume.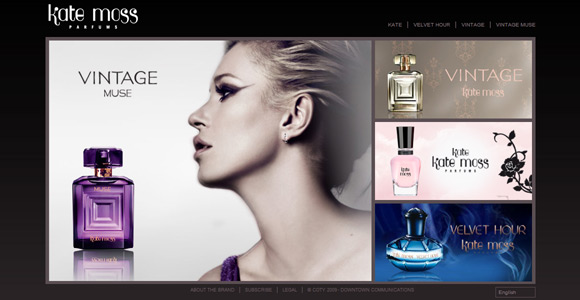 Mariah Carey
Subtle purple and erotic photo of Mariah Carey radiate femininity.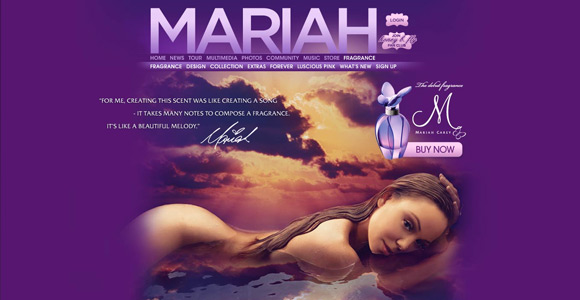 MontBlanc
Blue color variations create the feel of knowledge, power and integrity. Blue is often associated with the sea and heaven and this website looks very graceful and refreshing.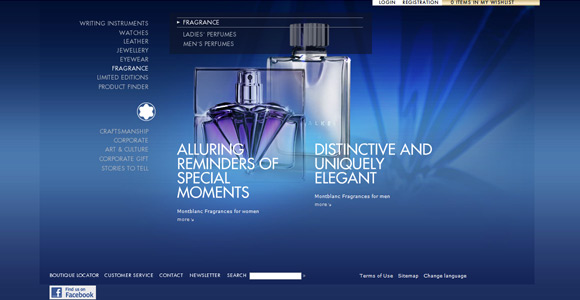 Conclusion
To summarize everything posted here I must say that perfume websites are very varied in structure, colors usage, navigation type and more compared to other niche websites. One of the most common attributes of the perfume website is image usage as a main website element.
Most of the listed examples use celebrities and their fame to create a better product reputation.
What do you think about the listed examples? What makes a perfume website successful? Please share your thoughts and opinions in the comments section below.