Today, people love the convenience of ordering online. It saves them time, money, and a trip to the local store. But if an eCommerce site is poorly built, or not clear about its pricing and policies, or doesn't offer a personalized service to the customer, they leave.
In this article, we explore unique and core aspects of successful eCommerce sites and find out what makes online shopping possible to help you avoid the common mistakes and build a profitable eCommerce business.
eCommerce websites hold the promise of making customers' lives easier and more enjoyable. People can find things that they otherwise would never come across, and they can order anywhere, anytime, with only a few button clicks. People enjoy the pleasure of the discovery, the simplicity of the process, and the convenience of the delivery. But on many e-commerce sites, customers do not always understand what's being offered and whether it will be of any personal benefit.
Make It Clear Why People Should Purchase from You
It's important to make it clear from the beginning what value you're providing to customers. Why should they purchase anything from your website? Do you offer low prices and fast shipments? Unbiased, high-quality product reviews? A wide selection of products? A specialized set of products that are hard to find? Ease of use? This is your up-front value proposition, the core value that is woven into the design and organization of the entire website.
This is your up-front value proposition, the core value that is woven into the design and organization of the entire website.
(Website: Amazon.com)
Amazon.com offers all of the basic features that an e-commerce site needs, and many of the advanced features as well. It adds value by showing customers items they might need on a homepage personalized for each person.
Provide Many Ways to Find Products
Websites must provide multiple ways to navigate because customers look for products in many different ways. Some customers know exactly what they're looking for and want to type the name of the product into a search bar and jump straight to that product's page.
Predictive input can help streamline the product selection process further. Other customers have only a vague notion of what they're looking for and want to explore lots of browsable content to get a better sense of what's available.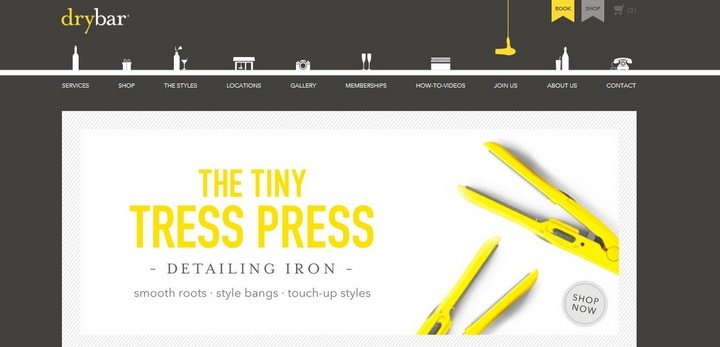 (Website: The Dry Bar)
Find new ways to help your customers find ways to solve their problems. Tell your customers about new and interesting products you have by showcasing Featured Products on your Homepage portal. Help them find related or more expensive versions of products by cross-selling and up-selling. Drive more sales by providing
Help them find related or more affordable versions of products by cross-selling. Drive more sales by providing personalized recommendations specially tailored to their individual interest and needs.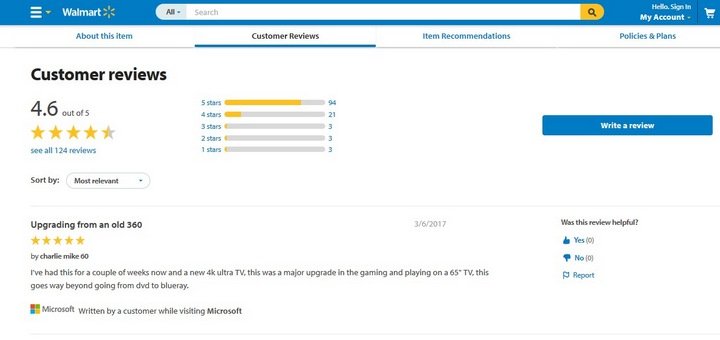 (Website: Walmart)
Finally, offer a recommendation community in which customers can provide feedback and comments on products. By fostering a thriving community, you are partnering with your customers, having them create new content for your website, and, in effect, providing everyone with yet another reason to visit your website again in the future.
Keep It Convenient
Customers like to search vast stores of information, see many clean product detail pages that provide more info thorough descriptions and compare products. In doing so, they can make more educated decisions about the products and services they need.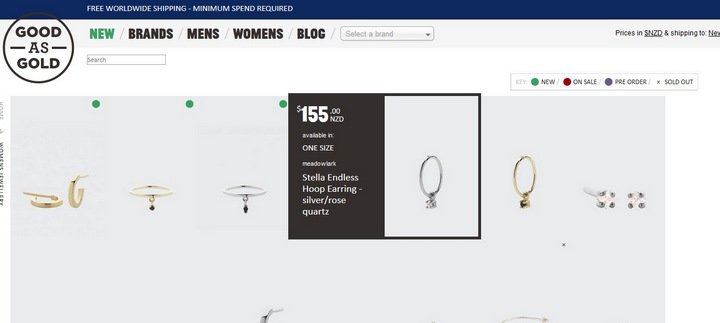 (Website: Good As Gold)
On the flip side, if the information you provide is not easy to find, your customers will become frustrated and perhaps even leave. Finding one thing they like may motivate customers to look for other things they like. A site that facilitates collecting multiple items in a shopping cart can greatly simplify the shopping process.
Keep customers focused on their tasks so that they don't become distracted when they go through the quick-flow checkout process. Customers might abandon the entire order if checkout doesn't seem simple and straightforward. Remember, at this point, their goal is to finish shopping, and your goal should be to close the sale as smoothly and as quickly as possible.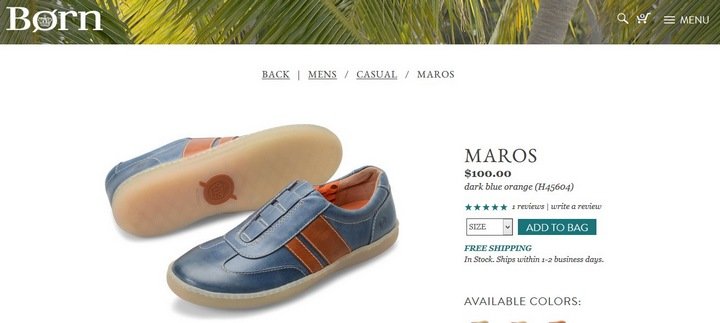 (Website: Born Shoes)
For an e-commerce business that might benefit greatly from impulse buying, it's a good idea to create a site that supports as many computing platforms as possible so that customers can act on their impulses whenever and wherever they are.
A responsive website design, mobile friendly checkout systems, and location-based services can help you offer a better user experience to mobile users.
Consider Including Some Advanced Features
After you've solved the basic mechanics of shopping and purchasing, you might want to look at some more advanced issues. For example, many people purchase products as gifts for other people. Gift Giving involves numerous details, such as wrapping, receipts, personalized notes, returns, and buying multiple gifts and sending them to multiple destinations.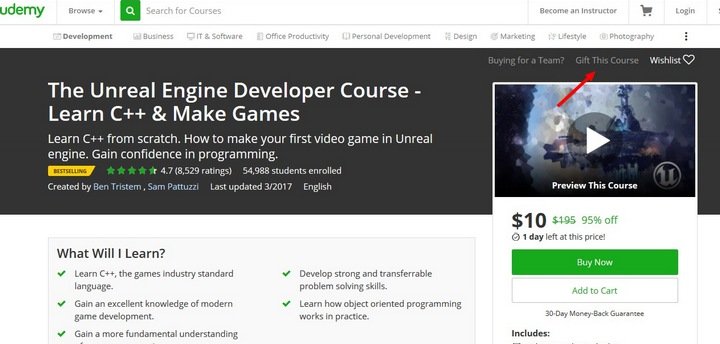 (Website: Udemy)
As another example, some people may be interested in seeing their order tracking and history to check the status of their purchases or see what they've bought in the past.
Avoid Surprises
Customers want to know what to expect when they start shopping because it will take at least a few minutes to complete the transaction, and they don't want to have a surprise toward the end. Full disclosure about site policies up front is important to shoppers. They generally have 3 areas of concern:
#1 Privacy and Security
Customers value their anonymity because it provides them with a sense of privacy and security from fraud and scams by people who gain access to their personal information. Build trust by establish a set of fair information practices that will be followed throughout your company, and make these practices clear in your privacy policy. Also be sure to offer a secure connection whenever personal or financial information is being transmitted.
#2 Additional Charges
Sometimes, customers find products at a lower price when shopping online, but only discover that the shipping and handling charges erase the savings. Granted, if people factor in the time saved because they're not personally traveling to and from the store, shipping and handling costs can sometimes be justified.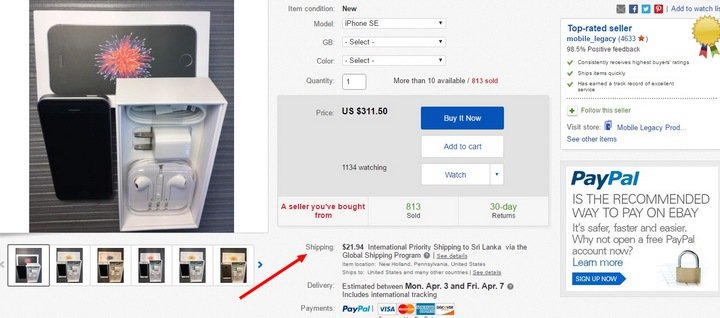 (Website: Ebay)
However, if the costs of shipping and handling are surprisingly high, shoppers become discouraged. They think the online merchant is trying to trick them and they become distrustful. Providing information about all the costs involved with a purchase early in the shopping experience will build trust.
#3 Returns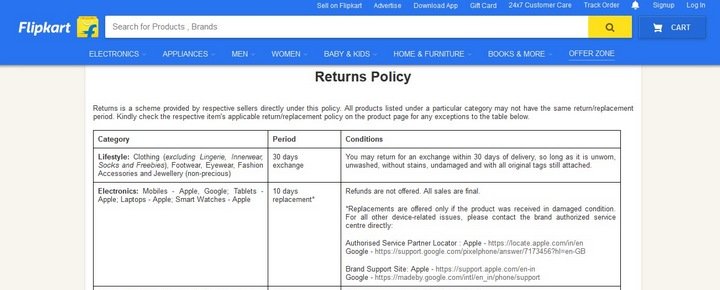 (Website: Flipkart)
Although some people may never shop online, more will shop on a site that provides easy returns because they know that, if what they buy doesn't work for them, they can return it for a full refund.
10 eCommerce Sites Worth Your Attention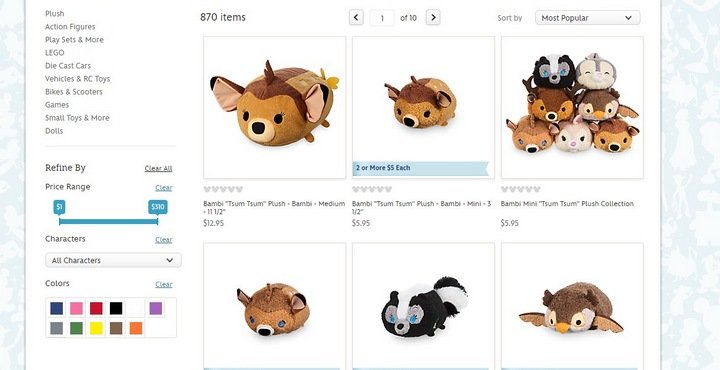 Disney store site has very sophisticated navigational options for the users to choose from. It contains extremely detailed shipping information that gains the trust of their shoppers.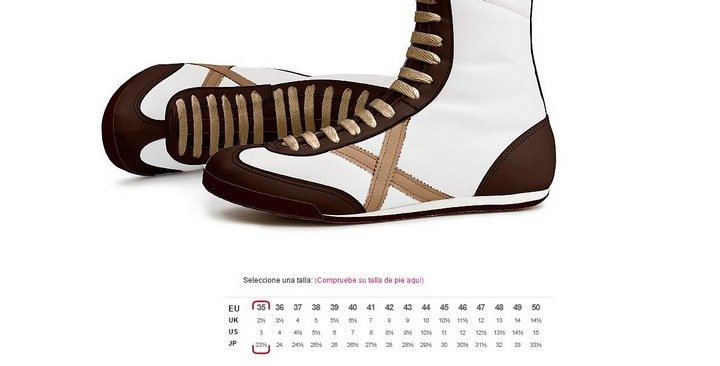 Munich My Way's images are very clean and consistent. It not only has very clear sizing details, it also allows users to fully customize the products. The whole site is clean so users can focus on the products their purchasing without any distractions.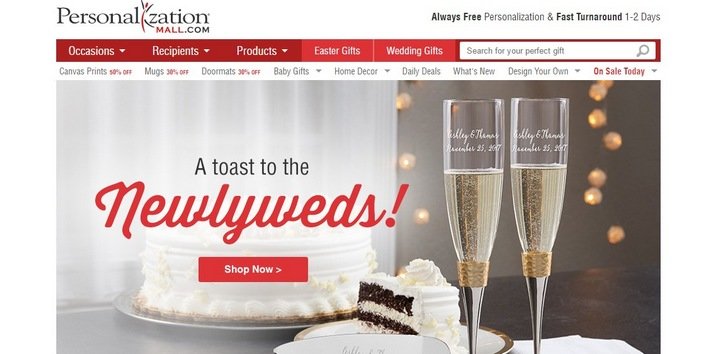 Personalized Mall offers gift-giving services in their site. You can enter personalize a product or add a message to the product to send truly unique gifts to your friends and family.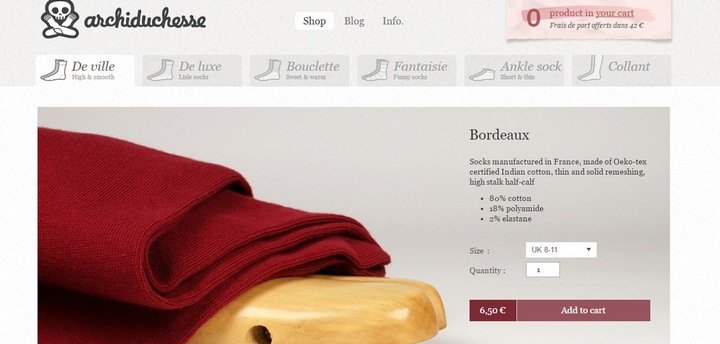 Archiduchesse is one of the smartest e-commerce sites around. What's so great about this e-commerce site, is that the user is just 2 clicks away from the 'Check-Out' button. This increases the functionality of the site, and easy purchase could also mean higher sales.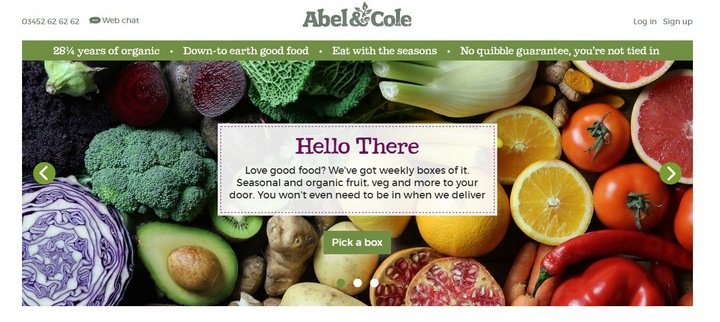 In the homepage of Abel & Cole, it states very clearly why people should shop with them together with 4 reasons. This is their up-front value proposition and the core value that is woven into the design and the organization.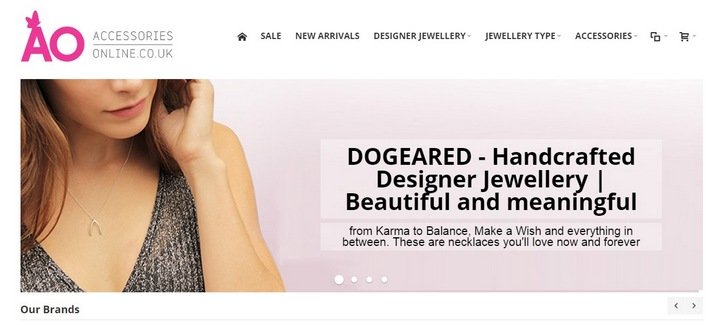 Accessories Online is a good example of clear Call to Action at above the fold of the site. The site has catered a selection of categories for different user needs.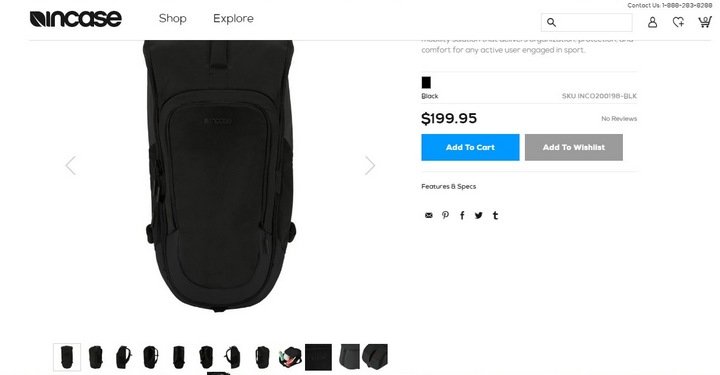 InCase offers not only clean and attractive product details, it also has the images of the product in different views. Detailed product details and reviews allows users to decide on their purchase more accurately too.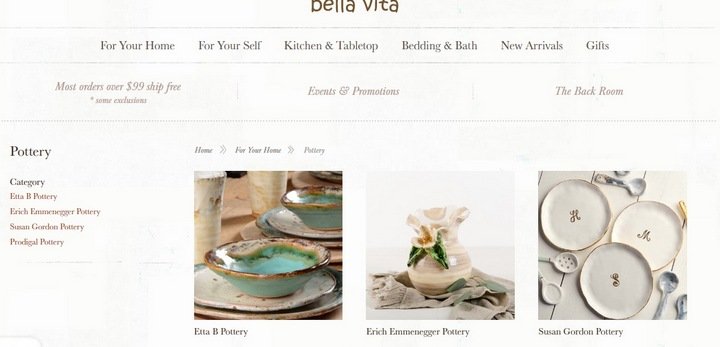 Bella Vita sells unique handmade pottery and ornaments. Their up-front value proposition is strong and the content and labels chosen have shown customers why they should buy from them.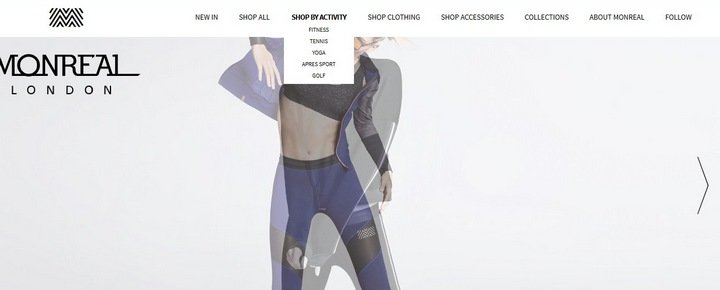 Montreal London provides many navigational options so users can search for their desired products easily.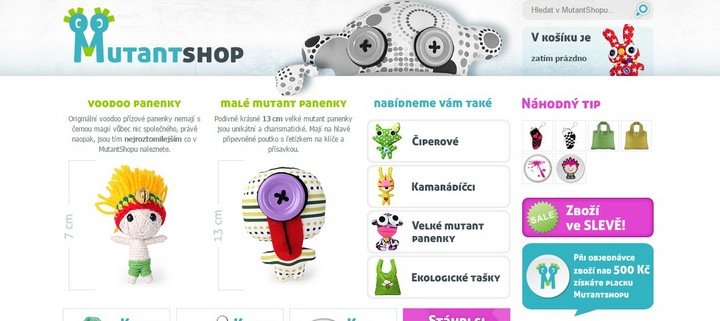 Mutant Shop sells very funky and interesting crafted toys. Its clean product details and bright colors invite the users to click on further and view their products.
Conclusion
To summarize, differentiate your site so that customers know why it's compelling and valuable. Give shoppers browsing and searching tools, and provide rich, detailed information about your products and services. Make your site accessible to everyone.
On every page, include clear links to your privacy and security policy, shipping, handling policies, return policy, and frequently asked questions. Let customers collect items in one place and check out quickly, with minimal distraction.