Once upon a time, when you were a young child, you must have read a few popular fairy tales before. Today, we have put together a collection of digital character illustrations that are based on some very well-known fairy tales. Each interpretation of the fairy tale and its characters is a reflection of the unique style and characteristic of the illustrator who created it.
From this collection, you will see the many creative ways a fairy tale and its characters can be illustrated. Let's take a look at fairy tales with a whole new perspective.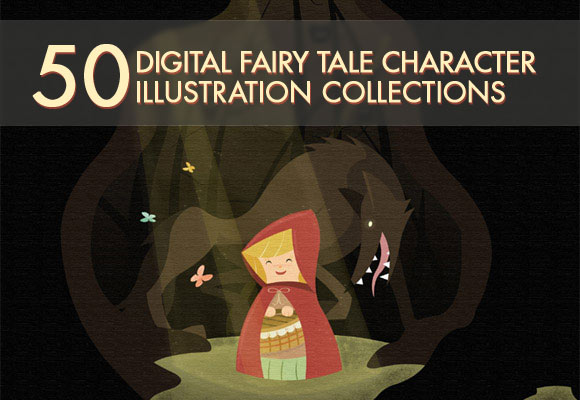 Painstakingly hand-picked and sorted, here are some fantastic modern fairy tale character illustrations that are sure to boost your creativity. We hope that this selection will bring back the child in you and all the sweet innocent memories of the past.
Little Red Riding Hood
Once grandmother gave her a little riding hood of red velvet, which suited her so well that she would never wear anything else; so she was always called Little Red Riding Hood.
The Pied Piper of Hamelin
He stood in the Square and looked quietly around. He took a deep breath and blew a note on his silver pipe that spoke to the rats of far off places, of woods and forests and rocks and mountains.
Rapunzel
Rapunzel had magnificent long hair, fine as spun gold, and when she heard the voice of the enchantress she unfastened her braided tresses, wound them round one of the hooks of the window above, and then the hair fell twenty ells down.
The Wonderful Wizard Of Oz
No matter how dreary and gray our homes are, we people of flesh and blood would rather live there than in any other country, be it ever so beautiful. There is no place like home.
Cinderella
Once upon a time there lived an unhappy young girl. Her mother was dead and her father had married a widow with two daughters. Her stepmother didn't like her one little bit.
Jack and The Beanstalk
The beanstalk grew up quite close past Jack's window, so all he had to do was to open it and give a jump onto the beanstalk which ran up just like a big ladder. So Jack climbed, and he climbed, and he climbed, and he climbed, and he climbed, till at last he reached the sky.
The Frog Prince
When the princess awoke on the following morning she was astonished to see, instead of the frog, a handsome prince, gazing on her with the most beautiful eyes she had ever seen, and standing at the head of her bed.
Three Little Pigs
Once upon a time there were three little pigs and the time came for them to leave home and seek their fortunes. Before they left, their mother told them " Whatever you do , do it the best that you can because that's the way to get along in the world.
The Princess and The Pea
The old queen said nothing, went into the bed-room, took all the bedding off the bedstead, and laid a pea on the bottom; then she took twenty mattresses and laid them on the pea, and then twenty eider-down beds on top of the mattresses.
Hansel and Gretel
They followed it until they came to a little house. When they came closer, they saw that the little house was built entirely from bread with a roof made of cake, and the windows were made of clear sugar.
Fairy Tale Illustration Tutorials
With the inspiration booster, you might be tempted to create some fairy tale illustrations of your own. Here are some links to online tutorials related to digital illustrations of fairy tales.
Draw Fairy Tale Characters in Photoshop


Create A Beautiful Lonely Fantasy Fairy


Make A Fairy Tale Inspired Magical Hand Shaped Vine


Create The First Page of a Fairy Tale Story Book, with a Hint of Kitsch


And They Lived, Happily Ever After
What is your favourite childhood fairy tale? Who was your favourite fairy tale character?
Don't forget to share with us your opinions on our collection of fairy tale illustrations. If you know of more illustrations worth sharing with everyone, add a link in the comments section below. Think happy thoughts, and may we all live happily ever after.