Nature is truly remarkable, isn't it? To think that the beauty in our surroundings came to be without the exertion that artists know all too well with regard to creativity… if that's not thought-provoking, then what is? Seemingly without any effort, it all falls into place like pieces of an encompassing never-ending puzzle, but that's just what we see on the outside.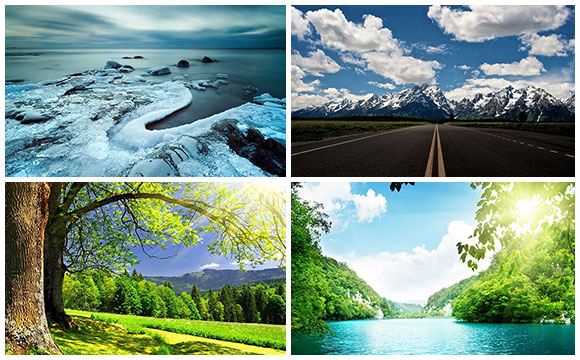 Think about it for a second. Think about how intricate everything is, organic or not, from the tiniest pebble to the larger-than-life; it all just functions like clockwork. Of course, it stands to reason that we have, since the dawn of time, taken inspiration from it and created something of our own. Is it not said that art mimics life?

Stunning Landscape HD Wallpapers
There is a certain flow to all things natural that we simply cannot replicate, no matter how hard we try. We can make something nearly identical but it will never be as perfectly imperfect as what Mother Nature made effortlessly. One way or another, all that we produce will always look artificial, to varying degrees.
And now, just so that you (yes, you) can have a little piece of nature right on your workstation, here is a hand-picked selection of awe-inspiring desktop wallpapers. Peruse, gaze and admire these physical and natural works of art. No, they're not crisp vectors, nor are they perfectly symmetrical shapes, but it's their imperfections that bring them closer to us. So, without further ado, here they are:
Another bass on the Guadalupe River

And because Halloween is just around the corner, here's a small treat for you. No tricks. Promise. Start carving some Jack-o'-lanterns and decorate your desktop while you're at it!
Conclusion
That's it. Hope you enjoyed the selection and found something suitable for you. Remember: when at a loss for inspiration, just look around you. It's right there.