Let me tell you a true story about how to get an internship in Candy Kitten, one of the famous confectionery companies in England, run by the grandson of the founder of McVitie's, by using a creative resume template.
Iris Dudek, a London-based student, has created an outstanding resume template that looks exactly like the back of a bag of gummy sweets.  Not only has she carefully recreated the design but also used some witty puns and jokes to show her positive and energetic attitude. It was so impressive and clever that Jamie Laing shared it with his Instagram fans. This story happened just several months ago, proving once again that a creative approach always finds its way to the audience.
The Best Resume Templates for Designers
Inspired by this story, we have gathered a collection of unique resume templates created by various artists to stand out from the crowd. The majority of them centers around an illustrative approach. They make use of smart solutions to present their skills and abilities and show in practice how to incorporate a bright charisma into a small sheet of paper.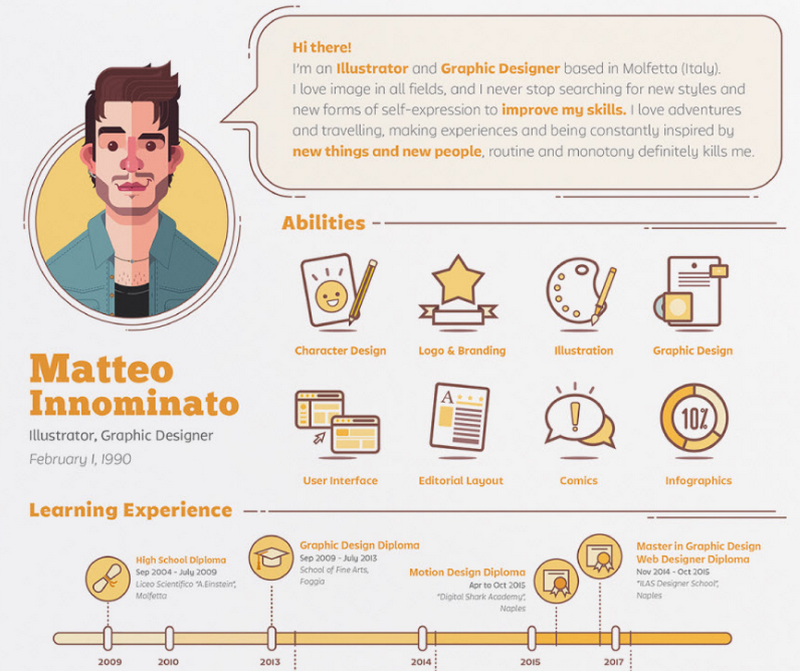 Matteo Innominato created this piece of personal brand identity several years ago, yet it still looks fantastic. It falls into the category of fanciful cartoonish CVs, and it's certainly worth your attention. As mentioned earlier, it is built with an illustrative approach in mind, so it feels incredibly artsy and crafty. There are several key moments to bring home:
The author uses a hand-crafted self-portrait that adds a powerful human touch to the resume template.
He uses the traditional vector approach that implies 3D graphics with sweet glossy effects. Even though flat style runs the show these days, classic never gets old and always looks incredible.
Note the structure of the CV. Even though everything is compactly arranged, the CV does not look cluttered. There is a certain sense of compositional harmony that makes the experience pleasant.
Every block is a combination of text and graphics. Even though the visual cues could be enough to tell the story, the actual content also helps a lot in conveying the message.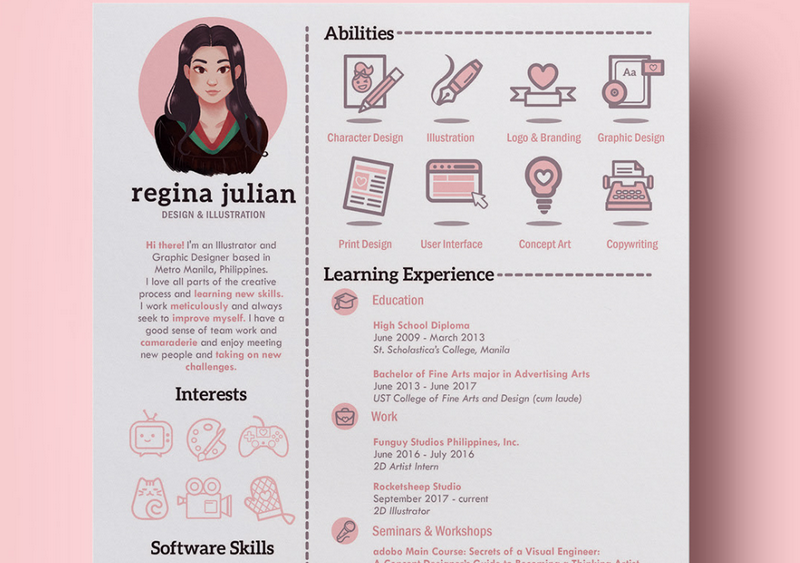 Regina Julian shows us a feminine take of the same approach. She has come up with a creative resume template where icons and small illustrations lie in the heart of the aesthetics. There is also a beautiful portrait on the top that establishes a positive atmosphere from first glance.
Unlike Matteo, Regina has opted in favor of a two-column structure that easily creates order out of chaos, making the content digestible. She has also chosen pink-centered coloring, yet it does not feel saccharine. It is just what the doctor has ordered. The CV perfectly conveys the gorgeous girlish soul of the artist.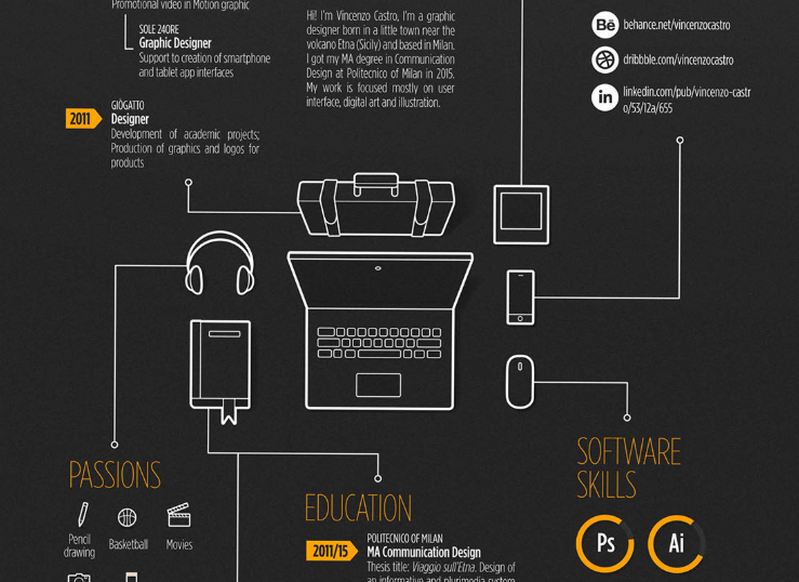 While Regina and Matteo have gone for a bright and vectorized design, Vincenzo Castro has decided to adopt the neat and clean aesthetics yet with a zest. His resume template reminds us of an old-school chalkboard where everything is carefully organized. He has skillfully mixed and matched the chalk-styled elements with flat graphics and outline illustrations.
From first glance, it becomes evident that the artist comes from the IT industry. Note that the CV also includes a portrait, yet this time it is a photo that was skillfully worked into the layout using greyscale coloring.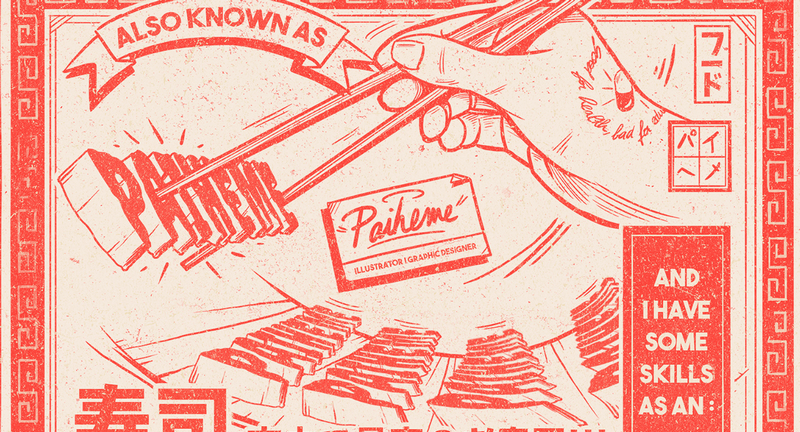 Paiheme Studio's resume template is a blast from the past that looks awesome at all times. We have included it for several reasons, and the main one lies in its outstanding charisma. The CV radiates Japanese charm on all fronts from the get-go. There are so many tiny details that it will take some time to explore every inch of it. It covers all the essential sections, presenting them in a creative East-Asian way that is hard to resist. Along with corresponding graphics such as Manga characters or chopsticks, the designer also leverages grunge textures to spice things up.
Another thing to note is how the artist made use of just two tones, with red as the primary color, bringing about a true masterpiece. The resume does not overwhelm with its coloring. On the contrary, it fits like a glove, meeting the tone of the Land of the rising Sun.
Resume Templates That Went Off the Beaten Track
We have already featured some outstanding resume templates that are based on the traditional medium (aka paper or digital canvas of an A4 size). It is time to push the boundaries and go off-the-beaten-track.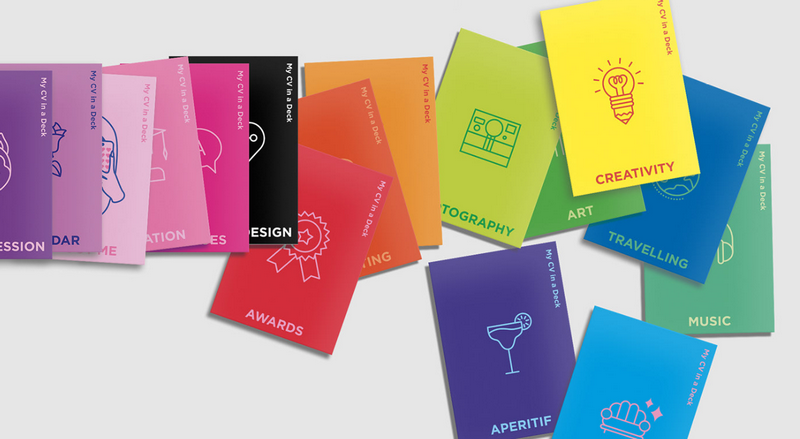 Consider Curriculum Vitae of Margherita Terraneo as a perfect example. For her branding, Margherita has broken her CV into small pieces. She has taken these chunks of data and created a deck of cards.
Each card covers information about her abilities, skills, or biography. Every front side includes a small line style illustration that symbolizes the piece of information hidden there, whereas the backside accommodates the content that is presented in a clever and sometimes funny manner.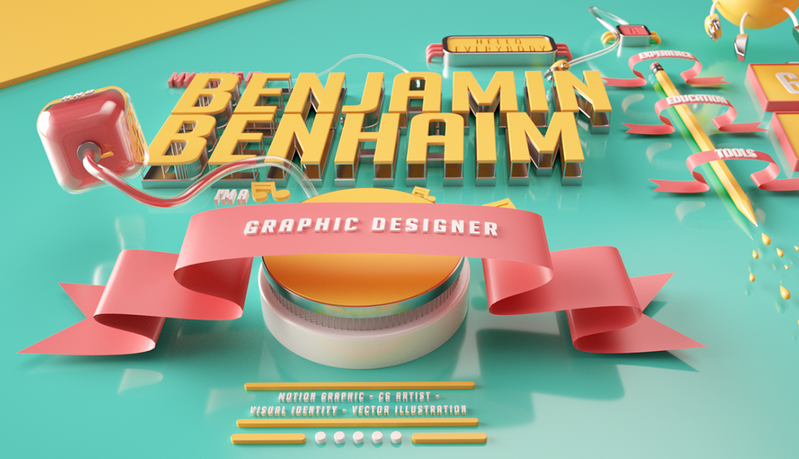 Benjamin Benhaim has decided to take advantage of modern technologies and create a three-dimensional resume template. Using Cinema 4D, Octane, and After Effects, he managed to pull off a true masterpiece. It presents the artist in the best possible light, showing his level of professionalism and love of everything high-end.
Note that the composition includes not only information about the author but also some decorative details, such as a pencil and a small robot, that perfectly finish off the design.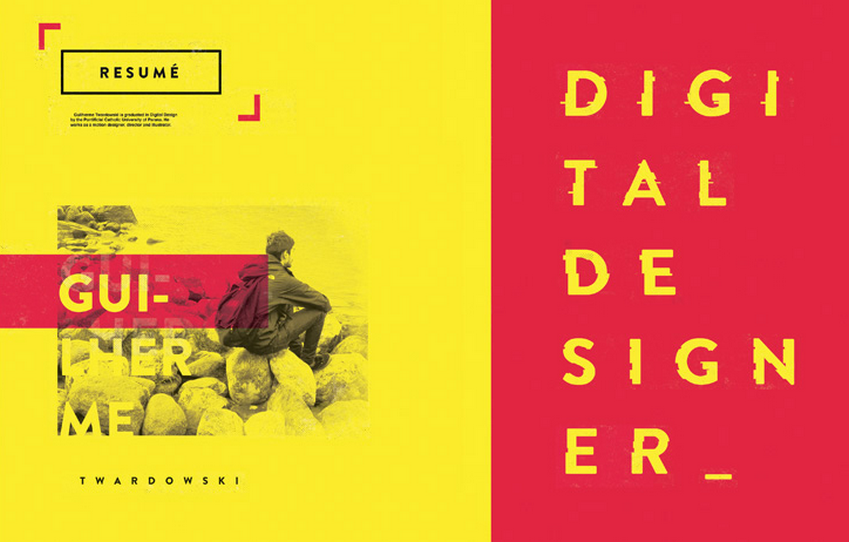 Sometimes it feels like one page is not enough to tell a story about yourself. And, who says you should stick only to A4 format? Guile Twardowski shows us how to push boundaries a little bit. His resume template falls outside the classic approaches, even though the artist has got inspiration from the traditional print media.
His portfolio is presented as a small book. It is kind of an autobiography. Thus, the cover features a photo of the artist, made in an inspiring duotone effect. The other pages, or to be more precise, two-page spreads, reveal his skills, work experience, portfolio pieces, contact information, and thankyou note.
As for the design, it is beyond ordinary. Modern glitch effects, an intricate play with typography, multi-layered aesthetics, and some other ingenious tricks stand behind the beauty of each section. Guile has done great work. The brochure not just introduces us to the artist, but it also reveals his charismatic nature, talent, and creativity.
Conclusion
Resume templates come in various shapes, styles, and designs. Of course, the key to success is to stay true to yourself. However, inside all of us lives a flaming soul with a bulk of creativity. So, why not to let yourself go and let your imagination run wild by opting in favor of an artsy and crafty approach. It will help you not just stand out from the crowd but also reveal your inner genius to the audience.
So, tell us what creative resume template featured above do you find the most impressive?