Dropbox revolutionized the way we share, transfer, and store our valuable files when it first launched the cloud storage service back in 2007. Today, the software giant is worth $1 billion.
It's no wonder why we immediately think of Dropbox whenever we talk about cloud storage services. But, does its popularity make Dropbox the best platform to store your files?
Dropbox received a massive blow when NSA whistleblower, Edward Snowden, leaked the NSA documents related to the US government's surveillance program. During an interview, Snowden mentioned Dropbox by name, urging users to "get rid of Dropbox" as it doesn't support encryption and claiming it be "hostile to privacy."
To make things worse, Dropbox has also been the main target of many hack attacks. In 2016, hackers stole 70 million passwords of Dropbox user accounts.
Dropbox Alternatives
Dropbox is fairly easy to use and the software works wonderfully. However, it also comes with a massive risk and posing a threat to your privacy. This is why you should consider moving to an alternative.
Here are a few of the best cloud storage services you should try instead of Dropbox.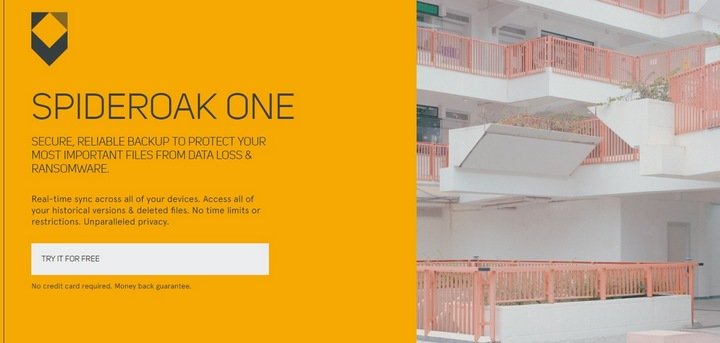 Price: $5 per month for 100GB.
Free Space: None.
Encryption: End-to-end encryption.
Built-in Apps: Not available.
SpiderOak is a company best known for its privacy-focused services. And its cloud storage service comes highly recommended by Edward Snowden himself. During an interview, Snowden mentioned SpiderOak as the best alternative to Dropbox in terms of security and encryption.
Because, unlike Dropbox, SpiderOak One uses end-to-end encryption to protect your files on both ends. Which means, not even the team at SpiderOak can access or view your files. Which makes it more secure to safely store your precious files without having to worry about hackers, government backdoors, or companies selling your private info to third-parties.
Sadly, SpiderOak One doesn't offer a free plan with free storage. Instead, it offers a 21-day free trial of the service for you to test drive before paying for a premium plan. Paid plans start at $5 per month for 100GB of storage, $9 per month for 250GB, and $12 per month for 1TB of storage.
Of course, that price will not go to waste, considering the incredibly safe environment and the peace of mind you get with this cloud storage service.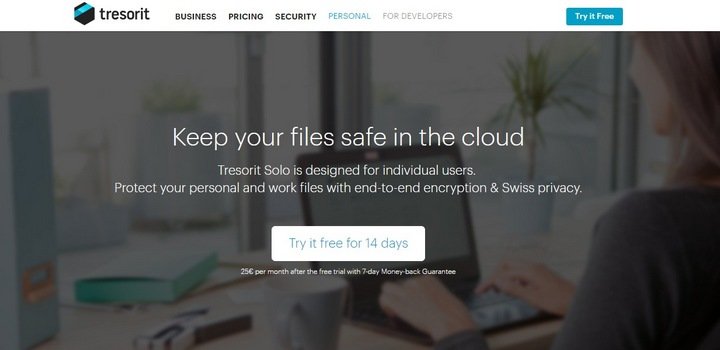 Price: 10€ (around $11 USD) per month for 100GB.
Free Space: None.
Encryption: End-to-end encryption.
Built-in Apps: Not available.
Similar to SpiderOak, Tresorit is another popular privacy-focused cloud storage service that provides end-to-end encryption for your stored files. Tresorit is slightly more expensive than SpiderOak but comes with better protection and more cool features.
Some of the features that make Tresorit better than SpiderOak includes its powerful mobile apps that support backing up files through your mobile devices as well as your desktop computers. Tresorit also supports 2-factor authentication for better protecting your cloud storage account with an extra layer of security.
Tresorit has a Zero-knowledge collaboration option, which allows you to share files and folders with end-to-end encryption to work and collaborate with a team. You can then set expiry dates, download limits, and set passwords for your shared files to better protect them as well.
Tresorit pricing starts at 10€ per month for 100GB of storage with the ability to sync files across up to 5 devices. The 25€ per month plan will give you 1TB of storage for syncing across up to 10 devices. Both plans come with a 14-day free trial.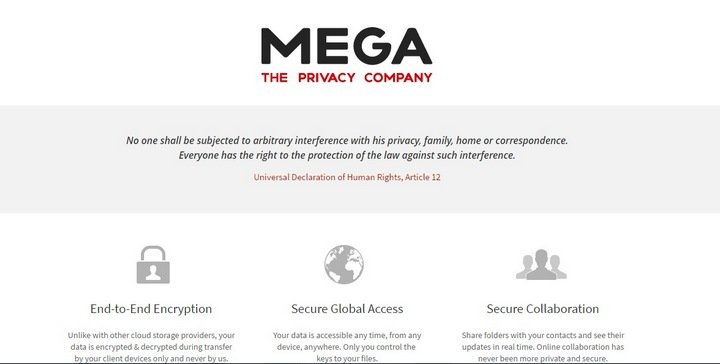 Price: Free.
Free Space: 50GB.
Encryption: End-to-end encryption.
Built-in Apps: Not available.
Kim Dotcom, the founder of Megaupload, launched Mega as a way to regain his rightful place on the web after the US government tried to take him down for hosting copyright-infringing content on the file sharing network. Kim took extra precaution when launching Mega and this time he put the users in charge of their own content. Which means, Mega can't see or access user files and the users are responsible for hosting whatever types of files on their cloud storage. It's a pretty brilliant plan and it worked.
Mega, launched under the title "The Privacy Company", uses end-to-end encryption for protecting your files. It also comes with a set of mobile apps for accessing your files on mobile devices and lets you securely share your files and folders with your contacts as well.
Mega gives you 50GB of storage for free. The Pro plans come with better security and more storage. They are priced at 4.99€ (around 6 USD) per month for 200GB of storage with 1TB of transfer and 9.99€ (around 6 USD) per month for 500GB of storage with 2TB of transfer.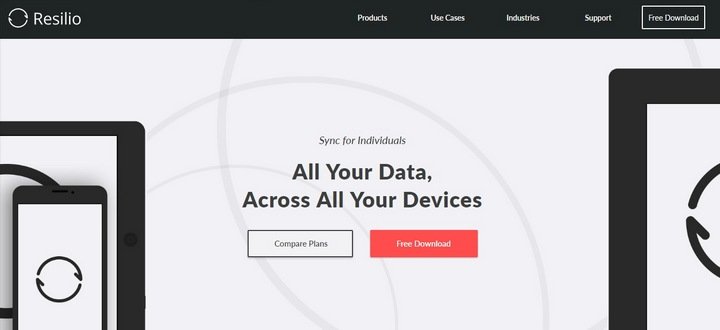 Price: Free.
Free Space: Unlimited.
Encryption: Peer-to-peer transfers.
Built-in Apps: Not available.
Resilio Sync, formerly known as Bittorrent Sync, is technically not a cloud storage service. It's actually a software that allows you to sync your files across devices without having to rely on a third-party cloud storage service provider.
What this means is that instead of storing your files on a cloud storage maintained by a company, you will be syncing and storing your files across your own devices. The main reason why we listed this software here is because it provides the ultimate privacy for your shared files.
No one will be there to interfere with your files as the Resilio Sync file transfers happen peer-to-peer between only your devices. And there will be no limits to how much files you can share. As long as you have enough space on your device, you can sync as many files as you want. Plus, Resilio Sync is also super-fast at uploading bigger files.
Resilio Sync recently branched out of Bittorrent family, but it is still maintained by BitTorrent CEO Eric Klinker. So, the software and its core concept remain the same. The software is free to download for individuals and comes with a Pro plan for automatic syncing, permission management, selective syncing, and other features. Pro plan costs a one-time fee of $39.99.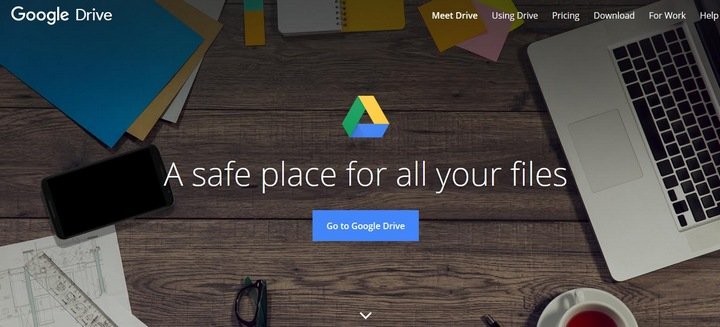 Price: Free.
Free Space: 15GB.
Encryption: Not available.
Built-in Apps: Google Docs, Sheets, Slides, and more.
We're now moving on to the less secure cloud storage services on our list. The good news is these are some of the best and most reliable cloud storage services on the web. The bad news is they don't offer any encryptions for protecting your privacy.
So, if you don't mind risking NSA snooping on your private files, which may or may not happen at all, Google Drive is the best Dropbox alternative you can switch to. Because, Google Drive not only give you 15GB of free space but it also comes with a set of free Office apps, including MS Word alternative Google Docs, Excel alternative Sheets, and much more.
Even though Drive doesn't support encryption, Google puts your privacy first. So, your files will be more secure stored in Google Drive than most other cloud storage services. You'll also be able to upload your copyrighted material, such as music and DVD rips, to your Google Drive without having to worry about getting sued because Google has no intentions toward such actions and there haven't been any cases reported in the past either. As long as you store those files only for private use, you'll be safe.
Google Drive gives you 15GB of storage for free. The downside is that this 15GB of space is also shared across your Google account, which means the 15GB will also be used for your Gmail account as well.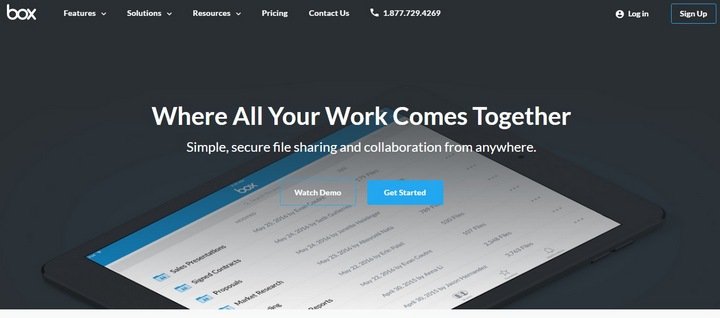 Price: Free.
Free Space: 10GB.
Encryption: Not available.
Built-in Apps: Box Notes.
Box is one of the main competitors of Dropbox. It has been following the footsteps of Dropbox since its first launch. When Dropbox recently came up with a new collaboration tool called Dropbox Paper, Box also launched a similar tool called Box Notes. It's always been like that.
Box is well-known to play nice with the governments and regulatory standards. The company states this very openly on its website. While this makes the service less attractive to privacy-minded folks, the openness of the company gives you an idea about what type of rules the company follows and what you should be concerned about.
Box awards you 10GB of free space with its basic free account. But it also has a 250MB file upload limit.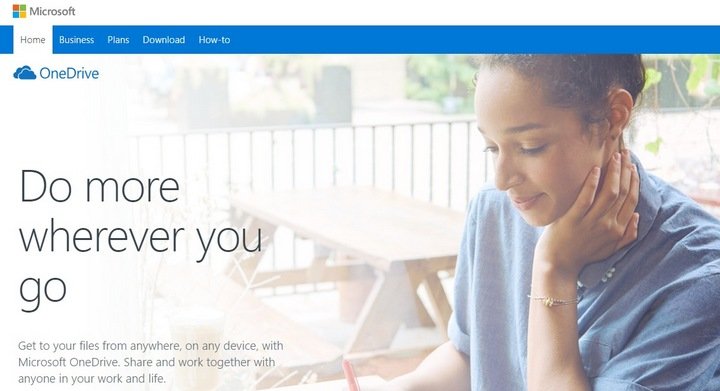 Price: Free.
Free Space: 5GB.
Encryption: Not available.
Built-in Apps: Microsoft Office apps.
Microsoft's own cloud storage service, OneDrive went through several transformations over the last few years. First, they changed their name and then changed their pricing plans multiple times as well. Some saw it as a sign of a struggling company while others saw a brighter side.
Either way, OneDrive is another good cloud storage service that also gives you access to Microsoft Office apps, but with limited features for free users. OneDrive is mostly popular among Windows users, as it comes pre-installed with Windows operating system and it seamlessly integrated into the OS as well.
The OneDrive free plan gives you 5GB of free space while the $1.99 per month plan gives you 50GB of space. The $6.99 per month plan will provide you with 1TB of space and a subscription to Office 365 Personal.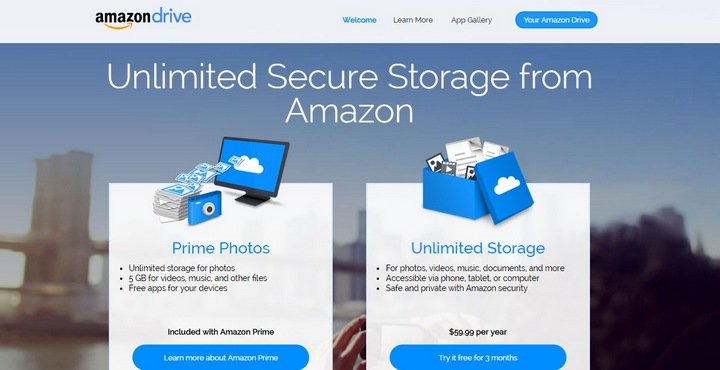 Price: $59.99 per year for unlimited storage.
Free Space: Not available.
Encryption: Not available.
Built-in Apps: Supports third-party apps.
Amazon Drive is a cloud storage service with limited facilities. It doesn't have automatic file syncing options and has limited security and video file playback features.
However, it does give you unlimited storage space for $59.99 per year, which is about $4.99 per month. Or if you already have an Amazon Prime account, you can use Amazon Drive for free to store unlimited photos and store 5GB of video, music, and other types of files.
Amazon drive also works with Fire TV and has apps for smart TVs, which will allow you to access and stream your media files on your TV.
Summary
"Even if you're not doing anything wrong, you are being watched and recorded." – Edward Snowden
You can't put a price on your privacy. You shouldn't cheap out when it comes to protecting your privacy. It's your right! So, no matter which platform you end up choosing to store your files, always take the time to read their privacy policy and terms and conditions pages.