Where do you usually search for information when you want to create something special for your customer, to strike peers' imagination with your project, to stand out from the crowd of web developers? The time of spending long hours at the libraries has gone, so 'eggheads' from all over the world use www to squeeze all possible knowledge from it.
There are plenty of specialized websites, articles, e-books, etc. dedicated to quenching this overwhelming thirst for education. But nothing can compare to sharing real experience, getting valuable feedback, comments and advice on how to improve this or that feature, discussing various issues, arguing and so on with 'birds of a feather' that understand you better than anybody else. Of course we talk about theme blogs and forums, where wisenheimers from around the globe gather to have a chat that an average mundane will consider a set of recondite terms or simply ravings of a madman.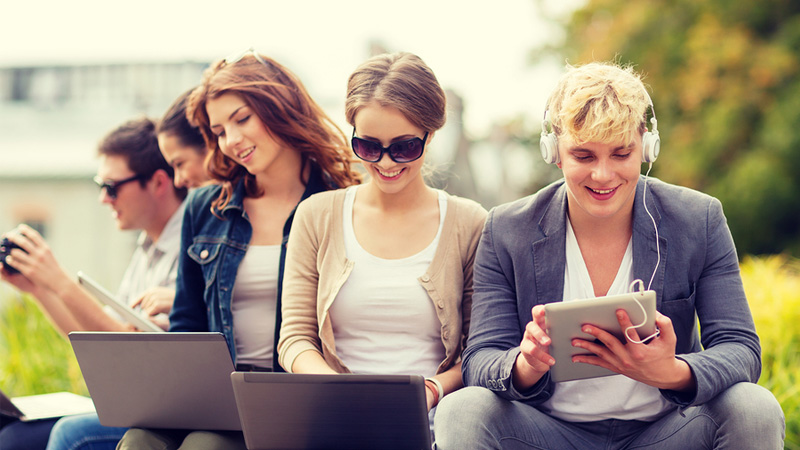 We decided to contribute into public education hunting up 20 + web development blogs, websites, resources (call them as you like) discussing the latest technological challenges.

Blogs That Discuss New Information Technology
We are sure that everybody knows what blogs are; however, let's view them from a nerd's point of view.
More about blogs
A blog or a truncation of the expression web log is a discussion or informational site published on the internet. It consists of discrete entries – posts typically displayed in reverse chronological order. To put it simply, the most recent post appears first. Until 2009, blogs were usually the results of individuals or a small group of people's efforts joined by a single subject and covering it. What we observe now, is the development of multi-author blogs or MABs with posts written by a large number of authors and professionally edited.
Twitter and similar systems are considered microblogs and help to integrate MABs as well as single-author blogs into societal news streams. The fact that blogs popped up like mushrooms and grew up in size in the late 1990s coincided with the advent of web publishing tools that facilitated the posting of content by users that were not too keen on technical matters. Knowledge of such technologies as HTML and FTP had been required to publish content on the web before.
Today, the majority of blogs are interactive. They allow visitors leave comments and message each other via GUI widgets. Taking into account the previous information, blogging can be viewed as a form of social networking service. Why not? The bloggers not only produce content to post it on their blogs, but also build social relations with their readers and other bloggers. Though, there are some high-readership blogs that do not allow comments.
Different blogs function differently and have different purposes. Many of them provide commentary on a particular subject; others serve as kind of online personal diaries; others work as online brand advertising of a particular individual or company. A typical blog combines text, images, links to other blogs, web pages, and other media related to its topic. It's extremely important for many blogs' popularity that readers are able to leave comments in the interactive format. There are textual blogs, art blogs, photoblogs, video blogs or "vlogs", MP3 blogs, and audio podcasts. Microblogging is one more type of blogging, featuring very short posts. Blogs can also be used for education, as instructional resources. These blogs are referred to as edublogs.
As of 20 February 2014, there were around 172 million Tumblr and 75.8 million WordPress blogs existing worldwide.
Blog types
Blogs are differentiated not only by the type of content, but also by the way that content is being delivered to the end user.
Personal blogs

As a rule, these are actually an ongoing diaries or commentaries written by an individual.

Microblogs

Microblogs post small pieces of digital content (text, pictures, links, short videos, or other media) on the Internet. Twitter, Facebook, Tumblr, and WeiBo are good examples of microblogs. What microblogging is used for? It offers a portable communication mode. For instance, friends use it to keep in touch, businessmen use it to coordinate meetings or share useful resources, celebrities and politicians microblog about concert dates, lectures, book releases, or tour schedules. A growing range of add-on tools enables sophisticated updates and interaction with other applications, which results in revealing new possibilities for this type of communication.

Corporate and organizational blogs

A blog can be private or serve business purposes. Blogs that are used internally to enhance the communication and culture in a corporation or externally for marketing, branding or public relations purposes are called corporate blogs. Similar blogs for clubs and societies are used to inform members and other interested parties of the coming activities.

By genre

Some blogs focus on a particular subject like politics, health, travel, gardening, house, fashion, education, music, law and may others. How to or tutorial blogs are becoming increasingly popular nowadays. In fact, there are two common types of genre blogs. They are art and music ones. By the way, we can't help mentioning the illegal type of blog used for the sole purpose of spamming, it's a Splog.

By media type

A blog featuring videos is called a vlog, the one comprising links is called a linklog, a site containing a portfolio of sketches is called a sketchblog or the one comprising photos is called a photoblog. Blogs with shorter posts and mixed media types are called tumblelogs. Blogs that are written on typewriters and then scanned are called typecast or typecast blogs.

By device

Blogs are also defined by the type of device that is used to compose them. A blog written with the help of mobile device like a mobile phone or PDA could be called a moblog. There are online shared diaries of a person's life combining text, video, and pictures transmitted live from a wearable computer and EyeTap device to a web site. This practice of semi-automated blogging with live video together with text is referred to as a sousveillance.

Reverse blog

This type of blog is composed by its users rather than a single blogger. This system has the characteristics of a blog and the writing of multiple authors. A reverse blog can be written by several contributing authors on a topic or opened up for anyone to write. There is typically some limit to the number of entries to keep the blog from operating like a web forum.

Community and cataloging

The collective community of all blogs is known as the blogosphere. Since all blogs are on the internet by definition, they may be seen as interconnected and socially networked, through blogrolls, comments, linkbacks (refbacks, trackbacks or pingbacks) and backlinks. Discussions "in the blogosphere" are occasionally used by the media as a gauge of public opinion on various issues.

Blog search engines

Blog search engines such as Bloglines, BlogScope, and Technorati are used to search blog contents. Technorati, which is among the most popular blog search engines, provides current information on both popular searches and tags used to categorize blog postings. The research community is working on going beyond simple keyword search by inventing new ways to navigate through huge amounts of information present in the blogosphere.

Blogging communities and directories

There exist several online communities that connect people to blogs and bloggers to other bloggers, including BlogCatalog and MyBlogLog. Interest-specific blogging platforms are also available. For instance, Blogster has a sizable community of political bloggers among its members. Global Voices aggregates international bloggers, "with emphasis on voices that are not ordinarily heard in international mainstream media."

Blogging and advertising

It is common practice for blogs to feature advertisements either to financially benefit the blogger or to promote the blogger's favorite causes. The popularity of blogs has also given rise to "fake blogs" in which a company creates a fictional blog as a marketing tool to promote a product.
How do blogs reach popularity?
According to researchers' analyses, blogs become popular through citations, as well as through affiliation (blogroll). The studies of blog structure show that while it takes time for a blog to become popular through blogrolls, permalinks can boost popularity more quickly. Perhaps, they are more indicative of popularity and authority than blogrolls, since they denote that people are actually reading the blog's content and deem it valuable or noteworthy in specific cases.
Blogs SEO rankings
Blogs acquire their rankings from blog search engine Technorati. They are based on the number of incoming links and Alexa Internet (Web hits of Alexa Toolbar users).
Blogger's code of conduct
Any profession requires a certain behavior of the person, so does the blogger's one. The blogger's code of conduct is a proposal by Tim O'Reilly for bloggers to enforce civility on their blogs by being civil themselves and moderating comments on their blog. The code was proposed in 2007 due to threats made to blogger Kathy Sierra. The idea of the code was first reported by BBC news, who quoted O'Reilly as saying, "I do think we need some code of conduct around what is acceptable behavior, I would hope that it doesn't come through any kind of regulation it would come through self-regulation."
O'Reilly and others came up with a list of seven proposed ideas:
Take responsibility not just for your own words, but for the comments you allow on your blog.
Label your tolerance level for abusive comments.
Consider eliminating anonymous comments.
Ignore the trolls.
Take the conversation offline, and talk directly, or find an intermediary who can do so.
If you know someone who is behaving badly, tell them so.
Don't say anything online that you wouldn't say in person.
These ideas were predictably intensely discussed on the web and in the media. While the internet is continuing to grow, with online activity and discourse only picking up both in positive and negative ways in terms of blog interaction, the proposed code has drawn more widespread attention to the necessity of monitoring blogging activity and social norms being as important online as offline.
Our dear 'brains', we hope that this information about blogs and blogging didn't make you yawn as the most interesting part of our post is right before you. Below you will find the list of blogs, discussing the latest technological challenges in the sphere of web design and development, not everybody knows about. They dwell either on mobile or regular issues. Each screenshot is supplied with our comments as we appreciate your time and don't want you to spend it on things you are not interested in.
Coderwall
This is a whole community for developers where they can find like-minded people, learn from field experts about the latest languages, tools and technologies and share their own pro tips, getting valuable feedback from thousands of other developers. Interested in sharing code snippets, tutorials or thought pieces with your peers? Welcome onboard!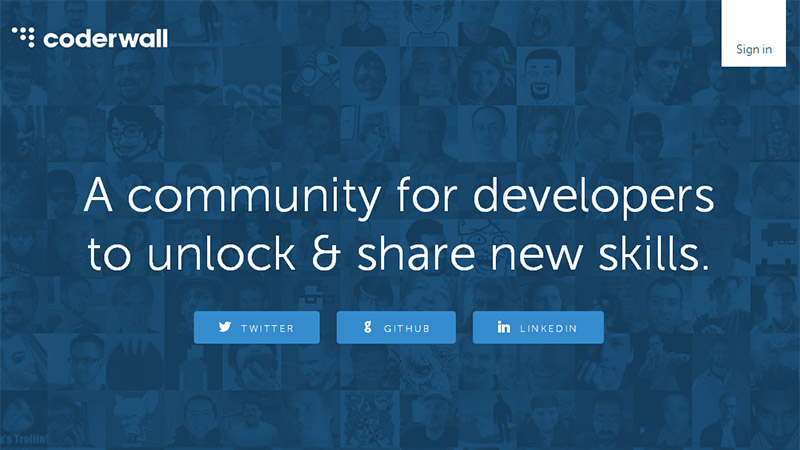 Idea to Appster
If you are interested in better mobile apps development, we recommend you visit this resource. Here you will find the latest news, articles, editorials, trends, tools and apps reviews, technologies and apps development tips, etc.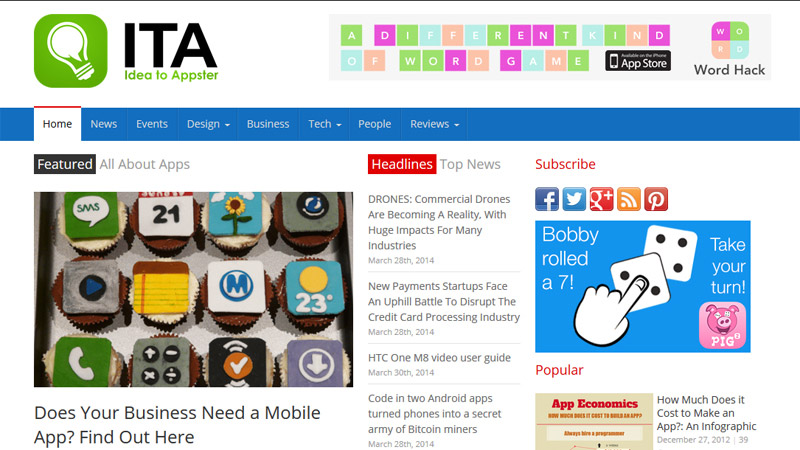 Designing for Mobile
This website contains a heap of lovable mobile apps as well as interesting UI patterns uploaded daily by the NYC-based designer and developer.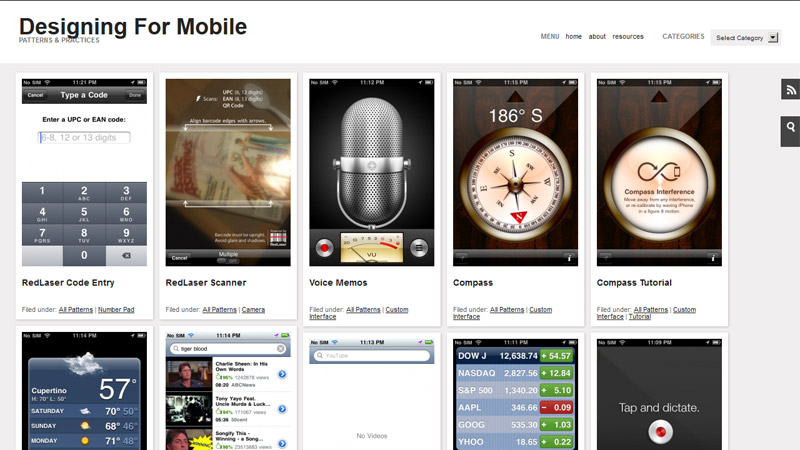 Pttrns
Pttrns is a curated library of iPhone and iPad user interface patterns. All patterns available here have been carefully chosen before they were added to maintain excellent content quality. At the moment, there are 2393 patterns in the library. The project was started in Prague, February '11. The site is currently enjoying almost 2 million page views per month. Impressive, isn't it? The web app is custom made in Ruby on Rails and is running on Heroku with all the content served by CDN77. You can find all the original versions of code, tickets and documentation on Github. Although, there is not any "Submit" buttons onsite, its admins still get tons of requests every day. The highest quality ones are added to the library.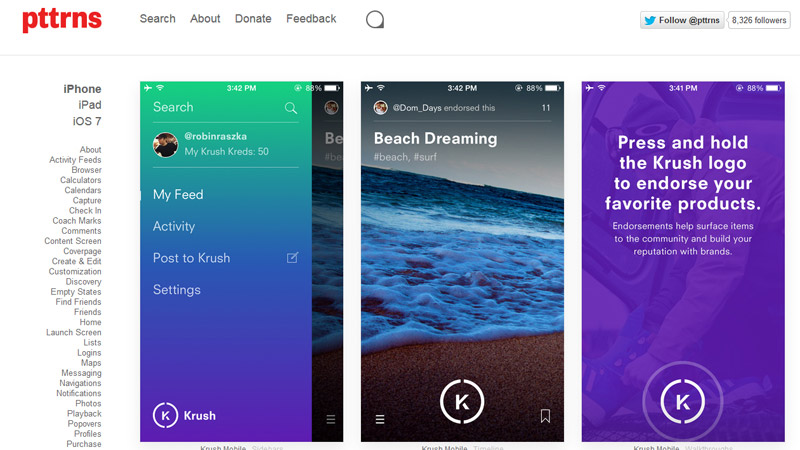 Mobile Patterns
The resource collects great patterns of UIs for IPhones and Android powered phones.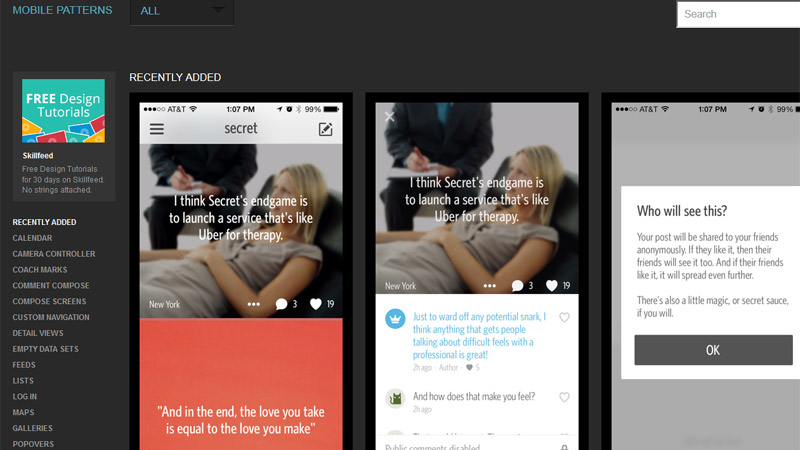 Lovely UI
Here you will find a vast collection of mobile UI elements like badges, buttons, icons, players, navigation, search bars and many others.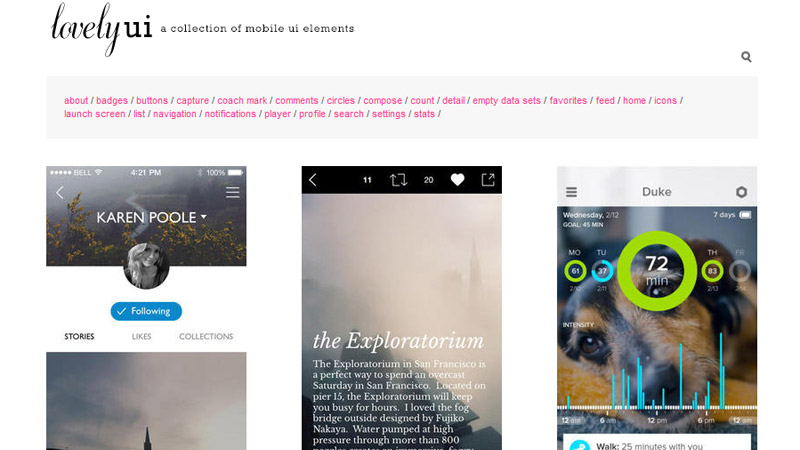 Apptamin
Apptamin is a growing team. They combine several years of experience in video production and mobile apps marketing and promotion. Company headquarters are based in Montpellier, France, but the guys like working with people from all over the world. They know how to promote your app in the most effective way. Visit this website and get to know more about app marketing and how to efficiently and quickly make professional app videos that will help you stand out from the crowd.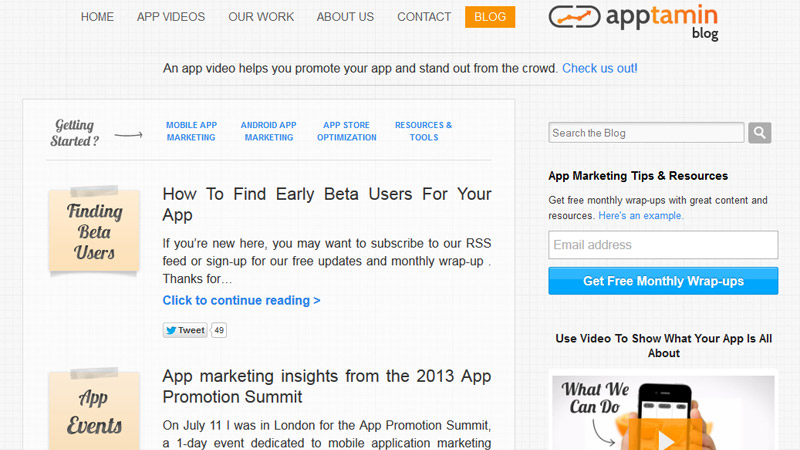 Our Mobile Universe
This website contains information about business critical mobile solutions including strategy, apps, sites and more.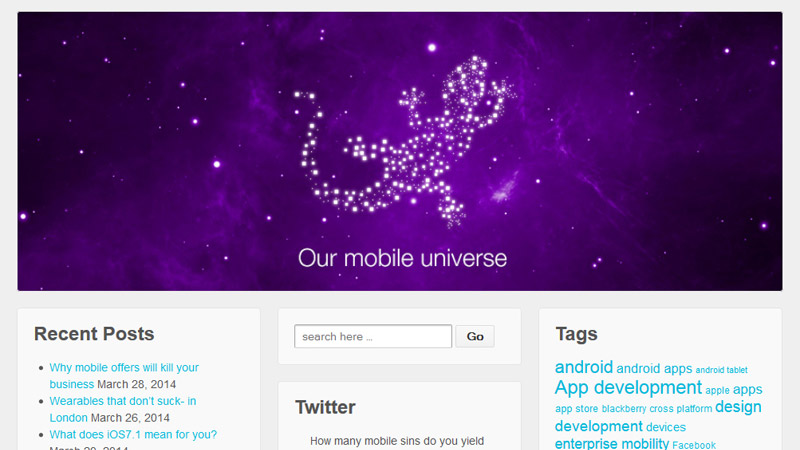 Tuts+
Need design and illustration, code, music and audio, photography, 3D and motion graphics, game development, computer skills and many other tutorials, software, tools and courses? You will find all of them here.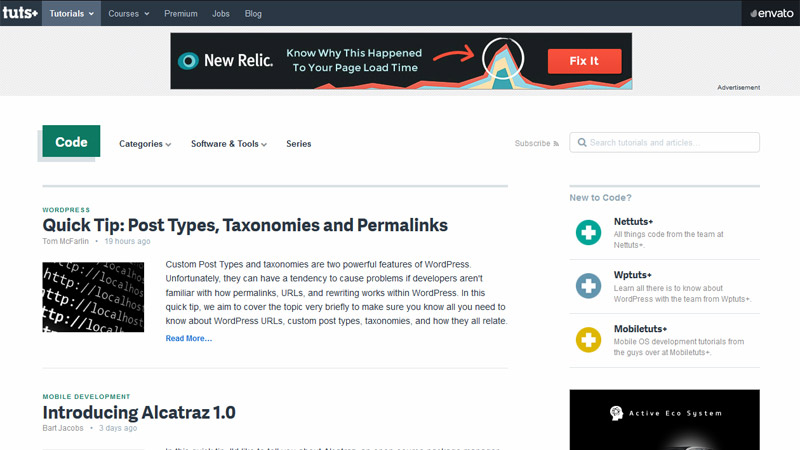 Ray Wenderlich
This blog is focused on developing high quality programming tutorials. Its goal is to take the coolest and most challenging topics and make them easy for everyone to learn – so all developers can all make amazing apps. The blog is also aimed at developing a strong community, members of which will willingly help each other reach their dreams through friendship and cooperation. Many people (authors, editors, subject matter experts, translators, app reviewers, and readers) have joined forces to make this happen. If you'd like to become a part of this community, join it on forums or apply to be a part of the team. Raywenderlich.com Team twitter list is also a great source for iOS news and links.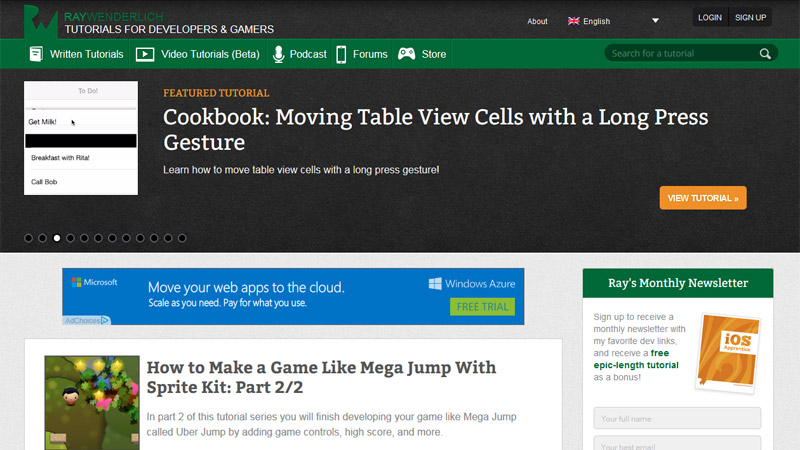 CS 193P iPhone Application Development
This resource lets you download classes on iPhone application development and learn new tricks when it's convenient to you.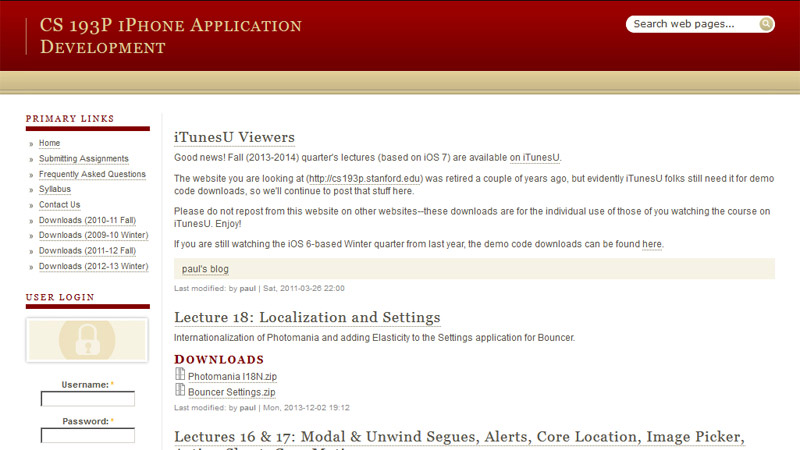 Untitled Kingdom Ltd.
The pals try to keep things simple and stick to 10 understandable rules that fully characterize them:
Quote
We do like our job too much to work on boring projects.
We support creativity and experimentation, and are tolerant of mistakes.
A value we care a lot about is learning from the past.
We endeavor to build a good working environment that is both good for projects, and the people that surround us.
We see ourselves as good hosts; you are always welcome.
We don't pretend to be someone we are not.
We try to reduce friction and clutter.
We will suggest changes to your project, regardless of whether it lengthens or shortens our work.
Everyone can contribute something.
There are no bad questions.
Unquote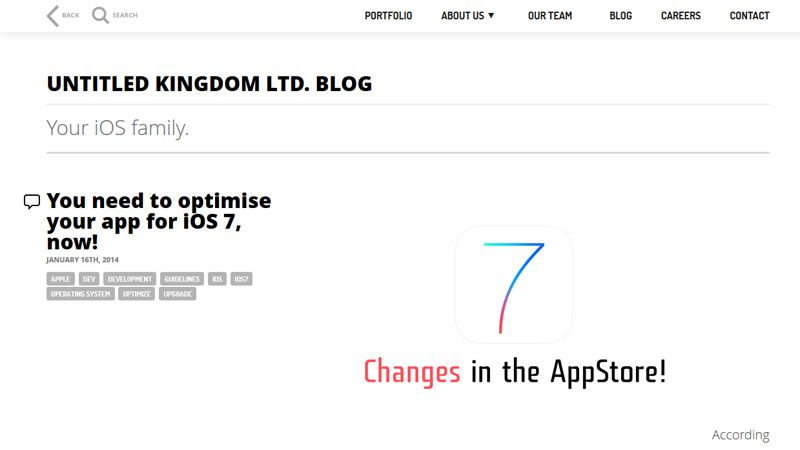 Tapiphany
Tapiphany is a community of mobile developers that stay ahead at work. They curate and share interesting reads related to their work.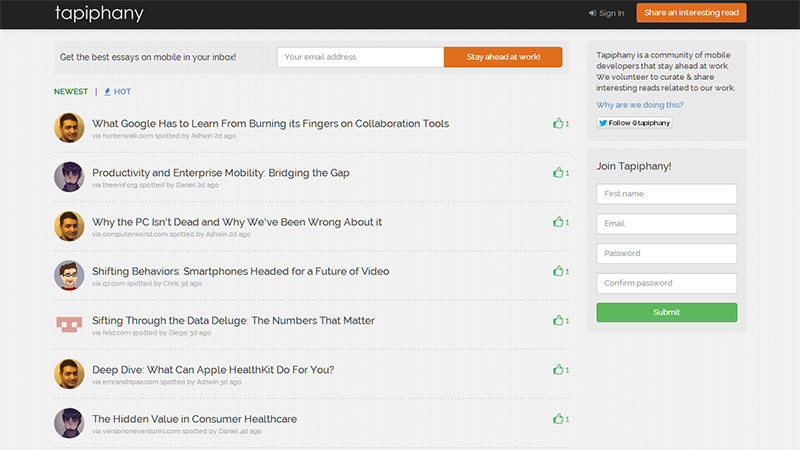 Explore B2B
Here you can join an exclusive network of experts, sharing information that matters to you and discuss new and relevant trends by participating in the monthly 'Topic' forum. Besides, you can expand your professional network, interacting with a relevant audience and presenting your expertise.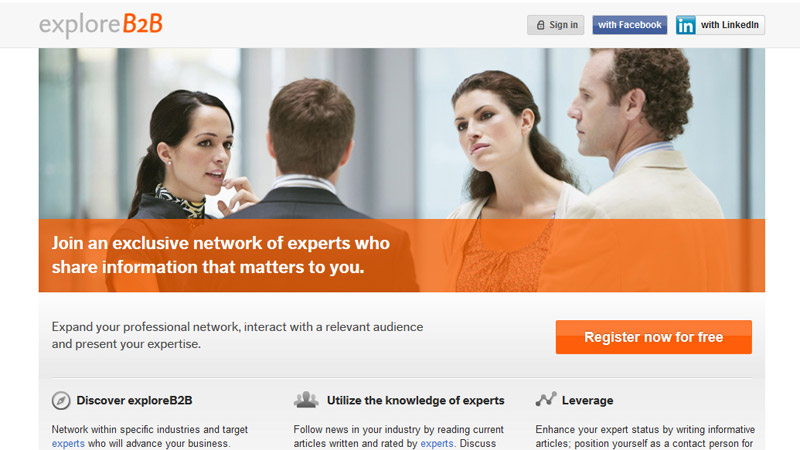 Toolbox.com
Share your professional knowledge and experience on technical IT matters with peers and get to know their expert opinion about them.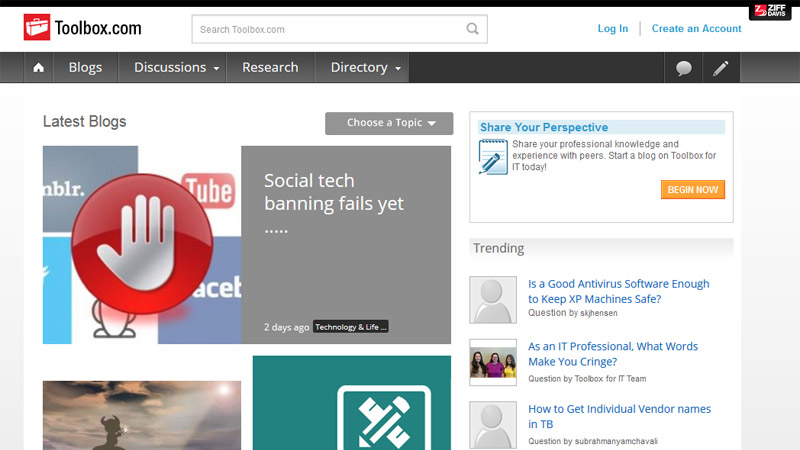 Hakka Labs
If you want to discover the latest tech challenges and the teams involved, engage with teams, engineers and their technology – apply directly to an engineer inside a company, this site is exactly what you need.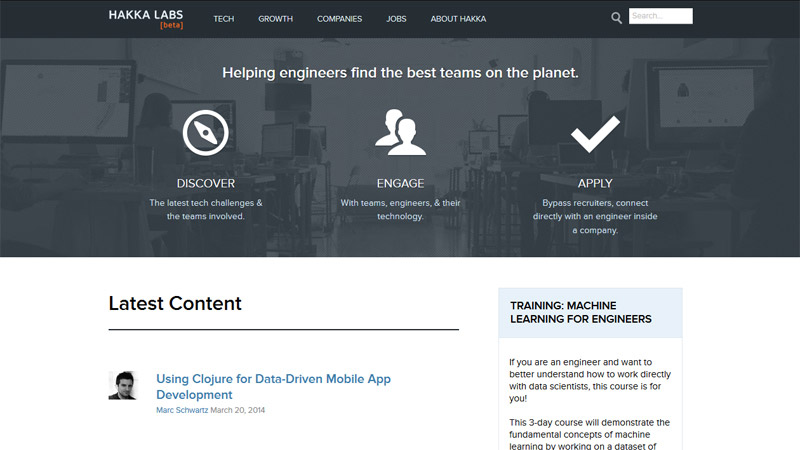 Dr. Bunsen
This weblog is centered on interesting topics in science, data, and computing. The author writes about anything that he feels passionate about. The site serves as his personal experiment in telling stories with data and sharing the things that he is learning or finds interesting. A funny fact: the name Dr. Bunsen is inspired by the author's ineffable fondness for mad scientist extraordinaire Dr. Bunsen Honeydew from the Muppets. The flaming Bunsen burner emblem found on this site is a double entendre intended to represent an enthusiasm for science and a quest for enlightenment.
No Free Hunch
Here you will be able to read the latest news from kaggle and data science.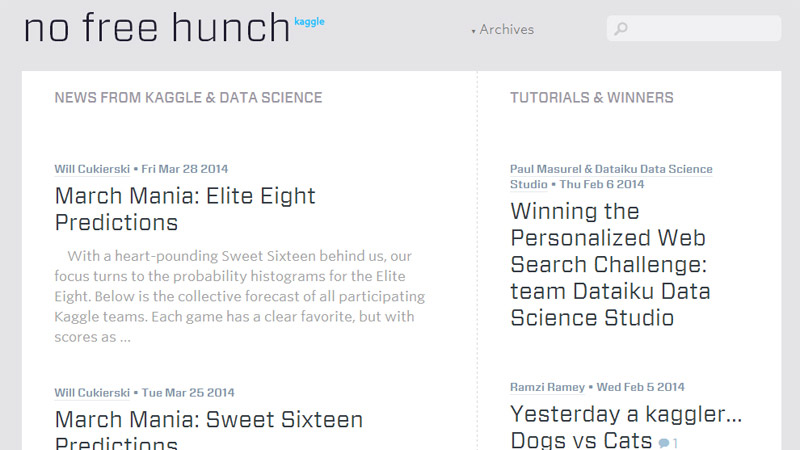 Data Science Central
This resource is for big data practitioners. From Analytics to Data Integration to Visualization, Data Science Central provides a community experience that includes a robust editorial platform, social interaction, forum-based technical support, the latest in technology, tools and trends and industry job opportunities.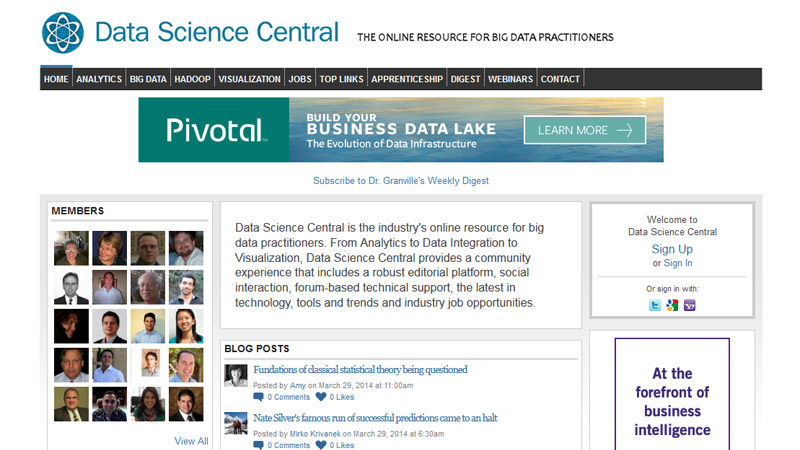 Data Science101
This website is about learning to become a data scientist. The author of the blog, Ryan Swanstrom is a full-time web developer. Since 5th grade, he has had the nickname "GooF". The guy is still known as swgoof on many internet sites. He started this blog to share some things he learns along the way.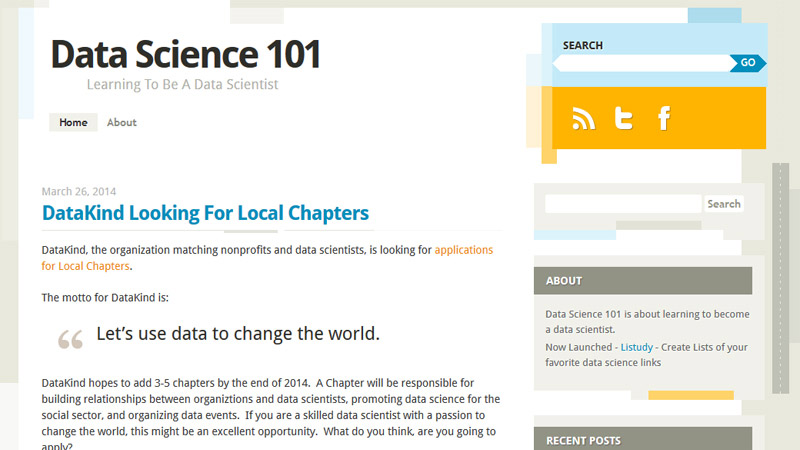 Data Genetics
DataGenetics is a technology consultancy specializing in unlocking the value stored in large databases. If the sphere of their interests coincides with yours, check their blog for informative articles.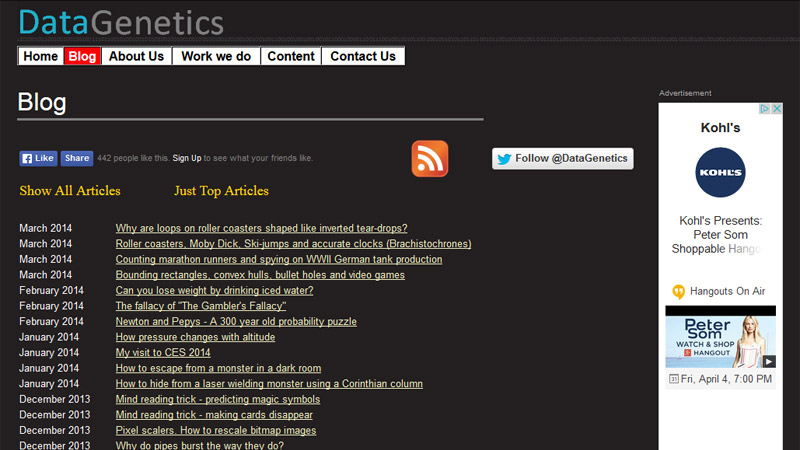 Conclusion
Of course, we would like to hear back from you as to your opinion on these blogs. Which of them do you personally use or will start to read on regular bases? If you want to add more items to our spec, please, feel free to do this in the comments section. Maybe some of them will become a complete discovery for you.
In any case, the goal of this entry was to bring something new and useful into your work and life. Hopefully we managed to do that.