Since list building is one of the most important things any website owner can do, it makes sense that there are so many free and premium plugins on the market aiding website owners collect subscribers and push for more sales. Unfortunately, this over saturation makes choosing the right optin plugin difficult.
Luckily, we have the perfect plugin option to help you build your email list, your blog following, and ultimately your business: Bloom.
Brought to you by the talented team at Elegant Themes, Bloom aims to help website owners of all levels create stunning optin forms designed to convert site visitors into loyal followers.
It has several customization options, an exceptional backend user experience, and is sure to convince your site visitors to give up their email address to you, in return for killer content, exclusive promotions, and discounts to be used on their next product or service purchases.
What is Bloom?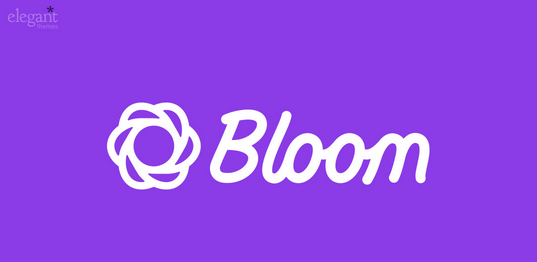 Bloom is a premium email optin form plugin that gives site visitors the chance to subscribe to your newsletter, all in hopes of receiving some valuable content in return. Connecting to your current email service provider, such as MailChimp or AWeber, Bloom sends your subscriber's information to your email list so that you can then email them whenever you have something to share.
By creating a bigger email list, you increase your chances of having return visitors. You also begin to develop a strong, more loyal relationship with site visitors, create an avenue in which loyal visitors can keep in touch with you, and even help to personalize the interactions you have with people that are interested in what you have to offer.
However, before any of this can happen, you must convince your site visitors to subscribe with their email address. And, that's where Bloom comes in to play.
Bloom's Main Features
As a way of competing with other popular email optin forms, the developers of Bloom make sure to include plenty of features, a user-friendly interface, and beautiful design.
Here's a look at what you can expect should you decide to use the Bloom email optin plugin:
6 Display Types
Bloom caters to websites of all kinds by offering 6 unique optin form styles. These forms can be placed throughout your website to aid your email list building efforts and give readers plenty of opportunities to sign up.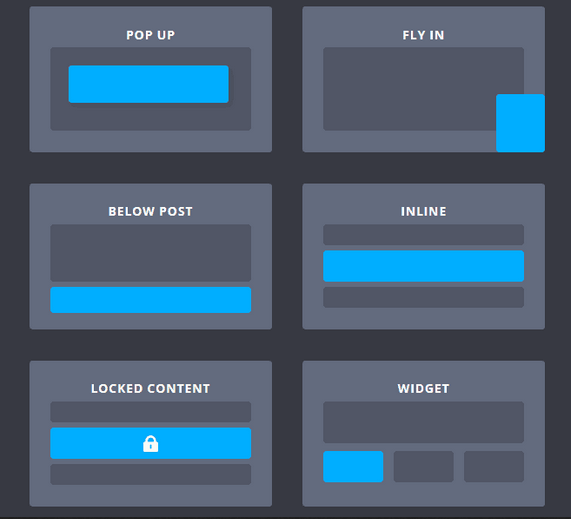 The form types include standard automatic popups and fly-ins, inline forms you can place within site content, below content optin forms, widget area forms, and even locked content forms (where exclusive content is released once a user subscribes).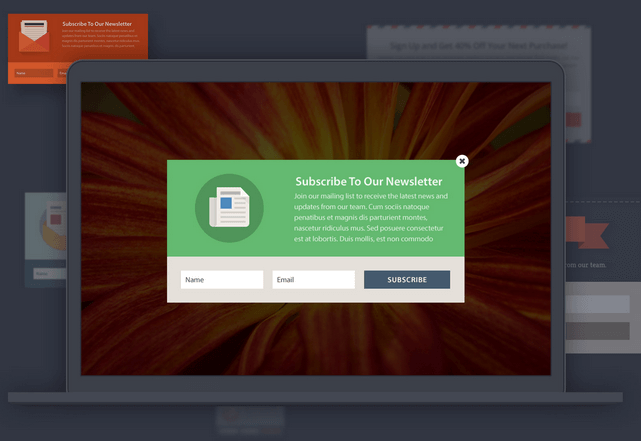 You can use any combination of optin forms across your website so that all readers, no matter where they are on your website, or what kind of behavior they are exhibiting, will see an optin form at some point during their visit.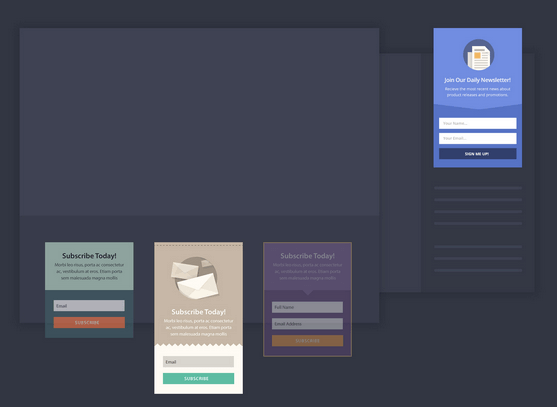 Endless Customizations
Bloom takes a strong approach when it comes to offering website owners the chance to customize their optin forms. After all, branding is important when you are trying to establish yourself amongst the competition. And, without the ability to customize your forms, you run the risk of looking like everyone else.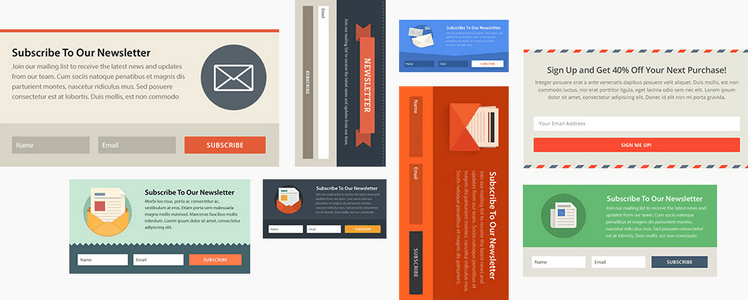 Fortunately, Bloom has 100+ built-in templates available to inspire you when it comes to form creation. Plus, these forms can be easily changed to match your website's design.
If you prefer, create an optin form from scratch.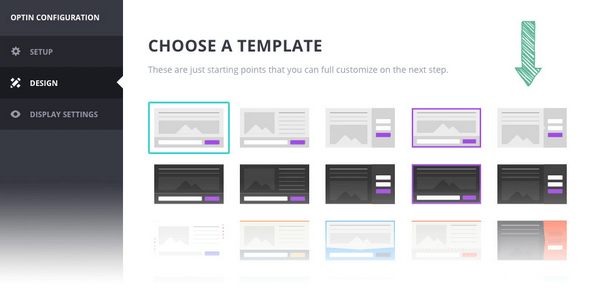 In addition, you can customize your email optin forms in the following ways:
Form Orientation. Choose from 3 optin form orientations – bottom, left, or right.
Borders and Edges. Select from Bloom's different border styles and apply unique edges to them to make your optin forms stand out. In addition, define your form's edges to separate the optin's content from the from fields.
Image Orientation. You can add any images you want to your Bloom optin forms, and choose from the following orientations: left, right, above, or below your form's content.
Unlimited Colors. Matching your optin form to your website (or company's) color scheme is an important part of the branding process. Maintain full control over all colors and define different ones for different elements within your forms if you want.
Lastly, you can even add your own custom CSS to any form you are creating in case the pre-defined options aren't enough.
It is important to note that while creating your form, all changes are seen in real time. In fact, the lightbox popup window that displays prevents you from having to continuously save your work or switch browser tabs. This is not only an effective use of your time, but is convenient as well.
Timed Triggers
Bloom comes with several triggers designed to display your optin forms at very specific times. This increases your chances site visitors will not only see your forms, but subscribe to them as well.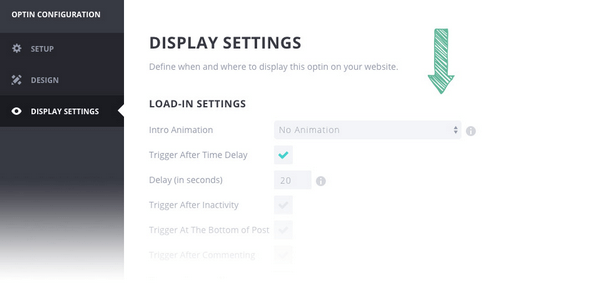 Take a look:
Choose a time delay so that when a visitor has been on your site for a specific period of time, an optin form appears
Remind readers at the end of a post that they should opt in
Use the scrolling trigger to display a form when a visitor scrolls a certain percentage of the way down the page
Display optin forms to readers after they comment on a post or page
Offer updates and discounts in forms that appear after a visitor has made a purchase
If your visitor has been inactive for a certain period of time, trigger an optin form to appear
It is important to note that Bloom does not come with exit intent technology. That said, many competing optin forms, such as OptinMonster, do. And, while it is not necessary for your email list building efforts to be a success, it does have a desirable effect on conversion rates. This may be something worth thinking about before committing to Bloom.
Split Testing and Metrics Reporting
Knowing which optin forms are the most effective on your website can be challenging. This is especially true because with Bloom you have the ability to produce endless different styles.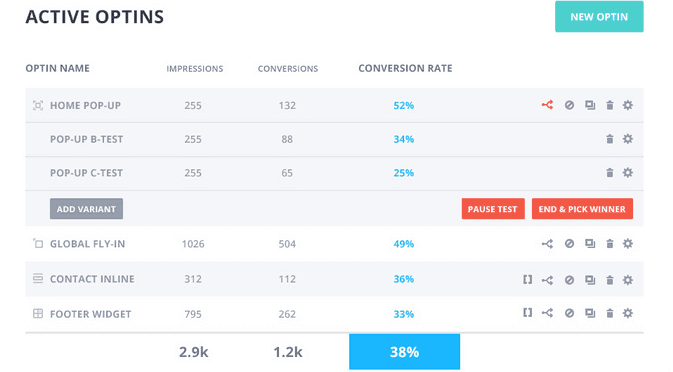 That's why Bloom gives you the ability to A/B split test your optin forms so you can see which ones are converting, which ones are not, and make the needed improvements to get more subscribers than ever before.
A/B Testing. Compare the performance of form variations to see which ones gather the most traction (and email addresses).
Account Management. Add an unlimited amount of email service providers and let Bloom organize them according to account. In addition, easily manage subscribers under each account from one convenient location and rest assured that each optin form will add subscribers to the corresponding email list per your configurations.
Statistics. View stats so you can see how many impressions and conversions each optin form has.
Import/Export Capability. Import and export data from one site to another easily using the import/export feature. You can also back up all of your Bloom settings so you never have to reconfigure a thing.
In the end, Bloom's extensive A/B testing capability makes the process of finding the perfect optin from much easier. This only adds to your conversion rate success and provides users with more of what they want.
Documentation, Support, and Pricing
Bloom comes with extensive documentation for all users. There are several useful articles that have step-by-step instructions and stunning visuals that guide you through the process. This makes troubleshooting, or simply learning about the Bloom plugin a cinch.
If you require support while using the Bloom plugin, you need to access the Support Forum.  This is true even of paying customers.
As for pricing, Bloom is not available as an individual product.  Rather, you must join Elegant Themes' membership club for $89/year. And, while this may seem pricey, keep in mind that a club membership provides you access to all of Elegant Themes' themes (including their flagship Divi theme), as well as all plugins (including Bloom, The Divi Builder, and Monarch).
With a club membership, you also receive premium support, theme and plugin updates, and unlimited website usage of any theme or plugin. And, if you prefer to pay a little more upfront because you know you will be using Bloom for a long time, you have the option to pay a one time fee of $249 which grants you access to everything without having to pay an annual fee to get support and updates.
Final Recommendations
Altogether, Bloom is an impressive email optin form plugin that gives website owners of all levels an easy to use email list building solution that can be customized in endless ways. In addition, its added features such as A/B testing, form variety, and unlimited form creation aids in your success as a website owner and truly helps you to build a bigger email list.
If you are in the market for an excellent email optin plugin that will help you grow your following or your business, we highly recommend giving Bloom a shot. And when you signup make sure to use our exclusive Elegant Themes coupon to get 20% off.
Have you ever used the Bloom plugin to build your email list? I would love to hear all about it in the comments below!