It is believed that the simpler and more obvious navigation the more likely it will accomplish its chief mission. However, there is always room for exceptions, and intricate and decorative menus that are used for finishing off the appearance, enriching the general feeling and enhancing an overall composition are also capable of providing users with a handy tool for moving around the project.
Nowadays you can stumble upon websites that are centered around the navigation; the latter no longer performs a secondary role but, on the contrary, takes up the leading position, recreating the whole buzz. In this post, we try to cover various examples where navigation adds to the aesthetics of a website design, sometimes even playing the first fiddle, considering projects from fully interactive to trivial ones.
Good Looking Navigation
The Edge Dubai
The Edge Dubai is a fully interactive website that lets you explore the project in an interesting way. There are 2 types of navigation. The first is a traditional one, it is hidden under a hamburger button, and the second one is executed through a series of dynamic tooltips. They help to feature lots of extra data, enrich user experience, and ignite the overall theme.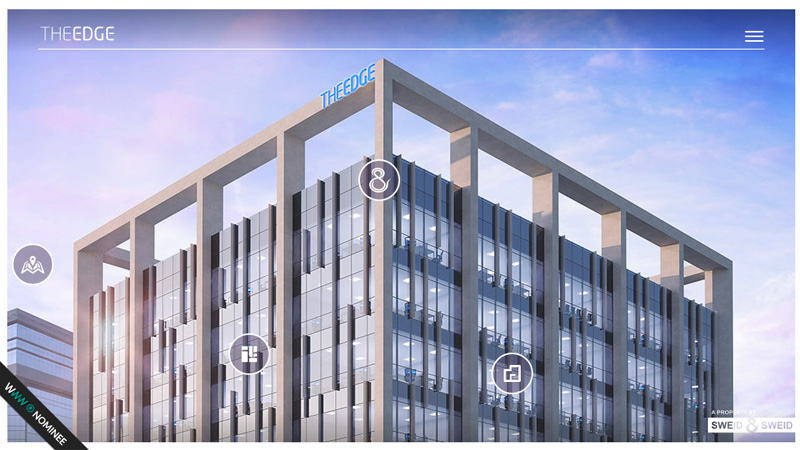 Summer Highs
Much like the previous example, this website is a representative example of an interactive guide that leads users through landmarks of Vienna. You are offered to delve deep into a journey through this marvelous city. A circular component that serves as navigation and some kind of a navigator looks just splendid and amazing.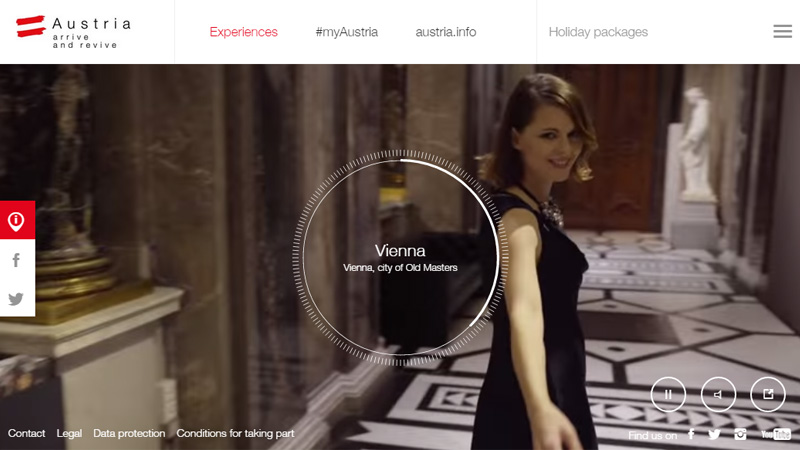 DNB Boligreisen
DNB Boligreisen is pulled by a scrolling technique that reveals essential sections step by step. Each subpage has its set of dynamic tooltips with hidden data that enormously enhances the informative side of the project and at the same time, does not overwhelm users. The combination of these 2 elements produces a powerful impression.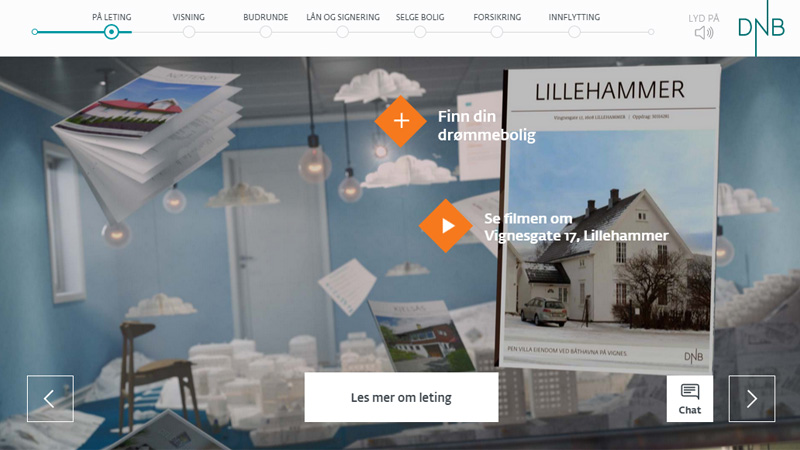 The Projector
The Projector has an intricate sidebar navigation that includes numerous links and options for moving around the project in a non-intrusive manner. It is divided into several blocks, where each one offers its way for exploring. Contour graphics in tandem with sharp white typography gives the menu a subtle touch of elegance.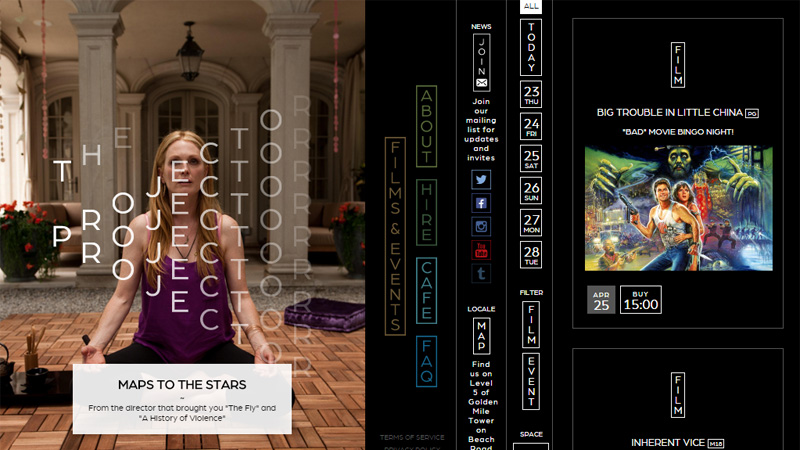 Clif Bar
Clif Bar exudes an image of naturalness so that opting in favor of a sophisticated texture-based sidebar menu that skillfully utilizes wood and paper was right and a wise decision. Not only does such a well-crafted navigation panel add to the aesthetics, significantly reinforcing the theme, but it also easily strikes the eye and does not let users feel lost.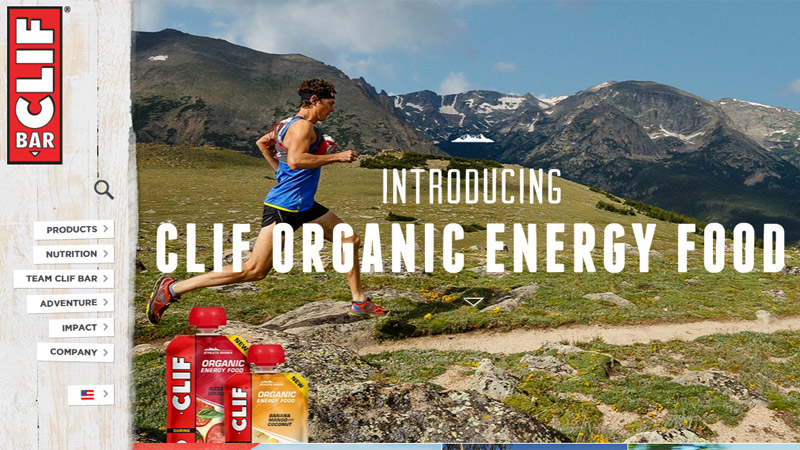 Watch the World
A website that owes its brilliant appearance to a fully illustrated environment just can't do without an appropriate navigation menu made in a corresponding style. Watch the World is an excellent example of such concordance. The front page features a full-screen graphical menu that sets the tone of the project right away.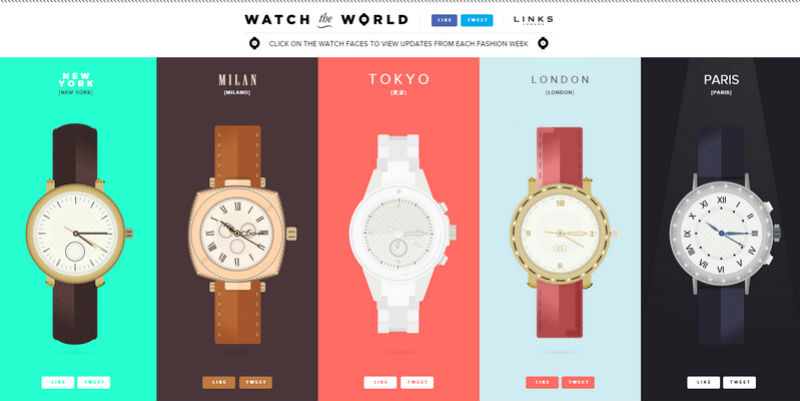 Hokoyo
Hokoyo goes for an unorthodox navigation menu that surprises with its unusual and unique realization. A perfect circle placed in the heart of the homepage is broken into 15 uneven pieces in order to embrace links more effectively and show them in a more attractive way.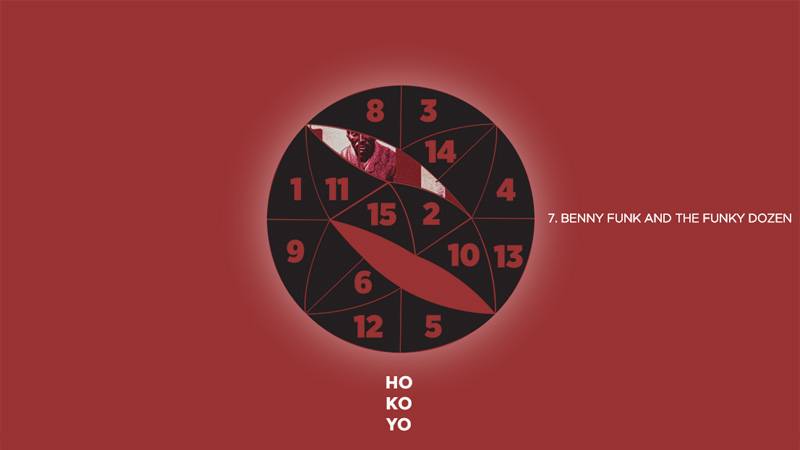 Our Tam
Our Tam is another top-notch fully interactive website that will take you on an actual visual experience. The journey through mountains is accompanied by dozens of pointers that feature stories of participants.
Of course, there is a basic streamlined navbar in the header, however with dynamic features, they together achieve significant results.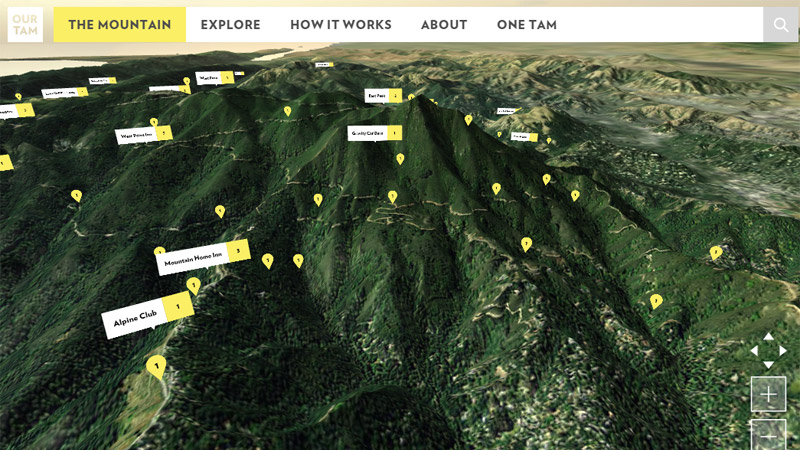 Configura tu VW
Configura tu VW offers online visitors to explore the whole range of VW vehicles through an elaborate menu presented via round visual device. While the outer ring includes model names, the center circle displays corresponding images. It is very clever solution.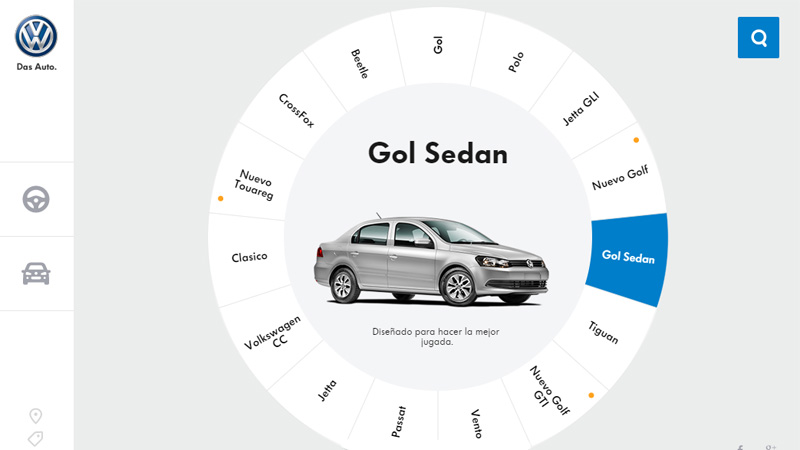 White Frontier
White Frontier welcomes online audience with a lavish and refined navigation that gets the most out of grunge style. Main sidebar navigation paired with an optional full-screen menu that is enriched with marvelous badge style elements create a strong general impression.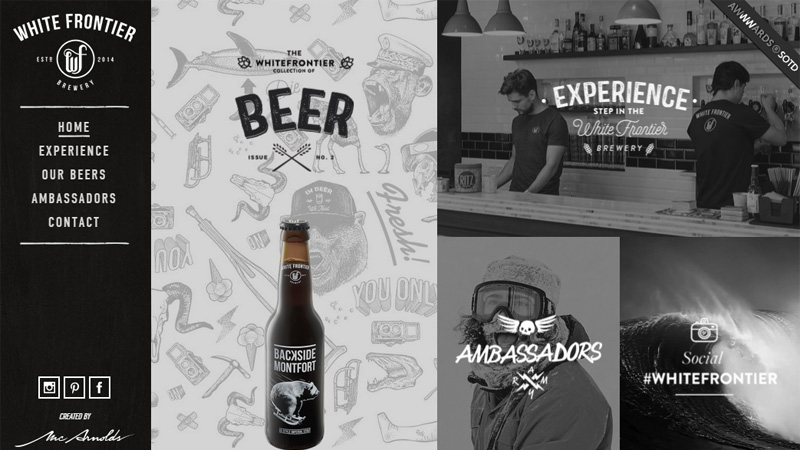 World of Warships
The front page of World of Warships simply entices you into a magnificent underwater world that is skillfully executed and brought to life through a powerful combination of mind-blowing renderings and accompanying effects. The navigation completely blends with the environment and fits the theme.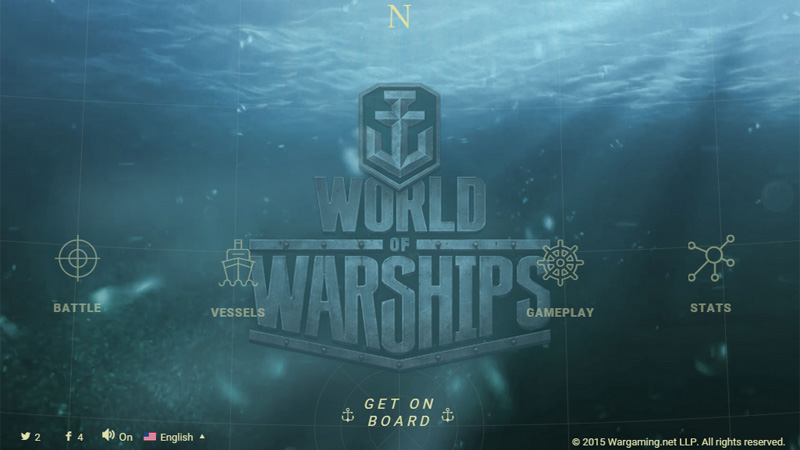 Bar de Antonio
Bar de Antonio tries to win over visitors through a matchless virtual trip through the pub. You can easily move from one room to another, meet loyal customers and enjoy some exciting videos. Main sidebar navigation that sits on the left side of the page follows you throughout the journey and gives you alternative links and a helpful map for better exploration. Thanks to a seamless realization and touch of artistry, it significantly contributes to the general feeling.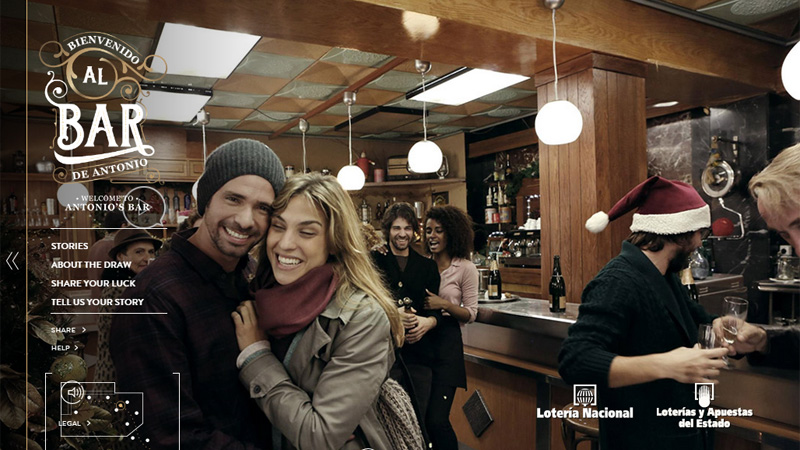 Okean Elzy
Okean Elzy is a professionally executed interactive journey through a career of one of the most legendary Ukrainian musical groups. Sleek and sophisticated navigation makes exploration of this matchless project a mere pleasure, bringing an enormous delight. It is so natural and straightforward that it fits like a glove into such a calm, smooth and subtle environment.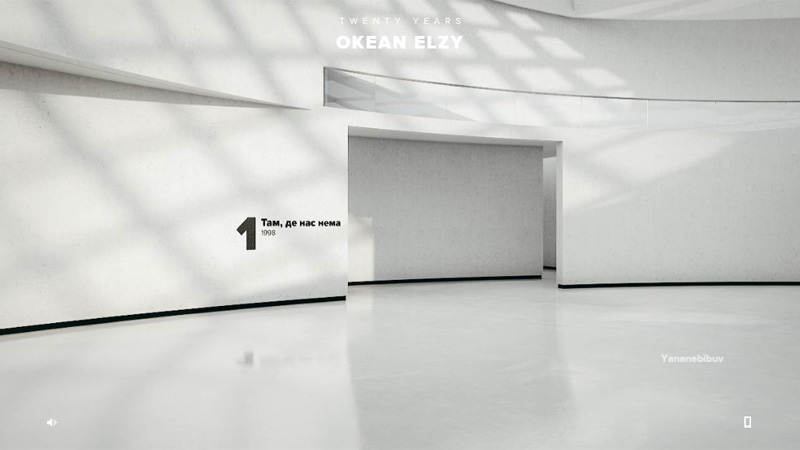 Jova
Jova has an interesting take on its navigation, demonstrating its level of ingenuity. It is an excellent example that not only illustrative approaches can look creative, but also neat, slim and robust can have a touch of cleverness and appeal.
The homepage is marked by a densely packed together yet well-balanced main menu that is enclosed in a drawing stamp. It significantly contributes to an architect-centered theme.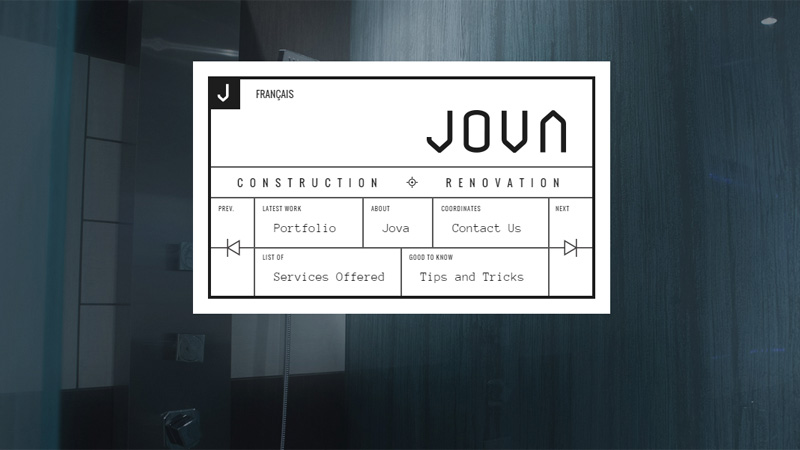 OhDeer Games!
OhDeer Games! has brought to life a simple book that sheds light on the project in a captivating way. Although there is nothing new and pioneering, this is just a simple interactive trip through the website realized on the basis of a book; however, everything is planned down to the last detail and navigation ties everything together, heightening the sense of harmony and strengthening an overall impression.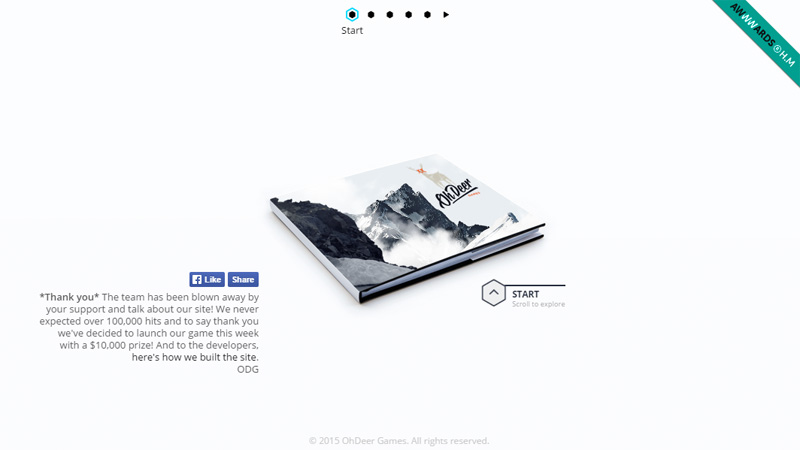 Joris Rigerl
Joris Rigerl demonstrates that a minimal approach with a great open feeling in the era of lavish designs and multimedia-overloaded projects is able to stand out from the crowd and become a win-win solution in the struggle for customers.
The home page includes nothing more than just a basic vertical navigation that plays a crucial role in establishing overall aesthetics and creating an excellent user experience.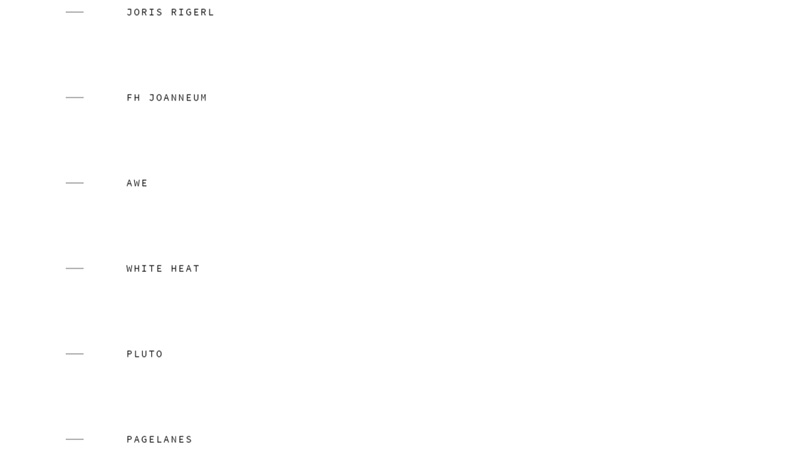 Flavinsky
The personal portfolio of Flavien Guilbaud looks visually interesting. The artist has managed to turn incoherence into his advantage, skillfully scattering navigation links throughout the front page. This slight mess adds to the overall appearance, separating the website from others instantly. 2 huge numbers serve as a display that reflects the content of links. Here navigation recreates the whole design.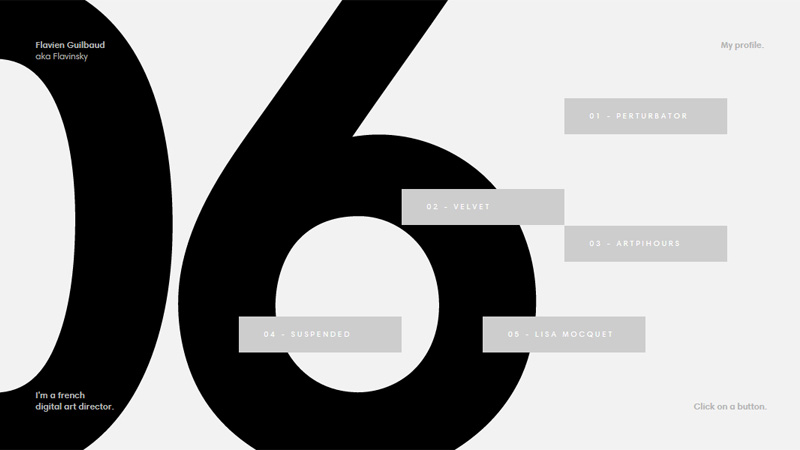 Concept Store
Since the website needs to convey the spirit and atmosphere of a concept store, it is not surprising that the project also looks inventive and original and is powered by some pioneering techniques, including an interactive navigation. The latter leads you through the virtual shop with the help of dynamic pointers.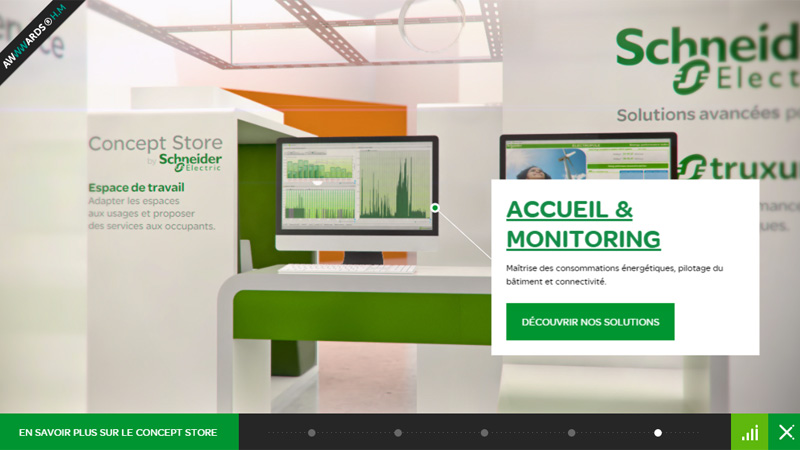 The Colors of Motion
The Colors of Motion is certainly a bizarre website that features unique and offbeat navigation represented via a set of colorful lines. Namely this dissimilarity and ambiguity spark the interest and set the tone of a project to an innovative one.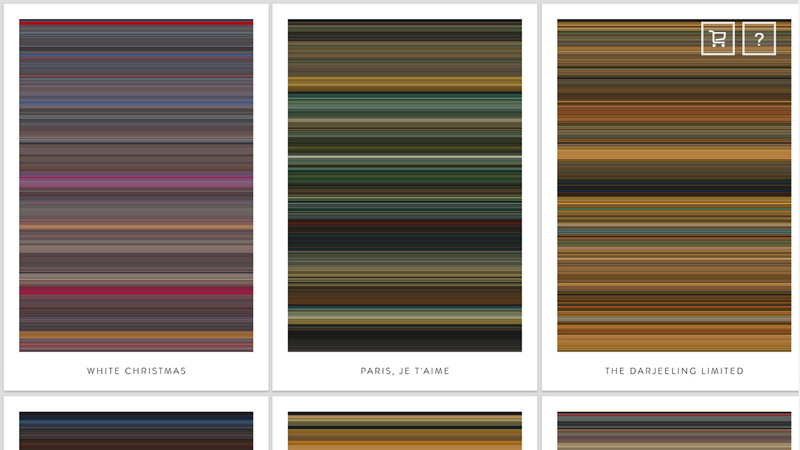 Raise the River
Raise the River is a public awareness website that directs the attention to problems of the Colorado River. As befits such projects, the dramatic story is powered by a vertical scrolling technique and skillfully supported by navigation. The latter is presented in a shape of a river in order to ideally blend with the composition and bolster the theme.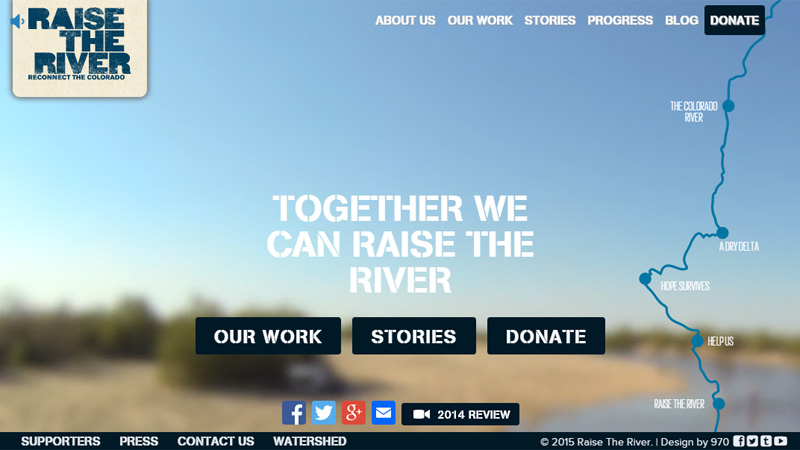 Conclusion
Thanks to high-end techniques, modern solutions and current tendencies, simple navigation has got a chance to make its contribution to overall design and aesthetics as well as enrich appearance with its presence.