With over 10,000 WordPress themes currently available and more being published all the time, it's no wonder that choosing the right theme for your site can seem a little overwhelming at times.
Installing a theme that's not suitable may not seem like a huge deal at first. After all, it's so easy to switch between different themes so easily in WordPress. But if you consider the time (and money if you've paid for a theme) that you'll have wasted trying to make a theme work for you by customizing and playing around with your content, it's worth making sure you choose the right theme from the start.
If you haven't got a clue where to start, this guide should help you whittle down the selection from several thousand to just a handful. We'll help you to work out exactly what you need from your theme and how to compare different themes on more than looks alone.
Free or Premium?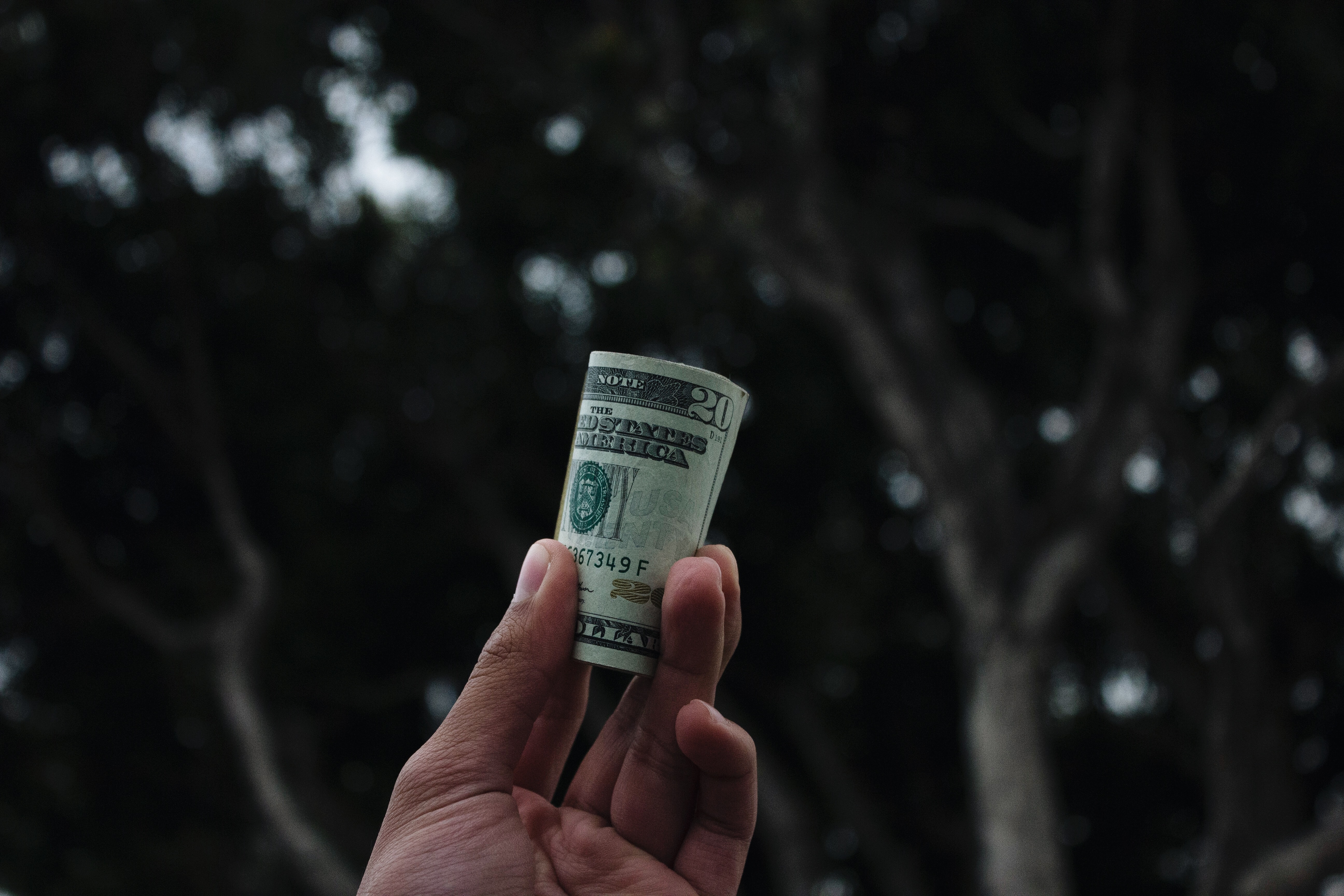 One of the first decisions you can make is whether you want a free WordPress theme or a premium (paid for) theme.
You don't necessarily have to make this decision until you're deciding between themes (you may decide it's worth paying for a theme just because you like the design or features much more than a free alternative) but choosing one or the other can cut down the number of potential themes to consider drastically, so it's worth putting some thought into it.
Free Themes – Pros and Cons
If you're making a new personal site and you just want it to look nice and do its job then a free theme will most likely be sufficient for your purposes.
There are thousands of free themes available and they don't necessarily have any huge disadvantages over paid themes – you won't have to put up with advertising on your site or branding that may have been forced on you if you've previously set up a free blog on other blogging software.
If you find a free theme you like the look of and that offers the features you need, then go for it – you can always upgrade to a premium theme later if you wish.
Pros:
Free
High security and good quality coding if you choose a free theme from the official WordPress directory
Often simple, lightweight, and easy to set up and use.
Cons:
Lots of people use the same themes so your site may not look unique
Limited customization options
Limited support
Fewer updates than premium themes
Premium Themes – Pros and Cons
Generally, but not always, big sites and companies tend to use premium themes, so if you're setting up a site for your business, you have a blog with a large following that you want to move to WordPress, or you make any kind of income from your site, you might want to think about choosing premium from the start.
If you want your site to be unique, it's also worth going premium – the best free themes tend to be very popular so you may end up with a site that looks very similar to hundreds of other sites.
Remember, just because a premium theme costs money, doesn't necessarily mean that it's "better" than a free theme. There are some badly coded and slow to load premium themes out there and you'll still need to do your research to make sure you don't end up with a dud.
If you do decide to go for a premium theme, you'll find the pricing varies a lot from just a few dollars to several hundred. Again, it's not necessarily the case that expensive themes are the best ones. Beware of paying too much for features you don't need.
Pros:
More features
Unique design
More frequent updates
Advanced customization options
Developer support. This can be useful if you're particular about getting your site looking pixel-perfect, you need a particular feature you can't find in a free theme, or you're not very tech savvy and would find the extra support helpful.
Cons:
Not always more secure or better coded than free themes
Some premium themes are bloated and slow to load
Not free
Most premium themes ask for a recurring payment to keep receiving support and updates.
Where to Look for WordPress Themes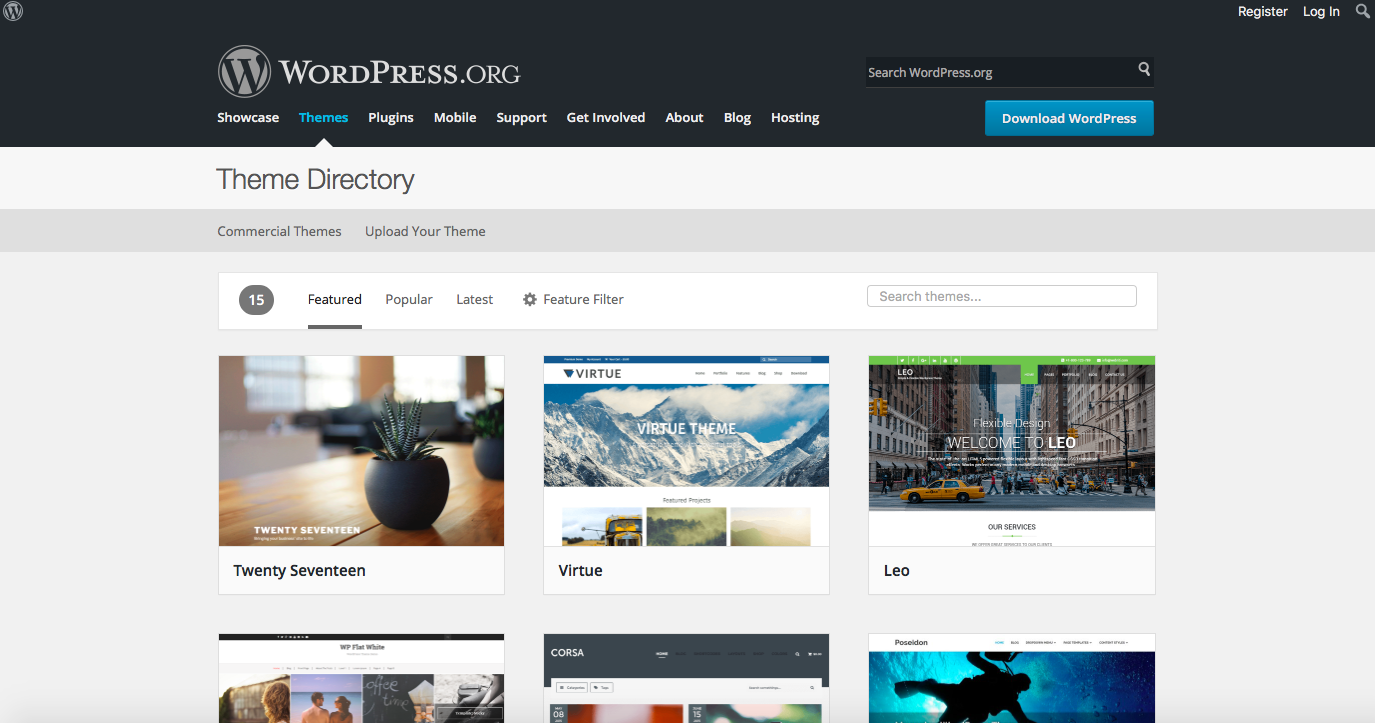 If you're after a free theme, your first port of call should be the official WordPress theme repository. This is handily built right into your WordPress dashboard under Appearance > Themes, so you can browse themes, preview, and install them without ever having to leave your own site.
While free WordPress themes are available from many sources, it's advisable to stick to those that are listed in the official repository. This is not only because it's more convenient, but also for quality and security reasons.
Every theme listed in the WordPress repository must adhere to strict quality control guidelines. You can also see how often the developer updates each theme. It's important to choose a regularly updated theme for security reasons as non-updated insecure theme code could leave your site vulnerable to hackers.
Some hackers even use free themes as a way to gain access to your site by embedding malicious code right into the theme. While anything you download from wordpress.org will be safe, the same isn't necessarily true of third party sources – another reason to stick to the official repository.
When it comes to premium themes, it's best to select from theme shops and authors that have a good reputation. If you choose to buy a theme from an unknown developer or new theme shop with no track record, you may end up with a lack of support, irregular updates, or a badly coded theme.
Some of the longest standing theme shops with a decent reputation include:
This is just a handful of the available options and there are many other WordPress theme shops you might want to consider. Carry out due diligence and make sure you research the company and look for reviews before you buy.
Remember just because a theme is listed on a reputable site doesn't always mean it's a great theme. This is particularly true for sites that list themes from hundreds of developers like ThemeForest – check the reviews and comments under each theme before you buy.
Some theme shops offer bundles of themes or a membership that allows you to download many themes for a set fee. An example of this is Elegant Themes, which offers access to all 87 themes for the same price as one or two themes from another source. These can be really great value if you own several sites as you can choose dozens of premium themes at a very low price.
Choosing a WordPress Theme Design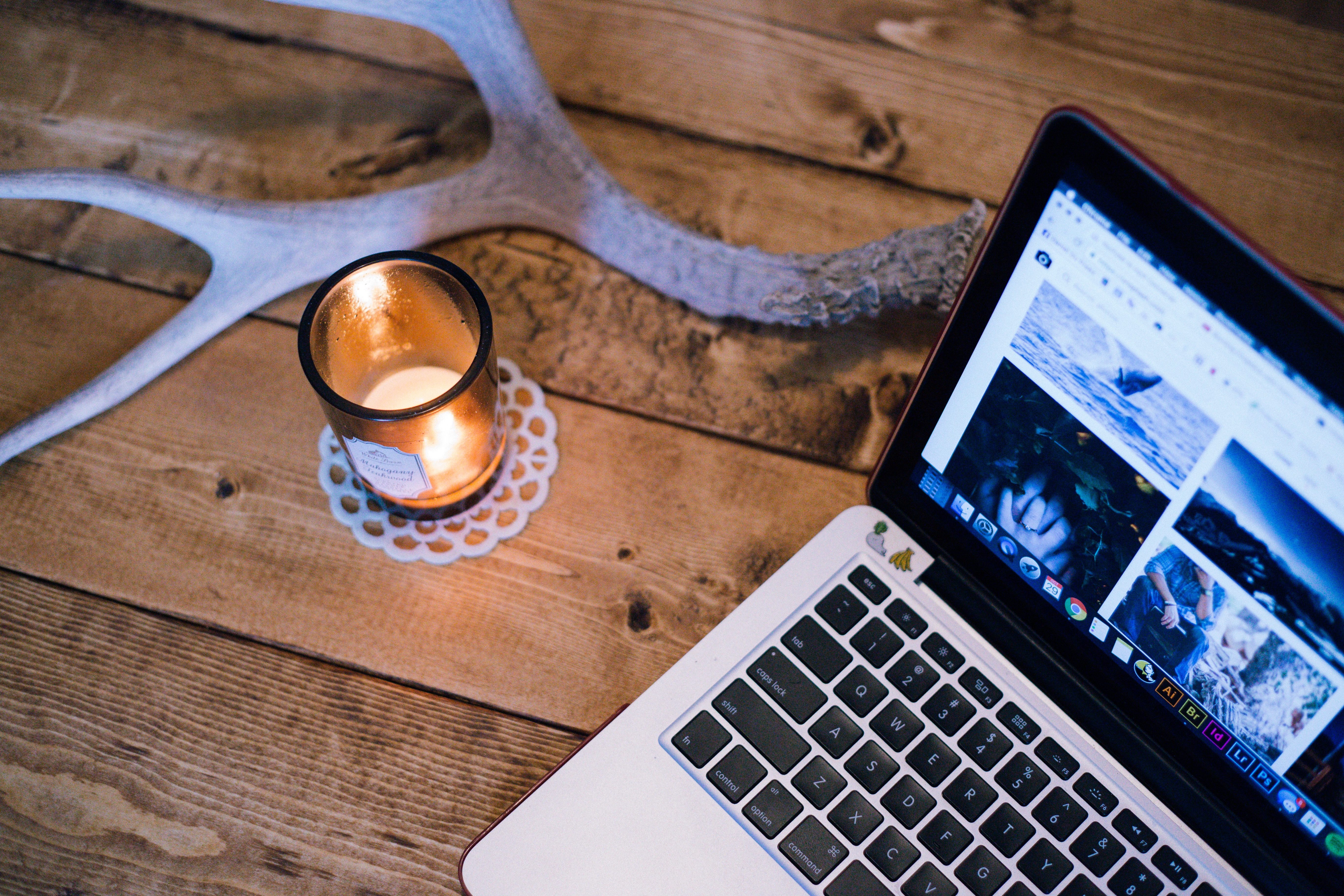 The visual look of the theme you choose is arguably the most important consideration when you're browsing.
If your website doesn't look great then neither you nor your website visitors will be happy so it's important to take the time to find a theme you really like the look of.
Fit for Purpose
Good design is subjective of course and comes down to personal preference, as well as what's appropriate for your style of site. You'd expect a corporate financial site to look very different to a personal blog, for example.
If your content is mostly text then you'll want to choose a theme that's designed for a good reading experience. Likewise, if you're displaying a lot of images you'll want to choose one with a focus on visual content. Don't choose an image-heavy design just because it looks pretty if the quality of your images can't match the preview site.
When considering design, your initial reaction is important. But you should also look further into usability aspects such as how easy your content is to read, and ease of navigation.
The Importance of Responsive Design
These days it's essential to choose a fully responsive theme as so many people are using smart phones and other small screen devices to access the web. Make sure you're happy with how the site looks and works on mobile as well as full screen.
Clean and Simple is Always a Winner
Don't dismiss minimal themes, even if they're not quite your style. Simple is often best to showcase your content and overly designed themes go out of fashion very quickly.
It's also important to look at the layout and spacing of the site, rather than the images. Remember you'll be using your own content and things like fonts and colors can usually be changed easily.
Some themes look amazing in preview because they're centered on professional stock photography but when you substitute in your own images, they're not quite so impressive.
Theme Features and Plugin Compatibility
The next aspect to consider is the additional functionality of the theme. Many premium themes come with all sorts of bells and whistles, which may or may not be useful for your personal needs.
Think about what you want from your site first and look for a theme that provides these features. For example you may want prominent staff profiles on your front page or a carousel of images showcasing your latest work.
If you're looking for a free theme, you can use the WordPress feature filter in your dashboard to look for themes that include features such as grid layout, footer widgets, and translation ready.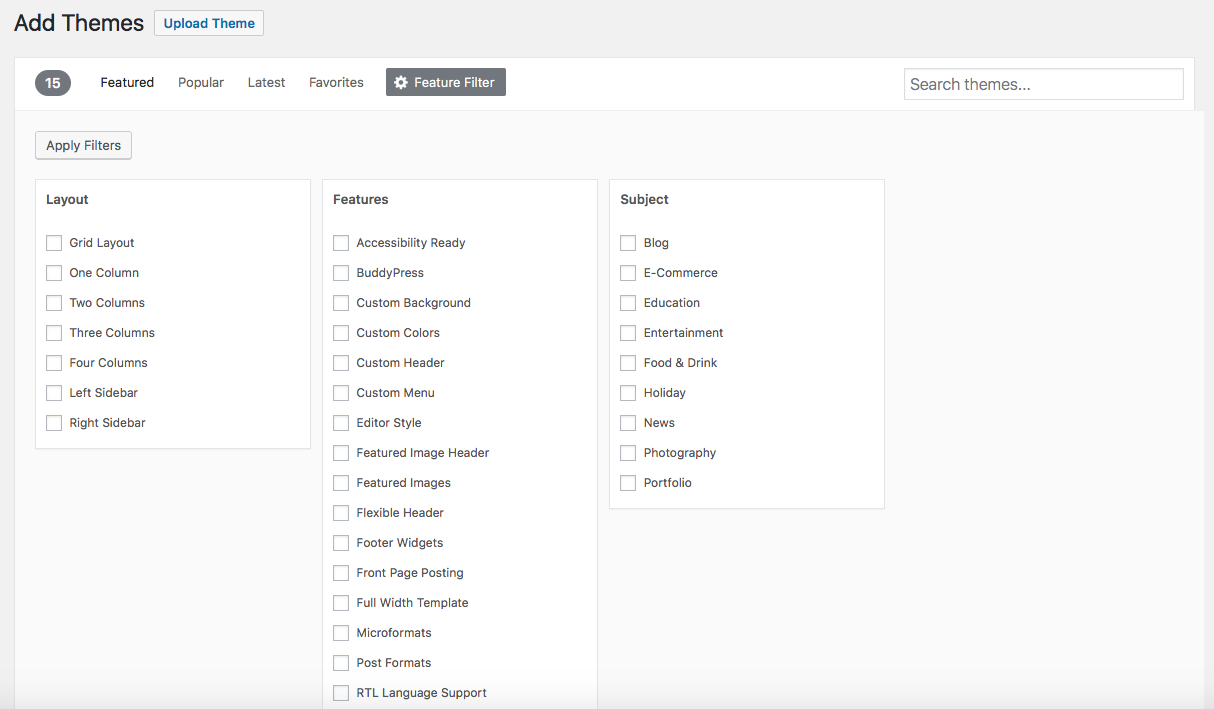 Premium themes tend to have more advanced and extensive features. Some common features of premium themes include:
Image or featured posts slider
Social sharing icons, menus, and widgets
Custom page styles (different layouts for blog, gallery, about, etc.)
Mega menus
Retina-ready (theme looks crisper and more detailed on HD displays)
Custom shortcodes (to easily add buttons, styled links, icons and other design elements to your site posts and pages)
Ecommerce features
Translation ready
If a particular theme you're considering doesn't have a feature you want or need, you can usually use a separate plugin to do the same job (many themes achieve these features by bundling plugins with the theme or embedding the plugin code right into the theme) so don't base your choice on features alone.
You should also be wary of choosing a theme with too many features. Lots of fancy extras can slow down your site, which you want to avoid particularly if you're not even going to use these features.
You can test the speed of different themes you're considering by running the demo site through the Pingdom Website Speed Test. You can use this tool to compare two or more different themes if you want to choose the fastest loading one.
On the subject of plugins, if there's a particular plugin you want to use on your site it's important to make sure it's compatible with the theme you're using. Theme and plugin incompatibilities can result in site bugs and errors and can be a real pain to sort out.
Theme Backend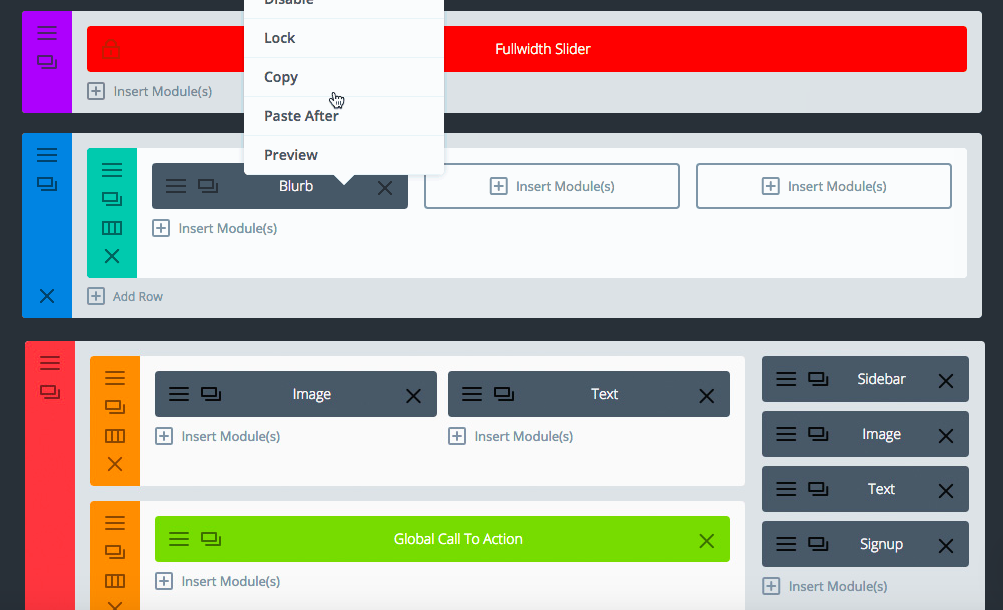 Most free themes and some premium themes rely on the standard WordPress dashboard and built-in customizer for backend management. This is usually fine for most purposes and basic customizations to the theme such as changing colors or background images and logos.
Many premium themes now ship with their own page builders and options panel. These will give you much more options than the standard WordPress customization panel so can be really useful if you want to do a lot of customization to the theme you choose without any direct editing of code.
Drag and drop page builders have become very popular recently as they allow you to move elements around and edit your layouts visually in real time, without the need for any WordPress development knowledge.
If you're not very tech savvy you might want to look for a theme that offers this drag and drop design functionality.
Custom page builders aren't just for none technical types. Many WordPress developers now use a theme with a custom page builder to create their own designs more quickly and easily than coding from scratch.
Divi by Elegant Themes is one of the most popular examples of these types of themes that are flexible enough to create pretty much any design you want using just one theme.
One thing to bear in mind is if you do choose to build your site or make extensive changes using the theme content builder, it may make it a lot more difficult to change your site to a different theme later.
SEO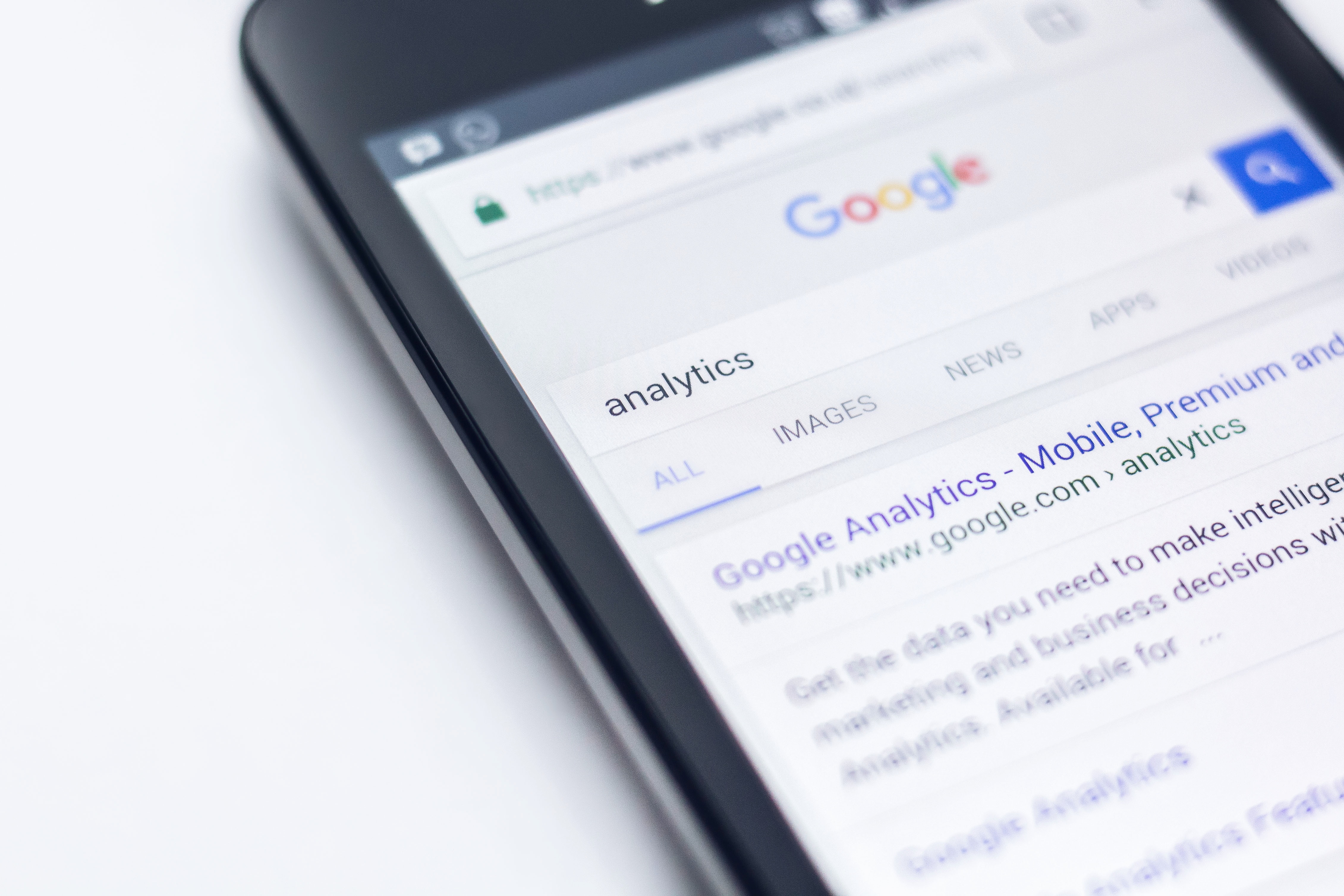 SEO stands for search engine optimization and is the practice of making sure your site is easy for search engines to work out what it's about and place it in the listings in an appropriate ranking when someone searches for a related term.
There are many aspects to SEO but one of the simplest is making sure that your website is marked up properly (meaning using the correct code for page headings, image descriptions, etc.) and that it loads quickly.
There are several free plugins you can use to improve the SEO of your WordPress site but it helps to use a theme that is optimized from the start.
While many theme developers claim their themes are optimized for SEO, some themes are better at it than others. It's worth doing your own research and reading some real reviews from people who've used the theme to recommend which themes are best for SEO purposes.
Documentation and Support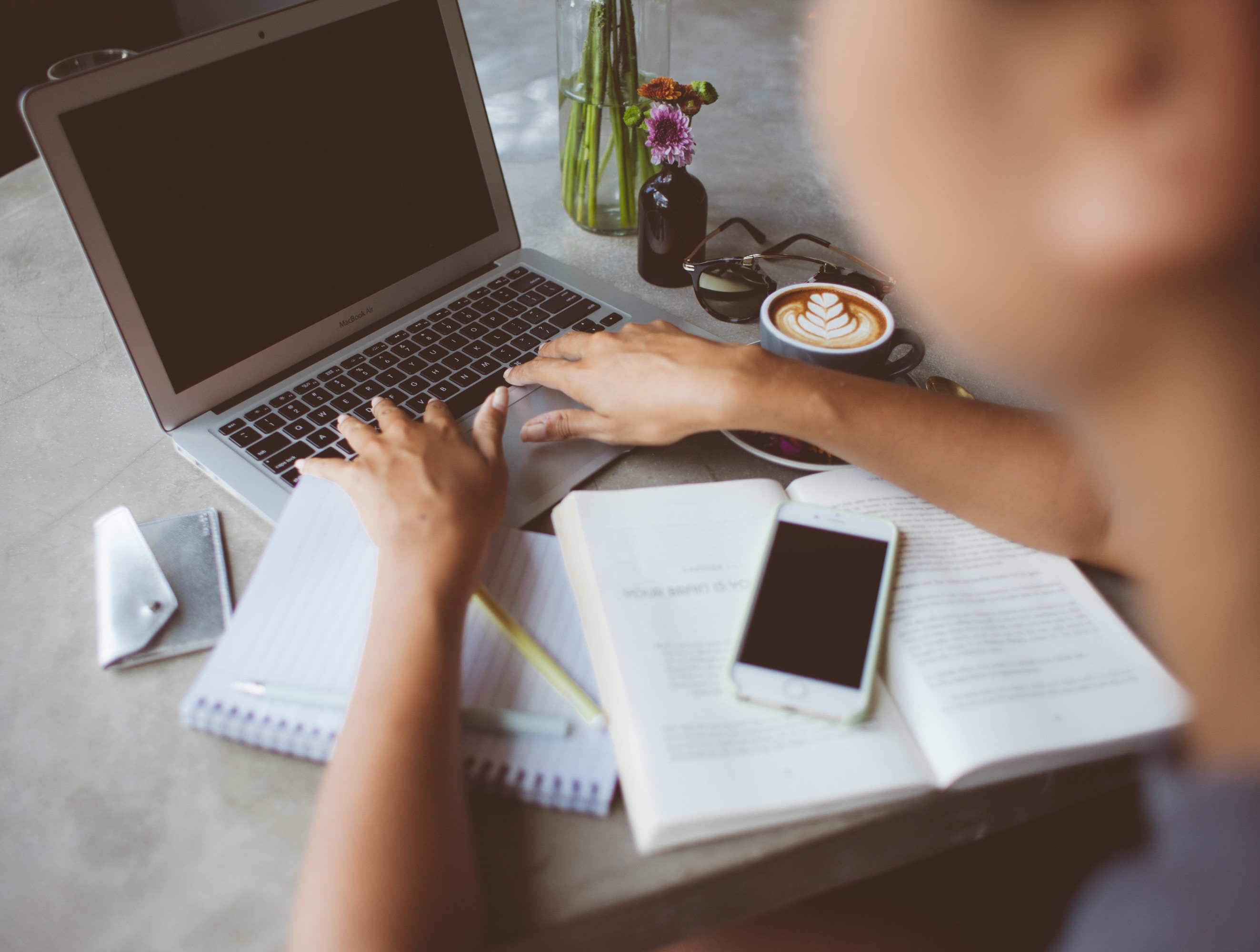 Free themes generally don't offer any additional support when you download the theme so if you need help you'll have to rely on searching the web and asking questions in support forums.
Premium themes usually offer direct developer support for a set period of time. This can be very helpful when you're trying to set up your site and getting it looking and working exactly the way you want, particularly if your technical skills are limited.
The documentation that comes with the theme is also an important consideration, especially for themes that need significant setup. Some themes look nothing like the demo site when they're first installed and you'll need to work through a number of steps to get your site looking the way you want.
Sometimes you'll have access to the documentation for a theme before you buy or download it and other times you'll have to rely on previous reviews. Be particularly aware of themes created by a developer from a non-English speaking country as the English documentation has a higher chance of being unclear.
You can also have a look at how quickly the developer responds to questions on some theme shops like ThemeForest. This can be a helpful way of judging both how quickly they respond to support requests, and how helpful their advice is.
Conclusion
Keep all these points in mind and you should be well on the way to choosing a good quality theme that's suitable for your needs and you'll be happy with for quite some time.
It can also be helpful to browse a few 'best themes' lists to give you a starting point, or at least give you some ideas of what you're looking for visually. You can start with our lists: 13 of the Beautiful WordPress Themes for Musicians & Artists and 15 Free Responsive WordPress Themes for Photographers and Photo Bloggers.