The main job of a page builder is to make things easy for beginners to customize the design of their existing WordPress theme without having to hire a developer.
Although, one of the downsides to using a page builder is that it requires a theme to function. Without a theme, the page builder is just another plugin.
What if you wanted to design an entirely original theme from scratch, except without having to write code? Is that even possible?
This new page builder plugin called Oxygen seems to have that power. Apparently, this is no ordinary page builder, it lets you design websites from scratch without having to write code.
As you can imagine, that's quite a remarkable feature, especially for WordPress web designers and developers. So, we decided to give this app a test drive and see what it's truly capable of.
What Is Oxygen?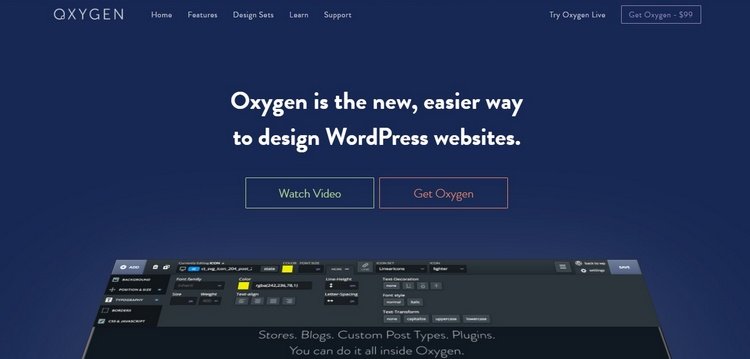 According to Wikipedia, Oxygen is a chemical element that every living life form on planet earth depends on daily. But, that's not the Oxygen we're going to talk about in this article. This Oxygen is an app that makes life easier for web designers.
Oxygen, developed by Soflyy, is a WordPress page builder plugin that lets you design landing pages and websites from scratch using a visual front-end user interface. It's similar to Visual Composer, but only with more advanced features.
Even though Oxygen can be used to design layouts and pages quite easily without complicated programming, the app comes with a lot of advanced features and functions, which makes it more suitable for experienced WordPress users and web designers.
What Can You Do With It?
Web designers and niche bloggers who constantly build WordPress blogs understand how painful it is to find a great WordPress theme that functions properly and to customize a theme to look unique for each website they build.
This is a costly process that not only cost you money to buy new WordPress themes for each site you build, but it also cost you your valuable time that goes into customizing each theme to fit the website.
With Oxygen, you can build your own unique website designs without having to spend any money on expensive themes. Plus, you can use Oxygen plugin with unlimited websites so there's no need to buy the plugin licenses for each site you build with this page builder.
Page builders like Visual Composer rely on an existing WordPress theme when creating landing pages and new homepage layouts. Oxygen is different. This app not only allows you to create landing pages, but you can also use it to build new themes from scratch using its pre-built components, complete with new blog layouts, post types, archives, and much more.
Main Features Of Oxygen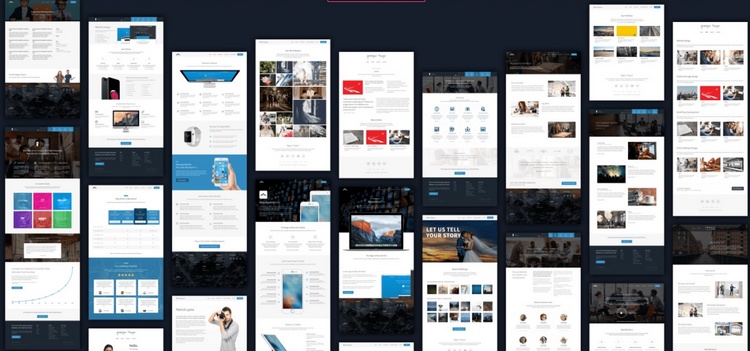 Oxygen is an app that comes with own unique features, making it stand out from other page builder plugins.
Design Websites, Not Just Pages
You can use Oxygen to build entire website designs with templates for homepages, posts, pages, archives, forums, and much more.
Use With Unlimited Websites
Oxygen can be used on an unlimited number of websites, including your client websites without having to purchase separate licenses.
A Powerful Visual Editor
Oxygen claims to have the "most powerful WYSIWYG (what you see is what you get) visual editor in a page builder plugin. It allows you to create designs using either its pre-built components or use fundamental HTML elements to craft original designs.
Design Sets
Oxygen components come in "Design Sets", which includes components that share a similar style for building seamless website designs without having to customize each element. The free Design Set included with Oxygen features 160 components, 50+ pages, and 5 pre-built example websites.
Write And Customize Your Own Code
You don't need advanced programming knowledge to use Oxygen. But if you have experience with coding, you can use custom code to edit elements right inside the Oxygen app.
Import And Export Your Designs
Want to save one of the website designs you've created with Oxygen? Or share your designs with a friend? Oxygen allows you to export your designs and import them in other websites to save and use your website designs later.
Customize Plugin Styles
Oxygen has another cool function that allows you to customize how your plugins look on your website. With this feature, you can change the looks of plugins like contact forms and WooCommerce checkout systems to match your website design.
Free Lifetime Updates
You'll receive all future updates for the Oxygen app free of charge. The app is still new and is expected to receive constant updates with new features.
Money Back Guarantee
If you're not happy with the experience offered by Oxygen, you can get a refund. The developers offer a 30-day money back guarantee for the plugin.
Hands-On Review
Let's dive in and see how smoothly Oxygen works with WordPress.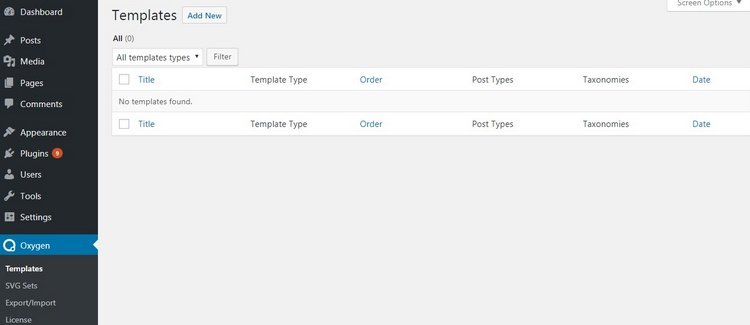 After purchasing and installing the Oxygen plugin on your WordPress blog, you can start creating your first Oxygen template by going over to the Oxygen Templates tab on the WordPress dashboard.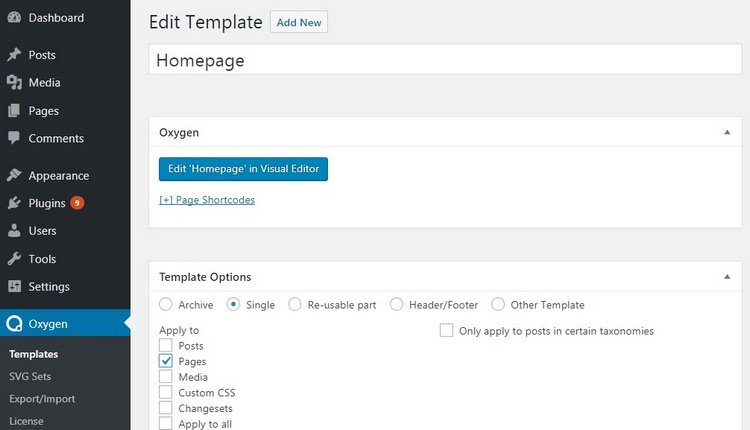 When creating a new Oxygen template, you'll be able to choose whether to create a single page/posts template, an archive template, header or footer, or even a reusable part that can be used with future layouts.
Then you can switch to the visual editor to start designing.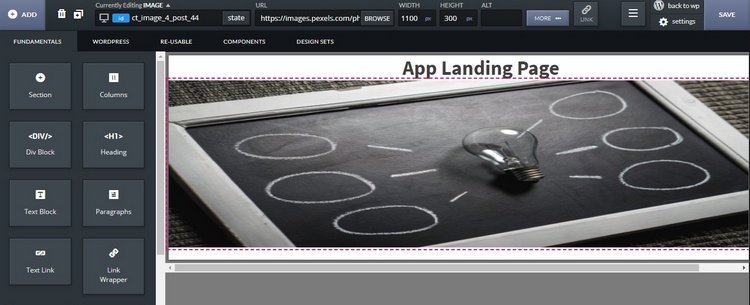 Designing a page from scratch can be a little frustrating, especially for a beginner since the app requires a slight learning curve. It's best to either start with a template or spend some time watching the tutorial videos before trying out the plugin.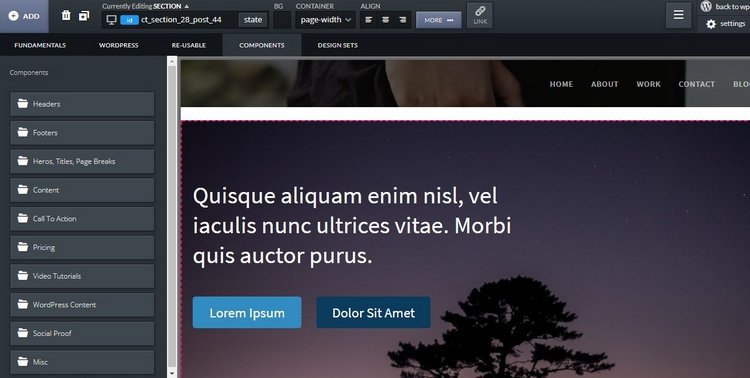 By going over to the Components tab, you'll be able to select from a number of pre-built elements to easily get started on designing your page.
With just a few clicks, you'll be able to design a full-feature website by adding a header, a call-to-action, pricing table, a footer, and much more.
You can find them all under the Components tab. All you have to do is find a design you like, click Add Component to Page, and start editing the components to add your own content.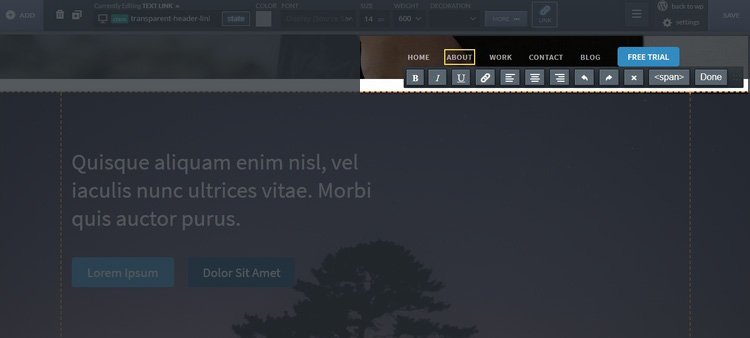 You can edit elements by simply double clicking on any text, image, or buttons on your design. And you'll have a stunning website designed in no time.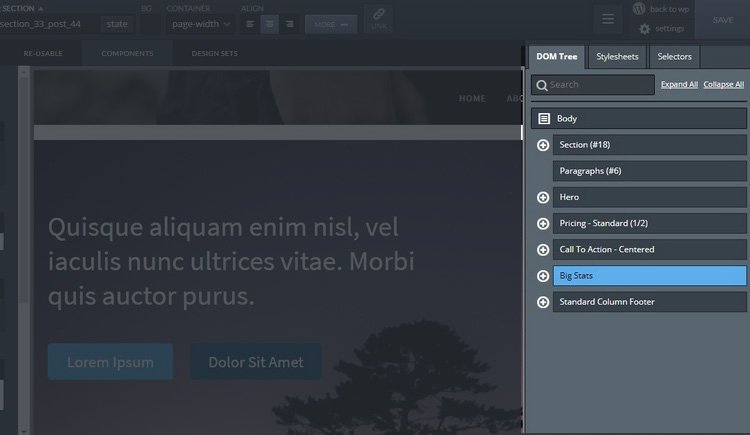 Unfortunately, Oxygen doesn't support drag-and-drop function. To move elements, you have to open the DOM Tree tab. From there, you can drag elements to rearrange them. You can also add your own custom stylesheet from this tab as well.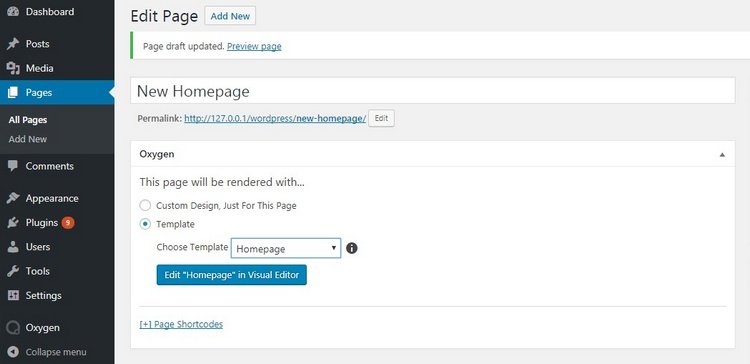 Once you're done creating an Oxygen template, you can create a new page that uses the template by choosing your preferred template from the Oxygen tab that appears in the Add New Page editor.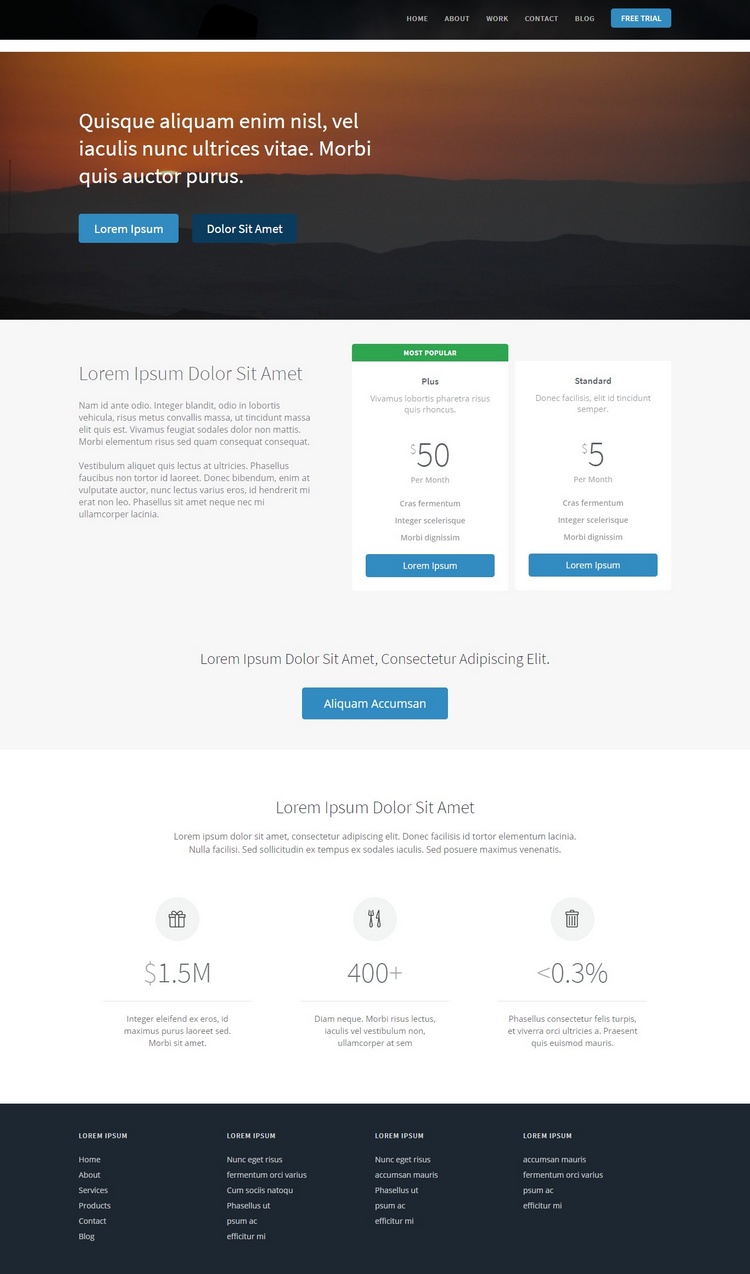 Hit Publish and you'll have your new website design up and running immediately. This one is a quick design we created with the pre-built elements.
If you like, you can use this page as your new homepage via the Reading settings tab on WordPress dashboard.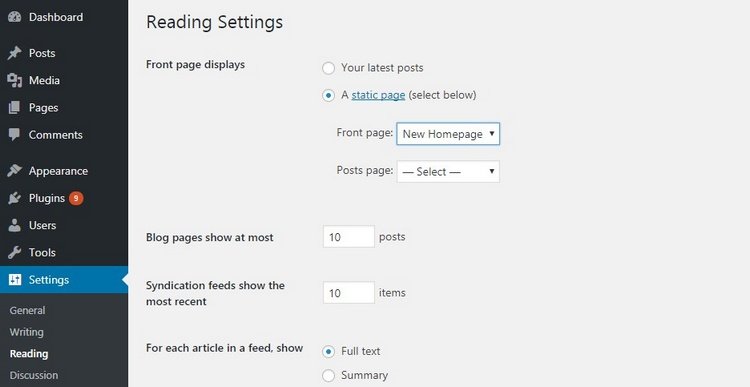 It takes a few tries to get used to designing with Oxygen. But, it's certainly a great page builder for designing simple and unique websites and landing pages.
Pros & Cons
Every app has its uses and downsides. It's the same with the Oxygen app.
The Benefits Of Using Oxygen
Being able to build entire websites from scratch without writing code is probably the best feature of Oxygen. As an added bonus, you can build as many websites as you want with a single purchase as well.
The visual editor with live preview makes building websites easy.
With a single purchase, you get lifetime updates for the plugin.
Video courses and documentations allows you to easily learn how to use the app.
The Downsides To Using Oxygen
Oxygen is not very beginner friendly and it's more suitable for advanced users.
Oxygen is also not optimized for creating landing pages for lead generation. Such as for creating landing pages with email opt-in forms. It's more focused on creating standalone websites.
How Much For Oxygen?
Unlike other page builders that require you to buy separate licenses for each site your build, Oxygen lets you use the app on unlimited websites with a single purchase.
Oxygen only has one pricing plan. It only costs $99 and you can use it with unlimited sites with lifetime updates.
However, this is an introductory price. According to the Oxygen website, this price will expire soon so you better hurry up if you want to grab the app at this low price.
Is It Worth An Investment?
Oxygen is a revolutionary page builder that seems a bit ahead of its time. The number of features that's been packed into this one app is truly remarkable. And it makes the job much easier for web designers and developers to design unique websites without having to spend hours coding and debugging.
Without a doubt, Oxygen is worth an investment for designers who work with WordPress themes and developers who build WordPress websites. This app will make it easier for you to design unique websites without having to buy themes.
However, Oxygen is slightly too complicated for beginners. Some of its concepts and elements require a certain level of understanding of HTML, CSS, and PHP, along with basic understanding of how WordPress themes function.
In conclusion, Oxygen is not the best page builder for bloggers who are looking to design a landing page. But, it's a great app for designing entire websites and a must-have tool for WordPress web designers.