Email is here to stay!!!
Even though Twitter gained popularity in 2006 and marketers saw the potential in social marketing, email is still considered as the passport to the digital medium and low-cost medium for marketers to build, nurture and maintain relationships with their customers. As per a survey jointly conducted by Direct Marketing Association (DMA) and Demand Metric in June 2016, Email still manages to draw in 122% ROI.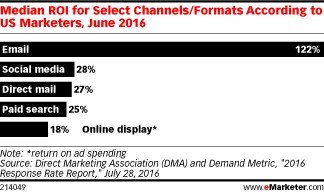 Moreover,email marketing is also effective tool to be used for customer acquisition as well as retention with rate of 81% and 80% and about 56% of companies agree that email offers "excellent" to "good" ROI (Econsultancy, 2016).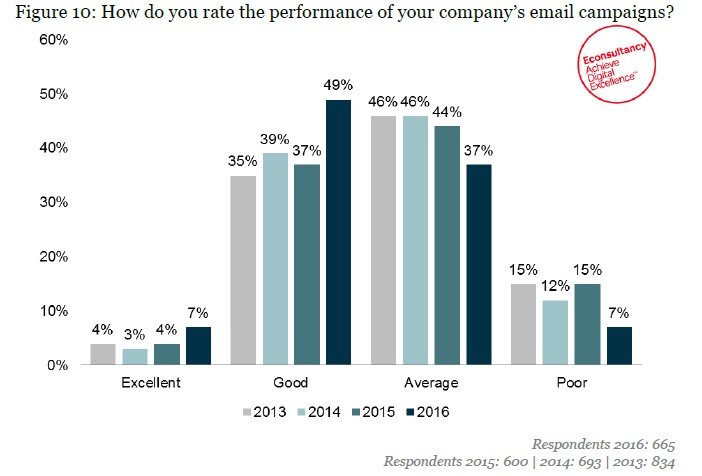 But all the above stated stats are only possible thanks to the leak-proof marketing strategies formulated by email marketers globally. Today, we shall address the 10 common yet vital elements needed for creating successful email marketing campaigns.
1.  Know Your Subscriber – Start with an Objective
The foundation of human psychology is incentive-based behavior. "How shall I be benefitted?" is the question asked by a prospect willing to share their email address with you and "How shall this email campaign be helpful for my brand?" should be the question you need to ask while planning your email marketing campaign.
Based on what your industry or brand offers, you need to zero down on the purpose of sending emails to your subscribers. Is your newsletter with industry updates or a catalogue of your new seasonal fashion collection promising enough for someone to subscribe? Finalizing your objective also helps in the lead generation methods. Based on your objectives you can create capture forms on your page with appropriate incentive.
In the example below, a free downloadable eBook was the incentive for filling out the form.

Pro Tip: An email to your subscriber should convey a message and also build a relationship. Your objective needs to be compelling enough for your subscriber to take time from their schedule to spend more than 8 seconds on your emails.
2. Email List cleaning and learning end-user preferences
The next important thing to focus on is your subscriber list. Out of the collected email addresses, it is necessary to occasionally weed out unnecessary and invalid email addresses. This not only improves the deliverability (discussed later in the article) but also helps in ensuring that your emails are reaching your targeted audience only (P.S: this is important when considering overall ROI i.e. email sent v/s customers engaged).
Moreover, to churn out better email content, it is important to know your subscribers better. This is very easily achievable by either adding specific form fields in your landing page or including a link to your preference center in your welcome email. The better you know your subscribers' preferences, the easier it is for you to segment your email list. In the following welcome email by Pei Wei, they have included a CTA button for subscribers to update their preferences.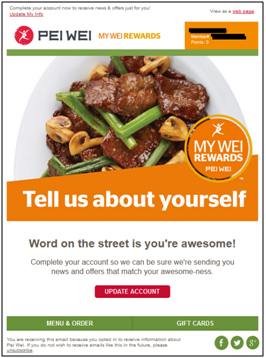 Pro Tip: It is important to NOT make your subscriber feel like a faceless name in your email and so you must segment your lists to cater only that information which your subscriber needs. Remember, an unsubscribe is better than a SPAM complaint but email marketers should make an endeavor to steer clear from either.
3.  Email Automation – Preparing the Email Lifecycle
Once your prospect provides you with their email address, they become a lead. What follows should be a series of emails that nurtures them to know your brand better and become qualified enough to make a purchase. So you need to plan out your email series accordingly. The email series can be categorized into 4 parts:
Onboarding emails: Personalized Welcome Emails, Introduction to features or Getting Started emails, Preference emails are parts of an onboarding email, mainly sent to know your subscriber better (as explained in previous section).
Lead Nurturing emails: These are the emails for brand awareness and they provide comprehensive knowledge of your services. New feature or product update emails, email newsletters are types of such emails.
Sales / Promotional Emails: These emails are like the "gentle push" for your subscribers to make their purchases and enter your brands' sales cycle. Special introductory emails, event or sale announcements and promotional discount emails come under this category.
Transactional & Behavioral emails: Emails that are 'triggered' when your subscriber completes a predicted behavior are transactional emails. Cart abandonment emails, retargeting emails and order confirmation emails are examples of transactional emails. More about behavioral emails such as cart abandonment and retargeting emails is explained later.
Now, to overcome the sheer number of email templates to be designed and coded, you can also opt for getting a Master Email Template designed and coded. The advantage of having a Master email template is that the template has a consistent design as per the brand guidelines and it can be molded as per the email requirements.
4. Be Forthright – Using subject lines, Preview Text, email copy and CTAs
Other than the FROM name in your email (which is very important to be recognizable) the only thing that can help your emails get opened is the subject line and pre-header text. Stating your email's purpose right at the subject line helps increase the open rates.
Once your email is opened, the top 100px (above the fold) is the most important area of your email. Your email copy needs to be strong enough to convey the message in the top fold itself. Though debatable, an actionable CTA also can improve the click-through rates of email. Moreover, a CTA should complete the following sentence
I wish to ______.
Also, a CTA copy that connects on a personal level gets 42% better customer engagement.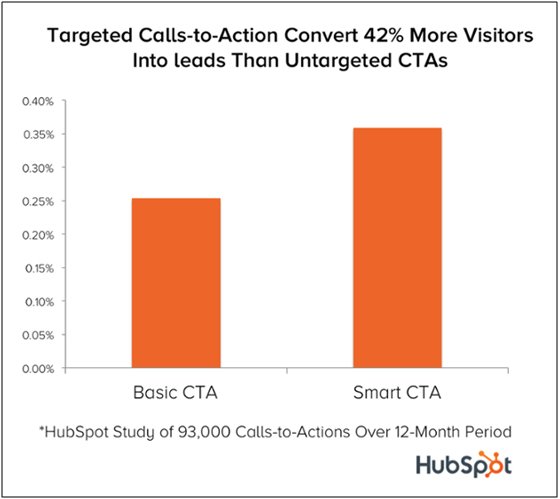 Pro Tip: Pre-header text helps you convey what was left unsaid in your subject line. Safe character count for subject lines is 50 chars and that of pre-header text is 50 chars. Though only supported in Gmail and native mobile email clients (iOS & Android), pre-header is a really good tool.
5. Personalization – Giving a personality to your emails
As stated earlier, no subscriber wishes to be treated like a faceless name picked from a mailing list. Almost 56% of people admitted to unsubscribing to emails that had irrelevant content. Instead of a 'bulk email blast', engage in a dialogue with your subscribers. Provide value through insights, updates, and new content without it sounding like a sales pitch.
Pro Tip: Use personalized tags, write in a one-to-one conversation mode, and ask for their feedbacks. When using Merge tags for personalization, test before sending. You don't want your subscribers to end up with 'Hi First Name' as email greeting. (Trust me, this comes from experience ;) )
6. A/B test your emails – The best one wins for you!
When you go for a date, do you pick out the first attire you see in your wardrobe or do you do a trial, so as to ensure it enhances your overall look?
Similar to our earlier article on A/B test for webpages, before sending your email, there are some elements which you can A/B test to check what garners more acceptance from your subscribers. Nowadays, most ESPs allows you to A/B test any one of the following:
Subject line
From name
Emailer content
Send time
ConversionVoodoo A/B tested just the subject lines and observed substantial difference. Changing the subject line from "Happy Holidays" to "Merry Christmas" brought a jump from 11.12% open rate and 2.90% click rate to 16.21% open rate and 5.47% click rate. That's nearly double theearlier click rate.
Pro Tip: Occasionally, A/B testing your emails keeps you updated as to what works and what doesn't. But set a timeline, as to how long to wait before sending the winning email to your subscriber list. It is suggested that you wait 2 hours after conducting A/B testing to get substantial results, but you can A/B test your sending intervals, too (pun intended).
7. "You're cleared to land" – Landing Pages
Landing page by definition is a webpage where your subscribers 'land' when they click any of your online campaigns (display banner, social media ads, blog post, etc.). The sole purpose of a landing page is to capture visitor information in exchange for the incentive that brought the subscriber to this page. To make the transition seamless, it is important for your landing page to communicate the same thing that was conveyed in your campaign. So, this means same language, look & feel and incentives.
Pro Tip: Although it is very obvious to be even stated here, landing page needs to be the final stop for your subscribers. It should thus be devoid of any navigations to distract your visitor.
8. Checking SPAM Laws and Improving Deliverability
You created an email campaign, and even got your landing page ready for lead generation. But now comes the most crucial step before you hit 'Send'. Having a good sender reputation is very much important for your emails to reach your subscribers' inbox and not land in the SPAM folder. Following are some of the tips to ensure good sender reputation:
Don't do email blast i.e. bulk emailing. Segment your list and send to different lists separated by some time interval.
Choose an ESP with a good reputation.
Reduce the number of SPAM complaints, if any, by sending relevant emails.
Have double opt-ins to avoid adding bogus emails.
Don't deceive your subscribers with misleading practices.
Pro Tip: Once a prospect subscribes to your emails, it is a good practice to enable them to whitelist your email address. This means adding your email address to their trusted sender list. This is beneficial in increasing overall sender reputation.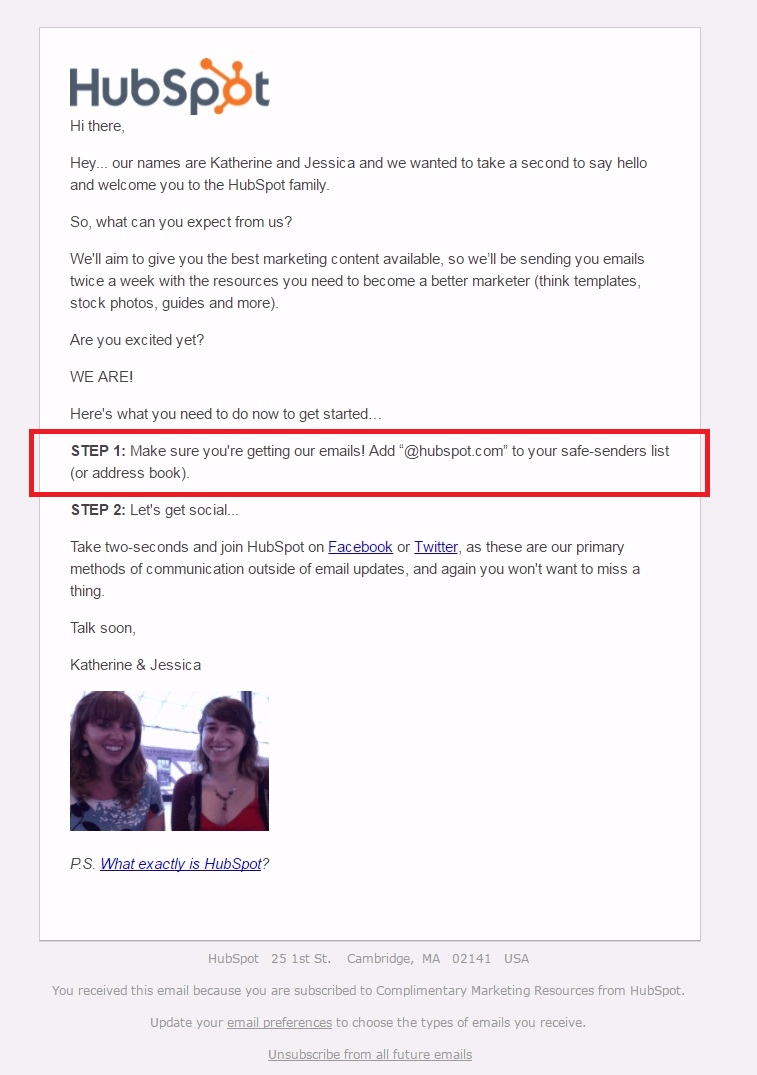 9. Measure Metrics – It matters to create better campaigns
Metrics matter. The 3 most important metrics to measure in emails are open rate, click through rate (CTR), and unsubscribes.
15% of marketers surveyed say their company still does not regularly review email opens and clicks; only 23% say they have integrated their website and emails to track what happens after a click. (Source)
Some of the information that can be availed from the metrics: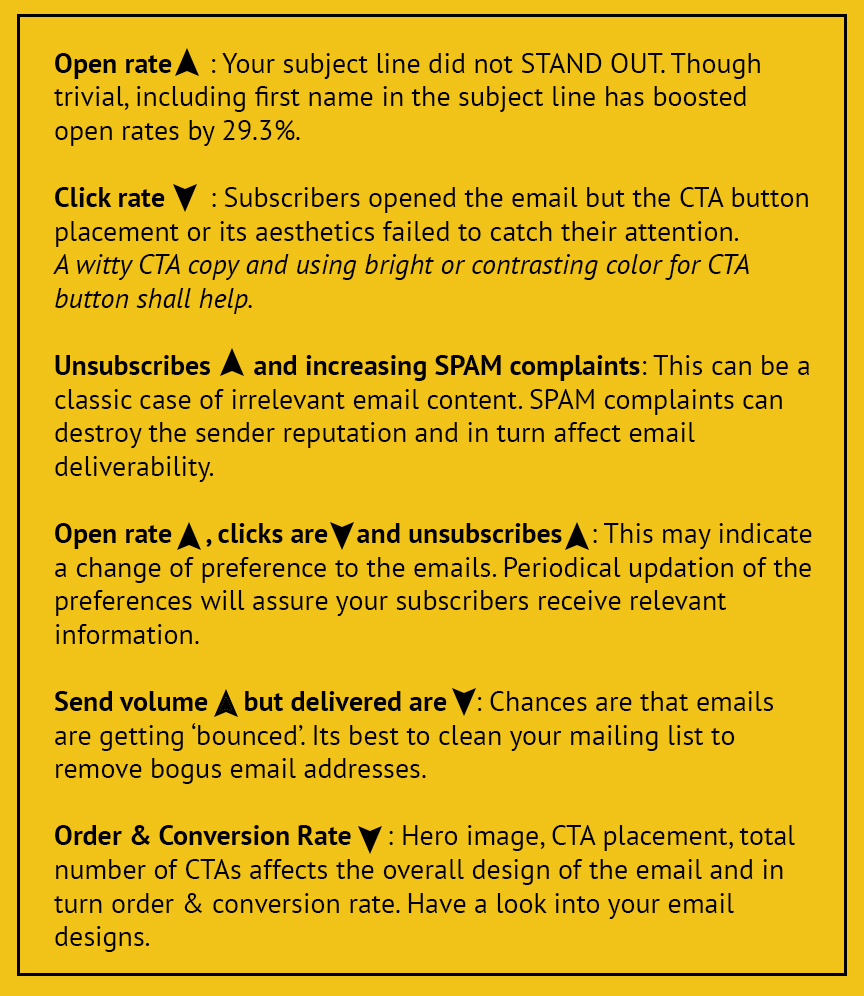 10. Putting the metrics to use: Cart Abandonment and Email Retargeting
Once your emails are set up and the metrics of your previous campaign are in your hand, it's time to plug the leaks i.e. bring back the abandoners. Cart abandonment is one of the most important tools for email marketers in the e-Commerce industry. Email notifications about abandoned carts have a 40.5% open rate. (eMarketer, 2015)
Those not from the e-commerce industry also have an ace up their sleeves i.e. Email Retargeting. Email retargeting is based on sending targeted emails after observing subscribers' activity on the web and even vice-versa. Based on the tracking pixel employed in an email, marketers can display ads on the webpage where the subscriber surfs. This is particularly helpful when the communication between the brand and subscriber was severed and you need to pick up the conversation from that point itself.
Pro Tip: Email retargeting is not every marketer's ball game, hence only those marketers willing to go the extra mile make use of it. On the other hand, a triggered cart abandonment email is one of the vital tools if you run an e-commerce business.
Is there something you might have overlooked earlier? Did we forgot to state any points? Which of the above practices have helped you increase the numbers? Share your views in the comments.