Autumn is notoriously famous for causing a seasonal affective disorder. It brings less sunny days, chilly mornings, and rains; however, it still has some happy moments, and Thanksgiving is one of them. Turkey Day is one of the most beloved holidays that gathers families together.
Like it or not, but your users, subscribers, and customers are your family in the digital world. Therefore, it is highly recommended to show your gratitude by harvesting the holiday spirit and lining up your website with a festive mood. Enjoy our list of free tools that will help you create the best web design for Thanksgiving.
Use Traditional Colors
First things first. Before jumping into populating your website with turkey-shaped icons and harvest-inspired decorations, you need to lay a solid foundation. In the web design universe, it means to pick the right color scheme.
Although it is generally believed that any autumn colors will do the trick, there are still several absolute winners that instantly deliver the aromas of fall waft to users. They are:
orange
yellow
brown
red
green
On top of that, there are several neutral tones such as white, grey, and black that you can successfully use in your Thanksgiving design.
While all those colors perfectly work together, you can still experience problems with finding a harmonious color scheme. You can address this issue by using professional color tools, for instance, color scheme generators such as Coolors and Colourlovers. Both of these platforms offer ready-made color palettes that you can use in your design.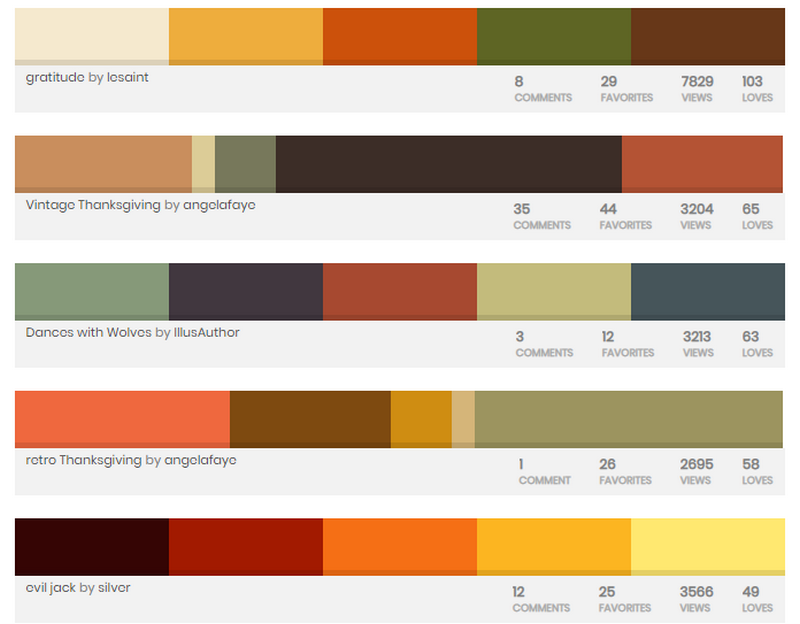 Spice Things Up with Thanksgiving Icons
Now, it is time to dress up your website. If you feel like you are not ready for significant changes, you can do one step at a time: replace your regular icons with the festive ones. If you do not want to lose the visual cues provided by iconography, you can leverage Thanksgiving glyphs as accompanying material.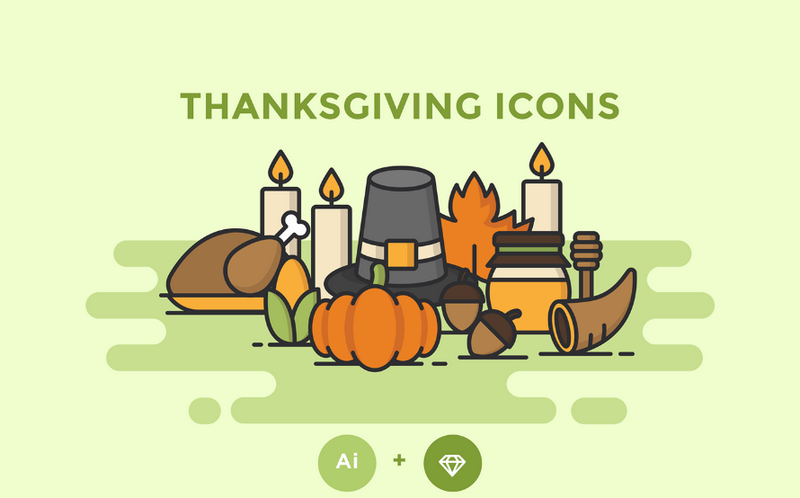 Add tiny pumpkins, baked turkey, or even a Pilgrim hat to navigation links, headlines, and titles to sprinkle the holiday spirit all over the page.
Need some free stuff for that? Take a look at these outstanding freebies as well:
All these icon packages include exceptional graphical material made with the holiday in mind. Each bundle has some unique features as well. For example, Webdesigner Depot's freebie has acorns and candles, whereas Flaticon's pack includes a pecan pie and glasses of wine.
Enrich Your Content with Festive Typography
Another small step to create a winning web design for Thanksgiving is to play with typography. Much like icons, typeface gives you an opportunity to change just a tiny part of the design while staying true to your corporate roots as well.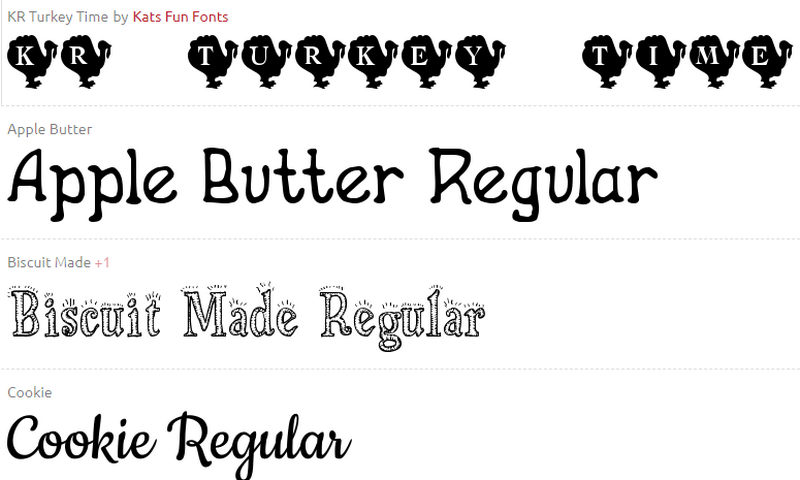 Firstly, you can try traditional fonts available on websites like 1001Fonts and Fontspace. Both of these platforms offer a great variety of Thanksgiving fonts. You can go for handwritten styles to add a homey vibe, quirky styles to meet the playful mood, or even turkey-based letterforms to show everyone that you throw yourself in the holiday.
Secondly, you can experiment with icons fonts as well. When used smartly, they can easily replace words and sentences, making your headlines intriguing and spicy.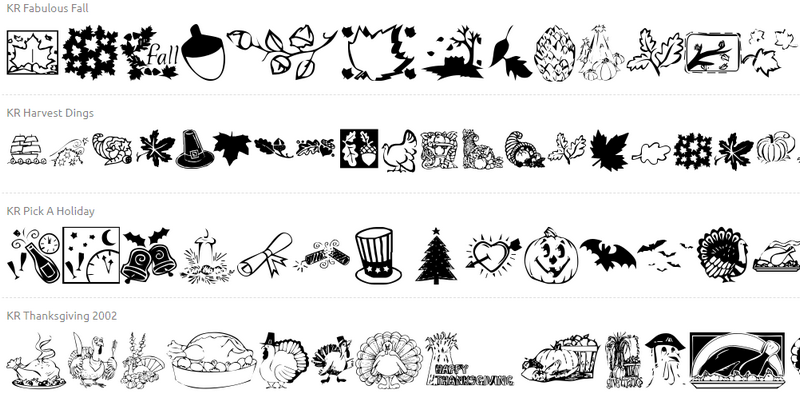 Use Festive Background
For those of you who are ready to use big guns and make the holiday spirit speak volumes, it is time to ditch clean white canvases and populate UIs with some picturesque backgrounds.
Thanksgiving Illustration
The artistic vibe interweaved with a human touch is one of the most powerful tools in the designer's arsenal. Illustrations easily establish the proper atmosphere as well as make the website a feast for the eyes. Just take a look at Watercolor Thanksgiving.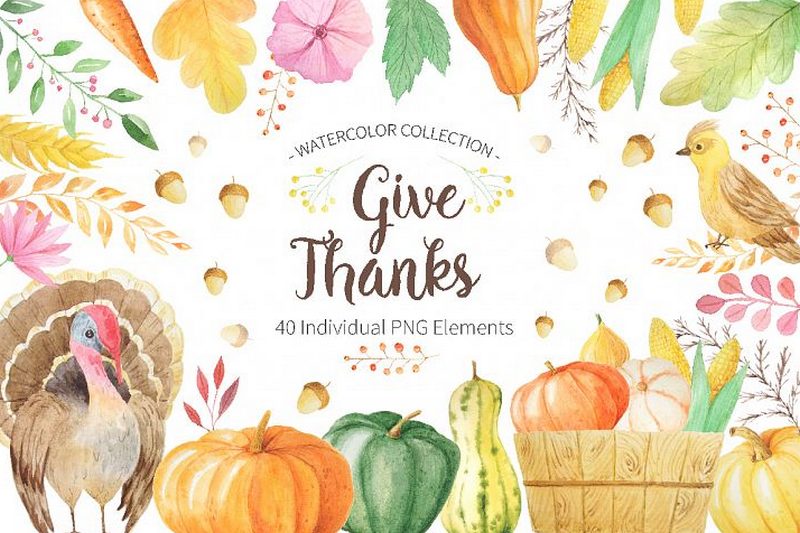 This incredible pack includes 40 isolated design elements made in an impressive watercolor style. Just imagine how your website will look with such a colorful festive makeover. Absolutely exceptional!
Thanksgiving Patterns
Patterns are another artistic way to arrange a web design for Thanksgiving. While illustrations can be quite resource-intensive, causing low performance, patterns are lightweight and easy to use.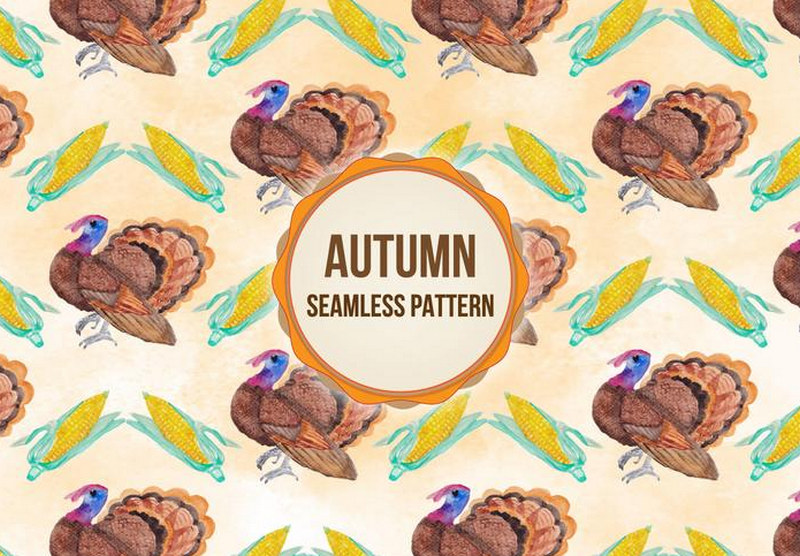 For instance, give a try to Vector Autumn Pattern and Free Thanks Giving Pattern Vector. In both cases, turkey runs the show. While the first freebie features a beautiful vector graphic that catches the eye with festive colors, the second one gets its beauty from the line style that oozes elegance and subtlety.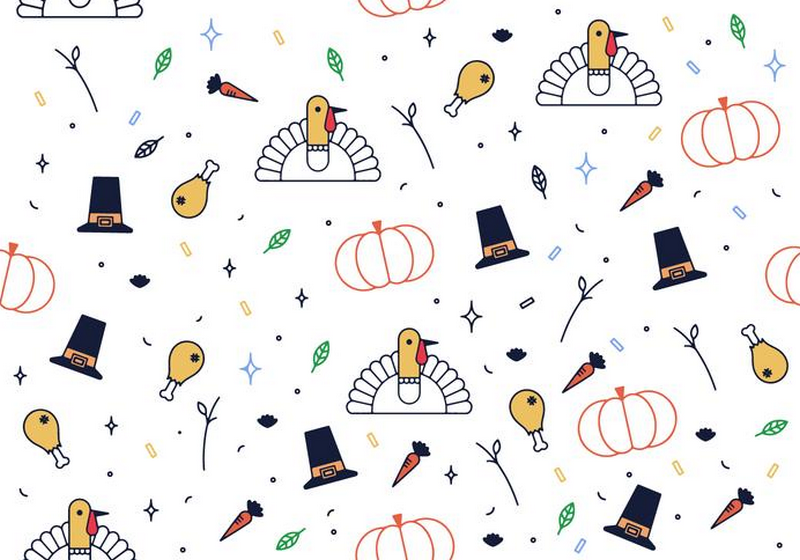 Thanksgiving Images
Well, it is enough of fancy decorations; a valid alternative to an artistic approach is using images. They allow you to show the Thanksgiving celebrations and win over your users with delicious pictures of the festive dinner table.

Although using image-based backgrounds is at odds with the current trends, nevertheless, when you use them on internal pages or sections, it easily fits the bill. Various platforms offer free Thanksgiving images; for instance, you can visit Rawpixel or Pixabay to find the best stock images to meet the spirit of Turkey Day.

Decorate the Hero Area
The last step in preparing your website for Thanksgiving is to make sure the festive mood hits the online audience right at the doorstep. To do so, you can transform your hero area into a Thanksgiving treat. One of the simplest ways to achieve that is by adding badges to your design.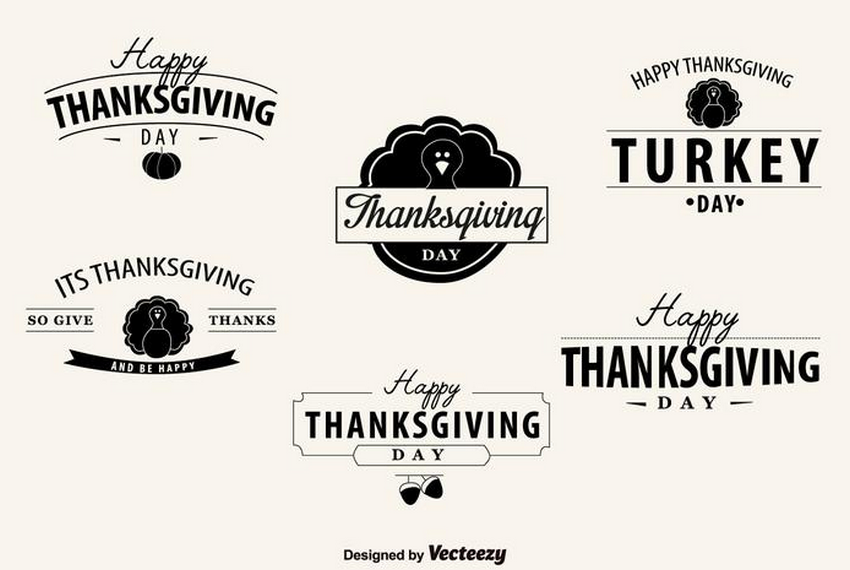 Without much effort, badges will add a festive touch to your homepage and won't cost you an arm and a leg. For instance, take a look at Thanksgiving Day Badges and Badges from Freepik.

The first freebie is quite neutral due to its monochrome coloring; nevertheless, it still exudes holiday vibes on all fronts. The second freebie, on the contrary, gets the most out of a vibrant autumn palette and a spectacular vector style.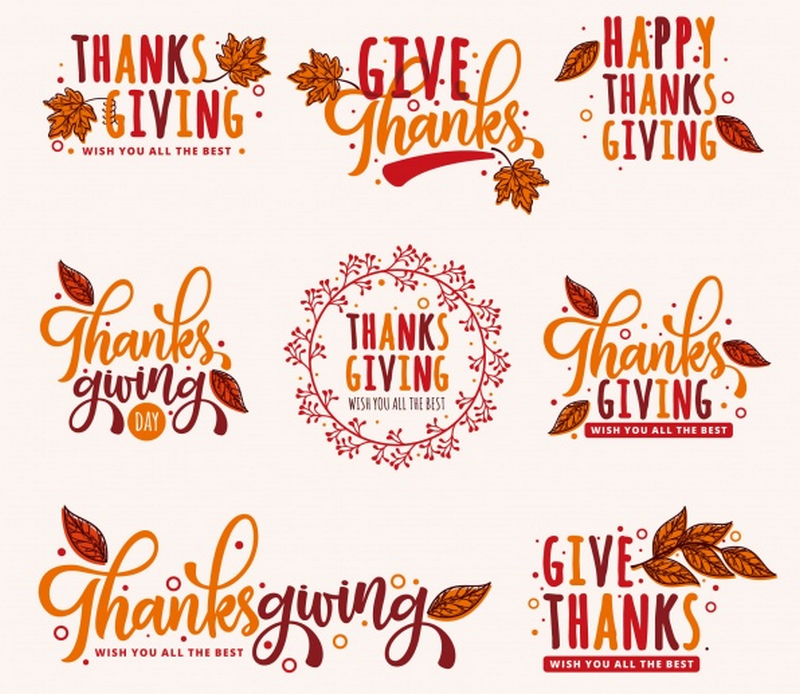 To make the statement even stronger, you can also use a holiday poster such as Thanksgiving Concept by Freepik. This beautiful picture instantly sets the crowd in a festive mood by making the first impression compelling.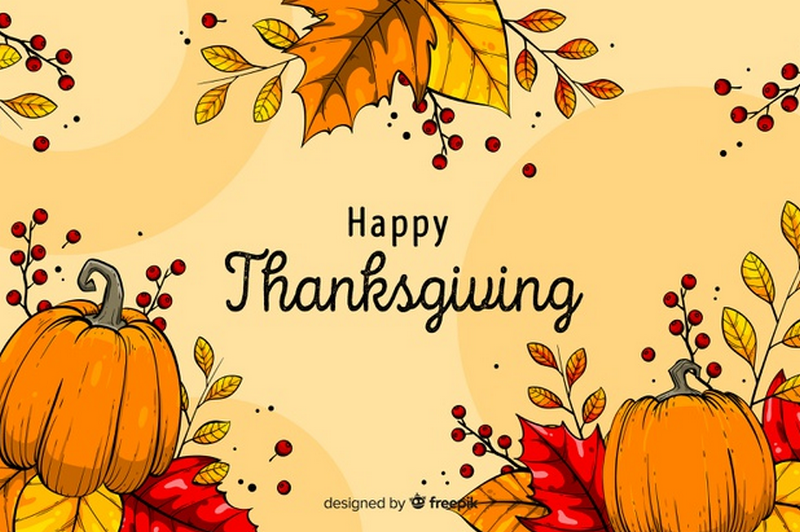 If a static solution does not impress you much, you can go for a dynamic one, too. Here, you can either use an animated gif such as Thanksgiving by Victor Sanabria or add a pre-made code snippet such as this animated Thanksgiving diorama to your site.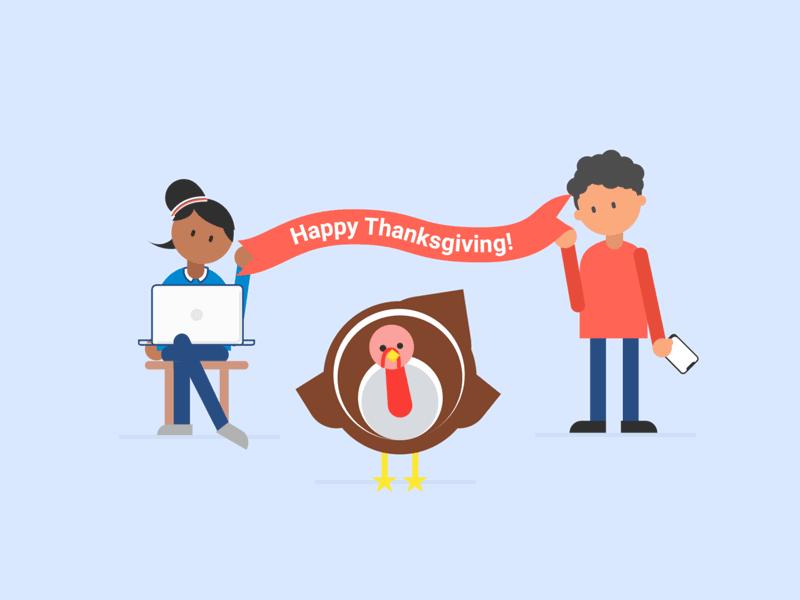 Conclusion
Creating a web design for Thanksgiving is not rocket science and it certainly does not cost a lot. There are many free resources that can quickly establish the proper atmosphere and make the online crowd feel the vibes of the feast. All you need to do is spend some time putting all the pieces together.