Creating a fitting logo for your business is one of the most important steps of your branding strategy. You don't necessarily need to hire a professional designer, as you can also use an online logo creator app to do the job by yourself. In this article, we have collected the best tools for making logos, ranging from simple vector editors with logo-specific features to AI-powered logo generator applications.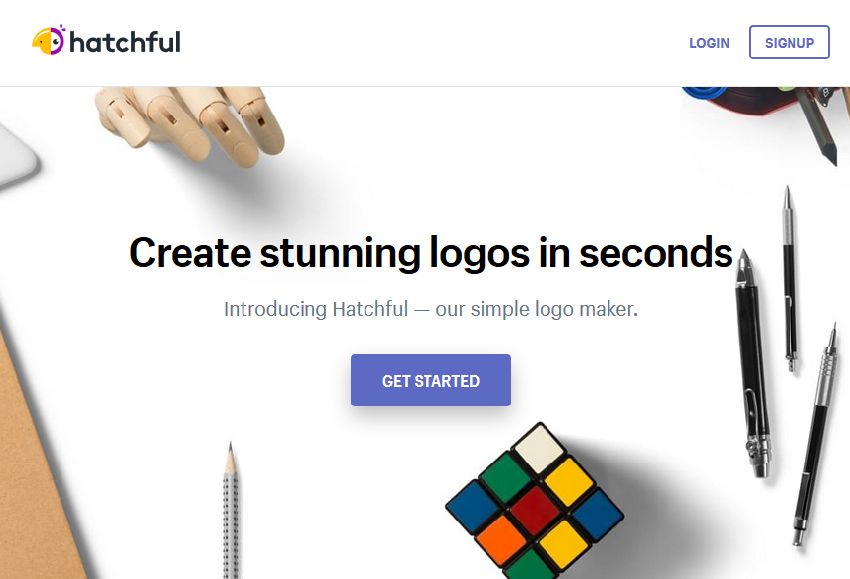 Hatchful is a free offering of the Shopify eCommerce platform, that allows you to create a logo in just a few clicks. It uses hundreds of professional templates to generate a custom logo based on the characteristics of your business. You need to complete a simple four-step process in which you can specify the business category, one or more visual styles, your business name, and all the places where you want to use your logo.
Then, Hatchful provides you with multiple logo options generated with a machine learning algorithm. It also lets you customize your chosen logo in terms of color, typography, layout, and iconography. Hatchful is one of the best tools for logo making if you don't have professional design skills and quickly need a production-ready logo.
Key features:
Professionally designed logo templates.
Logos for multiple industries.
Easy customization.
Brand assets for different use cases such as web, social media, business cards, and others.
High-quality image files.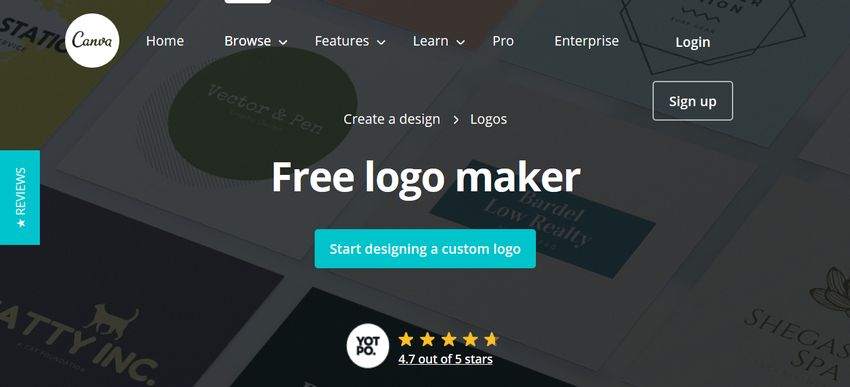 Canva is an awesome logo making app that provides you with multiple design choices. It has a user-friendly drag-and-drop interface with hundreds of pre-made logo templates. You can select your industry and find the template that best fits with your brand. You can customize your chosen template to your liking, as Canva lets you modify every design aspect of your logo. For instance, you can change the font type and size, color, spacing, alignment, and more.
If you don't find a template you really like, Canva is also one of the best tools for making logos from scratch. The logo builder comes with multiple built-in elements such as grids, shapes, frames, stickers, and illustrations that you can use to create your own logo.
Using the logo creator app and downloading your logo in PNG format is free of charge, however there are some features (such as downloading your logo with transparent background) that require you to purchase Canva Pro. The pro version comes with a 14-day free trial and also gives you access to other Canva tools such as their graph making and photo editing applications.
Key features:
Drag-and-drop logo builder.
Pre-designed templates for several industries.
Templates are easy to customize.
Custom elements, backgrounds, and photos (although some of these belong to Canva Pro).
Lets you upload your own assets.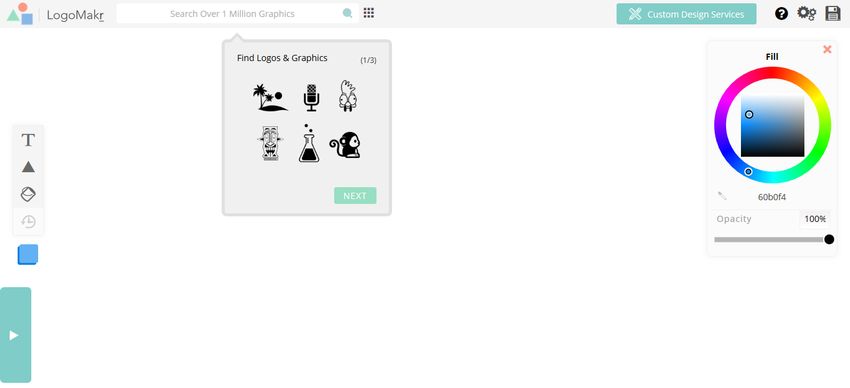 LogoMakr is a no-bullshit logo making application with which you can start creating your logo without having to go through any kind of onboarding process. You can search over one million graphics to find the one that is closest to your brand's vision. Then, you can use LogoMakr's visual logo builder to change the size, color, and position of your starter graphic, add text and shapes to it, test it with a black background, and crop the final result.
Although LogoMakr has an intuitive interface, it does require some design skills, as it doesn't generate a ready-to-use logo. So, if you are a complete beginner, you are probably better off with another app on this list.
With LogoMakr, you can download your logo as a low-resolution file for free, however, the high-resolution image files cost $19.00 per logo package.
Key features:
Tons of starter graphics to choose from.
Easy-to-use search functionality.
Drag-and-drop logo creator interface.
Multiple customization options (fonts, colors, shapes, and more).
High-resolution PNG, SVG, and PDF files for HD devices (with the pro version).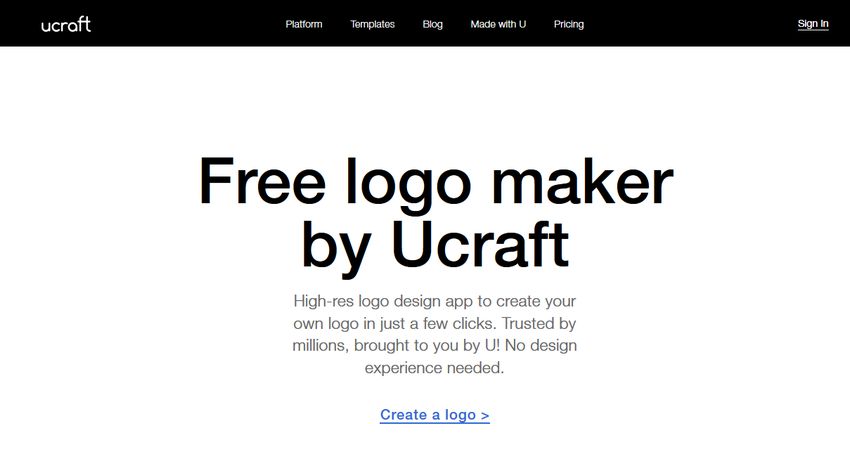 Ucraft is an online logo making application that allows you to create a custom logo from scratch. Although the homepage mentions that you can make a logo "in just a few clicks", Ucraft is not a logo generator but a vector editing app with logo-specific features. So, just like the aforementioned LogoMakr, Ucraft is neither recommended for beginners without professional design skills.
With Ucraft, you can choose from over 2 million royalty-free vector icons that you can further customize. For example, you can add text and extra shapes to it, change the colors, fonts, and alignment, and more. You can download your custom logo as a 600px wide transparent PNG file for free. However, if you need the high-resolution SVG file you will need to purchase it for $7.00.
Key features:
Clean, easy-to-use logo editor without any distractions.
Millions of unique icons to choose from.
Design options to customize fonts, colors, alignment, and more.
Grid lines in the background to help with positioning.
Preview functionality.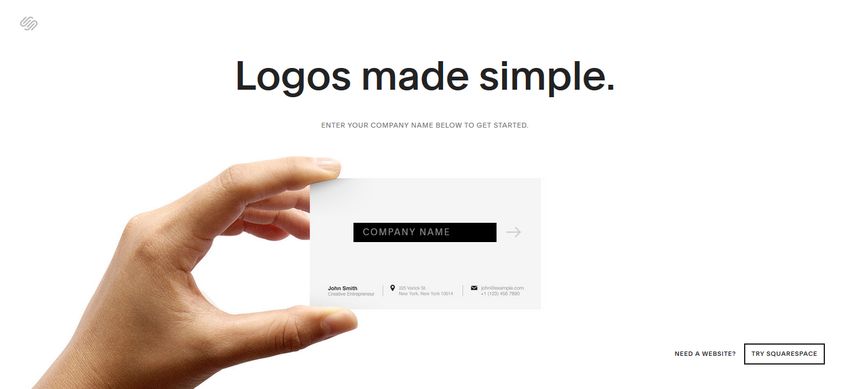 Squarespace Logo Maker is the free logo creator application by the popular Squarespace website builder. In functionality, this app is very similar to Ucraft, as the logo editor also comes with a handy grid-based background and preview functionality. You can get started by simply typing the name of your business into the application.
Besides designing awesome wordmarks, you can also add a unique icon to your logo. Thanks to the built-in search functionality, you can quickly find a suitable icon by entering the right keywords into the search bar.
You can also change the colors and fonts of your logo, although Squarespace Logo Maker doesn't come with as many customization options as most of the other tools in this list. Probably the biggest shortcoming of this application is that you can only download your logo in PNG format. However, it's free of charge, provides you with three versions (color, black, white), and you can go up to 5000px.
Key features:
Intuitive, distraction-free design editor.
Loads of ready-to-use icons you can quickly add to your logo.
Grid lines in the background with changeable grid size.
Preview functionality to test how your logo works in different environments (website, business card, T-shirt).
Downloadable high-resolution PNG images.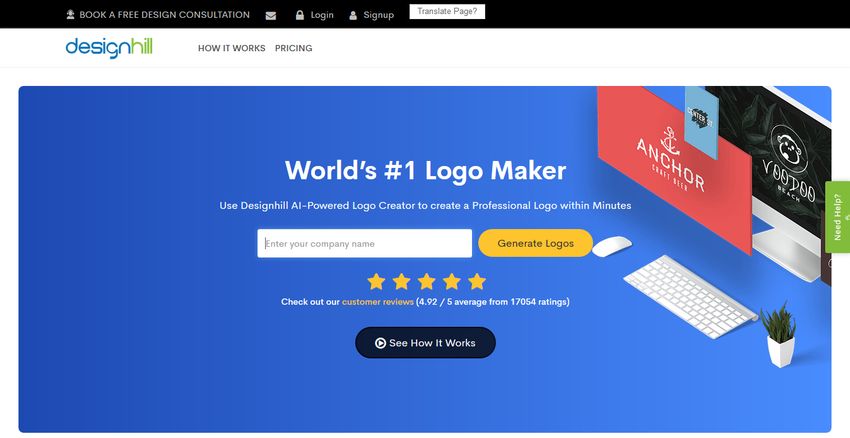 Designhill Logo Maker is an AI-powered logo maker application that lets you generate good-looking logos in the matter of minutes. You can start by entering your company name and the app takes you through a simple evaluation process during which it shows you a couple of logos, colors, and symbols, and you need to pick the ones you like the most. You can also choose your industry so that the logo generator will return only relevant designs.
Then, you have to wait one or two minutes until Designhill Logo Maker evaluates your needs and generates multiple logo variations for you. You can further tweak your chosen logo using the app's built-in logo editor by changing the fonts, colors, layout, and other design variables.
Although Designhill Logo Maker generates beautiful, professional-looking logos, it doesn't come with a free plan. For the low-resolution logo file, you will have to pay €15.00 while the high-resolution image and vector files will cost you €50.00.
Key features:
Smart, AI-powered logo creation process.
Careful assessment of your needs.
Built-in visual logo editor.
Multiple logo variations you can choose from.
Preview functionality that shows your logo in several different environments.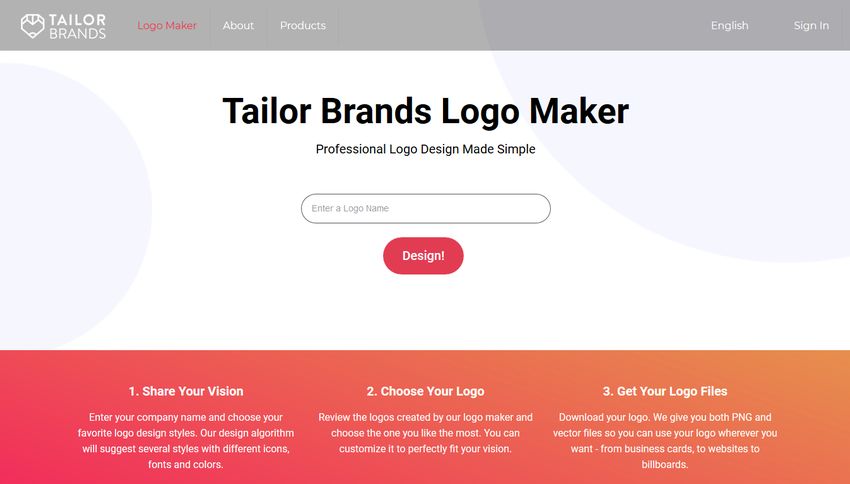 Tailor Brands is a design agency offering various branding tools — their AI-powered logo maker app is one of them. Similar to Designhill Logo Maker, you can start to design your logo by entering a logo name and optionally a tagline. You can also choose your industry and if you want you can shortly describe your product so that the AI can find the best-fitting logos for you.
With Tailor Brands' Logo Maker, you need to complete a step-by-step assessment process. This is really easy to do; you only need to pick your favorite logotypes from a couple of options. When your logo variants are generated, you can change the styles, fonts, and colors to make your logo look completely unique.
Tailor Brands Logo Maker is not a free tool, either. You need to sign up to one of Tailor Brands' plans, however you also get access to all their other design tools. Currently, their cheapest plan costs $9.99 per month and you can keep the high-resolution logo files even if you pay just for one month.
Key features:
AI-powered logo generator.
Beginner-friendly logo creation process.
Visual logo editor.
Multiple customization options.
Preview functionality.
Next Steps
Even though logo creator apps can help you a lot, you still need to think through what type of logo you want before getting started with the design. To get some inspiration, have a look at our following hand-picked logo collections, too: