How many times have you visited a website and contacted its support team to learn more about their services or products when you couldn't find answers to your questions? It sucks, doesn't it?
Most of the time, it's just basic information they could've included on the website but the lack of a Frequently Asked Questions (FAQ) page ends up being a huge waste of time for both the customer and the company support team.
Does your website have a FAQ page?
Just like a website's About page and Contact page, a FAQ page is an important part of a website's content design. Whenever someone visits your website and finds themselves wondering about your services/products, they immediately scroll to the website footer to find a link to a FAQ page to see if they could quickly find answers to basic questions.
It doesn't matter if you're running a personal blog, a small business website, or an eCommerce store, every website should have a FAQ page.
The Benefits Of A FAQ Page
When you streamline the basic information about your business in the form of a FAQ page, you'll be able to save hours of your own and your support team's valuable time by letting your website visitors find answers to their questions by themselves.
Studies show that your website visitors only read 20% of the content on your web page. We live in a fast paced world and people don't have the luxury to read thousands of words on every website they visit.
Your FAQ page, however, offers valuable information in smaller easily digestible pieces. Making it easier for the readers to quickly find what they're looking for without having to read entire paragraphs of text.
FAQ pages also play an important role in website SEO as well. It provides you a great opportunity to provide information about your products/services in the form of the web's most searched questions.
If your website is built with WordPress, creating an effective FAQ is as easy as installing a plugin. In this article, we take a look at some of the best FAQ plugins you can use to get that job done.
What Can You Do With A FAQ WordPress Plugin?
FAQ page is a section on your website that needs to be updated often. When your business grows and changes its policies, services, pricing, etc. you'll need to update your FAQ page constantly as well.
FAQ WordPress plugins make this process much simpler. When using a FAQ plugin, you'll be able to easily manage your questions and answers to edit and update them whenever you want without the need of expert help.
You don't need a web designer or programmer to setup a FAQ page on your website. Simply choose an appropriate plugin from our list below and create one for yourself.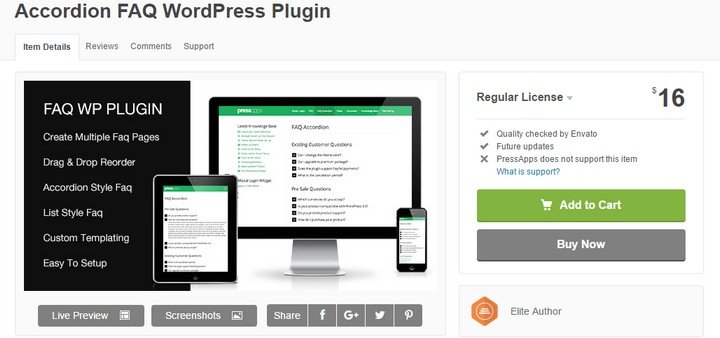 Price: $16
Best For: Professional, eCommerce, Business Bloggers
Accordion FAQ is one of the most beautiful FAQ plugins you'll ever see. Not only that, it also comes with a highly affordable price tag and it's beginner-friendly.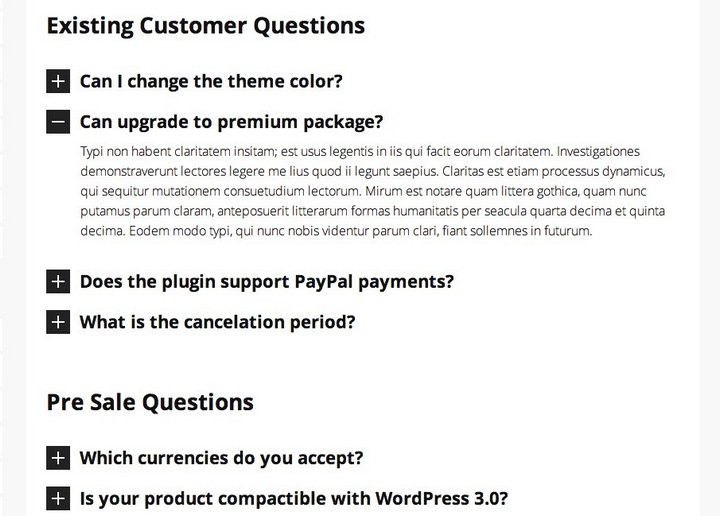 Main Features
Accordion FAQ plugin includes several great features, like the ability to create multiple FAQ pages and an easy to use drag-and-drop interface. You can also use it to create accordion and list style FAQ pages or even create your own custom templates.
The only downside to using this plugin is that it doesn't include customer support from its creator. Once you purchase the plugin, you're on your own.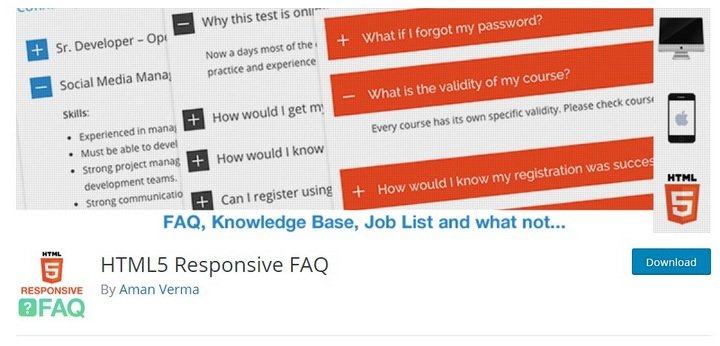 Price: Free
Best For: Personal, Business Bloggers
The best free FAQ plugin you'll find on the WordPress plugins database. This is (probably) the only free plugin that comes with lots of customizable features and a decent looking design for creating FAQ pages.
Main Features
The HTML5 Responsive FAQ supports a number of customization options for changing colors, font size, and making adjustments to create FAQ pages that fit in with your website theme. It also supports the creation of multiple category FAQs and custom sorting options.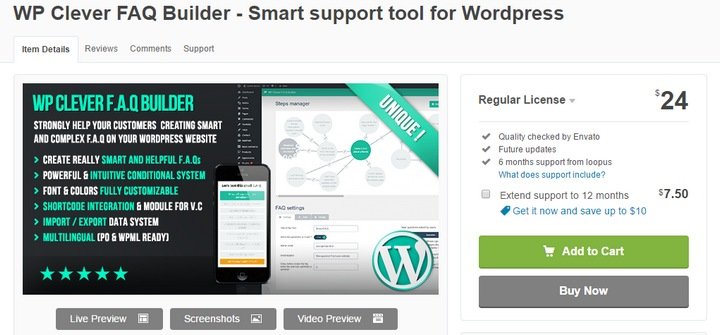 Price: $24
Best For: eCommerce, Business Bloggers
WP Clever FAQ Builder is an advanced plugin that takes creating FAQ pages to a whole new level. The plugin comes with unique features for creating detailed and step-by-step answers for providing personalized support to your customers. Which makes it the best plugin for businesses with complex services and products.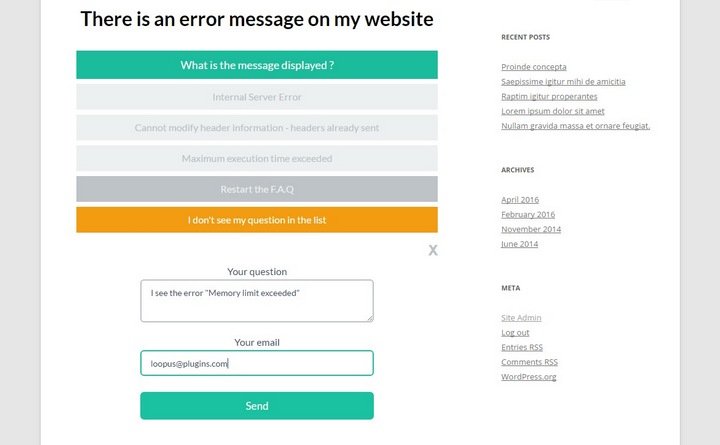 Main Features
In addition to the options for customizing the design, the plugin comes with a powerful back-end editor for creating streamlined FAQs. It will also allow your customers to contact you directly from the FAQ page if they couldn't find the answers they're looking for.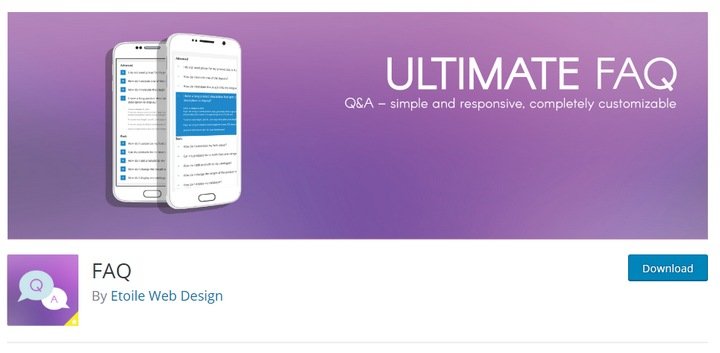 Price: Free
Best For: Personal, Professional, Business Bloggers
Ultimate FAQ is yet another free WordPress plugin that also comes with a paid version. One of the best features of this plugin is that it makes your FAQ pages look great on mobile devices.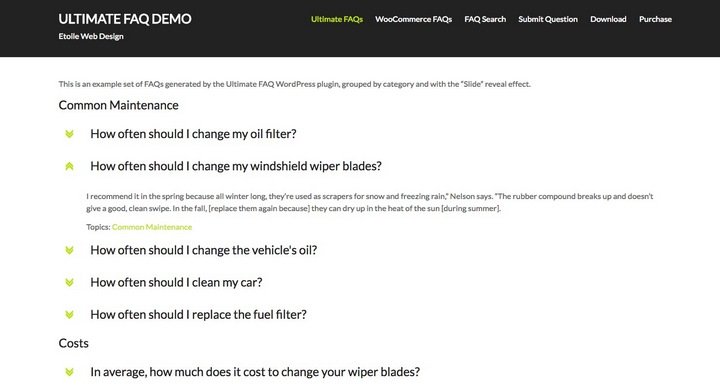 Main Features
Ultimate FAQ allows you to create an unlimited number of FAQs, create FAQ categories, and even create FAQ posts. It also supports custom CSS for manually styling your FAQ pages.
The premium version of the plugin comes with additional features, like icon sets, WooCommerce widgets, User-submitted FAQs, and more.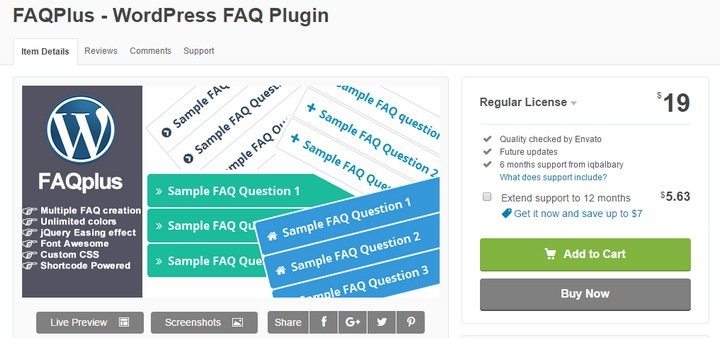 Price: $19
Best For: Professional, Business Bloggers
FAQ Plus is an intelligent plugin that allows you to create FAQs and display them anywhere on your website, including pages, posts, widgets, or even directly on your theme using shortcodes.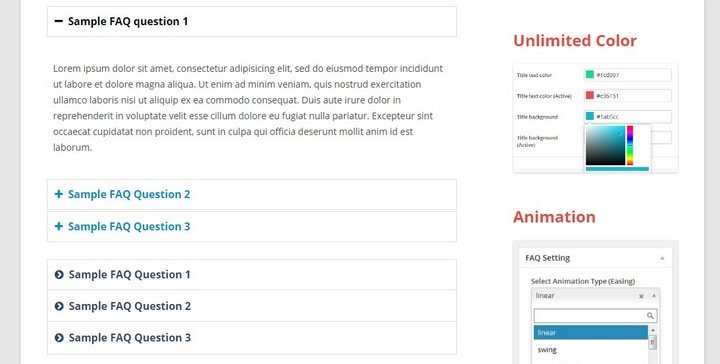 Main Features
FAQ Plus also features over 25 beautiful animation effects for improving user engagement on your FAQ pages. It also supports Font Awesome icons and custom CSS codes.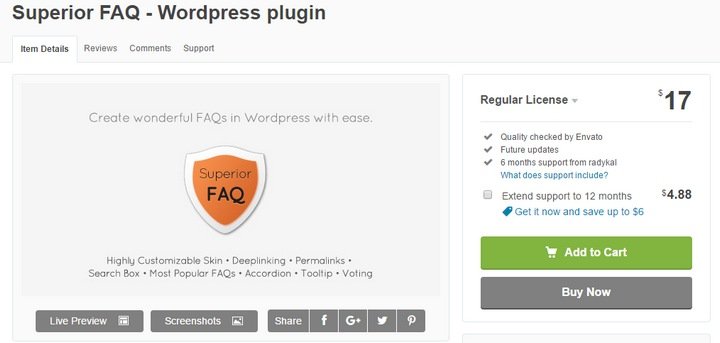 Price: $17
Best For: Professional, Business Bloggers
Superior FAQ is an advanced plugin that comes with some unique features for creating different types of FAQ pages that'll also make them fun for the readers.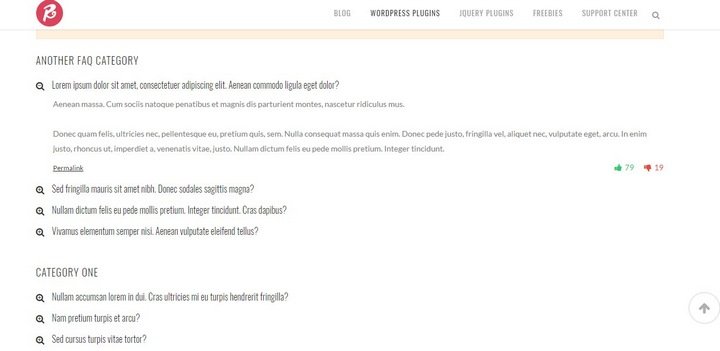 Main Features
Superior FAQ includes a customizable skin for making your FAQ pages truly your own and it even includes a search box for quickly finding relevant questions and answers. The plugin also features 2 layouts and 3 FAQ effects: Accordion, Tooltip, and None.
This is a plugin for creating truly advanced FAQ pages for small to medium businesses.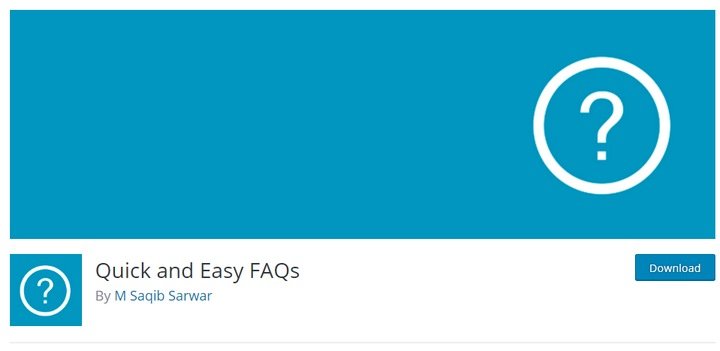 Price: Free
Best For: Personal, Professional Bloggers
This great free WordPress plugin supports several types of FAQ page designs, including list style FAQs, FAQs in groups, and even filterable FAQs.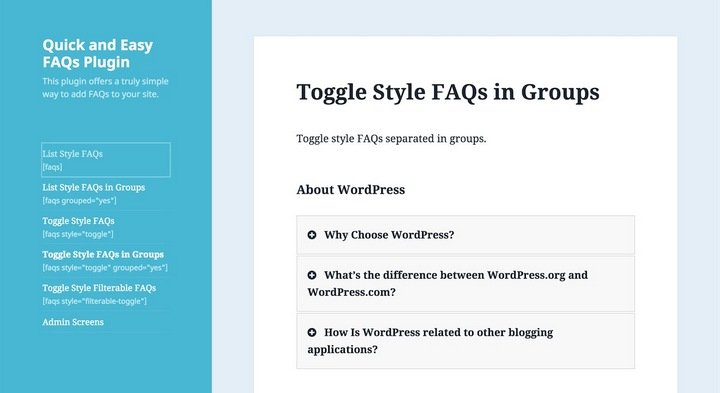 Main Features
In addition to the modern design, the Quick and Easy FAQs plugin supports Custom CSS styling and supports translation and RTL designs as well.
However, this plugin hasn't been updated in about a year. But, it should work fine with latest versions of WordPress. Feel free to give it a test drive and see if it works well with your theme.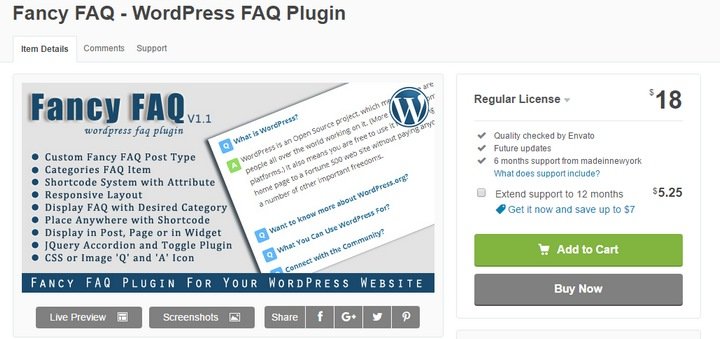 Price: $18
Best For: Personal, Professional Bloggers
Fancy FAQ makes creating FAQ pages easier than ever. It's an ideal plugin for beginners who prefer plugins with simple interfaces.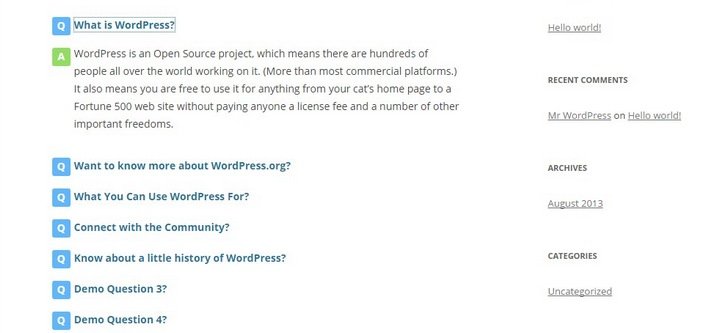 Main Features
Fancy FAQ allows you to create FAQ pages using the familiar WordPress post editor interface. It also supports FAQ categories, the ability to integrate FAQs inside posts and pages using shortcodes, and much more.
The lack of options for customizing the design is the only downside to using this plugin. Otherwise, it does the job of FAQ creation perfectly.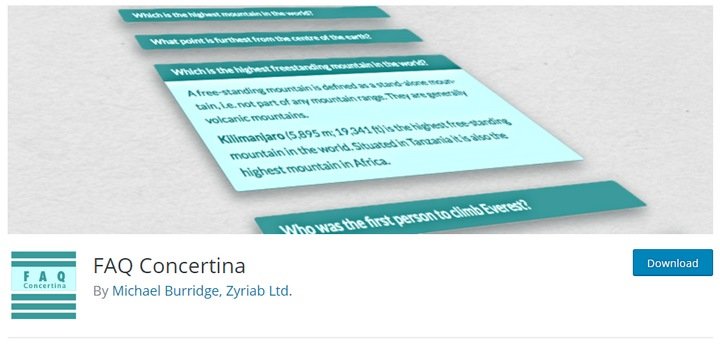 Price: Free
Best For: Personal, Professional Bloggers
Other than the slightly outdated FAQ page design, FAQ Concertina is a decent free plugin for creating simple FAQ pages for your blog or business website.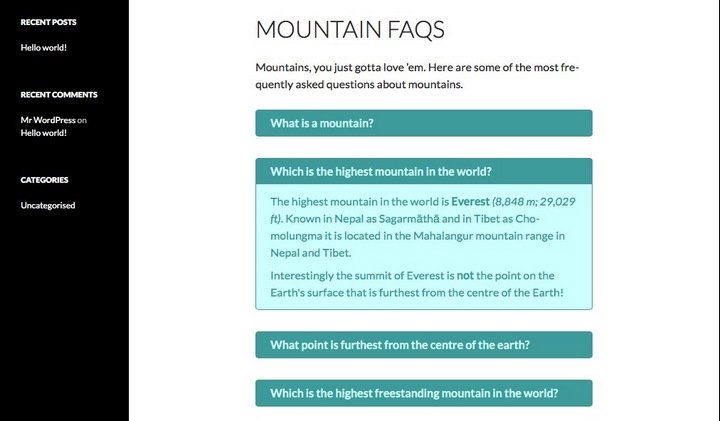 Main Features
FAQ Concertina FAQs can be easily integrated into your pages and posts with a simple shortcode. It also supports unlimited FAQs, categories for FAQs, and several color schemes for customizing the design of the FAQs.
Creating and managing FAQs using FAQ Concertina is quite easy. For beginners with little experience in WordPress, this can be a great plugin to use for creating basic FAQ pages.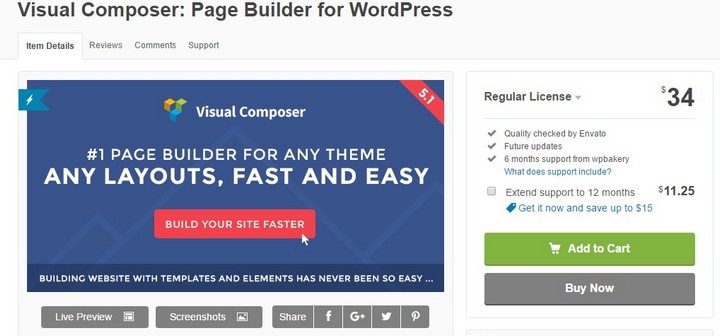 Price: $34
Best For: Professional, eCommerce, Business Bloggers
Visual Composer is not a FAQ plugin. It's actually a page building plugin that allows you to easily create beautiful landing pages on your WordPress website without needing any coding experience.
Main Features
Visual Composer comes with a special content element called Accordion, which you can use to create your own FAQ pages with expanding content. The main benefit of using Visual Composer to build FAQ pages is that the plugin is not just about creating FAQ pages, it has many uses. And you'll get more value for your money.
Summary
As you can see, there aren't many free FAQ plugins available for WordPress. At least not good ones. Most of the high-quality FAQ plugins comes with a price.
It's a small investment you can make to provide better customer support if you truly care about your website visitors and customers.
You May Also Like: