Cyberpunk design was a discovery of the previous year. Although it did not take the web by storm like flat style or material design did once, it was undoubtedly the talk of the town. Originated from science fiction movements of the 60s, cyberpunk design had become one of the most popular subgenres of science fiction among geeks and nerds in the past. It is all about the future where high-end technologies would rule the roost.
However, not everything is so rosy, or should I say pinky, as it seems. Since then, smart technologies such as artificial intelligence and cybernetics have brought about radical changes in the social order. And, this is where the story begins. Cyberpunk design is incredibly engaging, absorbing, and most importantly, fits into the present day realm. As it is not going anywhere soon, it's time to familiarize yourself with daring and high-tech-inspired cyberpunk design.
How to Use Cyberpunk Design
This article is not dedicated solely to the subculture of science fiction and high-tech. Today we are going to dig a little deeper. The deal is that not everyone is ready to adjust his or her website to the trend. What's more, not every project requires it — some even will look ridiculous with the design overpopulated with the characteristic traits of this incredible subgenre of science fiction. Nevertheless, it does not mean that you cannot take part in this fantastic mainstream and get the most out of its unique charisma. Just adopt one of its iconic colors such as cyberpunk pink that is widely believed to be the new black.
Cyberpunk pink and other vibrant colors are gaining popularity among the web designers these days. A recent poll has shown us that the audience considers it a trend of 2020. Therefore, we just could not help but explore some trendy colors of cyberpunk design.
Cyberpunk Pink is a Trend within a Trend
Well, of course, the first stop is cyberpunk pink. It is an iconic color, and it has been incredibly popular recently. So, let's consider some representative examples.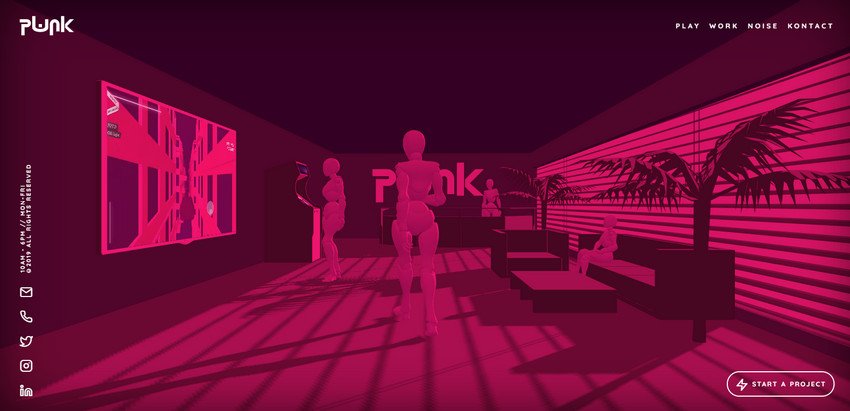 If you still cannot get what pink we are talking about, PWNK Digital will show it in practice. Their website is a symbiosis of cyberpunk design and cyberpunk pink. These two trends perfectly co-exist together, providing readers with a true masterpiece.
Even though the pink color dominates here, it does not overpower viewers. It is so natural that it feels like this design wouldn't work without this incredible tone.
Of course, such dominance is very difficult to adjust to every need, to say nothing about its tricky handling. PWNK is an exclusive example. Quite often, cyberpunk pink plays a secondary or complementary role in website designs. Sometimes it just adds to the aesthetics, while in other cases, it creates unobtrusive focal points — see the next two examples.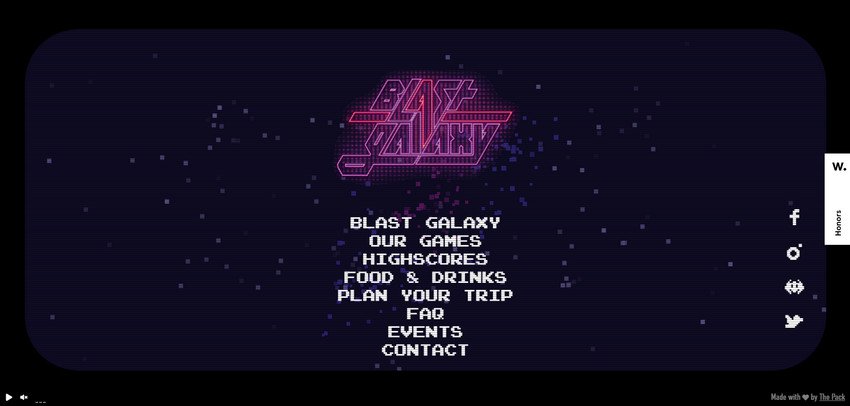 Blast Galaxy is made in a classic arcade style. You can even feel vibes from the 90s. Here, cyberpunk pink perfectly blends in. It nicely complements the gorgeous neon purple and finishes off the overall bluish aesthetics with line style details.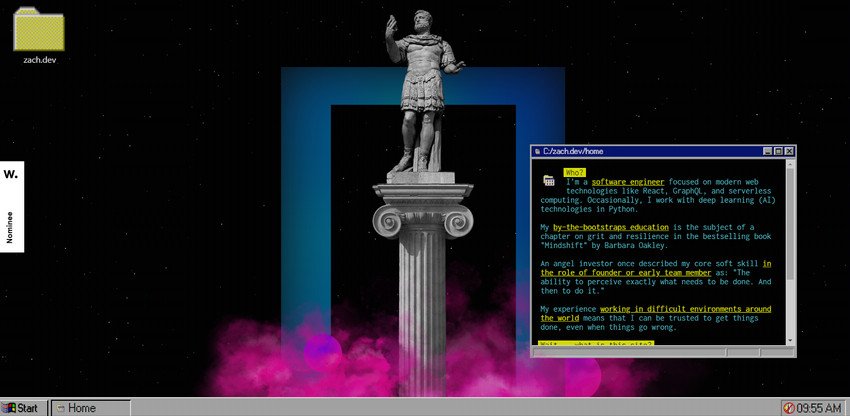 Much like Blast Galaxy, Zach Dev's website also has traits from the 90s. Can you guess what operating system was brought to life here? Of course, it is Windows, the beloved child of Bill Gates. The interface feels rustic and authentic. Once again, here, cyberpunk pink is a marvelous finishing touch that gives the design a nice cutting-edge feel.
Note that both examples ditch cyberpunk design in favor of retro design, however, cyberpunk pink has still found its way to benefit the project.
Purple and Neon Blue are other Popular Colors of Cyberpunk Designs
You have probably already noticed that pink is not the only color taken from cyberpunk design that is gaining popularity these days. Some other options are ready to carry the torch and run the show this year. Purple and neon blue are the most promising among them.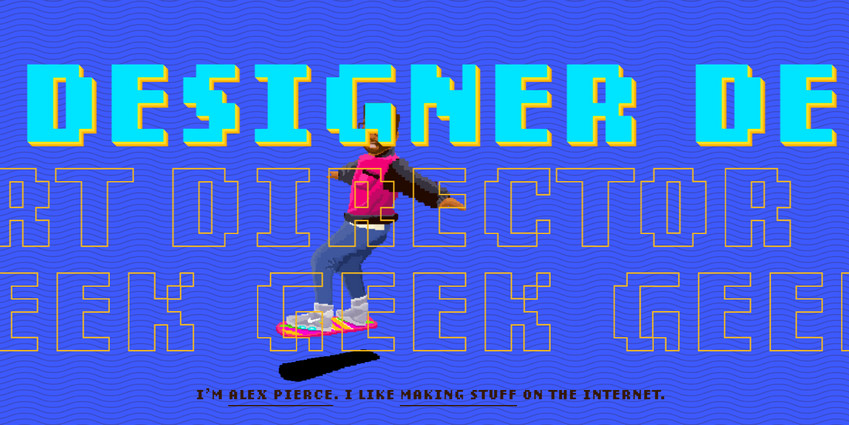 From the start, it becomes evident that this website represents a unique personality who is ready to test the limits and let his imagination run riot. Much like the two previous examples, it has a note of the post-disco era. Here, you can see not only cyberpunk pink but also neon blue. It nicely cooperates with all the other colors on the screen as well as gives the design a piquancy.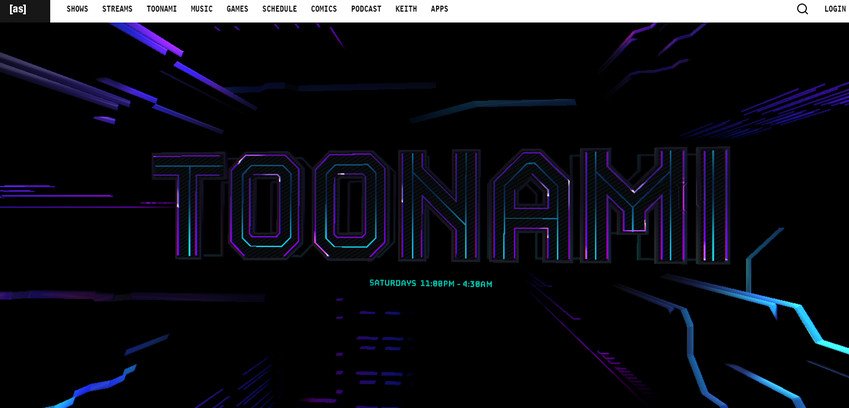 The latest version of Toonami has seen some improvements in design that were highly inspired by modern trends. And, cyberpunk coloring was one of them. Here you can see various shades of purple and neon blue that have transformed the interface into an outstanding WebGL environment. Used in pair with some glowing effects and applied against a dark canvas, these colors simply thrive.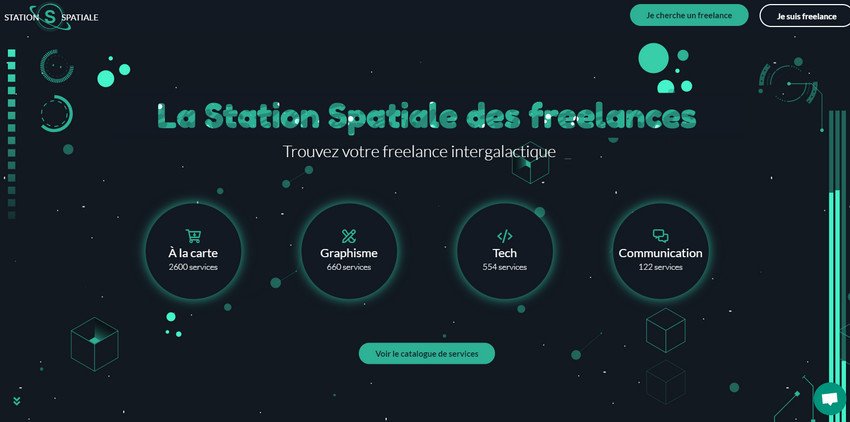 The neon blue is the primary tone in the design of Station Spatiale. It perfectly collaborates with a cosmic-inspired environment. As usual, we can see glowing effects, line style, spacy background, and of course, elements of control center inherent to iconic spaceships. Just brilliant.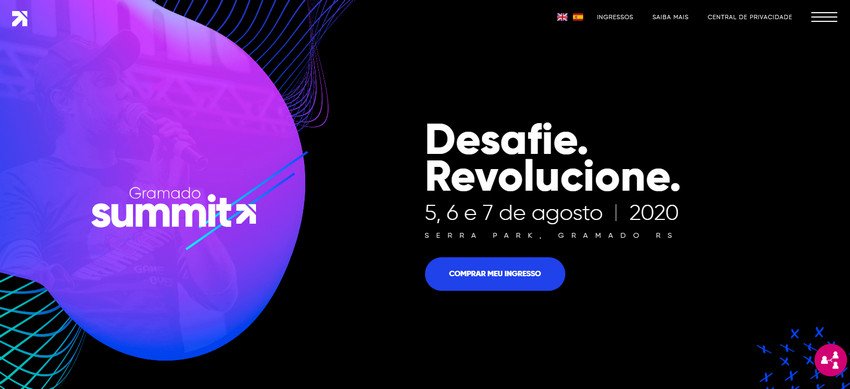 Gramado Summit is a grand event for startups in South America. Here, cyberpunk colors fit like a glove. They are a foundation for the entire aesthetics and a tool for reinforcing the pioneering atmosphere of the project.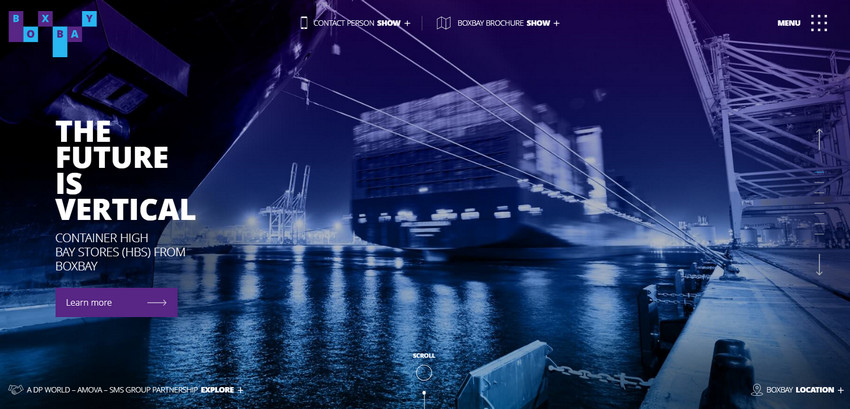 This example stands in stark contrast to the previous ones. While most websites listed above are personal portfolios of creatives, Boxbay represents a serious company.
Here, you can see how several shades of purple in tandem with neon blue can bring about marvelous aesthetics that visually support the main message.
It adds to the corporate image, making the interface feel serious and trustworthy. However, at the same time, it gives futuristic notes to the design, showing the audience that the company deals with high-end technologies.
Boxbay is a vivid proof of the fact that cyberpunk coloring easily goes hand in hand with companies and corporate websites. It is an option not only for artists but also for those who want to establish themselves as a brand that deals with cutting-edge technologies.
Conclusion
Last year, cyberpunk design showed us that it had the stamina to outlive some tendencies. With the overall obsession of robotics, high-end technologies, and everything digital, chances are it is going to thrive in the near future. Therefore, its primary colors are also going to see some upsurge in popularity.
Pink, neon blue, various shades of purple will be the primary choices earlier this year. Spice them up with glowing effects, neon stylistic options, and of course, some outlined details, and you will end up with truly inspiring UI that is worthy of modern society.