Whatever season it is, we are all waiting for Christmas. It is the most wonderful time of the year that leaves everything bad behind and promises new starts. It is also the happiest time of all that brings joy and bliss. Everyone will be in high spirits, so why not become a part of this annual phenomenon and share the joyful mood with your web audience through your website.
Not only will you show your eagerness to be involved in social life, but you also get an opportunity to become closer to your loyal readers, thereby building stronger and healthier relationships with them. There are many ways to instill festive spirit into your UI, however, if you are not ready to dive headlong, you can always take baby steps and start with Christmas icons.
Christmas icons are one of the simplest yet viable ways to add a holiday mood to your website. Thanks to their relatively small size, they can easily set a festive atmosphere all around the place and with all that still stay unobtrusive. Let's consider some outstanding freebies that will help to align your UI to the holiday, show the festive spirit and simply please your readers.
Free Outline Christmas Icons Packs
We are going to start with the classic sets of vector shapes since they are the basics and suitable for almost any project.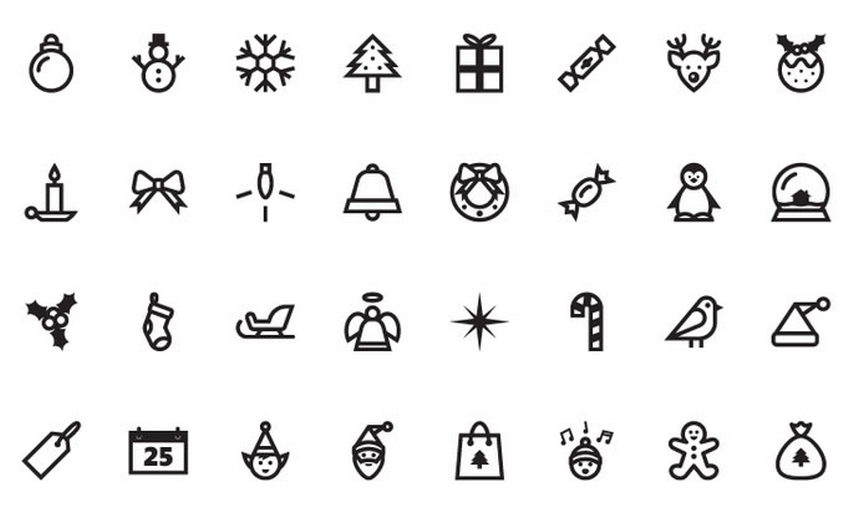 Created by Sam Jones, this bundle provides well-crafted graphical material available in a scalable format. It is dedicated to not just Christmas but also various winter activities, therefore it can be used as a design resource during the entire white season.

Christmas Icon Pack by Iconscout is another professional help in your pursuit of creating a themed UI design. It includes 32 items made in a beautiful outlined style that can be customized without much hassle. Use them to create patterns, small decorations, or even big banners.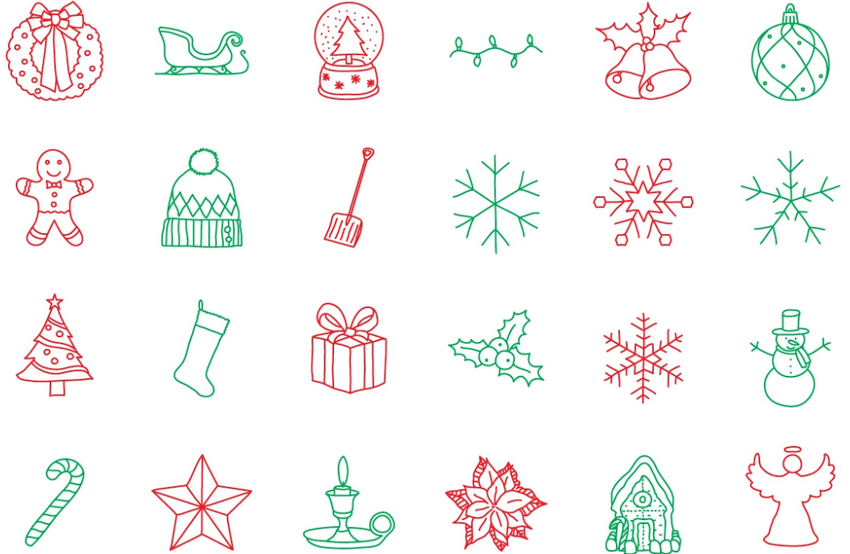 Beautiful line style enriched with a traditional green and red coloring always brings about outstanding results. And, the freebie from Linseed Studio is proof of that. Their loyalty-free icons are ideal for adding Christmas vibes to user interfaces. They are neat, subtle, and elegant.
Free Solid Christmas Icons
Now, let's move from monotone ghost-style options to solid and colored ones that instantly give your imagination an edge. First in the row is another Christmas icon pack by Iconscout.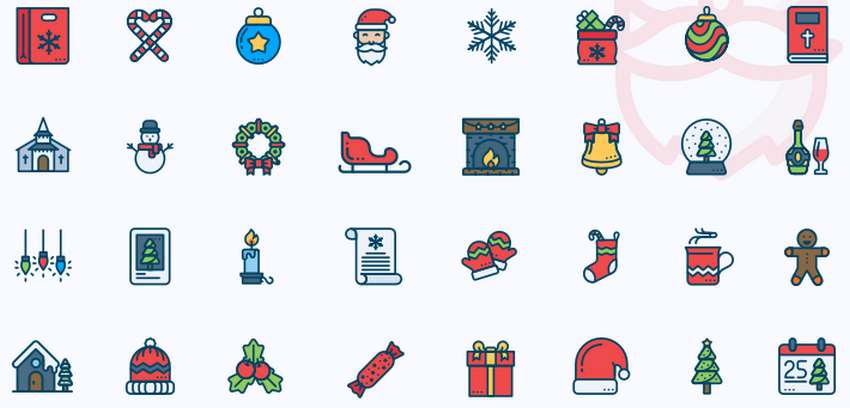 The Iconscout team shares with you 32 fantastic items that are available in 4 different formats. Although you will find inside almost the same selection as in the previous examples; thanks to their solid look and bright charisma, these solid icons will undoubtedly catch the eye and bring joy and happiness to any design, quickly getting online users in a festive mood.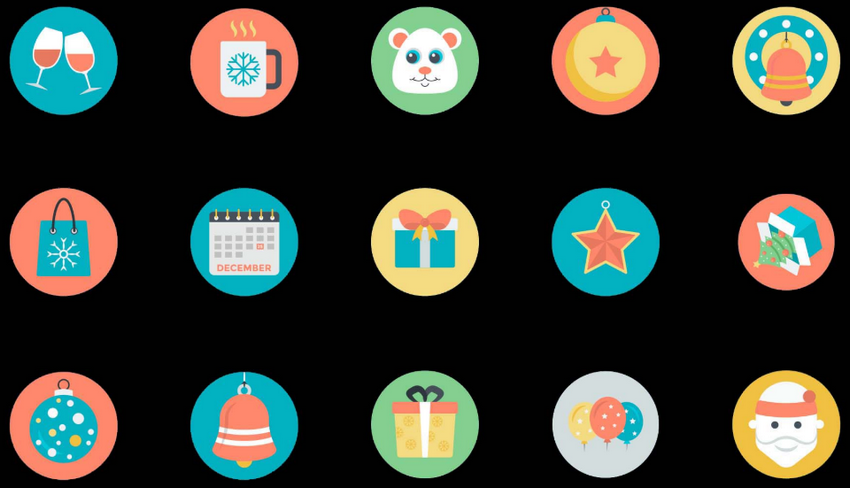 The team behind this fantastic bundle of Christmas celebration icons has taken a more traditional route by opting in favor of flat style. However, it does not mean that the icons look dull. On the contrary, they are exciting. Thanks to their relatively neutral design and coloring, they perfectly fit the bill of any Christmas project. Their circle shape transforms them into focus points that naturally draw the attention.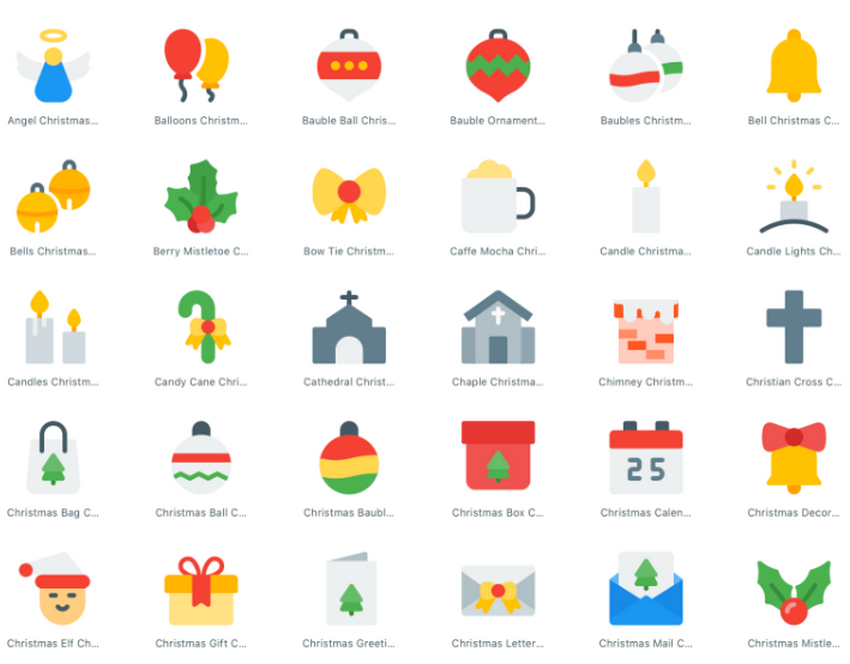 The freebie from Icons54 covers an assorted collection of Christmas icons. They are solid, bright, and flat. The team has an eye for detail, since they managed to create icons that come with several features, and with all that still convey the desired message.
There are more than 100 items inside the icon pack, available in three formats: EPS, PNG, and SVG.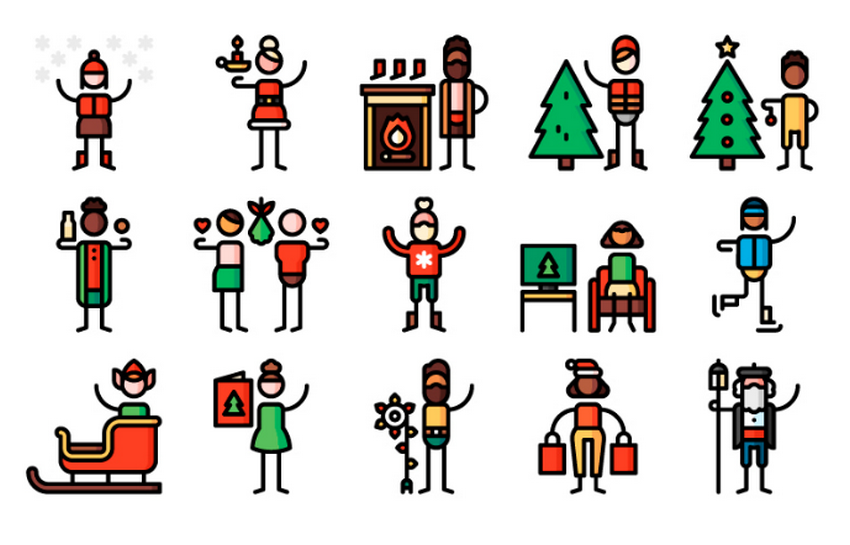 The free pack of Christmas icons from Freepik instantly stands out from the crowd. Unlike the previously mentioned examples, it wins over the audience with a powerful human touch. Although all the icons are faceless, the concepts and ideas are perfectly expressed.
Each item is available in three versions: outlined, solid, and colorful. Thanks to the SVG format, the icons are entirely scalable and easily editable. Therefore, you can change the colors of the pictogram to match the design of your website.
Highly-Detailed Christmas Icons
When we talk about icons, we surely do not expect something big and grandiose. Nevertheless, icons have the capability to be more than just a tiny pictogram. Let's consider some representative examples. First, take a look at a themed graphics set from Deszone, whose team has proved it with a fantastic freebie.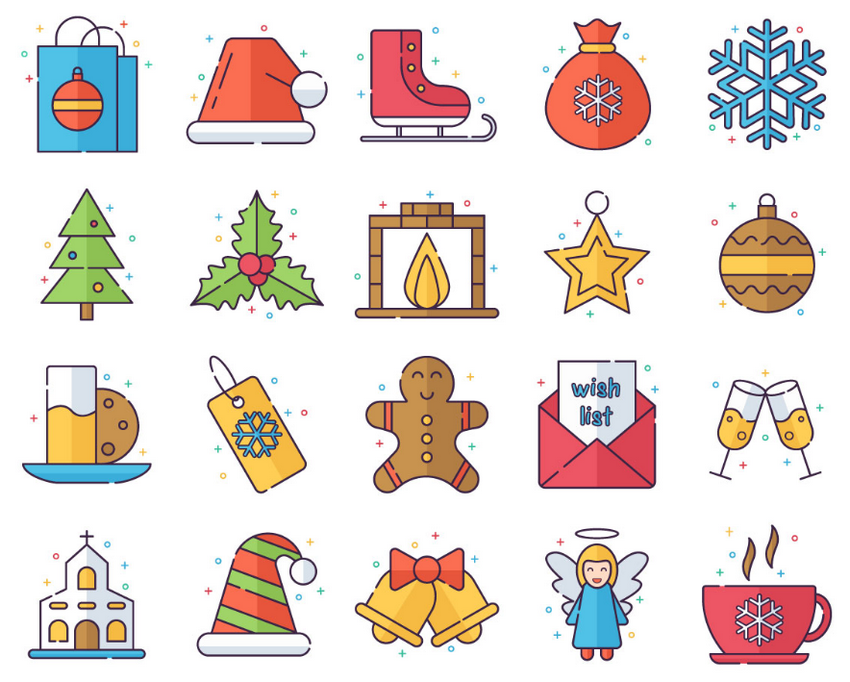 This holiday-inspired icon package includes only 20 items; however, that is enough to impress your visitors and establish a cheerful atmosphere. Each and every piece is a small illustration that depicts various activities or simply demonstrates the iconic details of the holiday. You will find in here a Santa's hat, a mistletoe, a snowflake, and even a small angel.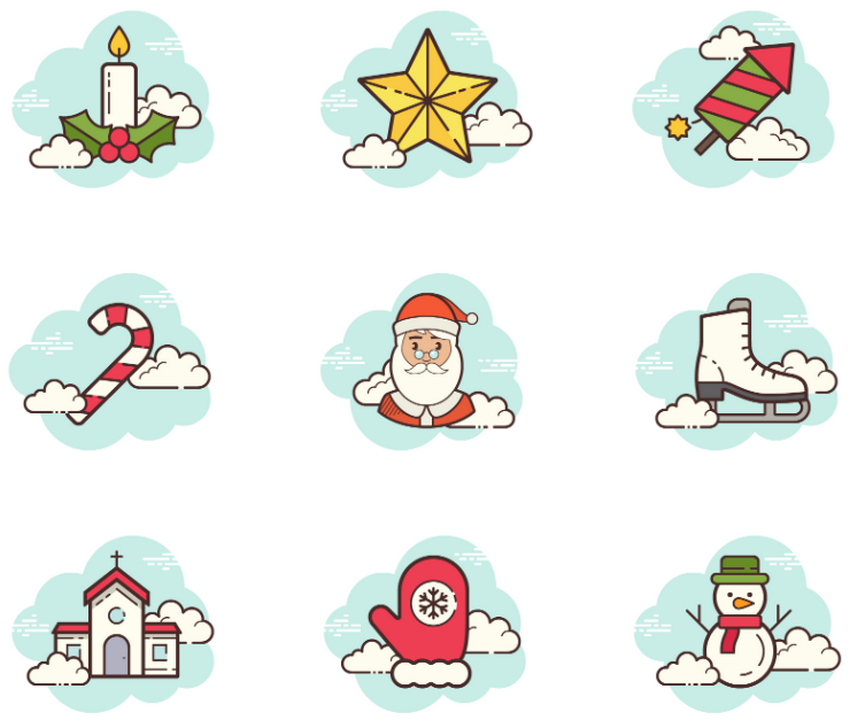 Much like the previous icon set, this one also boasts of a truly artistic approach and lavish appearance. Snowman, Elf, Santa, a candy cane, and other stuff related to either Christmas or New Year are waiting for you inside. 30 amazing small-sized illustrations are available in a scalable vector format. Download them and enjoy their strong festive spirit.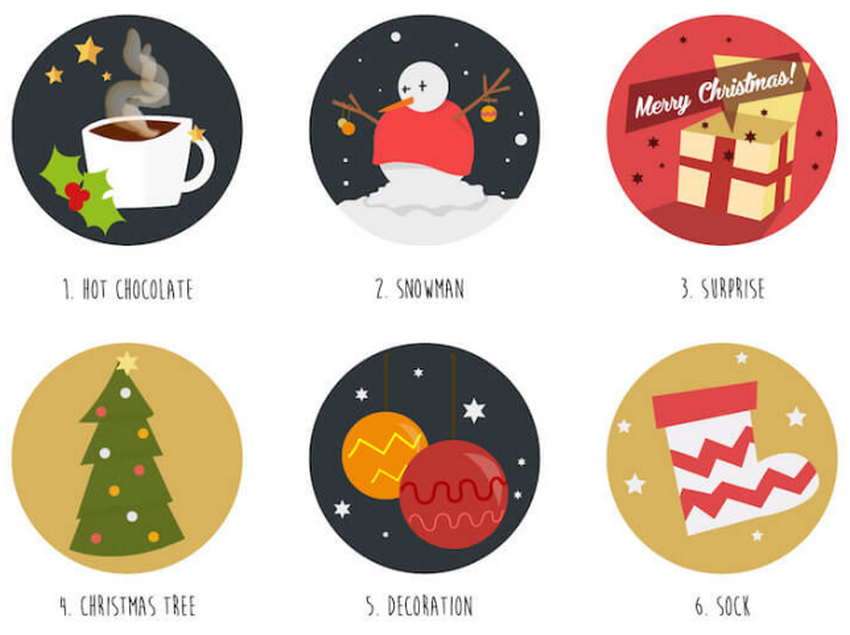 As the author of this incredible pack, Manuela Langella said, each icon is an explosion of creativity. And, we could not agree more. They are true masterpieces that can be hardly called icons since they are highly detailed illustrations.
Some of them depict the characteristic elements of the holiday, such as a tree ornament or Santa, whereas others embody events and activities like hot chocolate or a dinner table. They will undoubtedly become a perfect addition to any Christmas campaigns.
Conclusion
Christmas is a big holiday; no one can argue with that. This celebration managed to migrate from the real world into the digital one quite successfully. Not only do website owners support the feast by using corresponding ornaments, but email marketers also enhance their email newsletters with a festive mood.
Our collection of free Christmas icon packs provides you with professional design resources that can be utilized in various spheres and areas. Use them to add a holiday atmosphere to your website or application, create a digital greeting card, or build an email newsletter.