Over 74 Million websites! Or 27% of the web. That's how many websites use WordPress.
It can't be a coincidence for millions of bloggers, businesses, and brands to fall in love with WordPress. There must be a reason why so many people keep talking great things about this piece of software.
So, why do people use WordPress? Do you need coding experience to build websites with WordPress? How much does it cost to build a WordPress website?
If you've been wondering about all these questions, you're not alone. Many people are still unaware of the wonderful things they can do with WordPress. We're about to change all that. Once you're done with this article, you'll know everything you need to know about WordPress and what you can do with it.
While many bloggers and businesses make millions of dollars using WordPress websites, they also make it seem like a job suitable only for the experts. Let's find out if that's true.
What Is WordPress, Really?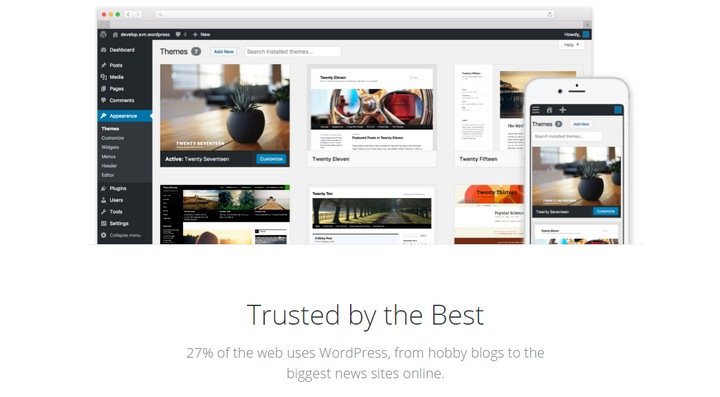 WordPress is an open-source software developed by a company called Automattic. It belongs to the Content Management Systems (CMS) software category, a type of software that allows you to build and manage websites and all of its content without requiring any coding knowledge.
WordPress works similar to a software that you install on your computer. Except this software needs to be installed on a server to make your website accessible to people around the world.
You can download and use WordPress however you like, for completely free!
What's The Catch?
There's popular saying that goes "all free things comes at a price". That's partly true with WordPress as well.
While the WordPress software itself can be downloaded, installed, and use at free of charge, you'll still have to pay for web hosting, domain name, and a theme for making a website with WordPress. We'll get to all that later.
The important thing to remember is that you don't have to pay anything to use the WordPress software. It's been a free software for over 13 years and it always will be.
Difference Between WordPress.org and WordPress.com
Most people often confuse the two separate WordPress platforms.
WordPress.org is where you can download the WordPress software to make a website on your own. This site also contains lots of free plugins and themes you can use to create your website.
Automattic also developed another site, WordPress.com, where people can get started with a WordPress website without having to set it up by themselves. You can start a blog using this platform for free on a sub-domain (eg: yourname.wordpress.com). But, it won't allow you to customize your theme or even monetize your website. You'll have to subscribe to a Premium plan to do all that.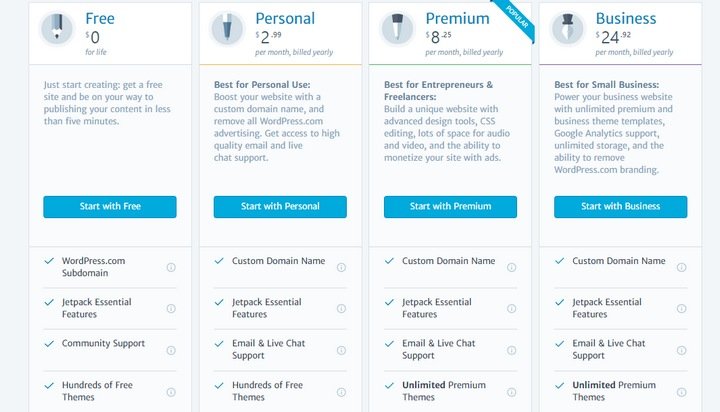 The main difference between self-hosting a website with WordPress.org and creating a blog with WordPress.com is the freedom you get with hosting a website on your own.
When you setup a website by yourself using WordPress.org software, you'll be in charge of everything. No one can tell you what you can and can't do. You can publish whatever you like and customize your site however you like.
Why Do People Use WordPress?
Main reason why people love WordPress is its simplified user interface, which allows you to do seemingly difficult tasks like adding new themes and changing the website design with just a few clicks.
Who is it for?
Even though WordPress is easy-to-use, it doesn't mean it's only good for making small blogs and websites. WordPress can be customized to build almost any type of a website.
Even some of the world's most popular brands and businesses such as CNN, Vogue, Bloomberg, Beyonce, Mercedes Benz, Martha Stewart, and many others use WordPress to build advanced and massively popular websites.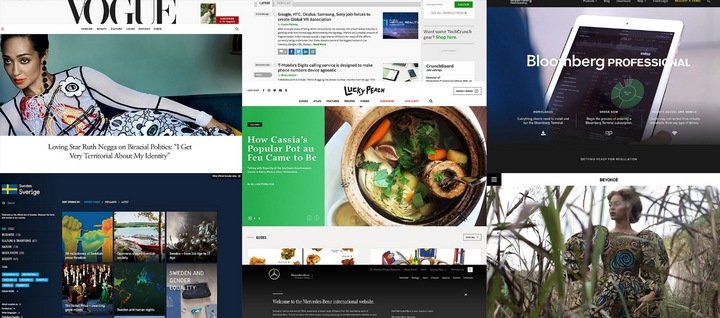 Do You Have To Be An Expert To Use It?
Even though making a website with WordPress seems like a job for an expert, it's really a simple process. Now you can install and get started with WordPress with just one-click. There are some web hosting providers out there (like Siteground) who'll even install WordPress for you when you purchase a hosting plan so you can get started blogging right away.
8 Types Of Websites You Can Build With WordPress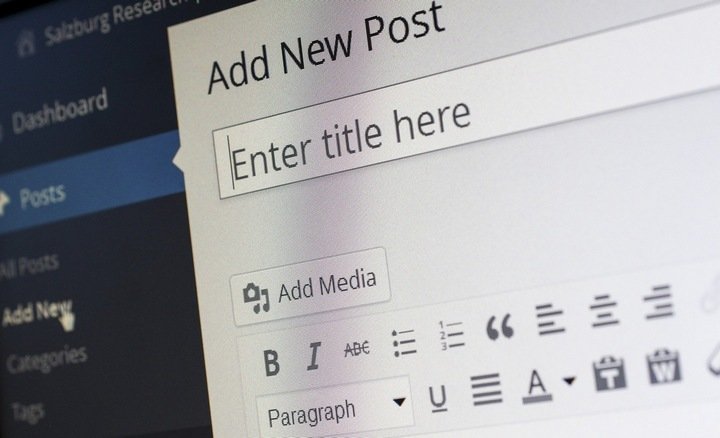 These are the most popular types of websites you can build with WordPress.
Personal Journal/Blogs
Personal blogs are the type of websites that people use to share their personal ideas, opinions, and advice. WordPress also has a Private mode, which you can use to turn a blog into a private journal as well.
Educational Blogs
Educational blogs are websites that teach people about certain subjects, like how to make money online or best places to travel.
Niche Blogs
Niche blogs are built targeting specific audiences for monetizing and selling products. Most bloggers build niche blogs to sell affiliate products using platforms like Amazon Affiliate to make easy money.
News/Magazine Websites
These are blogs that share information. For example, Onextrapixel is a magazine blog that shares information, tutorials, and guides about design.
Business Websites
A business website can be a website you create for a business or a brand to promote it through online marketing and attract more customers.
eCommerce Websites
You can also build an online store with WordPress to sell products or services.
Portfolio Websites
Setting up a portfolio website to showcase your work is quite easy with WordPress.
Community Forums
WordPress can also be used to create an online community around your brand or business to let users sign up, create posts, and share ideas.
WordPress also has many other uses, like creating membership areas, selling online courses, creating social networks, and more. The possibilities are endless.
How Bloggers Make Money With WordPress Blogs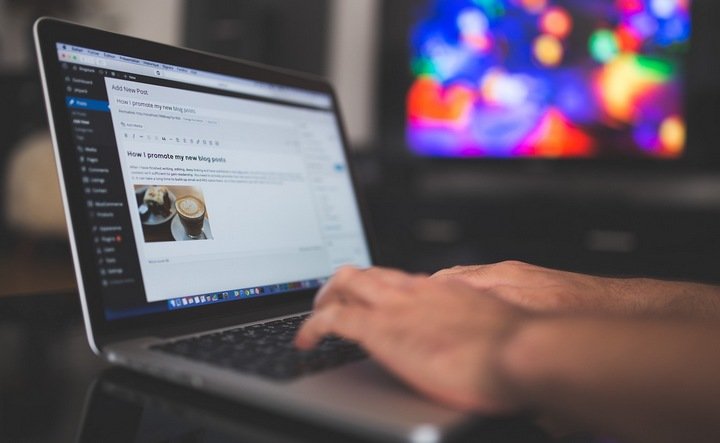 Once you have a blog up and running, there are so many different ways you can monetize your blog or website. Heck, there are bloggers out there who make millions of dollars every year from their WordPress-powered blogs alone.
So, how do they make money?
Advertising
One of the most popular strategies for monetizing a website is advertising. All you have to do is show a display or a text ad on your website and whenever someone clicks on the ad, you earn money. Google AdSense is one of the best platforms that'll help you with that process.
Affiliate Marketing
Affiliate marketing is probably the most profitable blog monetization strategy there is. If you've built a loyal following around your blog, you'll be able to easily sign up with affiliate programs, like Amazon Affiliate and Rakuten, to promote products related to your blog industry. When people buy those products through your recommendations, you earn a hefty commission off of each product sale.
Sponsored Content
Popular and authoritative blogs with lots of followers often receive offers from brands and companies who are looking to promote their services to specific audiences. They will pay you to publish articles about their services or even just mention their brand name and website in one of your articles.
Product Reviews
Similar to sponsored content, product reviews are also quite profitable. Most of the time, companies will send you free copies of their products to let you test them and write a review about it on your blog. The best part is, they will also pay for it as well.
These are just a few of the main blog monetization strategies most bloggers use today. But, there are many other ways to make money with a blog, depending on the type of blog or website you make.
The Costs Of Making A WordPress Website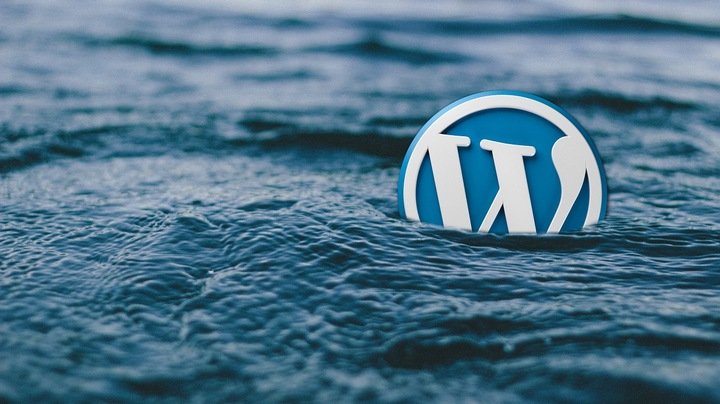 Just like every other business, you still need to invest some money to build and maintain your blog before making any profit. Even though WordPress is available for free, there are some costs to running a website of your own.
Here's how much it costs to make and maintain a WordPress website.
Domain Name – $11
The cost of a domain name depends on which domain name extension you want to use for your blog. For example, there are hundreds of domain name extensions like .com, .net, .org, and more. For a .com domain name, which is considered a Top Level Domain (TLD) it only costs around $11 USD when you buy it from a site like NameCheap.
Web Hosting – $48 per year
Web hosting costs will also depend on the web host you choose. There are some hosting providers who offer web hosting with poor services for cheap prices. You can't go wrong if you choose a hosting platform that provides WordPress optimized hosting services. Siteground is one of them. Their pricing plans start at around $48 for the first year and provide excellent services.
WordPress Theme – $29 – $59
To make your website look professional and unique, you'll need a professionally designed WordPress theme. These themes come at a cost. You can find thousands of premium WordPress themes on marketplaces like ThemeForest for prices ranging from $29 to $59, and sometimes even lower.
Premium Plugins (Optional)
You can also customize your website with premium plugins to add more useful functions, like using OptinMonster to build an email list. You can also explore thousands of premium plugins on CodeCanyon marketplace as well.
Yearly Maintenance Costs
In addition to those initial costs, you'll also have to pay to renew the domain name every year and for web hosting per month or per year.
For web hosting, it will cost you $120 per year (for Siteground Startup plan).
For the domain, it will cost you around $17 per year to renew the domain.
Those are the costs for building and maintaining a basic WordPress website. Additional costs will include if you decided to add more functions and services to your website.
Over To You
WordPress is a jack of all trades. The software can handle all types of websites from Amazon-like online stores to personal journals and much more. Whatever website you're planning to build, have no doubt that WordPress can handle it.
All that's left now is for you to start a blog. So, what are you waiting for?