Etsy has been the go-to marketplace of people wanting to sell or buy handmade products and craft supplies for many years. It provides you with features specifically created for creative businesses, such as an easy-to-use interface, built-in analytics and e-commerce tools, and huge exposure to prospective customers. However, since the marketplace was opened for mass producers and fees significantly increased, many users have begun to look for Etsy alternatives.
Although Etsy is still a valuable platform, there are many excellent solutions on the market that might better suit your needs.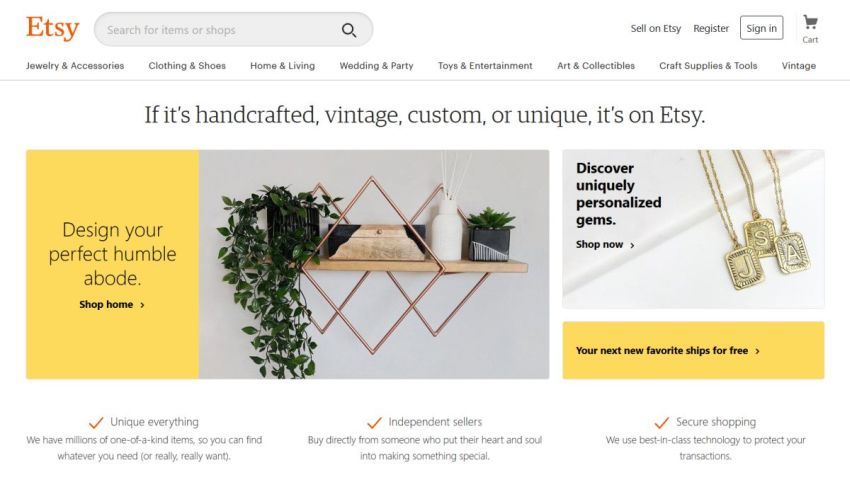 Market Overview of the Best Etsy Alternatives
If you are looking for an Etsy alternative, you can either move your products to another handmade craft marketplace or set up a self-hosted online store under your own domain. Both options have their pros and cons, so it depends on your needs which is the better solution for you.
Pros & Cons of Handmade Marketplaces
Pros: Handmade marketplaces similar to Etsy let you add your products to existing categories and listings in your niche. Processes are already set in place, so you can get started quickly. They also provide you with exposure to a huge audience who are already interested in and actively looking for your products.
Cons: These marketplaces come with limited customization options, both in terms of design and functionality. You also have to compete with many other sellers who are marketing products very similar to yours. In saturated niches, you can easily stay invisible unless you spend money on advertising to get your products to the top of the listings.
Pros & Cons of eCommerce Website Builders
Pros: Website builders with eCommerce functionality allow you to create a self-hosted shop for your handmade products. As they come with pre-designed themes and a drag-and-drop interface, you can set up your online shop without any programming knowledge. Since you are the only seller on your site, it's easier to retain your customer base, too.
Cons: Although website builders supply you with multiple built-in features, you need to gain traction on the market and in search engines on your own. On marketplaces, you can start promoting your items to an existing audience but on a self-hosted site, you need to put a lot of effort into marketing. This will most likely pay off long-term but it's definitely harder to get started.
Omni-Channel Shopping Experience
You can get the best of both worlds, too, by setting up an omni-channel shopping experience. This means that you are present as a seller on one or more handmade marketplaces while also running your own self-hosted shop. You don't even have to abandon your existing Etsy account, as there are eCommerce site builders that seamlessly integrate with Etsy and other handmade craft marketplaces.
How to Find the Best Fees
Comparing commission fees is the biggest challenge of finding the best Etsy alternative for your creative business. Each platform has a different pricing structure, so you have to calculate which one is the best option for you. As a starting point, here are Etsy's fees as of the time of this writing:
No monthly fees with the Standard plan. The Plus plan costs $10.00/month.
$0.20/item listing fee.
5% transaction fee.
3% + $0.25 payment processing fee.
See more on Etsy's fees.
In the list below, we have added the current fees of each Etsy alternative so that you can better understand how they compare to each other.
The Best Etsy Alternatives
1. Zibbet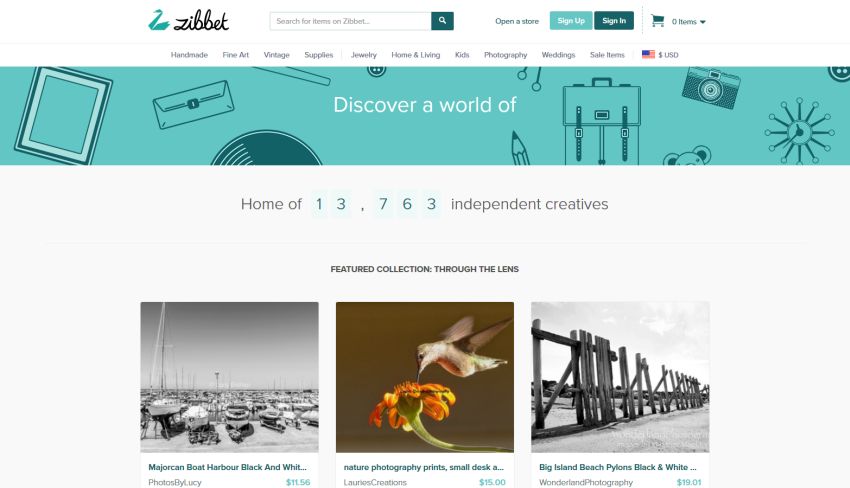 Zibbet is both a creative marketplace and a site builder, which makes omni-channel eCommerce possible out of the box. With the Zibbet web app, you can manage your shop across four sales channels, all made for handmade craft sellers, respectively:
the Zibbet Marketplace,
Etsy,
your custom shop (called Stitch website) managed through Zibbet's platform.
The Zibbet Marketplace is pretty similar to Etsy, although it has a smaller user base (which, on the other hand, also means less competition). But, as you can use it together with Etsy, you don't even have to choose between the two.
Zibbet's top features:
Automated syncing across your sales channels.
Centralized order management.
Ready-to-use, mobile-friendly design templates.
Free custom domain (for the first year).
Built-in stats and analytics tools.
Coupon codes, discounts, optional free shipping.
Supports multiple currencies, credit cards and PayPal.
Zibbet's fees:
14-day free trial.
After the free trial period, it costs $5.00/month/channel.
A minimum of two sales is required.
See more on Zibbet's fees.
2. Amazon Handmade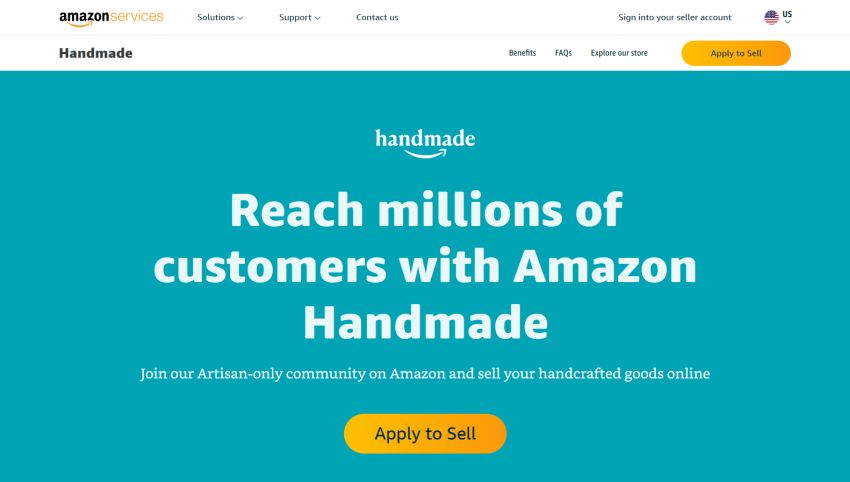 Amazon Handmade is a popular service of the tech giant, created for handmade and hand-altered products. To sell your products on Amazon Handmade, you have to go through an application process. In this way, you can be sure that you don't have to compete with mass producers and only genuinely handcrafted items appear in the product listings.
Amazon Handmade's top features:
Custom Artisan profile for your shop.
Amazon picks up and ships your products through the Fulfillment by Amazon (FBA) service.
Your customers can personalize their requested products.
Multitudes of product categories, so your products don't disappear in listings.
Flexible advertising solutions.
Amazon Handmade's fees:
Joining the platform, creating a shop, and listing products are free.
15% referral fee when you make a sale, with a minimum of $1.00.
See more on Amazon Handmade's fees.
3. ArtFire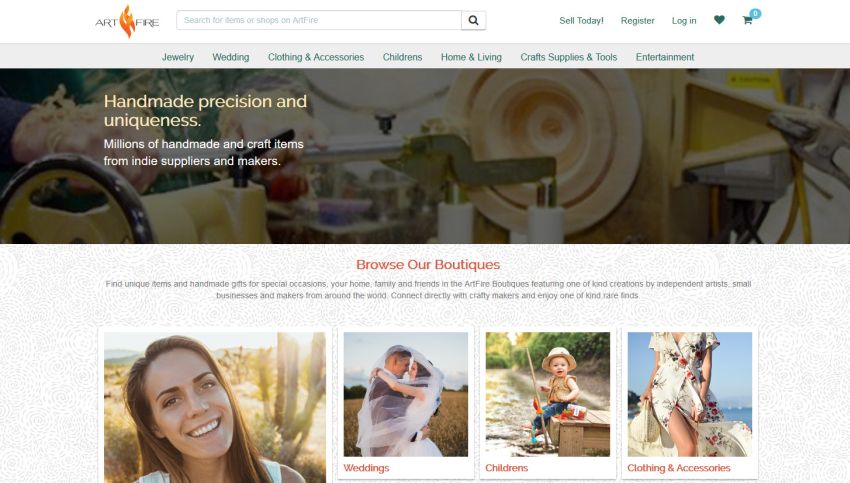 ArtFire is a creative marketplace where you can sell and buy handmade goods, vintage products (20 years or older), and craft supplies. If you want to get your shop up and running within a few minutes, then ArtFire can be the best Etsy alternative for you. ArtFire Boutiques come with great-looking design out of the box, so you don't need any programming knowledge to sell your handmade items online.
ArtFire's top features:
Shop customization options.
Powerful selling tools such as bulk edits, sales mode, coupons, inventory and discount tools.
Extensive resource selling library.
Mobile-friendly shop.
Live customer support through chat.
Built-in integration with Google Shopping.
ArtFires's fees:
Standard Shop (up to 250 active listings): $4.95/month + $0.23/item listing fee + 12.75% final valuation fee.
Popular Shop (up to 1000 active listings): $20.00/month + no listing fee + 4.5% final valuation fee.
Featured Shop (up to 2500 active listings): $40.00/month + no listing fee + 4.5% final valuation fee.
See more on ArtFire's fees.
4. Wix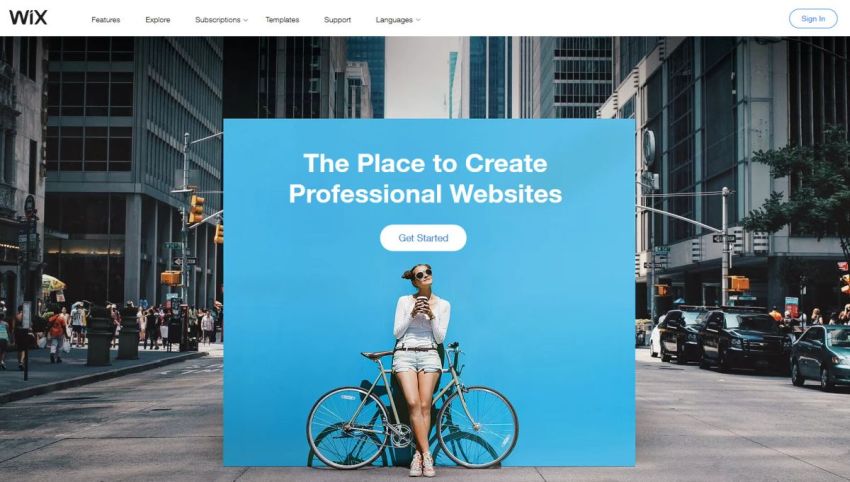 Wix is a fully-featured website builder with which you can create any kinds of websites, including eCommerce shops. You can design the storefront of your shop with a drag-and-drop page builder, using pre-designed eCommerce templates as a starting point. Wix comes with a free Etsy Shop application, too, that allows you to integrate your existing Etsy shop into your self-hosted store
Wix's top features:
Hundreds of professional-looking, SEO-optimized eCommerce templates.
Beautiful product galleries to showcase your products.
Order management and inventory tracking.
Multiple payment options to get paid easily, such as PayPal and credit cards.
Coupon management system to create and share promotional coupons.
Customized tax and shipping rule setup for each destination.
Wix's fees:
You can get started for free, however, you need to sign up for an eCommerce plan if you want to accept payments online.
eCommerce plans start from $20.00/month, with no commission fees.
Payment fees depend on the conditions of the third-party payment provider you use.
See more on Wix's fees.
5. Shopify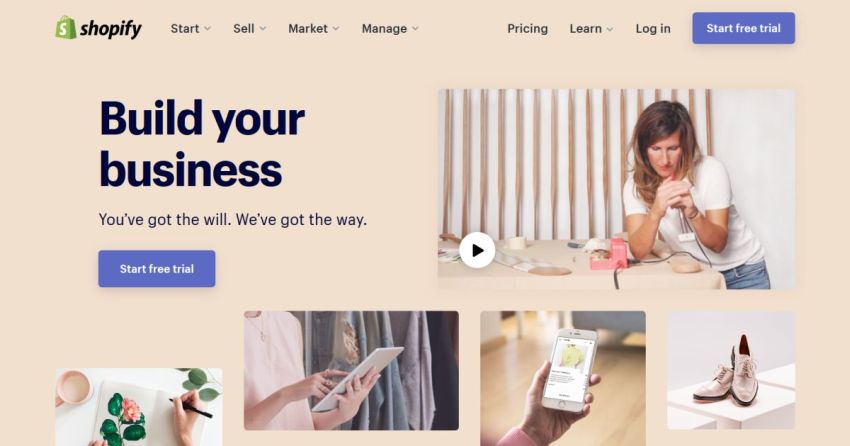 Shopify is a versatile website builder that makes it possible to set up a beautiful online store for your handmade products. As the page builder provides you with a drag-and-drop interface, you can create your shop in a few minutes, without any programming knowledge. Although most Shopify templates cost money, you can find a couple of free themes, too.
You can use Shopify and Etsy together with the help of the Etsy Marketplace Integration app that allows you to list your Shopify products on Etsy. If you want to know more about how to get started with the platform, check out our detailed Shopify review, too.
Shopify's top features:
Fully customizable, SEO-optimized eCommerce templates.
Product management and inventory tracking from the admin dashboard.
Fulfillment services by third-party providers to outsource shipping.
Payment tracking and order notifications via email, RSS, and text messages.
One-click submission to Google Product Search.
Built-in Shopify Payments to accept all major payment methods.
Shopify's fees:
14-day free trial.
Basic Shopify plan targeting new businesses costs $29.00/month.
Shopify and Advanced Shopify plans cost $79.00/month and $299.00/month, depending on the number of staff accounts.
Shopify Payment fees are between 2.4% and 2.9%, with additional fees for third-party payment providers.
The Etsy Marketplace Integration app costs $30.00/month (with a 7-day free trial).
See more on Shopify's fees.
Learn More
Creating and managing a handmade craft business is a multi-step process, especially if you want to sell your products across multiple channels. To learn more about how to do it successfully, check out our following articles, too: