Illustrations of various kinds and sizes have been dominating website design for a while. From abstract (almost absurd) drawings to genuine artworks featuring people in offices and other workplaces, designers follow the new trend in many different ways. Fancy characters and cartoonish people are the most popular ones, as they easily catch the viewer's attention thanks to the adorable human touch. To become part of this overall obsession, we recommend that you look into our collection of the best character creator apps. Our examples will help you build appealing characters and mascots for your next project in no time.
The Best Character Creator Apps
Since the trend is pretty new, there are not many character creator apps out in the wild. Nevertheless, we managed to find a couple of the most amazing tools.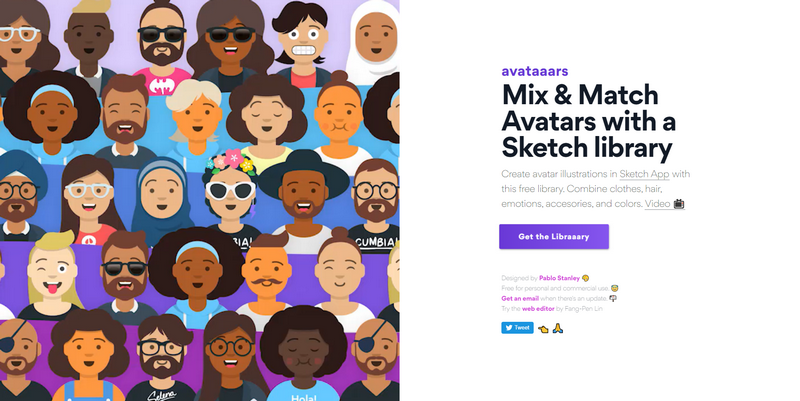 Let's begin with Avataaars, one of the most promising and powerful representatives of this trend. It is a collaboration of several gifted artists: Pablo Stanley who is the man behind all the illustrations, Fang-Pen Lin who stands behind the development, and Zero Inbox whose team has created an application.
Avataaars is a sterling library that includes tons of different elements. For instance, you can find hairdos, faces, accessories, eyes, skin, beards, clothes, and much more. Each element has numerous options. You can create not only the appearance of a character but also add a specific emotion to it, as Pablo included different facial expressions.
The only drawback is that the library has been created for Sketch App, so users of Photoshop and Illustrator are unfortunately left behind. However, there is a workaround. If you like the solution, you can check out the Get Avataaars online generator. It allows you to mix and match various details of an avatar using a live preview. All you need to do is set the options and download the result that is available in several formats such as PNG, SVG, React, and HTML.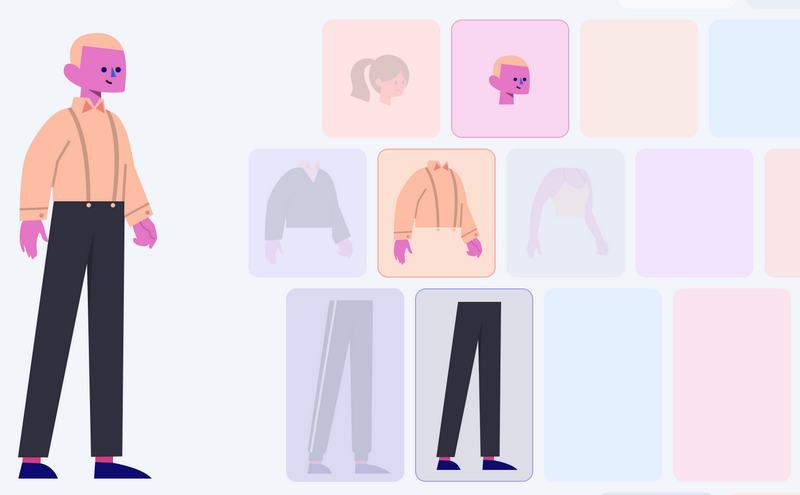 Stubborn is another fantastic character creator app in our collection. With Stubborn, you can assemble a full-length character, not just a head with shoulders like in the previous example. You can edit a persona inch by inch picking the different parts one by one, such as the head, complexion, and body. Each category offers a ton of options. Stubborn's team has also designed various types of environments so that you can build entire scenes to support the message you want to convey to your audience.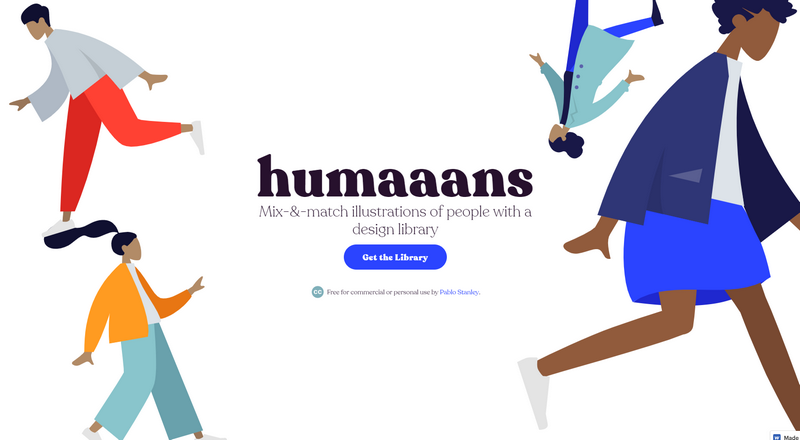 Created by the same talented artist as Avataaars, Humaaans is a playground for anyone who likes to mix and match illustrations to build unique personas. Humaaans is built around human characters, so if you need to create a human-centric scene it can be the best solution for you. Humaaans is another tool that features Pablo Stanley's outstanding artworks that will please you with their unique style, neutral expressions, and bright appearances.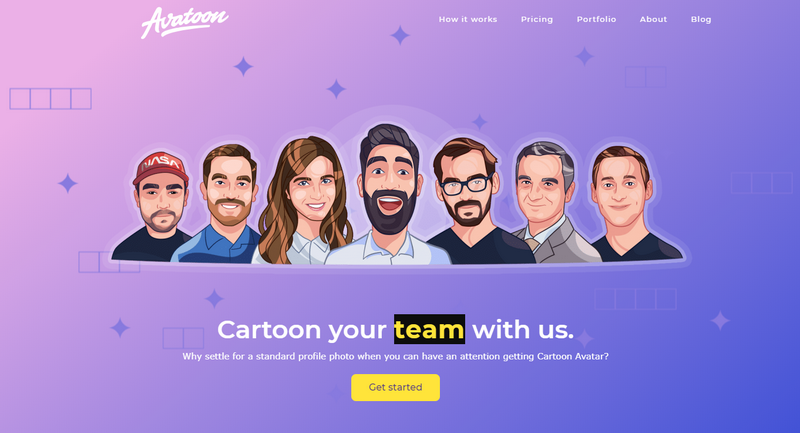 Unlike the previously mentioned tools, Avatoon is one of those character creator apps that lets you build avatars from the real images. In other words, it takes a picture of you and converts it into a cartoonish presentation so that you can get a fancy mascot based on your look.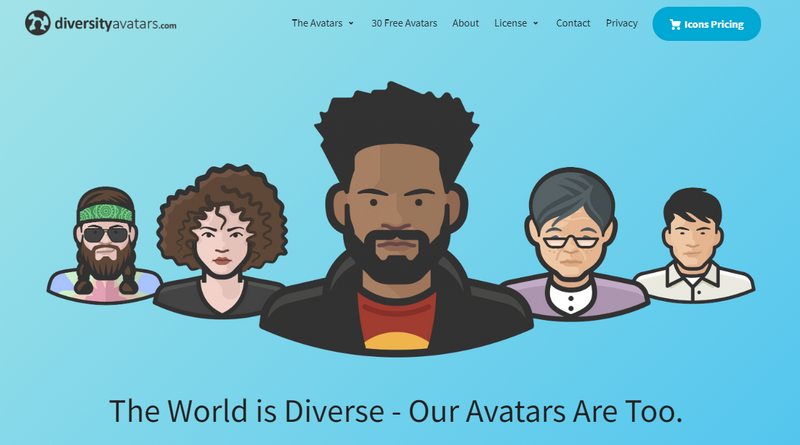 Although the Diversity Avatars generator created by Atomic Lotus is a premium tool, the team shares 30 outstanding avatars for free with you. The free avatars should demonstrate the quality of the product as well as the inherent diversity and global ethnicity. Here, you will find characters from real life and movies, too. Each item comes in nine popular formats from AI to Iconjar.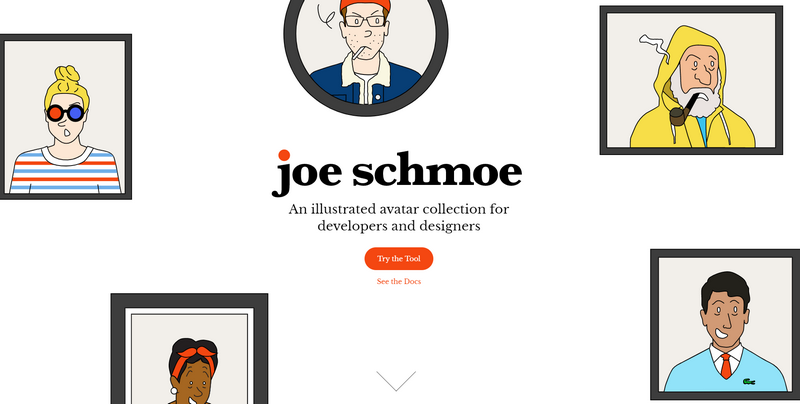 Joe Schmoe is a unique kind of character creator app since it provides you with an API. It means that if you need a quick solution for your online project, all you need to do is adding a couple of lines of code. The library consists of illustrated characters of various gender, age, and profession. It includes almost 30 personas so that you will certainly find the perfect match for you.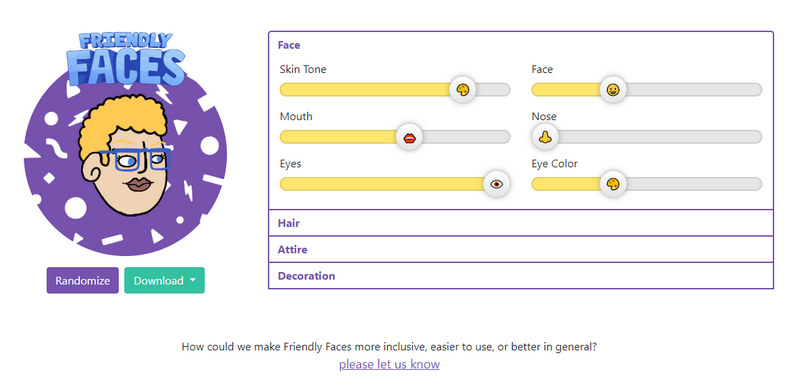 Friendly Faces is a pretty small character creator app in comparison to the previous tools, however, it has its own merits. It is a quick solution that does not require any graphics editing software. That is a big relief for non-design-savvy people. It comes with a control panel where you can assign face, hair, attire, and decoration to your characters. Each panel includes several options. For example, you can choose the complexion, mouth, eye color, type of facial hair, background color, and more. The result is available in three main sizes: 250px, 140px and 80px.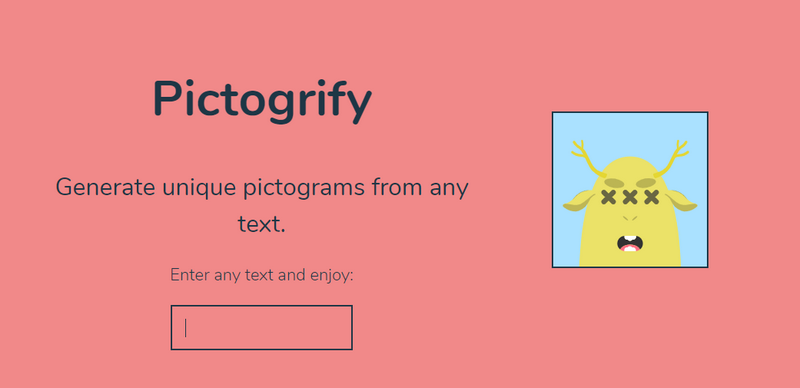 Much like Joe Schmoe, Pictogrify is an API-based generator that requires coding skills. It is a viable tool if you are a developer since an API is fully customizable and you can use your own pictures. Besides, if you are looking for a certain type of avatar, all you need to do is enter any related text into the generator, and the application will generate a fancy character for you.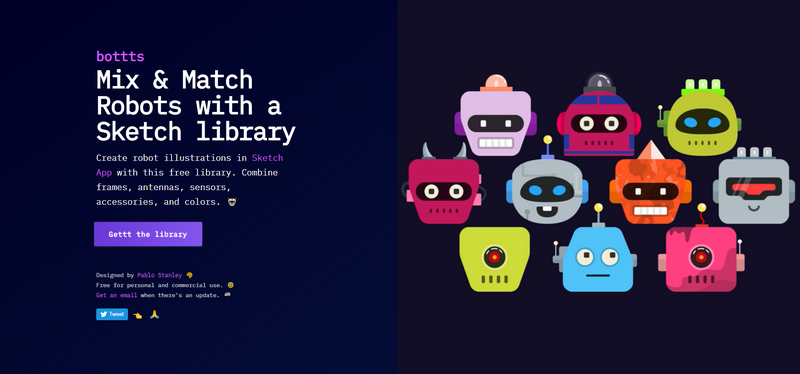 Unlike all the other character creator apps, Bottts is a place to find robots rather than living beings. This is another masterpiece created by Pablo Stanley. As you would expect, it is another excellent library for Sketch. The artist encourages you to experiment with antennas, frames, accessories, and sensors to build your own version of Bender Rodríguez.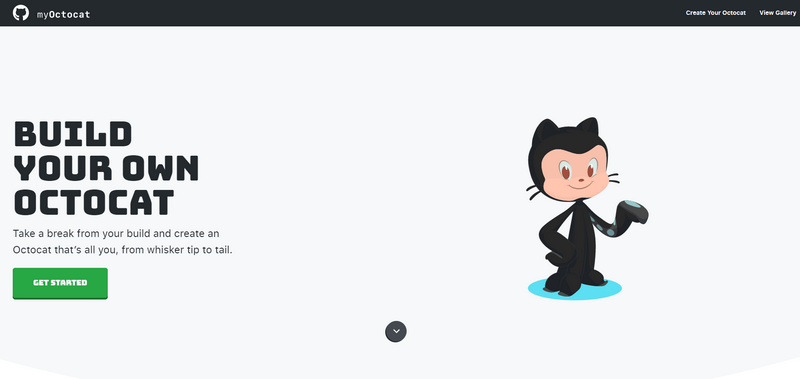 If you are a fan of Github then you probably already have this kind of an avatar. My Octocat is a generator created for the tech-savvy crowd who loves to code and share their open-source projects. My Octocat has a fully-fledged playground where you can create your cat by choosing its body, face, eyes, tops, bottoms, shoes, and even props.
Conclusion
Character creator apps are great tools not just for people lacking in design skills but also for artists who are in a hurry and need to create an avatar in a short period of time. Some of these tools are even great for building entire scenes to illustrate messages or support themes, as they provide you with various locations and settings.
To learn more about how to create engaging characters, also check out our article on the best character design tips.