MailChimp has been the star of email marketing for quite a while and not without a reason. It allows you to create email campaigns completely unique to your brand. MailChimp also offers a free plan up to 2,000 subscribers and 12,000 emails per month, so its popularity is not surprising at all. However, MailChimp is not the only email marketing tool on the market. There are many excellent MailChimp alternatives, so you can easily find one that's even better for your business.
Why You Might Need MailChimp Alternatives
Every business connects with its audience in different ways. To create a successful email marketing campaign, you need to understand your customers' needs in detail. A marketing strategy that works for one business, might be totally ineffective for another one. Different email marketing tools serve different kinds of businesses. The most important thing is to find the one that best suits your own needs.
Unique Features
The MailChimp alternatives you can find in this article have many similar features but each has its unique flair as well. Many of them provide novel features that other tools haven't adopted yet. For example, if you want to design your own newsletters, a drag-and-drop editor can be a godsend. However, if you work with external designers or use pre-designed templates, you probably won't find this feature that important.
If you have a look at the feature lists of MailChimp alternatives, you can easily find the one that can take your email campaigns to the next level.
Pricing Models
You can also find a pricing model that can save you a lot. For instance, some tools calculate prices based on the number of subscribers, while others use the number of outgoing emails as a basis. Depending on the structure of your campaigns (frequent emails to a small number of subscribers vs. occasional campaigns to a large number of subscribers), there can be a huge difference in prices.
The Best MailChimp Alternatives
Now, let's see the best MailChimp alternatives currently on the market. Note that prices are as of the writing of this article and might change over time, so always check them out before making a purchase.
1. SendInBlue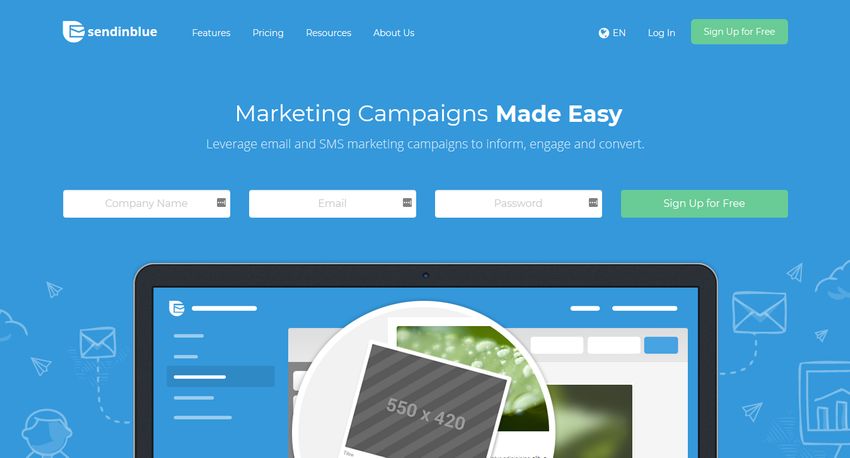 SendInBlue is a cloud-based email marketing and marketing automation tool. It allows you to create personalized email newsletters with just a few clicks. You can also segment your audience and send them different emails based on their needs.
In addition, SendInBlue provides you with out-of-the-box automation workflow templates. You can use them to set up an effective customer journey map so that you can send a targeted email to your customers at each milestone.
Top features:
drag-and-drop HTML editor
free responsive template gallery
custom forms with contact segmentation
automated email workflows
real-time statistics and heatmaps
integrations with WordPress, PrestaShop, Magento, Shopify, and other platforms
Pricing model:
It's free up to 300 emails/day.
The premium plans start at $25.00/month. The price depends on the number of emails sent in a month.
2. MailerLite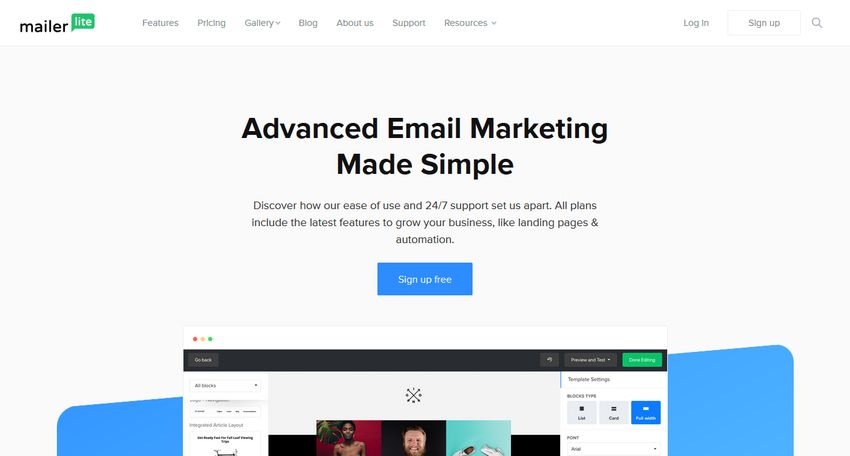 MailerLite is probably the best MailChimp alternative if you want to create email campaigns for your eCommerce site. It supports several eCommerce platforms such as Shopify, WooCommerce, EasyStore, and CouponCarrier. Besides, it gives you access to tools indispensable in online store management so that you can attract more customers.
Pre-designed landing pages, embedded forms, pop-ups, and a built-in subscriber management tool are just a few examples of MailerLite's eCommerce solutions. You can also personalize emails, segment campaigns, create interest groups, and automate email delivery.
Top features:
drag-and-drop email editor
built-in photo editing
pre-designed eCommerce newsletter templates
integration with popular eCommerce platforms
email automation and A/B split testing
365/24/7 support
Pricing model:
It's free up to 1,000 subscribers and 12,000 emails per month.
The premium plans start at $10.00. The price depends on the number of subscribers.
3. Campaign Monitor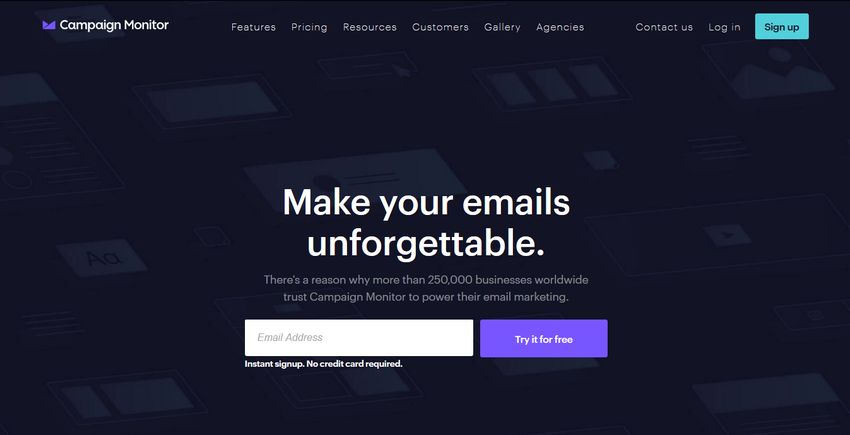 Campaign Monitor helps you build effective and eye-catching email newsletters with ease. Its biggest strength lies in the built-in smart segmentation tool that allows you to drill into the data about your customers and build highly segmented campaigns.
It also has a cool visual journey designer with which you can set up completely personalized customer journeys. With Campaign Monitor, you can customize literally any aspect of your campaigns, including things that frequently get forgotten such as the design of transactional emails.
Top features:
drag-and-drop email builder
pre-designed email templates
campaign segmentation
ready-made signup forms
full built-in analytics suite
multiple third-party integrations such as Shopify, Salesforce, WordPress, Magento, WordPress, and others
Pricing model:
It's not a free product but comes with an unlimited free trial with which you can set up test campaigns.
The Basic plan starts at $9.00/month and allows you to send 2,500 emails per month.
4. Constant Contact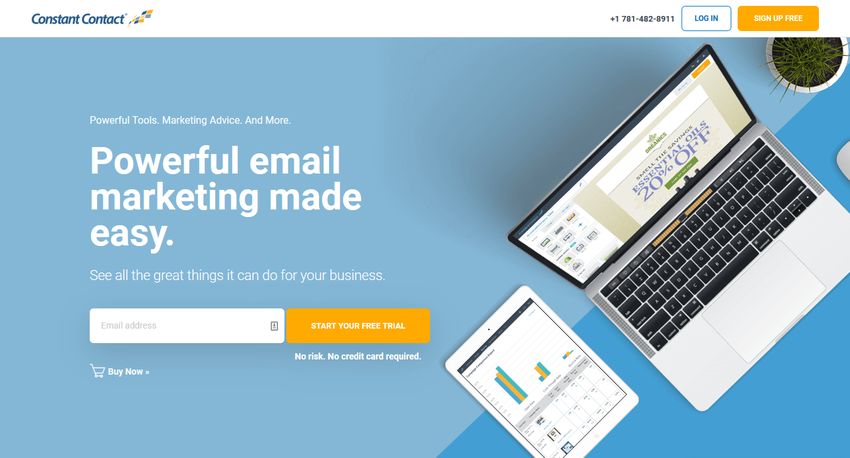 With Constant Contact, you can create professional email campaigns in any industry, from retail to publishing to nonprofits, without any programming knowledge. Constant Contact automates email marketing so that you can establish a strong relationship with your customers.
You can also set up automated workflows to achieve different business goals. For instance, you can send timely welcome emails, trigger a pre-made email series when the user clicks on a certain link, and deliver different messages to different segments.
Top features:
drag-and-drop email editor
mobile-optimized email templates
contact list management tool
real-time tracking tool
subject line A/B testing
seamless integration with many third-party platforms such as Facebook, Shopify, WordPress, QuickBooks Outlook, Hootsuite, and others
Pricing model:
It comes with a free trial for the first 60 days (no credit card required).
After the free trial period, prices start at $20.00/month and are based on the list size.
5. EmailOctopus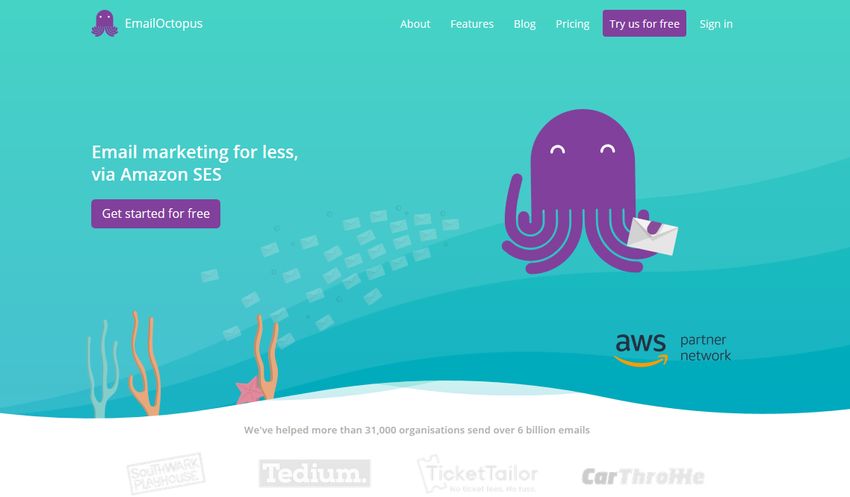 EmailOctopus makes use of Amazon SES (Amazon Simple Email Service) to provide you with a highly scalable email marketing service. They send your emails through Amazon SES to make it sure they don't land in the spam folder of your subscribers' email clients.
With EmailOctopus, you can completely automate your email campaigns as well. For instance, you can set up a customized welcome workflow, create time-based onboarding and drip sequences, and more. EmailOctopus is a good fit for both marketers without any programming knowledge and seasoned developers. The former can create their campaigns making use of tons of ready-made templates, while the latter can build custom features using the Developer API.
Top features:
multiple pre-designed responsive email templates
custom signup forms
professional bounce handling
real-time campaign tracking and analytics
rich developer API
500+ integrations via Zapier, such as Eventbrite, Shopify, SurveyMonkey, WooCommerce, and Salesforce
Pricing model:
It's free up to 2,500 subscribers.
Premium plans (with a 14-day free trial) start at 19.00/month and pricing is based on the number of subscribers.
6. GetResponse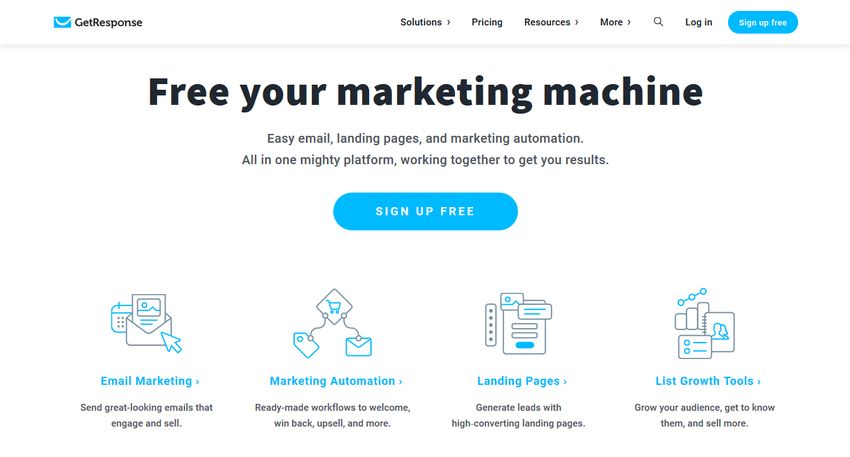 GetResponse is a fully-featured marketing platform with built-in tools for email marketing, marketing automation, landing page management, CRM, list building, and other tasks. You can use all these solutions together to create precisely targeted marketing campaigns for any kind of business.
With GetResponse's email design tools, you can create professionally-looking email templates with unique graphics and custom branding. You can also add dynamic content to your emails to personalize your message and set up automated workflows that put your email marketing on smart autopilot.
Top features:
drag-and-drop email builder and HTML code editor
500+ pre-designed email templates
5,000+ licensed Shutterstock images
email delivery optimization
analytics dashboard and real-time activity tracking
built-in A/B testing
100+ integrations such as Google AdWords, Magento, OpenCart, PrestaShop, Shopify, WordPress, and more
Pricing model:
You get 1-month free trial (no credit card is required).
After the trial period, plans start at $15.00/month and prices depend on the number of subscribers.
7. Omnisend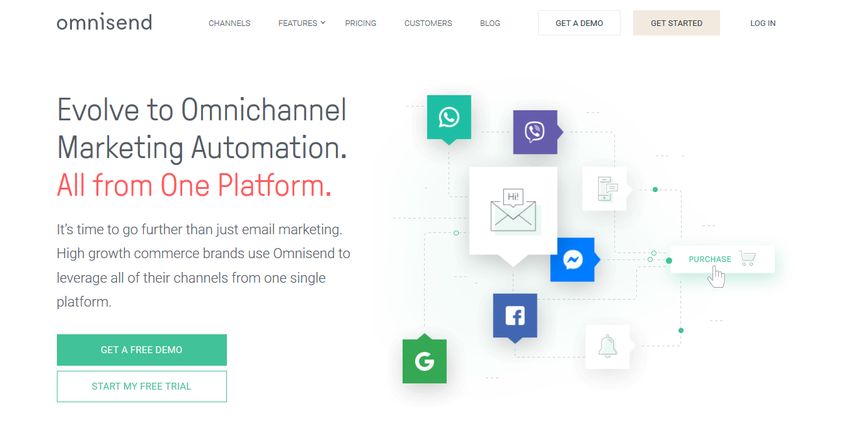 Omnisend is an omnichannel platform for marketing automation that allows you to leverage the power of various marketing tools to build advanced customer experience. You can reach out to your customers through different channels such as email, push notifications, SMS, WhatsApp messages, and many others.
With Omnisend, you get access to unique email marketing solutions as well. For example, the popular Campaign Booster feature lets you resend your newsletter to users who didn't open it for the first time. According to Campaign Booster's measurements, if you choose the timing carefully this feature can increase sales by up to 30%.
Top features:
drag-and-drop content editor
pre-designed elements such as product pickers, gift boxes, and discount coupons
custom automation workflows
built-in segmentation and analytic tools
A/B split testing
multiple third-party integrations such as OpenCart, WooCommerce, Drupal Commerce, PrestaShop, and many others
Pricing model:
You get a free trial for 14 days (no credit card required).
After the trial period, plans start at $16.00/month and prices are based on the number of subscribers.
Conclusion
It's worth researching the market if you are looking for an email marketing platform, as these tools serve different kinds of business needs. MailChimp is definitely a great solution for many businesses, however you might still find that some of the MailChimp alternatives mentioned in this article better suit your needs.
Setting up a winning email marketing workflow is not easy by any means. If you are interested in more email marketing tips have a look at our guide about how to use Google's SMTP server to send emails for free, too.